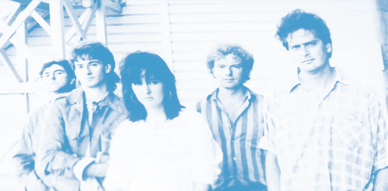 Thanks so much to Andrea Croft for this interview! I wrote last week about The Honeys, the brilliant Perth/Sydney band from the late 80s, on the blog. Almost immediately my friend Paul from the band Rabbit's Wedding got me in touch with Andrea and she was very kind to answer to all my questions!  The Honeys released 2 albums and two singles in two different periods, back in the 90s and then reuniting for a short time in 2007. If you haven't heard them yet, please make yourself a favour and discover them with this great interview!
++ Hi Andrea! Thanks so much for taking your time to answer this interview. How are you doing? Where are you? In Sydney or Perth?
Thanks Roque, where are you situated? I'm good, living back in Perth where I was born. Been back around 23 years now.
++ Were you originally from Fremantle? How was it back then? Were there any other like-minded bands in town? Where did you usually hang out? Was there any good venues to check out bands?
I was originally from Trigg, a suburb north of Freo. The scene was pretty healthy back then but going to Sydney was necessary to progress as a band. There were very few bands I knew in Perth as I joined up with Bruce and Grant for a couple of rehearsals and then followed them to Sydney very shortly after. Sydney was where I met most band pals. The Fitzgerald was a great pub back then in Perth and supported original bands. The live scene here now is limited as not many venues host live music anymore which is a shame.
++ And how was growing up in Australia? What sort of music did you listen to? What was your first instrument and do you remember how did you get it?
Growing up in Australia I consider a blessing. Especially the weather in Perth and the beaches, it's pretty easygoing here. Like a big country town compared to Sydney and Melbourne. I listened to Blondie, Pretenders, Kate Bush, Divinyls mostly. Bit of an obsession with strong female vocalists! I now love Lucinda Williams and have done for years.
My first instrument was a guitar, an Ovation acoustic, then I had a saxophone for which I took lessons. I was envious of my brother's drum kit though and would have a good bash on that now and then. As both my Mum and Dad were singers, we had many instruments available as my Dad was a bit of a collector. My folks bought me both the above instruments, lucky kid.
++ Were you involved in any bands before being in The Honeys?
Before the Honeys I was in a cover band for a couple of years with a hideous name that shall remain a mystery! Despite the ridiculous name, I had a blast with those guys. Not surprisingly, we played lots of Pretenders, Blondie, Divinyls…also Hoodoo Gurus and other stuff. We even did a gig at a bikies do in the Perth hills one night. Can't remember which gang but it was a pretty full on night thinking back on it now. Actually, we had a residency at a pub in Freo on Saturday nights and for some reason, we'd get heaps of bikies rocking up to that every week. They had a great time but eventually the pub cancelled us as the bikie lads were starting fights after the gigs and generally being naughty bikie boys.
++ How did The Honeys start as a band? How did you all know each other?
I answered an ad in the paper, called Bruce and went for an audition. We had a couple of jams, he went to Sydney and offered me the vocalist position and I bought a bus ticket and headed East a month shy of my 21st birthday. So basically I joined a band with two guys I barely knew but luckily Bruce and Grant were gentlemen as were all the fellows I lived with over there. I made some brilliant lasting friendships in Sydney so I'm thrilled I took the leap and left Perth.
++ What's the story behind the name of the band?
I'm fairly certain Bruce came up with that. I didn't particularly love it at first, thought it sounded like a girl band name but it fit after a while with the style of music we were playing.
++ Did you move to Sydney before or after signing to Waterfront Records? Had you been there before? How did you get there? Was it a road-trip altogether?
Bruce went first, not sure if Grant went at the same time, I caught a Greyhound bus. Took a few days to get there. Trying to sleep sitting up is not something I'd recommend but it felt like a huge adventure to me at the time. I'd never been to Sydney before and it was very exciting as I'd been living at home with my folks so this was a kind of coming of age thing for me. I was sooooo ready to leave Perth and home. So, perfect timing really.
There were subsequent road trips together when the band went on tour. We drove our Holden HQ Panel Van twice from Sydney to Perth and back again. Continuous driving by swapping drivers every few hours. Picture it, me with 5 blokes who are all eating burgers with unpleasant consequences that I shan't reveal at this point all the way across at the height of summer, filthy hot and next to no sleep for anyone. But guess what, it was such a great experience. We were searched by the police twice too, they went through the trailer, the roof rack, the whole vehicle looking for drugs I suppose. They found nothing, we weren't very rock and roll I'm afraid, not a single drug habit amongst us! We loved our beer though. Good times.
++ It must have been quite an experience, moving with the whole band to a new town. Did you all live together? How did you adapt to Sydney? Did you find many differences compared to Perth?
We did live together in a two storey terrace house in Chippendale. It had a shared yard and other band members lived next door so there were some fun times had there. Honestly the place was a wreck, leaking ceilings in winter, rising damp, dodgy balconies. But to me it was fantastic and it was Sydney! Most people I knew were living in places like that and they had so much charm. The pubs we played in were in similar disrepair which was what made them awesome.
I adapted pretty well I think but I did have all these great people around me keeping me safe so I'm grateful for that. I had a few wild times but that's part of growing up and learning. Sydney was so alive compared to Perth. Plus I'd never really seen the seedy side of life so of course I thought that was pretty exciting too. If I was to compare the two cities at that time I'd say Perth was a kitten and Sydney was a Lion. It was a great time to be in a band in Sydney with the live scene being so vibrant.
++ How did you end up signing to Waterfront Records? Did they approach you? How was your relationship with them?
I can't recall if we asked them or our management did or if they approached us..I forgot to answer this above. We signed with them after we got to Sydney. They were really supportive of us and very nice guys. We had a great team helping us.
++ Something that strikes me is that your first release wasn't a single or EP but the "Goddess" album. Not many bands get an album as a first release. What did you think of that at the time?
We just had the material and recorded it very cheaply, it just seemed to come together nicely. I was over the moon, it was the first recording I'd done so yes I was very happy.
++ By the way, who is the girl on the photograph of the front cover?
That's Lillian Gish, a silent movie actress. I love that cover.
++ The album was recorded at Poons Head in Perth. How was that experience, any anecdotes you could share? Were you already familiar with recording studios by then or you had already made demo tapes before?
I think we'd done some demos but nothing like that. It was interesting for me to see how it's all done. Recording can be arduous I've since learnt, especially when you have limited time and do an overnight block. But Poons Head was set up in a house so it was nice and relaxed so we got the tracks down pretty swiftly. Once it's all mixed, it's a great feeling knowing you've collaborated on something you're proud of.
++ And how did The Honeys creative process work?
Sometimes Bruce would have a full song, sometimes he'd have a melody and a few words. In those cases I'd write some extra lyrics though I'm not that prolific. Grant almost always has the whole song mapped out so all I had to do is sing.
++ Which bands would you say were influences?
Well Bruce loved a range of music as did Grant. At the time I was still listening to the above bands I mentioned and loved Cocteau Twins, who doesn't?! Lucinda Williams, good Country music. I went to see Falling Joys, Ups and Downs and then Big Heavy Stuff later, also the Clouds. They were all mates, still are and so good to see live. I think Suzie Higgie from Falling Joys and Jodi and Trish from the Clouds are extraordinary songwriters and great performers.
++ To promote the album you made a video for "Against The Elements". Was it your first promo video? How was that experience?
Yes it was and I was ahem, how shall I say this, still very green. I'm not particularly comfortable on camera, it's not something I relish but it turned out alright for a first attempt.
++ The next release also had a video, and perhaps is my favourite song of yours "The Man Who Was Through With the World". Would you care telling me in a few sentences what is this song about?
Now that song and video I like! I'm sorry, Bruce wrote that so I can only surmise. I never really asked him what it was about, I just liked the lyrics and my take on it is that it's about a particular person he may have known. I didn't really feel the need to know what a song meant to be able to sing it. If I get the gist, that's enough for me to create meaning around it. Hope that makes sense.
++ James from The Widdershins contributed piano and organ on the record. Was there a tight-knit scene with other guitar pop bands? What other bands in Australia did you call friends then?
Yep, we were friends with the Widdershins, Falling Joys, Clouds, Ups and Downs, Dutiful Daughters, Big Heavy Stuff, Hummingbirds, Skolars, Chads Tree, Swordfish, if I had a good think, I'd remember more. There were some really lovely people in bands back then and it was a fantastic opportunity for me to make lasting friendships.
++ This record also has some beautiful artwork. How much control did you have on it? Or was it Waterfront making those decisions?
We made decisions about artwork and thanks!
++ And what about that video? I noticed on Youtube that it used to be played on the music program "Rage". Did it get much attention?
I'm not sure which one you mean but we did enjoy quite good exposure thanks to Rage when we were together.
++ After that there was another 7″ single with "Gone Away" and "Monster". There was no video for this one, right? And how come it only came on the Waterfront standard sleeve?
Hmmm, testing my memory now..No video and I have no clue as to why no artwork. Perhaps we were low on funds, bit cheeky really that we didn't do artwork!
++ Then there's a long break for The Honeys. What happened? I read Andrea moved to Perth and each of you continued making music with your own projects. What other bands were you involved with?
I ended the Honeys, things felt stale and it felt right at the time. Grant and I formed Catherine Wheel and that was lots of fun. I was also in Pollyanna for short while after that. Then I came home to roost! 

++ In 2007 you reunited and released a new album, "Star Baby". How did this reunion come through? And were these brand new songs or songs from back in the day?
Again dear Bruce had written some new songs as had Grant so I was of course keen to add my bit. I flew to Grant's house and we recorded the songs over a few days. We did a couple of short tours after it's release too. I think only Run Run was an oldie, all the rest were newly penned.
++ This record came out on the label Origin. Who were they?
I'm sorry, I didn't handle that side of things so I don't actually know.
++ There were a few reunion gigs, right? How was that experience? Much different to playing live back in the day?
They were great, we had some fantastic musicians playing live with us so the sound was full and rich. A bit nerve wracking of course, it'd had been a while but the gigs were wonderful to be a part of.
++ And what about the gigs in the 80s and 90s? Are there any in particular that you remember? What would you say was the best gig you did? And was there any bad gigs?
I loved the Hopetoun hotel, every gig there was fun. The Annandale was great too, the Petersham and the Landsdowne. Back in the day when pubs were smoky and the carpet was beer soaked. Ahhh, great times! Not really any bad gigs, but Uni lunchtime shows were never a highlight. I don't think I'm alone in that opinion!
++ What about radio and TV? Did you get much attention? And the music press? Fanzines?
Radio yes, high rotation there for a while on JJJ which was great. TV no, just Rage, which was also great. Music press, yes, we were very lucky to be reviewed quite often and even had front covers a few times on On The Street, Drum Media and Juke.
++ While you were on a break, in 1995, a double CD titled "Ultimo" was released including the whole "Goddess" album and other rare songs on the label Phantom. Who were they? I also wonder about where these rare songs come from? And also what about those songs "Live at the Wireless"? What was The Wireless?
Phantom were another indie Sydney label that did great things for bands they signed. Very supportive people. The songs were some that we hadn't released before and thought they needed inclusion. Live at the wireless was a program on JJJ featuring bands playing live in the studio.
++ And as that covered most of your discography I'm curious to know what would your favourite Honeys' song be?
Wood for the Trees by a mile! Love everything about that beautiful, dreamy song.
++ You appeared on a couple of compilations but the one I'm mostly curious about is the "Shiver Me Timbers" tape on Rutland Records as it was an English label. Do you remember how did you end up there?
What the? Send me that tape! Haha!
++ After those reunion gigs, when did The Honeys stopped playing again?
Bruce and I did a couple of gigs here in Perth but the last one would've been about 18 months ago.
++ Then there was the passing of Bruce in 2016, very sad news, but I read The Honeys played a sort of tribute gig alongside Flicker and The Snow Leopards. How was that evening? Must have been very difficult?
We did and it was a truly humbling experience. It was also joyful to see all those people attending and all the people who performed to honour Bruce. My friend Matt worked hard to bring it all together even though he'd say it was easy. He's a generous fellow. Bruce would've been so touched by that day, it was something I'll treasure.
++ Now, looking back through all these adventures of yours in The Honeys, what would you say was the biggest highlight of The Honeys?
By far hearing our song played on the radio for the first time. And seeing our video on TV. It's surreal and I still pinch myself to think about it. Some terrific gigs too and seeing people having a blast. Nothing beats it.
++ And today, are you still making music? Or what do you dedicate your time to these days? Any other hobbies?
I'm not at the moment, I have a small business now but I'd never say no to future recordings. Perhaps I'll have a chat to Grant!
++ Thanks again Andrea and Grant. I would love to interview you some other time about your other bands, I already asked way too many questions now! But I have one last one, are there still any unreleased songs by The Honeys?
Nothing that I know of at this stage, I'm sure Bruce would have books full of lyrics somewhere…
::::::::::::::::::::::::::::::::::::::::::::::::::::::::::::::::::::::::::::::::::::::::::::::