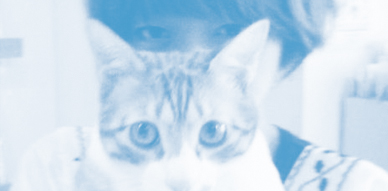 Thanks so much to Sumire for being up for this interview! Sumire runs the lovely Violet and Claire store that stocks and supports many indiepop labels. Also she is now part of an indiepop band Black Tulips, has released records under her own label, and she has been writing liner notes and books about indiepop. A true indiepop activist of these days!
++ Hi Sumire! How are you? Thanks for being up for this interview. It's been a long time since I saw you, might have been Indietracks and NYC Popfest the last times. How do you remember your adventures attending international festivals? What was the best of it?
I've been to Indietracks 3 times and I really loved atmosphere of festival. But I prefer NYC Popfest 'cause I grew up in city and love to walk around Brooklyn with my good friends and see gigs. It's not Brooklyn but I love Cake Shop is the best venue all the time. It was the best moment to see Veronica Falls in NYC Popfest 2010.
++ And how come there are no indiepop festivals in Japan? Do you think it will happen soon?
I'm always wishing to have indiepop fest in Japan! I think we have to have more Japanese indiepop bands here. When more young bands coming out it can be happen.
++ You run the Violet and Claire store were you sell a wide array of things. You carry clothes, books, magazines, music, and much more. Tell me a bit how the store started and who curates what's been sold at the store?
After graduating university (I had studied English literature there) and work for my dad's urban development company, but I thought it wasn't challenging job.
At the same time, Toshiko from Apple Crumble Records ask me to have my shop (She wanted to close her shop),One year later, I quit my job and started my own shop. When I was working at record shop, there's chance to visit London many times, It was the time of "Twee As Fuck", I love London girls who have very good taste of music,books and clothes and I wanted to make Japanese Girls like that.
++ And where does the name of the store come from?
I've lived in LA when I was 6 to 10 years old, My dad had transfer abroad with my family so. I was obsessed by Young Adult Novel such as Weetzie Bat Books, These novel was written by Francesca Lia Block. "Violet And Claire" is one of her great work. I always ask by people about Violet come from my name Sumire (Japanese Violet) but it doesn't relate at all.
++ You don't also carry other people's products but you also do your own, from brooches to tote bags and everything in between. Who takes care of the design and production of these?
Some of them by me but others by Eleonora Marton, She is wife of Neil Kidgell, Both are very great designer and work for Young And Lost Club's design too.
++ Through your store you support indiepop, your favourite kind of music. Do you think then that indiepop can be successful at being sold in stores as physical records? Everyone is so pessimistic about this!
I think it's YES, the situation of physical records sales getting better now. more girls buying records recently. I'm not sure for boys! boys are always buying records so.
++ Talking about indiepop, when did you get into it? And what are some of your favourite bands?
I was big fan of British Rock when I was small because my mom loves them. She loves Style Council all the time! When I was junior high school student, I love more psych 60's garage,mod music more than indiepop but when I collect of vinyls 80's music seemed more interesting for me. Obscure/DIY music isn't under-control and sounds very free.
My favorite bands is so difficult to choose! Glo-Worm, New Colours, The Times, Orange Juice,Veronica Falls, The Pains, Blanche Hudson Weekend, Sea Lions, Belle and Sebastian, Dolly Mixture, Anthony Adverse, The Pastels, The Beach Boys, Pink Floyd,The Divine Comedy, Pale Fountains,Dislocation Dance… much more!
++ You've released some records too. Tell me a bit about the ones you've put out and if you have any plans for the future.
I am talking with Nick to release Catwalk material as vinyls and CD album. Catwalk is one of my favorite band but it takes time to finish songs…so have to be patient for his response.
++ Nowadays you are also even in a band called Black Tulips. When are you putting out a record?! Who are the members in the band? And where can one listen to your music?
We finish recorded so now we are at pressing record, Nana (from Twinkle Twinkles), Ai and Riko (illustrator). Nana lives in Australia for a year now. There is 8 original song and we do Monochrome Set cover (because of my El taste!) not proper record songs not on-line but hope it's soon! http://theblacktulips.tumblr.com/
++ Is this your first time playing in a band by the way?
I was in band when I was in junior high but I quit playing for long time, I was in Girls Pancakes and did few gigs with Sea Lions.
++ You seem to do so many things, a true indiepop activist. Another facet of yours is writing liner notes for Japanese edition of various indiepop records. How did this happen for the first time? And how do you like doing this? Do you consider yourself a good writer?
I really hope to be good writer, I cannot define by myself but I always love to read Japanese edition liner notes, and wish to be kinda journalist for music. Started working indie record store when I was 17years old, Owner of record store gave me chance to write, and I felt this is what I was waiting for. Now there are many male music writer but not many female. I love Chickfactor and wish to be like them!
++ And talking about writing, there's been two books that you've contributed too the Indie Pop Lesson book and the 80s Guitar Pop Guide. For those who don't know these two fantastic books can you explain a bit about them and where to get them? Also, any plans for more guitar pop books in the way?!
80's Guitar Pop Guide was released when I was 16 years old and getting involved these music scene is my dream! It's ultimate guide, featuring very obscure records from 80's! Indie pop lesson, I hope more young girls to know great world of indie pop. There so many girl who has good sense of fashion but not music! Also It has been more than 10years from 80's Guitar Pop Guide so I think we need to have kinda guide book for Guitarpop / Indiepop music.
Now I'm working on other book of music, it feats 18 female musician mainly from 80's indiepop scene, Also I'm thinking to make 2nd of Indiepop Lesson in 2015! excited!
++ Let's talk about Japan. It seems a good bunch of new indiepop bands have appeared in Japan in the past two years or so! Why do you think this has happened? And which would you recommend?
I think people get bored commercial rock music and have to move onto more independent music. There is small guitar pop scene in japan all the time, but I think they are too shy to spread their scene to others. I love Ykiki Beat / Jesus Weekend, they are young and very good taste (of music and fashion!)
++ And from the past what are your favourite Japanese indiepop bands?
I love TRANS ALPHABET and Satoru Ono's 2nd Album He used be in Tenniscoats as guitarist. (http://satoruono.bandcamp.com/track/clown-song) and Citrus. I was not big Flipper's Guitar fan.
++ Let's talk about your city, Tokyo. Are you originally from there? And what are the best places to hang out for an indie kid in town? And if you want to go check some sights, what are the ones you'd recommend?
Now I move to Kyoto, but I go back to Tokyo, once/twice a month (It takes 2 and half hours by express train). I am originally from center of Tokyo,so very city girl I think! Shibuya is too messy to walk around but near by big Yoyogi-Park is nice to chill out. beside of park there is my most favorite coffee spot called "Little Nap Tokyo" also "EST" is my favorite Ping-Pong place! Kaoru from Comet Gain she loves to play Ping-Pong there too. Hi-Fi record store is not indiepop but it's nice selection, in nighttime, I recommend to visit bar "Beat Cafe" I organized Veronica Falls DJ party and people there really love music.
++ Also what about Japanese food in Tokyo? What are your favourite restaurants?
That's tough question, I love Sushi so Sushi-Stand is good to eat. I love to have dinner/lunch at cafe "Newport", nice wine and foods also every Saturday night there is DJ and select tunes. Good food with good music sounds perfect.
++ And is there any Japanese beer you like?
I love beer but my favorite drink is Japanese whiskey "KAKU". Kip from The Pains, he really love to drink "Chu-Hai" It's nice but really easy to drunk…!
++ I guess you don't have much time with everything you do, but I was wondering if aside the store, the band, the writing, and music, do you happen to have any other hobbies?
I love to run everyday. Listening to radio via iphone and think nothing just running. When I start working I'll be very indoor person, so I need to move to refresh!
++ You once made a Cloudberry Cookie. That made me very happy! I still haven't eaten it, can you believe? Can I ask you what's your favourite Cloudberry release? And why?
I wish to make again! but it's not safe to eat!!!!please DON'T eat! lol
The Parallelograms (I love song "Papageno" very cute melody!) and The Tartans (I love bands from "YAY" label and this is very crafty melody!)
++ Thanks again so much Sumire! Anything else you'd like to add?
Thank u for getting involved your blog! I'm big fan of this so very happy to be interviewed! I hope to see you soon in Japan or somewhere pretty soon!
::::::::::::::::::::::::::::::::::::::::::::::::::::::::::::::::::::::::::::::::::::::::::::::
Listen
Satoru Ono – Ocean Song