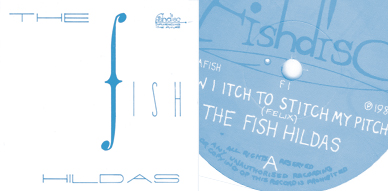 How is the state of indiepop today? That's the first question I ask myself every time I sit down to write a blog post. A lot of times, like today, I have absolutely no clue aside from some bits and pieces that I get from Facebook. Like the Berlin Popfest this past weekend. I would have loved to be there, but I couldn't afford it nor I had any more vacations days to get myself to the German capital. I saw on Youtube, with the happiest smile, how Amanda from Alpaca Sports joined The Brilliant Corners to sing "Why Do You Have To Go Out With Him…", what a treat the popfesters enjoyed!
So I wasn't there. I was in Providence, Rhode Island, this past weekend. I went on a road trip with three of my New York friends. It was quite a nice adventure, with almost perfect weather. I was impressed by how young this city feels. I barely saw people over 30 years old I think. The town revolved and was catered for the Brown University and Rhode Island School of design students. It must be great to have an education in a town like this. Party after party. Not surprisingly we ended up crashing a house party on Saturday night. That was fun. Sadly what matters the most in this world, record shopping (kidding!), was a total failure there. Visited two record stores and found perhaps 4 or 5 7″s I would have bought, indiepop records, if they weren't over $5. Come on. The Hope flexi for $20? I got that one for like a pound in London.
Here in NYC we have CMJ around the corner too and some bands are coming to town. I know I will check out Joanna Gruesome, a band many of my hardcore indiepop friends don't like, on Friday 18th's night. I think they are alright! Not the bee's knees probably or deserving too much hype, but quite a nice band, fun to listen and who have a bunch of catchy tunes. I missed them a year ago at Indietracks for a reason I don't remember, probably watching another band, so will check them at 285 Kent, the venue with the worst restrooms in Brooklyn. Then on Saturday 19th I will see for the second time, after London Popfest 2011, The History of Apple Pie. To be 100% honest I haven't followed them in the last couple of years. Especially because their records cost crazy money to purchase from the US. Anyhow, I just love their song "Mallory", so that's good enough for me to check them out this weekend. Hope they have more tunes like that!
Everyone is raving these days about The Proctors CD. I still haven't gotten it, so I can't rave about it. Hopefully I'll get it from Ed the next time he visits NYC. What I have been planning though is a new European trip for next year. Around Easter I want to do this sort of trip, Paris-Oslo-Gothenburg-Uppsala-Stockholm. Though there's a chance I do Barcelona instead of Paris. I'm still in early stages of planning. It doesn't come out as a very expensive trip though to my surprise and I'll get to see some new cities, meet friends I haven't seen in years, and visit one of the places that always makes me happy, Stockholm.
That's more or less where my state of indiepop is right now. Not that much happening but not totally dead like the revamped indiepop list seems now. I guess the excitement only lasted for a week or too. On the Cloudberry side of the spectrum things are very quiet after the two 7″ releases last month. These days it's all about raising money for The Rileys CD. The art has been finished and approved so we are very ready. I should start working on a new fanzine too, for next year. What colour should it be? That's always the interesting question.
—————————————————————
"Genius ! from 1987 the brilliant Fish Hildas single on Fish Disc Reputedly the worst selling single via Rough Trade/Cartel (that can't be so!) …rumour has it The Stingrays may know more !"
That's the legend on the Youtube link to The Fish Hildas' "How I Itch To Stitch My Pitch" song. The A side of their one and only 7″.
A comment then appears on the Youtube link:
"I'm married to the drummer. She played it to me on our first date and it blew my head off completely. It sounded (and still does) to me like it should have come from around 1981. It's got that lo-fi Postcard/early Teardrops vibe. Among a bunch of great lost 80s indiepop singles this is right on top of the pile. I'm glad I've got the drummer. Thanks for posting."
And then the uploader replies:
"EXCELLENT NEWS ! Yes it certainly sounds more post-punk than proto-indie ! I was working for Rough Trade in the late 80s and a colleague flagged it up for me…blew my tiny mind wide open too ! It's got a lot of fans around my friends. Give her my best wishes, Cheers !"
How I ended there, I can't remember. It was a couple of weeks ago. I was lucky enough that a Dutch seller on Discogs had this record listed, and bought it immediately as it seemed the right thing to do. It wasn't listed in any Popsike listings, or musicstack, or eBay. So perhaps it was really rare, so paying $11 for it plus postage didn't hurt too much.
I liked the song. That is pretty obvious. It's one of those indiepop tunes that sound like proto-indie (here I disagree with the uploader!). A tune that could have sat nicely in those Messthetics comps. It has those rough edges, with fun and poppy music, and dislocated vocals. It's a rarity.
Where did they get their name from? That I don't have a clue either. But it may have to do with this?
"The name Hilda (Pronounced: HIL-də) is originally a short form of names containing the Germanic element "hild" (battle). And the meaning of Hilda is "battle woman". It was used for both English and continental Germanic names. The name became rare in England during the later Middle Ages, but was revived in the 19th century."
I do know though that the record was released in 1987 on their own FishDisc label (catalog F1) and the B side for this 7″ was "Big Fat Gun". And both songs are credited to a Felix.
I keep digging and I stumble with issue 13 of the Underground magazine that was published in April 1988. That one with The Flatmates on the cover. On this mag there is a small review of the record and I read it out loud:
"MYSTERIOUS FISH
So, who are The Fish Hildas, and where did their record come from? This mysterious seven incher, "How I Itch To Stitch My Pitch", sounds like a wide-eyed Kerouac crooning over a Spike Jones jazz track. It's strange  and no mistake and if seen should be grabbed and cherished."
And then I suddenly find a worthy clue. I find Bongo Debbie's old Myspace page. There she states that she was once part of this band. That's the first name I see linked to the Fish Hildas. The cool thing is she has been involved in so so so so many bands during the years that I hope one day she might tell the story about this rare 7″! Among those bands you can definitely mention Creation's own The X-Men, The Armitage Shanks, The Earls of Suave, The A-Lines, Baby Birkin, The Dutronc, Buffets, Thee Headcoatees, and MOST importantly my beloved Would-Be-Goods.
So there's that. Who were the rest of The Fish Hildas? Was it really the worst selling 7″ in Rough Trade history? Did they record more songs? Did they play any gigs? So many questions then, waiting to be answered!
::::::::::::::::::::::::::::::::::::::::::::::::::::::::::::::::::::::::::::::::::::::::::::::