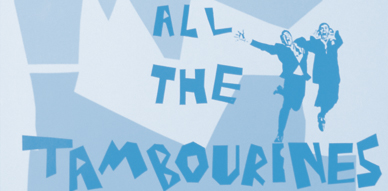 (Some beautiful jangly guitars)
"We are going to have a party next Saturday night, if you feel alright, come tonight…"
Can you guess this song is from Germany? I didn't. I remember the first time I heard it back in October 2009. I had just arrived to Hamburg after some days in Essen visiting my mother. It was quite a special occasion in Hamburg, it was the 30th birthday of one of my dear friends. Also that weekend, as documented in the blog, was one of the best ever, with the legendary Sunny Street gig at the Hasenschaukel. But the first day I arrived, not many were around. I came a bit too early. So that afternoon Andreas and me went over so many records. We started with a collection of all Nine Steps to Ugly recordings. Later on a similar collection by Grab Grab the Haddock. While the music played I went over his boxes of old 80s tapes, filled with demos and rare compilations, among them his own Everlasting Happiness. Then sitting on the comfy couch and flipping through his fanzine collection. Suddenly some jangly guitars coming from the turntable caught my attention. The girl singing could have been the cutest ever, her voice I immediately adored. Who the heck are this? "This is from 1986", Andreas tells me, "And they are from here, from Germany". I was thrilled!
I would have loved to be in this small town party the vocalist invites us all listeners. Wonder in which small town of Germany she lived. Then Andreas wisely skipped many songs, and turned around the 12″. On the other side a dreamy "You Didn't See" makes me melt. "They are the Love Set, but this is seems to be all they recorded" he shrugs with a smile. What a shame I think, they deserved a record deal, an album, some singles, some EPs, some flexis, some maxis, a DVD even! This is jangly guitar pop at it's finest, innocent, fragile, but with lots of nerve, and feelings, and hope. And this is from 1986!! Love Set were on par with their English counterparts, even ahead I believe. This sound didn't  happen until 88 or so with The Fat Tulips I think. Anyways, it doesn't really matter who came in first, does it?
This two songs appear on a compilation called "Beat All the Tambourines" released by the eponymous label and published by Constrictor. As far as I know, this was their only release. It was distributed by another German label, Pastell. Most of the songs, including the two Love Set tracks, were recorded at Fright Train Studio in Duisburg, making me think that it must have been a small town in the Ruhr region. Funny, as that's the area in Germany I've visited most places and small towns. Maybe I've passed by their old house or their old hang-out walking one day. Also on this record there are appearances by the well known and great Most Wanted Men and many unknown names for me like Montgomerys or Xavier Says No. This bunch of unknown bands, not really up my street though.
After coming back to the US, some months later, I receive a package from the great Jörg Winzer, great friend and indiepop know-it-all. It was a copy of the 12″. I was the happiest, even took a a photo of me holding it. It was such a surprise. He remembered that during the next days in that holy Hamburg weekend, I often put the record at Andreas turntable. First thing I did upon getting it was ripping the songs out from the vinyl and playing them many many times. Second step was to try to get in touch with the band, you know, detective work. So the research started.
The only names to appear on the record are those of M. Gülicher and T. Shock. It wasn't that hard to find that it was Mattias Gülicher and even found a website he owned, a distribution company called "Grand Harbour". Sadly there was no reply after my email asking to do an interview. He also seem to have played on Fenton Weills who will soon have a 3″CD on our dear Werner's own Edition 59 record label out of Berlin. Also I could find that Mattias is from Cologne, but that's not a small town. Perhaps, they liked leaving Cologne for some small town parties on the weekend in 86? Could be.
Now it seems that T. Shock was really a Katrin Shock, a K. Shock. She was the girl that sung so beautiful, and what a beautiful name she had, Katrin. Ah! And she also wrote the lyrics. What a talent! Wonder if she ever got to sing again in a band. Wonder if there are more recordings by Love Set. Wonder if I will ever hear from Mattias. Wonder if someone would finally do a compilation of the great guitar pop that happened in Germany during the late 80s and early 90s, some sort of Leamington Spa series, but of Germany. There are so many great songs and bands. It would be so good.
Anyways, enjoy! And let's hope next Saturday we are invited to a small town party.
Oh! and a "love set" is a set in tennis in which the loser wins no games.
::::::::::::::::::::::::::::::::::::::::::::::::::::::::::::::::::::::::::::::::::::::::::::::