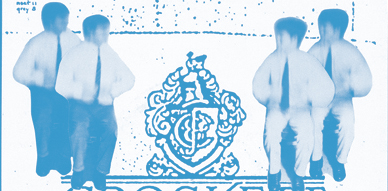 Finally My Light Shines for You's "Detective EP" 7″ is finally out! It took a while, but I'm very very happy how it came out. Love the songs, love the artwork. Good thing too is that popkids around the world are supporting this release. If you haven't checked them out yet we have one of their songs streaming on SoundCloud. Check out "Detective" and you can of course order the record from our website.
What else is new? Those who are on Instagram and follow me might have seen the work in process form the artwork for our next Cloudberry Cake Kitchen release. Yes! We are doing a full retrospective for The County Fathers from Manchester! If you don't know who they were you should check the interview I did with Mark Radcliffe some time ago. The release should be coming early 2018! We are just finalizing some details at the moment before it goes to press!! Very very exciting!
So what are the new discoveries I've made on the web these past days?
Bedchamber: definitely not new, but they are new for me and that's what matters, right? But to be fair, it seems that their latest song, "Out of Line", seems to be brand new on Youtube. This song is included in their debut album titled "Geography" that is being released by Kolibri Rekords from Indonesia. Yes, the band is also Indonesian, from Jakarta, and it is formed by Ratta Bill on vocals and guitar, Abi Chalabi on guitar, Smita Kirana on bass and Ariel Kaspar on drums.
Megaflora: this London four piece formed by Max, Frank, Ellen and Chris released a 12″ album a year ago titled "Redwoods". It seems to still be available on their Bandcamp so I'm not terribly late in recommending them. There are 7 songs in total, "London", "A Mess", "We're Not Here", "Progress", "Stories", "Confidence" and "Anxious". This straight up classic indiepop, poppy, jangly, with boy/girl vocals. Good stuff!
Fenix: cool sounding duo from Eskilstuna, Sweden, formed by Stefan Eriksson and Louise Marchione. Not exactly indiepop, but a catchy and classy sounding synth-pop band that I'm really enjoying!! They have released an album on Bandcamp titled "Drömlösa Nätter" which has 8 songs: "Faller", "Bleka Hjärtan", "På väg därifrån", "Vårld av glas", "Kall snö", "Kom i Mitt Mörker", "Om Vi Blundar" and "Allt Blir Bra". It sounds great to me and I hope it gets released in a physical format, would love to play this at home properly!
Kosmonaut: our friends from the north of England (who had a 3″ on Cloudberry) released a limited edition CD titled "Days of Our Lives" which now seems to be sold out!! Damn, I hope it gets repressed! There are 12 brilliant indiepop songs in here, a collection of early singles, compilation tracks and songs previously unreleased. They are "Days of Our Lives", "She Walks Away", "Desert Song", "Bee Song", "Was It You", "Listen to the Radio", "Never Realised", "Superman", "Fadeaway", "Northern Angel", "In My Head" and "Almost Prayed". I hope there's a way for me to get a copy of this!!
Just Blankets: lastly some punky pop from Brighton, UK, from this girl-fronted quartet. They have released a 7″ titled "Like Velcro" that has 4 songs last October. The songs being "Short Walks", "White & Orange", "Longshore Drift" and "Britain's Least Used Stations". The band is formed by Claire Swift, Tom Baker, Nick Streeter and Harry Partridge. They do seem to have been releasing stuff since 2015. I don't remember hearing them before, have they played Indietracks perhaps?  Their name do sound familiar!
————————————————————————–
While I was doing my research for indiepop bands from the Netherlands I discovered this small gem of a band: Crockett & Jones. As I didn't have their one and only 7″ I decided to order it from Discogs (you can find it for fair prices) and upon arriving home I was to feature them. And that's exactly what I'm going to be doing now.
As it is the case with small bands that release one single record in their lifetime the information on the web is thin. There's not much to dig. But whatever there is to dig, I'll dig. So first things first, the band's name. I thought it was pretty funny when I found their song "Peter Ustinov" on Youtube and saw a comment saying "Annoying little tune that seems to have nothing to do with Peter Ustinov or Crockett and Jones. False title." Was this person serious?!
So Crockett & Jones is actually a shoe manufacturing company, established in 1879 by Charles Jones and Sir James Crockett in Northampton, England. They were able to establish the company with a grant from the Thomas White Trust. It specialises in the manufacture of Goodyear-welted footwear. It is currently being run by the great grandson of its co-founder, Charles Jones. Crockett & Jones produces both men's and women's footwear with three collections offered for men (Hand Grade Collection, Main Collection and Shell Cordovan Collection) and a limited range of boots and low heeled shoes produced for women. Is it the first time I see an indiepop band named after some shoes? Maybe. I remember the song "Clark's Commandos" by Three Little Piggies, but that's a different story.
So the 7″ EP is titled "Peter Ustinov", just like the opening track that reminds me a lot of the Television Personalities. Who is Peter Ustinov?
Sir Peter Ustinov, was an English actor, writer, dramatist, filmmaker, theatre and opera director, stage designer, screenwriter, comedian, humorist, newspaper and magazine columnist, radio broadcaster, and television presenter. He was a fixture on television talk shows and lecture circuits for much of his career. A respected intellectual and diplomat, he held various academic posts and served as a Goodwill Ambassador for UNICEF and President of the World Federalist Movement. Ustinov was the winner of numerous awards over his life, including two Academy Awards for Best Supporting Actor, Emmy Awards, Golden Globes and BAFTA Awards for acting, and a Grammy Award for best recording for children, as well as the recipient of governmental honours from, amongst others, the United Kingdom, France, and Germany. He displayed a unique cultural versatility that has frequently earned him the accolade of a Renaissance man. Miklós Rózsa, composer of the music for Quo Vadis and of numerous concert works, dedicated his String Quartet No. 1, Op. 22 (1950) to Ustinov. In 2003, Durham University changed the name of its Graduate Society to Ustinov College in honour of the significant contributions Ustinov had made as chancellor of the university from 1992 until his death.
Okay, we got that covered. What other songs were in this pretty 7″? Also on side A we find "Crockett's Jig" that features accordion played by Cees Schoone. On the B side there is "Her Majesty" and "Patience's Not a Beauty Case".
The record came out on September 1990 as a co-release between the Dutch label Noet Lachten Records (NOET 11) and the German Roman Cabbage Vinyl (GREY 3). Noet Lachten was a label from the city of Breda while Roman Cabbage is a label much more familiar with indiepop fans as the brothers Achim and Markus Buss who run the label put out releases by Jowe Head, The Merricks, I, Ludicrous and more.
The credits for the record mention Ton Geerts as the bass player and vocals and banjo by Bart Cornelis, who also wrote the lyrics. Was it a two man band then? The songs were recorded at "War in Bart's Bedroom" studio in Breda, March 1990. Where they from Breda then? I doubt it, as the contact address on the back sleeve has an address in Amsterdam. That seems more likely.
Another important fact about this record is that the press was limited to just 600 copies.
Even though they didn't release any other records they did have a bunch of compilation appearances. The first one dating from 1987 when on the LP compilation "13 Great Bands from the Low Lands" released by Noet Lachten (NOET 4) they contributed the song "Wet Handkerchief".
The year after, 1988, they had yet another song on a Noet Lachten release. On the "Who Wants to Be a Popmusician Nowadays?" (NOET 8) LP comp they contributed the song "Heaven = Hell". In 1989 they had one song on the classic LP compilation "Diamonds and Porcupines" released by the German label Beat all the Tambourines (TAMBEAT 3), "Red Baloon".
Their song "Willy Nilly Postman" was to appear on 1990's "El Dorado" LP compilation released by Roman Cabbage (GREY 2), and in 1991 they were to have three songs on another Roman Cabbage compilation. "Heaven & Hell", "Our Cat Can't Get Canned Food" and "There's No Toilet Like Your Own" appeared on the LP comp "Sorry… Sold Out" (GREY 6). The funny thing about this compilation was that there was no tracklist on the sleeve, instead at the beginning of each side you can hear the legendary Joe Foster reading the tracklist for the particular side you were playing!
Again "Heaven and Hell" was to appear on two more compilations, this must have been their most popular track! Now on Mermaid Records from Germany the compilations were "He Didn't Even Draw a Fish on My Shower Curtain" (MIRABELL 001) and "Mermaid Employee of the Month: Gustav Sackmüller" (MIRABELL 665). You can read a bit more about this label on the Tender Whiskers interview I did months ago.
Lastly Discogs lists a compilation titled "First Noet Lachten Compilation of Lokal Bands". It has no year, but the catalog number is NOET 2, so must have been sometime in the late 80s. Here Crockett & Jones contribute two songs, "I Count Sheep to Fall Asleep" and "Swirl".
I check if the band members were involved in any other bands. I couldn't find anything for Ton, but for Bart I see he played in a band called Four One and Only's who had releases on Noet Lachten and also on Roman Cabbage. That can't be a coincidence.
I keep looking for the band members on the web. I find out that there is a Bart Cornelis who is a curator of Dutch and Flemish Paintings at the National Gallery in London. Might this be the same Bart? It seems that prior of being in the National Gallery he was an assistant curator at the Rijksmuseum in Amsterdam, so at least the city matches. Could be! On the other hand Ton Geerts seem to be a much more common name and it is hard to pinpoint which Ton Geerts could be the one I'm looking for.
::::::::::::::::::::::::::::::::::::::::::::::::::::::::::::::::::::::::::::::::::::::::::::::