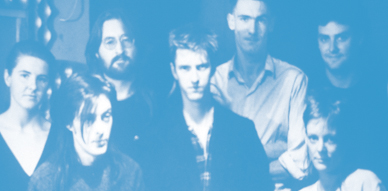 This seems a bit of an off week. Or more of a week in between. I'm working on several ideas and releases at the moment like the next podcast or the fanzine, but I will make a proper update next week. And of course, for those who didn't read last week's post, you have to know that the SHINE! CD is out now and that you all should order it because it's fabulously good.
So what is new this week in indiepop world? Seems pretty quiet, right?
Let me review them some new releases that might have escaped your radar as there are no indiepop blogs anymore. Oh dear. The death of the blog and I continue doing this.
On January 1st The Wolfhounds, who reunited in 2005 after disbanding in 1990, released a new record called "Middle Aged Freaks". I had the luck to see them live two times already and they were, as expected, really powerful and direct. Happily they played my favourite song of theirs, "Anti-Midas Touch". What a song that is. One of the best of the C86 period for sure. Anyhow, let's talk about the present then and I definitely recommend at least checking out this new album, the first in 24 years, on their bandcamp. It's only 8 pounds plus shipping (yes, I have to order it too) and it includes a collection of 13 songs that have been written since 2012 (some of them you might know from previous 7″s).  It's out now on Oddbox Records.
Another record I plan buying at some point (this week I already spent a lot on records believe me) is the Artic Flow's new 7″ on Box Bedroom Records. It seems to be sold out though. So I may need to dig around, maybe some mailorder still has copies. For those who like dreamy pop, soft vocals, jangly guitars, and electronic drums, you know, that classic sound a la Harper Lee, Brigher, the sort of records the Spanish label Little Treasure releases, then this will be up your street. It's deliciously good. There were only 150 copies pressed on this deluxe edition that included postcards and more souvenirs. There are 8 tracks in this 7″, though some of them are really small tiny instrumentals. You get really 4 proper songs and they are all top stuff. Beautifully packaged really. You can listen to it on the band's bandcamp.
Skittle Alley, the band from our good friend Fanou, has a new album out now on Discos de Kirlián. French band on Spanish label. Good combo.  I believe that this album (or mini-album?) of 8 songs has only been pressed 100 times. There are 50 copies of the digipak in brown and another 50 in blue. The blue looking nicer if you ask me! You can also stream all the songs on the label bandcamp. Seems everyone are streaming every song from every release these days! Must be a trend. Nobody wants to be surprised by a B side? In any case, the CD is only 5 euros plus shipping, an unbeatable price. I also read that this year Limoges Popfest better known as Pop & Merguez, where Fanou is one of the enthusiastic organizers, is making a comeback. It's fantastic news indeed!!
Another record to get this year is the latest from Japan's Boyish. "Sketch for 8000 days of Moratorium" is the name of the latest work from this superb band that is very dear to the Cloudberry family (we released one 7″ by them, you have it right?). This is a great new effort by this dreamy and shoegazy band. I played one of the songs from the album in our first podcast and an interview to the band will be included in the next fanzine. You want to listen to this beauty? Well head to their bandcamp and expect to be blown away though there are only 3 songs available to stream. Boyish seem to think old school like Cloudberry, if you want to listen to the whole, why not invest in the CD? I've listened to it and I'm telling you, it's truly terrific.
And last but not least I suggest checking Foam of the Daydream. This band includes ex-Help Stamp Out Loneliness' Bentley Cooke and D Lucille Campbell. I remember Bentley from Indietracks and waiting outside the Travelodge for cabs. And of course I saw HSOL play at the festival. That was one hell of a show. I'm glad they've continued making music but they should promote it more!! They've just put out under this new name a 7″ on Pierre's Freakscene label and it includes a WONDERFUL song called "Chloe's Lung". The B side is the same song with a different mix, a darker mix. Wish it had been another song because you feel they can only pen precious songs, so you end up wanting more! In any case, head to bandcamp and order it. You won't regret it! A true new favourite band! As I like it so much and because I love the book they were inspired on to write this song, I want to copy/paste the press promo text:
When the regretted Help Stamp Out Loneliness released their instant classic and eponymous album late 2011, Bentley Cooke and D Lucille Campbell started to write new demos for an always difficult second coming.
Michel Gondry with "Mood Indigo" isn't the only one to have found inspiration on Boris Vian's novel "L'Ecume Des Jours" (Froth On The Daydream), the story of a man who marries Chloe,living the hi-life dream until she develops an illness that can only be treated by surrounding her with flowers.
Vian's masterpiece is a perfect canvas for Bentley's signature Indie/Kraut and the unique androgynous dark edge of Dee's voice. This vivid and luminous tale gradually turns into disillusion and death.
In a similar way,Chloe's Lung will be the last collaboration between Cooke and Campbell; unfortunately, during a last series of european gigs, HSOL suddenly split up despite an ever growing fan base.
Foam On The Daydream presents the two versions of Chloe's Lung respectively choosen by Bentley and Dee, they come on a 7" wrapped with a luxuriant poster illustrated by the artist Sarah Lippett.
Beautiful.
And that's all folks!
————————————————————-
Bomb And Dagger – band, feat; Debbie Debris (voc,keys), Alison Statton (b.voc) (ex Young Marble Giants, Weekend), Spike Reptile (gtr) (later Table Table), Phil Moxham (perc) (Young Marble Giants), Dale Reynolds (gtr) (later Table Table), Ant Davies (bass, keys), Kirby (drms), Andrew Moxham (perc) (Young Marble Giants), Dean Roderix (drms) Ant moved to London and now lives in Edinburgh and played in many bands, he says, 'Lots of great memories… I remember playing an unusual gig in a Curry House somewhere near the Docks and seeing a review of our gig in the NME .'
This small info comes from the Link2Wales site. Do you recognize some of those names? Come on, at least you should know Alison Statton, Phil Moxham and Spike. No? You could find lots of information about them I'm sure if you just google them. So I won't go there. But I want to cover today another band they were involved in and no one seems to know or remember.
There is a small page on the Z Block label that has a better introduction to the band:
Bomb & Dagger formed by Debbie Debris & Spike in 1984 during the miners' strike and many of the early performances were to raise funds for the striking miners' families. The earliest line-up (left) featured Alison Statton and Phil Moxham (Young Marble Giants & Weekend) as well as Kirby Stevens, Dale Reynolds and Anthony Davies. Bomb & Dagger became a popular live act on the jazz circuit, performing regularly at the Brecon Jazz Festival, TV and radio sessions, touring Europe and supporting many top African artists including Hugh Masekela. These recordings include tracks from the cassette LP 'Peace, Bread & Land' and their single 'Wake Up'
Here in this site you can stream all the songs they recorded. In there we also learn that Bomb & Dagger were named after a notorious meeting house in Tiger Bay, that the band gained a reputation as hardcore political activists, and that they had played also at Geneva's Festival de'La Batie.
The songs are listed as if they were part of a CD called "Peace, Bread & Land". I wonder if these songs were reissued at all on CD. The website dates of 2007. Would be good to know if these songs are available in high quality.
Definitely this is not your usual indiepop fare. But it has so many ties, and many songs are just so good pop songs that they really paint a picture of the time, of those mid 80s.
The records are not easy to find at all. But let's go through Discogs and see what we can learn about these records. Their first 7″, their only 7″, was released in 1986 on SSR Wales (catalog BDSS 01). The A side was "Wake Up" and the B side was "No Real Place".  It was engineered by John Davies.
The other listing Discogs has is that from them appearing on the compilation "0222 A Compilation of Cardiff Bands" that was released by Popdy (catalog Popdy 101). In this compilation also appears the band Papa's New Faith that I should definitely cover as they are truly great! Anyhow, the song that Bomb and Dagger contributed in this LP was "Strike". I like that Discogs mentions on the notes that 2 of the bands on it went to form Super Furry Animals and Catatonia. Funny, I guess some care about those bands!
Ah Cardiff! Such good times I had there. Lovely town. Drinking Brains beer, visiting the castle. I hope to visit again in the near future. And now that Cardiff hosts Wales Goes Pop! there are even more reasons.
The other interesting fact I could dig about this forgotten band are two videos on Youtube, two songs being played when they appeared on the Welsh program "Juice". The songs are "Trouble" and "Separate".
And that's more or less what's available online about this sought after band. Especially by Japanese collectors. Anyone know anything else about them? Were all their songs reissued on CD really? Would be great to know!
::::::::::::::::::::::::::::::::::::::::::::::::::::::::::::::::::::::::::::::::::::::::::::::
Listen
Bomb and Dagger – Strike