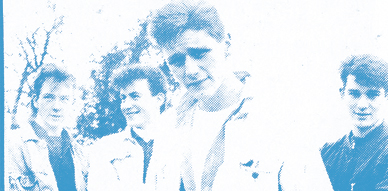 When time is on your side, you shouldn't waste it. Is investigating indiepop a waste of time? It is one of my favourite hobbies, and while I wait for the Champions League semifinals to start in 45 minutes I can explore some new music I found on the internet. It is not easy though, it takes me some days to find a handful of bands worth recommending. I save their pages as soon as I find them so I don't forget. A bit of disciple is necessary.
I have an interview to write to, for the blog. I've written a few lately but I haven't got the band's answers. Only Resque were quick enough to answer theirs and that one came out really nice. I wish bands in general were excited and quick enough to give me their replies. I know, I ask a lot of questions. They are long interviews. But 5 questions wouldn't tell the story of the band. Especially of the bands I interview who have almost no information about them on the web.
Las Kasettes: this fantastic Pamplona band released two 7″s that I duly ordered when they come out on their hometown's premier indiepop label Chin Chin Records. Seems that Chin Chin is closing shop though and that was truly sad news for me, as I was a big fan of theirs. Their design and their taste was immaculate when it comes to P!O!P! music. Las Kasettes have found a new home at KOTJ Records from Spain as well and they have just released their debut album, an LP titled "Bajo el Sol" and you can stream it on their Bandcamp. The band is formed by Edurne and Maier and the whole album is a parade of cover versions of different bands including The Beach Boys, Girls at Our Best or The Clovers.
Río Arga: another Spanish band on another Spanish label. 6 songs available to stream on Bandcamp and also released on tape (ugh tapes…) by Mondo Canapé Records, the same ones who released the wonderful Whalo. The label is based in Alicante and the band, I believe, hail from Pamplona. The band is formed by Txema, Alex, Nico and Laura and this is a really promising debut. I look forward to their next effort already! (and hope they release these 6 songs as a CDR at least)
Fazerdaze: I've heard many good things about this band, I see their record on my Instagram feed and also on my Facebook one. My friends seem to love this Auckland, New Zealand, band. Definitely being released in legendary Flying Nun Records gives the band important credentials. So I stream the songs from their debut album "Morningside" from their Bandcamp and I'm not impressed, it doesn't have all the pop moments I'd like! But there is one song that I think shines over the rest, a song that is such a hit, a wonderful song, and that is why I recommend this record. Just for the one song. It is titled "Lucky Girl" and it is a rush of infectious melodies that I can't get out of my head.
Brightener: is the solo project of Palm Springs, California, Will Sturgeon. He has a new album that was recorded between 2015 and 2017 and is  titled "Headroom". It is a short one, 8 songs, but aren't they nice? Soft jangle pop, performed with elegance, and available not only on Bandcamp streaming but on CD digipack. Just $8. There are some very good moments in the album like the songs "Filters II" or "Help U Better Then" where I can hear so many classic American indiepop bands from the 90s and early 00s.
Kidsmoke: here's another one for my Indietracks organizers, another one that they missed. This band from Wrexham claims to be inspired by The Smiths and some other not so good bands like Wild Nothing or Real Estate. In any case, their songs sound fine to my ears and that's what matters. Their last song is titled "And Mine Alone" and I'm guessing was released as a digital single last April. There are many more releases for us to discover and enjoy.  The band was formed in 2013 by Lance Williams on vocals and guitars, James Stickels on bass,  Sophie Ballamy on guitar and Ash Turner on drums.
Peonies: last band for today's review and possible for the week! I don't have any other saved discoveries at the moment so probably it will have to wait for next Monday, well if I don't decide to write about something else altogether. Peonies is a band from Jakarta, Indonesia. That means they make good pop. Indiepop from Indonesia is nowadays strong, there are so many good bands there that it one doesn't get surprised anymore by their quality at song craftsmanship! The band has been going since 2015 and is formed by Jodi Setiawan, Cinta Rimandya Marezi and Paramitha Citta Prabaswara. They have signed to Nanaba Records and I'm not sure if they have released something or not. I hope they have. You can listen to a bunch of their songs on Soundcloud.
————————————————-
If you read my last post about Wrong Door Raid you will be at least somewhat familiar with the compilation "Dungannon Musicians Collective 5" where The Hasbeens also participated. As I previously mentioned, in this compilation there were 5 bands, all of them part of this collective (I don't know if there were any more bands in the collective other than the 5): The Hasbeens, Tiberius Minnows, McGovern, Wrong Door Raid and The Moon. Today is time for investigating The Hasbeens, leaving just The Moon, whose song "Place" is very nice, and Tiberius Minnows for hopefully an interview later on as they seem to be available for contacting online. McGovern is a rockier band and so perhaps doesn't fit well in the blog.
As you know this compilation came out in 1988 and was released by Castle Records (DMCAST1) and according to Discogs it was the sole release on the label. This compilation was put together with effort by the bands in the collective and the DMC chairman, Mark Hamill, playing gigs to raise money and so on.
I was surprised by my friend Tim Hall's comment, saying that it was unimaginable that Dungannon could have an indiepop scene. Maybe it wasn't really an indiepop scene, maybe it was. I don't know. At least there were some bands making some great music, much of it flying under the radar. I believe only Tiberius Minnows ended up releasing further records. The other bands were to leave their 2 songs on this compilation as their legacy.
Luckily this compilation was well-thought, and the label put together a booklet with information about each band. The Hasbeens are the first band to appear on the booklet as they were also the first band on the compilation, opening the A side with the poppy "Trivial". They were to close the compilation as well, with their song "Showbands Must Go" as the last song on the B side. The lyrics for the latter are included in the booklet.
There is a big difference style-wise between their songs. I love the poppier, happy-go-lucky feeling of "Trivial", while I'm not a big fan of the 80s heavy and rockier "Showbands Must Go". I wonder what style they preferred in their other recordings if they had any.
We get the band members first name only on the booklet. We know that the band was formed in March 1987 by:
Kevin on guitars, Gary on bass guitar, Patrick on vocals and Stephen on drums.
The photo I've posted was taken by Cathal McCall. I googled him and I could find a  Queen's University Belfast professor with the same name. Could it be him?
Other people credited in the recordings were Karen Herron, Cathy McCausland, Sharon McKillon and Oonagh O'Sullivan. They were the kids that sung on "Showbands Must Go". Maybe Karen Herron was the daughter of S.J. Herron from McGovern, another band in the collective? The band also thanks a Gary for the work in the studio.
Aside from these facts I couldn't find any more clues about the band. It seems they just went into total obscurity. At least for Wrong Door Raid there was a Soundcloud, never updated and all, but there were was something tangible that they existed and left something. For The Hasbeens the web is virgin territory. There's nothing whatsoever about them. It seems actually the only Hasbeens one could find online is a brand, Swedish Hasbeens, specializing in clogs shoes.
Anyone remember them?
::::::::::::::::::::::::::::::::::::::::::::::::::::::::::::::::::::::::::::::::::::::::::::::
Listen
The Hasbeens – Trivial