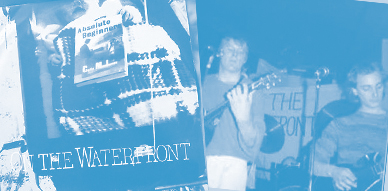 Last post before vacations! Well, unless someone answers interview questions before I head to Thailand this Saturday morning. Very exciting! But before we have here an interesting week. Tomorrow there's Presidential elections in the U.S. and I will be working around the clock, probably until midnight or later. Hopefully the result of the election is not a terrible one. It is a very scary election and I'm crossing my fingers for the best outcome. Then two days later, on Thursday is our official release date for The Seashells 7″ with the fantastic two songs "Thoughtlessness" and "A Comfort to A Fool". The mighty return of the classic Umeå band! So quite a packed week!
On top of it all, last Friday I had my U.S. citizenship interview and I passed it. Now the next step seems to be the oath ceremony and I'll be waiting for that. I was quite nervous but I didn't make any mistake in the history/geography questions (to be fair they were pretty easy questions). I haven't had an oral test in more than ten years! But yeah, it was quite an interesting experience.
I hear also that my good friend Peter from Twee.net will be at the same time in Thailand. That would be awesome if we could meet. Maybe there's some indiepop stories in Thailand in the end! Things shaping nicely.
Then I got my new computer and I've been setting it up. I'm still lacking some programs. I haven't done much to be honest as I've been addicted to Civilization VI. But about my other computer, the one that stopped working, I don't much. A friend is checking it, a computer expert, and hopefully he can salvage the hard drive. I have listened to a bunch of records this week and I want to file them in my Excel sheet! And I can't. I really feel silly for not having transferred my record collection to the cloud, maybe to Google Spreadsheets. I thought many times about doing that, but I never did. No excuse, laziness probably.
But what about the topic we are always interested in? Well as it is becoming normal the news are far and between. I think what has excited me the most are a number of gigs happening in the UK that I most probably won't be able to attend.
The first, and I couldn't find a link to a Facebook event but you can check the flyer here, is happening on Friday February 17th 2017 in Preston. Who is playing at The Continental? Well, it is a fantastic lineup, The Orchids, The Chesterf!elds and The Suncharms. Three top acts. How I wish even one of these bands would play in New York. Just one.
And what about the day after? Yes, on February 18th 2017 there's An Evening of Indie Pop! at Gulliver's in Manchester. Who is playing? The Chesterf!elds, Karen (which is the fab band Davey from Brilliant Corners has now) and Cherlie Big Time. Couldn't find a Facebook event either, but here's the flyer. Again, what a lineup! I would be a roadie for The Chesterf!elds if I could!
But much closer, this November 10th, in the continent, our friends and Cloudberry graduates Stephen's Shore are playing a gig in Stockholm. So please if you are around don't miss it. For this one there is a Facebook event page. It is happening this Thursday at 8pm at Under Bron.
Continuing with gigs, NYC favourite band Pale Lights are playing on November 19th at the Cake Shop. But that one I'll be missing as I'll be away. I still haven't managed to get their last release and I'm quite worried it will sell out! Damn!
Then Olov Antonsson who used to be in The Tidy Ups and used to record under the name Cocoanut Groove is playing solo on November 26th in Stockholm's venue Landet.
Maybe there's more cool events happening. I don't know. I was also wondering when will Indietracks 2017 be announced. I can't recall previous years now, but I think it was around this time of the year when they would announce the dates for the next festival, right? Well, better to keep an eye.
Also it seems Firestation Records is now working on a Metro Trinity retrospective. Sounds like an ace project. At the time they seem to be asking fans and people to help with any recordings. Please check here and help if you can!
And last but not least, all-time favourite La Casa Azul has a new song out titled "Podría Ser Peor". Hoping for a new album soon!
——————————————————–
Now, the time of our obscure band of the week right? I picked up a random Leamington Spa compilation today before leaving home. Kind of in a hurry. Today I needed a surprise, and it suddenly hit me, a song I remember liking a lot and about I knew nothing really: "Mrs. Harrington" by On the Waterfront. Did they release records? Who were they? I don't own nothing by them. Who were On The Waterfront? And who was "Mrs. Harrington" if anyone at all?
I open the booklet included in the compilation. That's the best part of these compilations perhaps, the booklets. I miss booklets. Now CDs (and LPs by default) come without booklets. It sucks. It makes me so annoyed. Nothing can replace them. And labels and bands don't even try, you would think that they would attach a PDF or something, but not even. Anyways, I turned a bunch of pages and I saw, a whole page for On the Waterfront. What does it say?
"Essentially a live band, more powerful and 'rocky' than the EP portrays, played mainly around the London scene. 'Mean Fiddler', 'Ronnie Scots', 'Rock Garden', 'Tramshead', and all those great venues that were 'live and kicking' at the time. Some bigger gigs in provinces on the university and festival scene. Highlights such as supporting 'the late great' Steve Marriot, and the TV show 'The Tube'. Tried to be topical rather than political, (but politics is always topical). Songs were often inspired by news stories. Mrs. Harrington a prime example, and sadly a story that's still topical today. All members are still alive and well, and still playing, don't think you ever get it out of your system. There is even talk of a 20 year reunion gig…. We'll see. Jon Yallop"
And we also get the years they were active, 1983 to 1987. And the lineup:
– Bill Mayell – vocals/guitar
– Tony Fitzgerald – bass/vocals
– Paul Patch – drums/vocals
– Jon Yallop – guitars/vocals
Their origin? Tilbury in Essex, England.
Tilbury is a town in the borough of Thurrock, Essex, England. It was established in the late 19th century, on land that was mainly part of Chadwell St Mary. It contains a 16th century fort and an ancient cross-river ferry. Tilbury has a major deep-water port which contributes to the local economy.
Now what about their releases? We head to Discogs. They only have listed one 12″ EP with four songs. Two on each side:
A1. The Kids are Allright
A2. Never Surrender
B1. Far From the Madding Crowd
B2. Mrs. Harrington
Huh! "Mrs. Harrington" was not even an A side! Wow. The record was released by Wizz Records (catalog WIZZ1) in 1986. But I really doubt it is the same Wizz Records has as it is a house label. I think this must have been a self-release. I notice that in the cover there's a picture of Colin MacInnes' novel "Absolute Beginners" which I've never read.
Time to keep digging. It seems there's not much online. I find a video with some footage of the band from the 80s. It is supposedly they only known footage of the band. This comes from a gig at the Rock Garden in London and also from a rehearsal venue in Essex. The track that accompany the images is "The Kids Are Allright".
Someone comments in this video, a year ago, and says that Tony Fitzgerald is now a bass played who plays solo acoustic sets of covers and  some songs of his own and that also he is the bass player for the Northern Soul band The Signatures. Time to track The Signatures. I think this is their website. The problem is that I don't see Tony's name on the website or in their Facebook page. Maybe he left the band already?
What about the rest of the band? I find some info about Paul Patch, the drummer, on a website called The Various Assortments. It seems Paul Patch also goes under the name Billy Bad. He was born in Chelmsford and raised in Grays Thurrock. It seems he was in the famous Apple Computers 1984 commercial (!) among other interesting tidbits about his live. It says he has been in at least seventy (!) bands during his career like The Angels, Walking Wounded, Psycho Psycho, Dancing on the Telephone, etc etc. Seems he had a very eventful life!
About Jon Yallop, I think I found some music of his on Youtube. Unless there's another Jon Yallop you can find a bunch of his songs on his channel.
What about Bill Mayell? Again, I'm not 100% sure but I found some photos that mention a Bill Mayell, a guitarist, being part of a band called "Take Oath" in the early 80s. Might he be the same one as In The Waterfront? Check these mod photos here.
And that's where I hit the wall. Not bad, no? Found some extra information about each band member (I think!), and we got to listen to three of the songs on Youtube. The only one I couldn't find was "Far from the Madding Crowd". I couldn't find a good price for the record, but hopefully I will at some point. I won't forget about them. What about you? Do you remember from their London gigs? Did you use to see them hanging out in Tilbury? Would love to know more about this band!
::::::::::::::::::::::::::::::::::::::::::::::::::::::::::::::::::::::::::::::::::::::::::::::