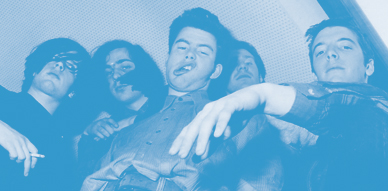 Thanks to Perry Groove for the interview!
++ I've googled The Grooveyard and there are almost no results! So I think I should ask the basics, where and when did the band formed? who were The Grooveyard and how did you meet? And why start a band?
First of all i should say that i wasn't in the band at the beginning or at the end but was in it during the middle section of 2 years and play on all the recordings.
The Grooveyard supported a band i was in at the Clarendon in Hammersmith. in 1986. We had some mutual friends. A few weeks later they asked me to join as drummer which i did as i liked them personally and their music. The gigs could be chaotic but there was loads of energy and improvising. Steve Bennett was on vocals; Justin Spear on bass, guitar and vocals; Mark on guitar and bass; Simon on flute and guitar, Perry Groove on drums. Justin, Mark and Simon would all swap instruments all the time. They were very good musically and all had great characters. We were based in Kinston, we would rehearse in Justin's attic (Justin's dad was in the Bonzo Dog Doo-Dah band) There was also a big Brighton connection as Steve and Justin went to college there.
++ Where does the name The Grooveyard comes from?
Grooveyard was just a pun on graveyard.
++ You released a collector item, At Home with the Grooveyard. I guess at the time it wasn't. How do you feel that the record is sought after and people paying lots of money for it on ebay? How many copies of that 12″ were made?
I had no idea that there was any interest in the band and any people wanted the record 'At Home'. I have no idea how many copies of "At Home" were pressed. I guess about 1000
++ You released a flexi on the same label where you included the song Summer which is the only one I have ever heard. And I think it's great! Which bands influenced you at the time? Any favourite ones that you played with at gigs at the time?
All the band were big music fans with a massive range of interests and styles between us all the band though loved Love, The Byrds, West Coast Pop Experimental Band, REM and The Smiths. Other faves at the time were The Chills and McCarthy.
I loved playing live with the band, very entertaining and musical. I was a few years older than them so a sort of father. Gigs that stand out in 1987 are supporting The Wedding Present at Brighton Pavilion (recorded for BBC Sussex). Playing at a sort of happening at the Kew Steam Museum (we just hired it and organised it), hundreds of people, loads of bands and light shows, etc. And supporting The Chills in Brighton.
Oddest gig was supporting Mud in Farnham.
++ Why didn't you release more records? Do you have any unreleased songs?
We only went into the studio twice in Brixton. We did 3 songs: Summer (ended up on flexi), Peter and Whiskey Whirlpool. Then in Brighton we did the "At Home". Very odd atmosphere as on way down to record it, Steve and Justin had a horriffic car crash, I think someone was killed, they were really shaken up. We recorded it basically live except for vocals) and everybody kept making mistakes on the first one we did (he said) we all got fed up and it got quicker and quicker! By the time we came to Whiskey whirlpool, we just played it once and that was it.
I have tapes of rehearsals and live gigs but buried away.
++ What happened to the band members after The Grooveyard was over? Were you at all involved in other guitar pop bands before or after?
I have no idea of what the others are doing now. Mark mainly wanted to split the band and it happened in 1988. They reformed with a friend Greavsie on drums a few months later. Then shortly later Mark left and they stayed as fourpiece after that. Rat Scabies managed them for a while and they did record a few demoes including "Speedball". While they were in Grooveyard, Justin and Greavies were also in a Brighton band 'Blow up', they recorded an LP for Creation. I have only been in touch with Justin in the last few years. He does some djing and recently was on Radio London filling in for Danny Baker with Martin Freeman.
I played in loads of bands before and after Grooveyard, most lost in time. Before The Grooveyard I was on The Oddhits and Nantuck Five. And after on Perry Combo, Maybellenes (singer was Wendy may from Boothill Foot-Tappers).
++ What does indiepop mean to you? Do you follow the scene today?
I still love indie-pop but the problem with being my age,most of it sounds generic. It's hard to have an original sound. That's why I like Hard-Fi and The Killers.
++ Thanks so much! would you like to add anything else?
You should get in touch with Justin Spear (I most surely will!), he was Mr Grooveyard. Really, he was the bus driver, I was just a passenger and back seat driver for some of the journey.
::::::::::::::::::::::::::::::::::::::::::::::::::::::::::::::::::::::::::::::::::::::::::::::
Listen
The Grooveyard -Summer