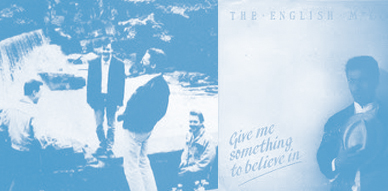 What a weekend. I'm so so tired. Where do I even start? Did you go to NYC Popfest? Some new people I met told me they like reading the blog, maybe that was one of you reading these lines. Thanks for that. It made me happy. If it didn't show, I swear, I was tired. I was exhausted by the second day. And yesterday, on Sunday, I could hardly stand up! I'm getting old so soon!
In the end my expectations and my excitement to see the last four bands of the festival, Secret Shine, Even as We Speak, The Railway Children and The Chills, were more stronger than any pain on my feet. My girlfriend did take some breaks and went to sit to the front room of Littlefield. I tried to hold the fort, front row, trying to secure the setlists, my most precious souvenirs these year as it seems I owned almost all records that were on the merch tables!!
I would have loved to stay longer yesterday. Enjoy a longer evening, perhaps another beer, but most importantly a longer goodbye with friends that I won't probably see in many years. That's the beauty and the sadness of these festivals. So great to have your friends reunited but then you end up missing them a lot! Who to talk about indiepop and rare records now at gigs? No one almost! Indiepop friends are definitely an endangered species.
I should review Popfest in two weeks when I return on vacations. Heading to Mexico this Saturday for a week. So no, no new post next week. But the next one for sure. Maybe you can do your own investigation about some band. Or maybe you can recommend a band to cover. That'd be cool. It's been a while since someone asked me about a particular band, obscure or not.
I just need to reorder my ideas, all my memories of Popfest are so fresh that I need some perspective before writing about them. I guess my only worry at the moment is that NYC Popfest may come to an end as this year it marks it's 10th anniversary. That would make so many people unhappy! Me included. I hope it happens again next year of course, and I hope Maz keeps doing it. I don't know if anyone could be as good as him at making this happen. All the acknowledgement he receives in social media is well deserved. This year again he put together a very strong lineup, with amazing headliners, and got all shows sold out. Even if the tickets were more expensive this year, it was definitely worth it. I also think it is the first Popfest I attend were all bands started at the time announced. Punctuality has never been an indiepop trait!
The venues also worked well. I think changing Spike Hill for Baby's All Right for Saturday afternoon show was a good move. It's a much better place. Only downside with Baby's All Right is the prices for beer. The cheapest was $6 I believe. That's not cool when one is used to $4 crap beer, but still, you save money.
Also Cake Shop was a good idea for an afternoon show and having the big Le Poisson Rouge for Thursday instead. The logistics in that sense worked well for Popfest. Chris Jigsaw as always ran the merch table with dedication and was even taking card payments. Modernity. All these things definitely helped Popfest be a hassle free festival.
My only concern this year were the Popfest T-shirts and totes. First day they were $15, second day they were $10 and at the last day they were $5. Sure I like supporting, I bought 2 t-shirts when they were $10, and my girlfriend a tote when it was $15, but seeing the prices go down, to be a third to the original price on the last day, well it was a bit annoying. I assume the reason for this was that too many totes and t-shirts were printed, but if I had known I'd waited until the end. As it's common that things get sold out fast at the merch table, I didn't wait. I guess that was the only "mistake" I saw in a flawless Popfest.
The bands? That I leave for my review when I return from vacations. There were many highlights definitely, but mine were Even As We Speak, The Chills, Secret Shine, Trashcan Sinatras, Alpaca Sports, Los Bonsáis, Cristina Quesada, Tiny Fireflies, The Chesterf!elds, Snow Fairies, The Railway Children and Silver Screen. What were yours?
I do think though that in general the Even as We Speak show was my favourite. Why? I think they made a very special gig, a gig of the sort that should happen at Popfests. They came dressed up on stage as marsupials (Australia represent!), they invited people from stage to dance with them twice (!) and even showed them some moves to do, they covered the Go-Betweens and at the end they asked the audience to choose between songs. I love that! For me Popfests are the perfect place and moment for band/fan interaction, and that's what indiepop is all about! Gigs like this make me happy! And these are the ones that fans usually remember the most!
What do you think was the best moment and why? Would love to hear your thoughts!
———————————————————
One of those records we all want to have. We indiepop lovers have heard about The English McCoy but unless we are a lucky few, we haven't gotten their records How many copies were pressed? Will a secret stash will one day make its way to a record shop down in your neighborhood?
It was 1988 when the band released their record the label Nowyertalkin' Records. It came out on a 7″ and on a 12″. Which is rarer? I don't know. The 7″ had the catalog number of 7TALK 2 while the 12″ was 12 TALK 12. This label had also released other records by bands like Commando, Connie Kaldor, The Self-Destructers and David Hemingway. To be honest, I've never heard of these bands before.
Both editions had "Give Me Something to Believe In" as the A side and for the name of the EP as it appears prominently on the sleeve. On the B side both had "Breaking Down" and the 12″ also included the song "Buffalo Dream" on the flipside. Writing credits always for Miles Salisbury but "Breaking Down" co-written with Paul Barlow.
The record was produced and mixed by the band and Ronnie Stone. It was recorded at Studio One in Chester. It was mastered at Abbey Road Studios. From the back sleeve of the record it seems the band was formed by 4 chaps. I know at least the name of three of them: Miles Salisbury, Darren Baldwin and Paul Barlow. How come?
There's a Bandcamp for the 80s band Things in General. These three lads were part of this band after The English McCoy was no more. They were based in Preston, so I think it's safe to assume the McCoys were too. It's kind of a shame that I only discover this Bandcamp today as years ago they were selling a 15 track CD called "Best of the Generals". You can stream it of course, but for me it's not the same! I hope I could get a hold of it. It's really good!
Also the English McCoy had  a Twitter where I think they were announcing mostly eBay listings for their record. Not much there as info but some cool tidbits like that Miles Salisbury's pink Tokai Stratocaster was dubbed "Pink Flamingo" by their fans or that they signed contracts with the label Nowyertalkin' Records before a gig at Hebden Bridge Trades Club.
The last piece in the puzzle is a ReverbNation page with two songs by Miles Salisbury. There are two songs there, "Minnow" and "Old Kilcunty". Not sure when were these recorded.
Not much more on the web about The English McCoy. Hopefully there is a chance for an interview at some point. Would really love to know more about this obscure band that recorded such a hit like "Give Me Something to Believe In". Wonder if they recorded more songs other than the three on the record. Where did they play gigs? Who did they share stage with? And more…
Do any of you remember them?
::::::::::::::::::::::::::::::::::::::::::::::::::::::::::::::::::::::::::::::::::::::::::::::