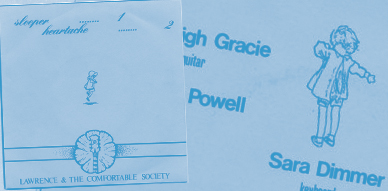 Can't believe it's been 10 days since I last updated the blog. These have been very busy days and it doesn't look as it's getting less busy at all. Last weekend I was out of town in San Antonio, Texas, and the next week I'm off to NYC for the Popfest, for some days of indiepop fun with friends and to clear up my mind which I really need badly.
On the Cloudberry news side, this upcoming week, May 17th to be exact, I'll have two new records out. One by Japan's Caucus and the other by Canada's Persian Rugs. Both are truly fantastic! I'm very proud to release them. Both bands will be playing at the NYC Popfest, so if you are around don't miss them. We should have the singles for sale there too if you want to save postage.
And for the near future, I have some great things in store, today I got the masters for the Very Truly Yours 7″ ("Girls Tell You Secrets" and "Sleep in the Clouds") and they sounding great! It should go to press next month so stay tuned to that! And if you were wondering when the next fanzine is out, it should be out in less than a month hopefully. I am just missing some interview answers and it should go to print in beautiful pink ink!
But, my few loyal readers, I know you come for some music recommendations as well, and after 10 days you may be feeling some heartache for having nothing to read. Just kidding. But seriously let's try to rediscover a long lost, obscure band, that only recorded one fantastic 7″: Lawrence and the Comfortable Society.
The band was formed by Leigh Gracie on vocals and guitars, Nick Hardy on guitar, Jeff Powell on bass, Sara Dimmer on keyboards and Chris Wyatt on drums. All songs written by Gracie. I'm not sure from where exactly in the UK the band members were from but they definitely have ties with Norfolk as they attended Wymondham College, a state boarding school, that is a specialist Technology College (Mathematics, Science, ICT & DT) and also a Modern Foreign Languages college.
They only released that one 7″, with "Sleeper" on the A side and "Heartache" on the B side. My favourite is "Heartache", which is such a great soulful indiepop tune! It has heartfelt lyrics, a great chiming guitar and a beautiful keyboard atmosphere. Such a song! Should be in the next Leamington Spa CD I say! The A side, "Sleeper", is really nice as well, with it's jazzy edge. Both songs were Overall a great single that is so rare to come by! And any information about them is also very hard to come by!
The only other information online that I could find comes from the "Remember Wymondham College" website and I'd like to copy here. Definitely check out their site as there are scans and MP3s for both songs on the 7″.
"Interesting that you should have a focus on Lawrence and the Comfortable Society this time around. I remember sitting in the audience of the Mair Cup watching them perform. They were electric and put on an event that showed that they had real magic about them. Lawrence was dynamic and a real entertainer that night. He certainly knew how to woo a crowd and demonstrated that he had the knack to go very far in the entertainment world…. well, I thought so at the time. The students enjoyed the event and I recall that I, as a member of staff, had to contain my enthusiasm for his performance so as to retain a dignified perspective…. but I wanted to rock with band.
It may be of interest to you that I still have the single that the group produced and I wondered if you would like borrow it so as it could be downloaded from the site. It that possible? It's in vinyl form and I do not have the technology to convert it into a MP3 format. The A side is called 'Sleeper' and the B side is called 'Heartache'. On the back cover it has the following credits:
On the label it says (c) Liegh Gracie (not my typo; that's what it says) Producer: Howard T."
Cliff Martin
Leigh Gracie is at present with Speedometer (http://www.speedometer-funk.co.uk/). We received this from an old friend of his:
"Leigh Gracie and myself renewed contact a couple of years ago, and on the back of this I came along to see his funk band Speedometer in London last autumn. A great band, but what transpired after they had played 3 or 4 tracks bears testament to the popularity of his earlier outfit – Lawrence & The Comfortable Society. Slowly – and initially almost inaudibly – you could hear people beginning to chant: "Lawrence, Lawrence, Lawrence". Speedometer played on for a couple more songs, but in the end the chanting for Lawrence grew impossible to ignore. Leigh laughed and said "OK guys, let's give them what they want!", and the band proceeded to knock out a 50-minute set of old Lawrence & The Comfortable Society numbers! The place went crazy; I've never seen so many people dancing. Leigh admitted afterwards that he was surprised at the popularity of his old songs, but it had been exhilarating to play them again. I'm keeping my fingers crossed for a full-blown reunion!" Mark Fox
So will that full-blown reunion happen some day? Were there any more recordings than just this two songs? Why didn't they get to release more songs? Maybe they put something on compilations? Who was Lawrence? Who were the Comfortable Society? Did they gig a lot? So many questions and no one to answer. I wonder if anyone has more information! Would be great to get in touch with the members for an interview as well! Hope you enjoy!
::::::::::::::::::::::::::::::::::::::::::::::::::::::::::::::::::::::::::::::::::::::::::::::