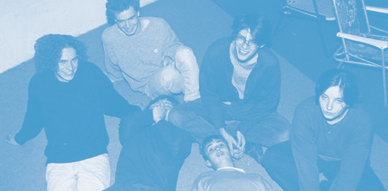 Back to New York after 9 days in the United Kingdom. Many might think I'm glad to be back, but I have to say I'm not. I'm in love with London. And if I could, I would stay there. Even if it's underground is always packed and I hardly ever find a place to sit down. Even if there's chicken bones all over the sidewalks. Even if everyone offers you tea at home and never a soft drink. Even and even and even. I love it. And I can't wait to go back, probably not until next year around Indietracks time.
My trip was terribly busy and sadly couldn't meet all the people I wanted to. Also couldn't do everything I would have liked to. But more or less I did everything I had planned to. On top of it all it was the best record shopping experience I've ever had. A massive haul of 19 CDs, 2 10″s, 25 7″s, and 43 LPs in 2 carry-on bags. I crossed my fingers and hoped the British Airways clerks wouldn't ask to weigh my bags. I didn't want to check them in. I didn't want them handling my precious findings with their rough and uncaring hands.
The week went fast. And hopefully on some next blog offerings I will cover a bit of this trip, especially what interests the most to indiepop fans, like for example the Chickfactor gigs. Or going over one of the many obscure records I found at that fabulous Greenwich record store. But right now it's time to catch up with Cloudberry news.
First of all, a year in the making, the Nixon 7″ will be out on December 10th. The sleeves have already arrived at home and they look truly amazing. Just waiting for the vinyl. This weekend I should put together the insert, I have some ideas of what to write about, and don't worry I won't be dwelling anymore on sad thoughts. I'm on the way to shining again and good days. The 7″ is an EP with 4 songs and it's the first one of our collection that runs at 33rpm. You can pre-order it now from the Cloudberry site if you like.
I have already said it before, but releasing Roger Gunnarsson's Nixon is a milestone for me, as I've been a fan of his for at least 10 years now. Roger has been a true inspiring force, not only through his many bands but also through his absolutely indiepopstastic label Fabulous Friend Records. This label is an inspiration to mine. Definitely.
On other news I'm happysad to say that the 3″ releases of The Medalist, Bye Bye Bicycle and Log Lady Train are now sold out. I have found a Bart & Friends 3″ though, one last copy, that if anyone wants it let me know. If not, I'll probably throw it in in the next big order we get.
The fanzine has been selling really well too. And I think I want to start on number eight sooner than later. My only issue is that I have kind of ran out of colors. Colors that look and print ok. And that are legible for 10 pt fonts. Do you all have any suggestions? And also, who would you like to be featured?
During the time I was away I received the tracks for the Alpaca Sports single. This weekend probably I will update the website with a song for all of you to download and preview plus a pre-order button. And soon also for Tripping the Light Fantastic as well. And coming up is also the Flowers 7″ who have just confirmed that they will be playing NYC Popfest. I just saw them playing a gig in London, at the Buffalo Bar, and all I can say is that they are really special. They remind me of fabulous 80s bands like Heart Throbs, Parachute Men, Popguns and the like!
And talking about Popfests, I feel I'm going to head to Madrid Popfest next year again. Perhaps alone this time, but, can't wait to see Alpaca Sports playing live this time. And also my good friends of Northern Portrait who I've never managed to catch them live. Well, unless you count Stefan doing an acoustic rendition to many of his songs in his living room? I'm pretty thrilled. Especially as this year's edition was the best week I've had so far in such a long time. It was magical. One of the best times ever. Perfect from start to finish. Also joining the festival are another favourite of mine, Burning Hearts, who I'll happen to see for the third time live. They are always great.
2013 seems really exciting!
So the Tony Head Experience. I only own their first 7″ which I bought on eBay many years ago. It was one of the first vinyl records I bought actually. I don't know exactly why or how did I know them. But I thought with that name they were going to be good. "Debbie One" started playing on the old Fisher Price record player that I owned and I was blown away.
These days there are a couple of bands that sound a bit like this fantastic track. I can think Betty and the Werewolves and Shrag to name two. They do it really fine. But for me this is the original. This is the first time I heard such punchy female vocals under pop hooks and catchy lyrics. No other band can live to my expectations when they make songs like this.
Who was Tony Head I ask. I guess only the band could answer that. My guess is the actor Anthony Head (born 20 February 1954), who  is an English actor and musician. He rose to fame in the UK following his role in television advertisements for Nescafé Gold Blend (Taster's Choice in the U.S.), and is known for his roles as Rupert Giles in Buffy the Vampire Slayer and as Uther Pendragon in Merlin.
Head was educated at the London Academy of Music and Dramatic Art (LAMDA). His first role was in the musical Godspell; this led to roles in television on both BBC and ITV, one of his earliest being an appearance in the series Enemy at the Door (ITV, 1978–1980). In the early 1980s he sang with the band Red Box.[2] In the late 1980s, he appeared in a storyline series of twelve coffee commercials with Sharon Maughan for Nescafé Gold Blend. (A version made for the US featured the American brand name Taster's Choice.) The soap opera nature of the commercials brought him wider recognition, along with a part in the Children's ITV comedy drama Woof!  Head played Frank N. Furter in the 1990–91 West End revival of The Rocky Horror Show at London's Piccadilly Theatre, with Craig Ferguson as Brad Majors. In 1991 Head's rendition of "Sweet Transvestite" was released as a single by Chrysalis Records.
Could that be their Tony Head? There was also a Tony Head that was a British statesman, a Viscount, and a Tony Head that was an Australian paralympic athlete. But I doubt it's about them. I found a small little special about that Nescafé ad with Tony Head here. And another here. Seems these ads were huge in the UK back in the 80s!
Now a quick stop to last.fm where there is a small bio of the band:
The Tony Head Experience were formed in Street, Somerset in early 1991 by Elisa Young. Within days she had roped in her ex-Felicitys band mates Nik Dalgarno, James Merry and Rob Buckley to record a four song demo at Nik's Giant Recording Studios in Compton Dundon. Along for the ride and to produce this meisterwork came Jon Mates (Basinger/ex-Felicitys) and Nick Osbourne (The Becketts) who also helped out on guitar and tambourine respectively. Recorded in a day and featuring the songs 'Lighthouse', 'Sleeper', 'Let Her Drive' and 'Go' the recording was deemed a triumph in low-fi barn recording and hi-fi lager drinking.
I remember Twee.net having a bio as well, but it seems Twee.net is having some hiccups and all band profiles show Aberdeen!
The Felicitys. I remember them too. They had some songs on some compilation tapes. Should be interesting to go over them sometime as well. And Basinger! Oh! That's why I got a 12″ while in Scotland. Their name sounded familiar to me and I decided that I had to take their EP with me. And what about The Becketts? I don't know much about them but I remember a song called "Angel Heart" that I really like.
Their first 7″ was released in what I assume their own label, "Big Internation". Though there's a chance it wasn't as this label also released Automatic Dlamini's "From a Diva to a Diver". This band had PJ Harvey before she was huge. It came out in 1991 and it was catalog number BOT 01. It included "Debbie One", "Let Her Drive" and "Sleeper". The artwork shows a black and white photo a little sign saying "Paradise".
Then two more releases came out which I've never heard, though from listening to some stuff on Youtube I feel they are much more harder, more rockier, less poppier, less of my taste. It was the early 90s anyways, people were into this kind of Pixies kind of sound. So I can understand. Their second release was a flexi disc. Again on the same label and catalog number BOT 02. Released also in 1991, this record contained "Oh yeah, Albatross", "Frontiers" and "Swings". The interesting bit is that Tony Head is credited as the producer and mixer of the single. It was recorded 7 engineered at Giant Studios, Somerset.
Their last 7″ came out in a different label, Hair Records. It was catalog number HAIR 004 and included two tracks, "Heavy Mother" and "Kelly's Hotel Forever". This was released in 1993. Hair Records had released Basinger, Gear and Gutless before and it was Simon Barber's (The Chesterf!elds) label.
The band also has left a Myspace page where you can stream some more songs. There is a version of "Debbie One" on the Peel show, "Leather", "Caucho Sol", "Freeway" and "Anschuls Song".
They appeared on a couple of compilations too. One of them was the "The Noise and The Melodies – The Pearl Compilation" where they contributed the song "Heavy Mother". This compilation was part of a German fanzine of the same name.
From what I gather there was also a split flexi with Automatic Dlamini where they included the song "Jack's Back". But I've never seen this one.
And searching a little bit more I found an even longer and bigger biography. So either you stop reading here and go straight to the MP3 sample, or you continue reading. I suggest the second.
The Tony Head Experience were formed in Street, Somerset in early 1991 by Elisa Young.
Within days she had roped in her ex-Felicitys band mates Nik Dalgarno, James Merry and Rob Buckley to record a four song demo at Nik's Giant Recording Studios in Compton Dundon. Along for the ride and to produce this meisterwork came Jon Mates (Basinger/ex-Felicitys) and Nick Osbourne (The Becketts) who also helped out on guitar and tambourine respectively. Recorded in a day and featuring the songs 'Lighthouse', 'Sleeper', 'Let Her Drive' and 'Go' the recording was deemed a triumph in low-fi barn recording and hi-fi lager drinking. The following Sunday on The Caz Ford Show on BBC Radio Bristol, Caz played the demo and enthused. Greatly encouraged Elisa, Nik and Jon (now ex-Basinger) recorded more tunes at Giant, whilst James and Rob went and formed Three Men In A Boat with (another ex-Felicitys) Hugh Edwards. James and Rob would return though for the recording of the bands debut single in August of that year…..
Taking advantage of the momentum built up from numerous radio plays and a special offer at a London record manufacturer the group reconvened at Giant to record their debut single in that balmy summer. Re-recording demo faves 'Sleeper' and 'Let Her Drive' the band dismissed their initial attempt at an A-Side as awful, and returned three days later with the newly written 'Debbie One'. It was deemed cool! Especially the drumming by guitarist Nik. So the band formed their own label, Big Internation , and via the Cartel distribution network released their debut single 'Sleeper E.P.' in Oct '91 on glorious 7″ vinyl. The single was picked up quickly by various regional radio stations, received a glowing review in the NME, and then as if by magic was played on The John Peel Show on Radio One…twice! The orders flooded in, and the band realized that they had a going concern and should maybe think about playing live.
James and Rob returned to Three Men In A Boat and with Elisa on Vocals, Jon on guitar and Nik on lead guitar they needed a rhythm section. First to sign up was Strode College student Matt Fry on bass and then a letter and record was sent to the Netherlands……..Steve Mobley had been a local drummer of some regard (and another ex-Felicity!) and was at the time working in a frozen fish factory, living on a barge, and avoiding debts on the outskirts of Amsterdam. He didn't have a record player but liked the look of the single and so hurried himself back to Somerset in time for the groups first gig at the Fleece in Bristol supporting Ocean Colour Scene.
Job done the band began a relentless tour around the indie venues of England and Wales ( sorry Scotland they never made it!) for the next year, and swiftly released a follow up record, the 'Albatross E.P.' a three track 7″ flexi-disc. Recorded again at Giant Studios, by now relocated to an industrial unit in Street, the flexi shot to the top of radio playlists in France, Spain, Belgium, Italy, Japan, Germany and the States, and the three thousand copies distributed by fanzines in the UK and Europe sold-out within eight weeks. Nice.
Now with local face Anschul Brandt already installed on additional guitar, in the summer of '92 Matt Fry left the group to go to university and Anschul took over the bass guitar duties. Matts final contribution came on the track 'Jack's Back' which was released on a Big Internation split-flexi with Automatic Dlamini. Then in the autumn the band recorded a session for BBC Radio Bristol produced by Mike Chinaski (The Becketts), and recorded (and aborted) the 'Freeway E.P.'
Turning to local producer John Parish (Automatic Dlamini/PJ Harvey) to help record a proper follow-up to 'Debbie One', 'Heavy Mother'/'Kelly's Hotel Forever', a double A-side 7″ was released in the spring of '93 on Simon Barbers' (The Chesterfields) Hair Records. The single featured John Parish on Slide Guitar and Clare MacTaggart (Portishead) on Violin. The group shot videos for the single directed by Dan Knight (Hoffman) and continued their tour around England's indie toilets to much acclaim and indifference….great reviews though for the single began to pour in from Europe and coupled with extensive radio airplay a tour of Germany was scheduled for the autumn. Unfortunately, again, the pull of higher education was too much and Anschul left the band in August '93 to take up his university studies in London.
Nick Osbourne (The Young Hurlants), now a music teacher at Bridgewater college, recommended a replacement for Anschul in the form of 17 year old Rob Perdrix and the group set off on some warm-up dates around Somerset. Then Nik dropped a bombshell. Indifferent to thoughts of Germany and newly in-love, he left the band. Luckily, Rob's best mate Paul Kelly was a fan and an outstanding guitarist. The fellow 17 year old joined and played his first gig in Germany in the December of '93. The two week tour was a big success. Gigs in Berlin, Frankfurt, Munich, and throughout East Germany brought big crowds and great times. Tour managed by Nick Osbourne (yes…Parrot), and sound engineered by Haggis, the tour was to prove the highlight of the bands career. It ended in Hamburg in a fog of marajuana smoke, riots, and a cover of The Beatles 'Day Tripper'……………..
The band returned from Germany just in time for The Head Club's Xmas Party at the Tor Leisure Centre in Glastonbury, which featured local legends Gutless and Hoffman, and a sell-out crowd. Then in the new year of '94 they contributed two tracks to the Hair Records CD compilation 'Trigger'. The songs 'Horse and Van' and 'Who Is Roscoe?' were recorded by the band during the previous summer and re-mixed by Head (PJ Harvey). They turned out to be the groups epitaph.
Parting company with Rob in March '94 the group re-enlisted Anschul for what turned out to be the Tony Heads finally show. On April 23 The Tony Head Experience appeared at Tor Leisure Centre in Glastonbury alongside The Family Cat, Bandit Queen, and Hoffman for the final night of their 'Head Club'. The band members had been promoting these live music nights in one form or another every week or two for over six years and with the group relocating to London it was a night of high emotion and fantastic music. In the summer of '94 Elisa, Jon and Steve moved to London, Paul stayed in Somerset and Anschul returned to university. The group dissolved officially in Feb '95 when Jon joined the band Pout. That would be the kiss of death for anything.
Postscript:
Jon left Pout after six months but two of the fellow inmates happened to be Sam Miller and Joe Thompson who subsequently turned up in the only live reformation attempt of The Tony Head Experience in 1997 at the Fortress Studios in London. Irving Welsh walked in during a version of 'Leather'. That was the highlight…. The group did release new material that year on the London based Sounds Junoversal label but re-workings of songs from their last major recording session at Giant in the summer of '93 proved uninspired and the band quickly disolved again. And that was that.
Jon Mates eventually moved to New York, met up with Elizabeth Mone', returned to London and formed My Symptoms. He then went on to lead the group English Electric (www.myspace.com/theenglishelectric) and is now out doing his own thing at www.myspace.com/jonmatesmusic.
Elisa Young became a midwife and a wife of Pout bass player Joe Thompson (Stanton/Hey Colossus). She occasionally still sings on records, has two sons, and is now back living in Street.
Anschul Brandt briefly re-united with Jon in dance music outfit Firefox before launching a variety of musical visions onto an unsuspecting world. Currently residing in Sweden his last major contribution to the culture was the Giants Of Design www.myspace.com/giantsofdesign.
Nik Dalgarno is a computer software programmer with a wife and four kids and happily also lives in Street.
Matt Fry graduated Oxford University with flying colours.
Steve Mobley joined Yeovil based Elliot Green after the demise of The Tony Head Experience. The band released a couple of classy singles and the album 'United States' on the legendary Playtime record label.
It seems there were other poppy songs recorded by the band. They mention on their Myspace blog a tune called "Go Go Tripper" that they say was a throwaway indiepop moment. And also they mention they had done a semi-reunion gig in Glastonbury. They were planning something for their 20th anniversary in 2011 but I guess nothing really happened sadly.
About Youtube, you can watch some videos for Heavy Mother, Deaf Ted / Leather and Horse and Van by clicking on these links.
::::::::::::::::::::::::::::::::::::::::::::::::::::::::::::::::::::::::::::::::::::::::::::::