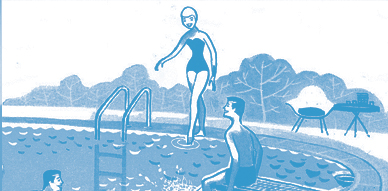 Thanks so much to Suzanne Muckley for the interview! I knew Blue Summer from the great tape compilation "You Can't Be Loved Forever vol.3" but they were so obscure and there was no information whatsoever online. So it was great to find a bit more about them at last! Enjoy!!
++ So let's talk about Blue Summer! I really want more people to hear and know your tunes! When did the band start and who were the members? How did you all meet each other?
I met Tina Lusher at college in 1984 doing a Art Diploma course in Harlow, Tina showed me some of her music and songs she had written but had never performed, from this we did some of her songs for Rag week in the Harlow town centre, I was probably the more confident and did a lot of singing in church but nothing other than that, but I like to think i gave Tina the confidence in her song writing to pursue it.
From Rag week some how we got together with my friend Tony Bennett (drums) and Angela Black (trumpet) also on the same course, and started gigging at college, as people saw us and liked us our venues got better mainly in and around Harlow with the exception of Exeter university which was great fun. We entered the Harlow Rock contest twice and i think we got through to the semi finals both times if i remember rightly.
++ What about the name Blue Summer? Where did it came from?
The name Blue Summer came from me and Tina i remember one night in the pub the Jean Harlow we was thinking of a name and it came from us both loving the summer and the colour blue!
++ On the Harlow Bands page it says that you had some sort of relationship with The Pharaoahs, The Neurotics, The Pillage People and Travis Cut. What was the connection?
The Pharaoahs, The Neurotics, The Pillage People and Travis Cut are all bands that we played with or supported probably mainly at The Square in Harlow, some were also in the rock contest, Tony Bennett (our drummer) went on to play with The Pharaohs and they still play once or twice a year still now so tony tells me mainly abroad they are a rockabilly band, I also used to be friends with some of the players.
++ So what were you listening at the time?
Music wise we was probably mainly into indie music at the time, although Tina loved Haircut 100, we loved Everything but the Girl, The Go-Betweens the list could go on.
++ So who wrote the songs? What was the creative process in the band?
Tina wrote all the guitar music in the band and most of the lyrics I remember I wrote two of the songs lyrics, the trumpet and drums were made up by Tony and Angela.
We didn't have a bass player for some time, and then we met Paul Howard who was in various bands and very talented and is still a musician today, he became our bass player for quite some time while still doing other stuff of his own, Paul was older than us and more in the know and was a great inspiration for Blue Summer.
++ And why didn't you get to release a record? Or at least record more songs?
I wish in some ways that our time was now as I think its much more easier to get a demo or some sort of deal than years ago and I think in them days you didn't have that reality that you could be famous that people do these days, if you get what i mean.
++ The only song I know from you is the fun and poppy "Listen to Me"! What were the other songs on the demo tape? How did they sound like?
The song Listen to Me is one of the songs that was after my time and I wish you could hear some off our old songs as some where great, everyone's favorite was "Beach boy", people always remember that one and another one we did at the end of the end of the sets was "Now your going away from me'.
The band carried on and did a demo tape which we had been saving up for with our gig money unfortunately for me i never got to do this which i know regret. They gigged for a while but then Tony left the band to go into the Pharoahs and the new drummer was my sisters husband (at the time) Simon Thomson. I don't really know why the band split after this but I guess they drifted apart, i will ask Tina.
++ What about gigs? Did you gig a lot? Any in particular that you remember?
We did a lot of gigs and loved it, I think i was the main organizer of the band that's just the way i am but we all had input and a lot of the times we got asked to gigs either as main or supports, The Gamekeepers was a band we played with a lot as I was going out with Anthony Sullivan at the time so we either supported them or via verso depended who organized the gig.
++ When and why did you call it a day? What did you all do after? Are you all still in touch?
We were together for a long time it must have been about 5 years all in all, of which Paul left the band to pursue hes own stuff and that's when it all went down hill in my eyes, we got a new bass player who i never got on with personally and the feelings where mutual and at the time as life does my life was changing and getting a career and also I bought a horse which took a lot of my time, I then split from the band which at the time was a bit messy but we stayed friends but had drifted apart and for some time went different ways.
I work in Repro and am a retoucher on magazines, Tina of whom I am really close with works in the shoe fashion industry and still plays her guitar but just for pleasure, we still have a jam now and then, but as we live 100 miles away from each other that's as far as it goes.
Angela moved to Indonesia and is now married and lives there and is a English teacher, she came over and stayed last summer so still in touch and good friends.
Tony runs hes own business and i speak to him on facebook occasional, and still plays with the Pharoahs.
Paul Howard is still doing hes music and has made records and does gigs, I speak with him also on facebook and hes says we should get together one day for a gig.
The other bass player cant remember his name so don't know about him and Simon, my sister divorced him some years back but as far as i know hes not doing anything musically.
++ Looking back in time, what was the best, the highlight, of being in Blue Summer?
I think we all loved our Blue Summer days and loved being in the Rock contests and gigging.
++ Thanks again very much! I hope the demo can be found and rescued one day! Anything else you'd like to add?
When I see Tina next I will speak to her about if shes got any music I can forward to you, I know the Rock contest was videod but we never saw it wish we could get hold of it.
::::::::::::::::::::::::::::::::::::::::::::::::::::::::::::::::::::::::::::::::::::::::::::::
Listen
Blue Summer – Listen to Me