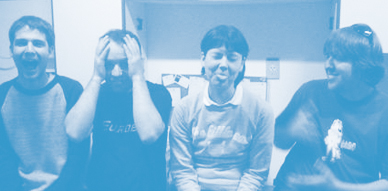 Exciting news. Our first Cloudberry Cake Radio episode is out now. You can listen to it at http://www.soundcloud.com/cloudberryradio.
I hope you like it. I know it's definitely not perfect, but let's say this is our pilot episode and would love to get as much feedback and suggestions as possible. Just be sure this is a bedroom project, we don't have access to a studio. We are not radio or audio professionals, so I hope you understand that we are learning on the technical part. I know for one that I should invest in a better microphone. And hopefully find "my voice". But do let me know if the sections, the songs, the ideas, and the content in general is of your liking or not.
The radio show will be closely linked to the blog, I know the blog is a bit of a difficult format for many that don't have time to read. So I'll feature there the songs and the bands I cover here. But also more. There will be new releases and new songs too. I'll go over the Cloudberry archive. I'll share many anecdotes. And there will be some interviews too with the friends I've made through indiepop, to talk about what else, indiepop.
I hope that this project has a long life. The first goal is to make 12 more episodes next year. One per month. Hopefully they will get better and better, technically and content-wise. I want to thank so much to the producer of the show, mr Toni Poni, the cardinal of pop, and also to Matthew Magelof who helped me with a bunch of ideas, advice and suggestions. Also very special thanks to Andreas Jonsson for giving me an hour of his time for an interview that lasted longer than we expected.
And last but not least, thanks to all the bands that appear on the show with their songs, they make the world a better place to live in.
So, as the Pooh Sticks said, indiepop ain't no pollution. Hope you like it!
—————————————————————–
The other day I was very nostalgic. I was remembering the days when I started getting involved for real with releasing records. As many know, my first adventure was a compilation CD that came out with a Peruvian magazine. It was an indiepop compilation with bands from all over, but mostly from Latin America. Then I remembered about this Brazilian band that I really liked then, that sounded like Velocity Girl, and thought, why did I never hear again from them?
I can't remember who showed me their music. I'm sure it was on Soulseek sometime in 2004. Perhaps in the Twee Folks room. Possibly it had been Sineval from Pale Sunday who was my only Brazilian indiepop friend at that time. I remember I had a folder with perhaps 3 or 5 Mp3s of songs of theirs. That hard drive has been fried for a long time.
When I was to do the compilation someone helped me get in touch with the band. I remember I chetted with the vocalist on MSN Messenger and explained what was this project about. She was up for it. I think I asked for their hit, "Firefly", but they gave me a song called "Desaparecer, which was also a hit. On this one they even mixed English with Portuguese. It sounded so fresh, and exotic even.
So it's been 10 years since that release. I mean, what are the chances to find more about a band that didn't get to release anything as far as I know. I don't recall either the names of their other songs. Just those two. Happily Youtube has a promo video for "Firefly". Could the uploader be part from the band? Perhaps. She was a girl definitely. You'd think I could check my email account and look for emails from that time. But the email account I had then was hacked and I lost all contacts. That's how I learned to avoid cyber cafés.
The video is a mix of live footage, flyers, photos and more. Suddenly I see a setlist among all the memorabilia that appears. And I remember one of the songs, "Analista". I remember that was in my  folders. Then I see on that setlist that they used to play Get Me Away I'm Dying from Belle and Sebastian, as well as Audrey's Eyes from Velocity Girl. So definitely it wasn't a coincidence their sound.
Other song names I notice are "Alfazema Fresh", "Onibus", "Sunshine", "Qualquer Coisa", "Enquanto Nao Tem…".
The only other thing I could find was an old Fotolog that belonged to the band. From that I can tell that the band was formed by one girl and three guys.
But maybe someone out there can help me fill in the blanks? Does anyone remember them? Did they eventually release anything? What happened to the members? Are they still making music? Would love to know more about this Brazilian popkids!
::::::::::::::::::::::::::::::::::::::::::::::::::::::::::::::::::::::::::::::::::::::::::::::
Listen
Hey, Miss! – Firefly