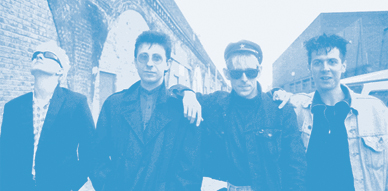 Thanks so much to Chris Blunkell for the interview! It waas through The Leamington Spa series with their song "Sebastian" that I discovered The Black Cillas. I loved that song. Fast forward, Chris and me get in touch through Facebook as I had DJed one of his songs in London and  I had to ask if he would be up for an interview and tell the story of the great Black Cillas! Classic indiepop at it's finest!
++ Hi Chris! Thanks so much for being up to be interviewed for the blog! How are you doing? Is there any Black Cillas' news by any chance?
Hi Roque! I'm fine thanks, and hope you are too. Black Cillas are getting together next month in London, as we do pretty much every Autumn. We're going to look at the Sarah Lucas exhibition at the Whitechapel gallery and then go for a curry in Brick Lane. We'll probably have a few beers as well.
++ I want to talk about a lot of things, but let's start from the beginning! Were you involved in any other bands prior to the Black Cillas?
My first band was The Aged, so called because Ben the bass player's mum had access to a quantity of 'Help the Aged' button badges, and it was the work of a moment to scratch off 'Help…'. Ben, of course, was also Black Cillas' bass player. I was also involved with the Alternative Alternative, which welded a rather vulgar punk ethic to a kind of incompetent and uninformed country and western sensibility. We made the national press when our turn didn't go down so well at the local carnival club talent show, so we enjoyed a few minutes in the sun.
++ So when and how did the Black Cillas start as a band? How was the recruitment process?
Ben and I moved on to do other things in other locations, but in the early 80s circumstances allowed us to do more music together, which was what we wanted. The group went through various incarnations as we wrote and played, and we settled on both the name and the line up in I think 1985. Ben and I had been at school with guitarist Nick Appleton, and Ben also recruited drummer Andrew Maltman, although I can't really remember how. Andrew has published some of his diaries from that period on www.blackcillas.co.uk, so that may help. We were also surrounded by good people: Jim Warren who has worked with Radiohead since ever recorded us and often did live sound, as did Angus Cameron, and Matt Ambown, Maxine Kempster and Isabelle Crean were a huge part of the whole thing.
++ And even though is obvious I think, what's the story behind the name of the band?
We were conscious of the need for something that worked with what we were trying to do, and (to me anyway) Black Cillas seemed nicely contemporary and tongue in cheek – I think it was Nick's idea. It's also worth bearing in mind that the under-employed in our circle spent for more time than was healthy watching a TV programme by the name of Blind Date hosted by Cilla Black that, at that time, seemed hell bent on further lowering the tone of public discourse.
++ Some days ago on the Cherry Red Youtube channel they had uploaded two live videos of you. What do you remember from that gig? And are there any other videos by the Black Cillas waiting to see the light of day?
I remember feeling nervous – it was a big crowd and a really good line up, and we'd never done recording for TV. I remember attempting a wink to camera that I deeply regret to this day.
++ So yeah, tell me about gigs. Did you play many? Which were your favourite gigs and why?
I think we played somewhere between 50 and 100 gigs – many in London, but elsewhere too. Playing The Marquee as support to heavy metal band Waysted was quite an experience – their fans had every reason to hate us, but actually were really lovely. Somebody shouted "60s disco!" after one song – it was probably meant as an insult, but we liked the idea.  My evening was rendered complete when Philty Animal Taylor – Motorhead's drummer – called me a wanker.
++ What about your favourite venues to hang out or play? Were there any that you felt at "home"?
The Bull & Gate in Kentish Town – we played a lot there, and spent a fair amount of time watching other bands too. It was run by Jon Beast, who still takes his clothes off for the benefit of Carter USM fans. Mick Mercer, ex-Melody Maker, has produced some great stuff on the B&G – his photo collections are stunning, and available to buy.
++ In those late 80s there was an explosion of guitar pop bands in the UK. What do you think triggered that? And did it ever felt like there was a scene? Which other bands from that period did you like?
In London I think Jon Beast and the Bull & Gate were pivotal. You were never going to make a fortune there, but if you had something he would put you on, and it was a magnet for journalists willing to stray from the usual. It was very much its own scene.  Of course, there was lots going on musically at that time, and we'd had a period in which synthesised sounds and big production had come to the fore. I think the guitar thing was a bit of a backlash against that, but also people wanting to write 'small'. Half Man Half Biscuit took this idea to absurd lengths, of course, with their lyrical focus on football, for example. Ben was very into New Order, Andrew Kraftwerk and Nick Echo and Bunnymen. We all adored The Smiths. I got very into early REM and the Go-Betweens. Of the bands that we played with, I really enjoyed a group called 'The Doctor's Children' who used a Hammond organ and sang sweet harmonies.
++ You only released one single, already a classic for indiepop fans, "Sebastian". Care telling me the story behind the song?
In those days songs would come to me quite quickly, which now seems extraordinary. Sebastian was one of those – inspired by somebody I thought rather self-regarding at that time, and with an ambiguous twist lobbed in for good measure. As tended to be the case, I just blocked the song out on guitar, and then it would start to walk (or not) in the rehearsal studio. I still think that one of the most exciting things you can do as a musician in a band is to play a new song together, properly, for the first time – with intro, proper ending, and all. With regard to songwriting more generally at that time, I think I wrote good lines or couplets more often than I wrote good songs. You need to know more, to have done more, and to have read more than I had at that time. Looking back, I can see that I was maybe working towards a songwriting voice – later I concentrated on character and situation driven songs, and the rather novelistic idea of the 'unreliable narrator'.
++ What do you remember from the recording sessions of the single? Any anecdotes you could share?
We recorded at the Jumbo 16 track studio in west London over a weekend, with Jim Warren producing. Again, Andrew's diaries will tell you more than I can recall, although I do remember nicking a guitar lick from Safe European Home by The Clash whilst we were in the process. It was all quite exciting – this was proper with high end gear, whilst we had been used to recording on a Portastudio in squats. We made the sleeves ourselves – designed by Nick and Neil Cowan, screenprinted, and cut by hand. We then handled all of the mastering and pressing, which was done on the Isle of Sheppey. The NME reviewed it twice – the first time it was panned, and the second time they liked it. Such is life…
++ There are a bunch of other Black Cillas recordings. So I have to ask, why didnt you get to release more records? And if ever you thought of putting together some sort of retrospective album?
We recorded a second single in Deptford, with the session generously funded by Stephen Harris and our manager Ben Challis with Angus Cameron producing. 'Falling Down' was very spare, and lyrically I like it a lot. The putative 'b' side – 'My Wild Obsession' was a long and dramatic festival of reverb, largely because we ran out of time. Sounded great –  however, when we played back the master on the evening of the day we finished, we found a great bass rumble that wrecked 'Falling Down'. By the time we got in touch with the studio engineer to tell him we needed to go back and do a repair he had recorded over the multitrack. We rerecorded 'Falling Down' with Jim warren at his studio in Reading, and made a really nice job of it – you can find a slightly wobbly cassette version at 
https://soundcloud.com/chris-blunkell/falling-down
. However, the wheels has started to come off by then, and so we never released it. Shame, as I think it might have done something.
I'd love to put together a retrospective album if there were sufficient interest – we could waste weeks sifting through tapes and the like. Some of the demo stuff is really quite exciting – the portastudio squat-recorded version of 'Sebastian' is  pretty frenetic piece of work. If a record label with an interest in that kind of thing were to approach us, I imagine we'd be receptive…
++ Was there any interest from big labels by the way?
Go Discs were interested for a while, and we used to get record people come to see us from time to time. However, news of that used to make me feel very anxious and I used to drink too much before we went on stage.
++ I read on your page that you'd wished that you were a better vocalist. Why do you say that?
Listening to old live recordings I hear a really tight and powerful band let done by some rather approximate vocals. Ben, Nick and Andrew deserved better that I sometimes gave them. I got better in the recording context, however, and I'd like to think that I have got older and more experienced I've dealt with whatever needed dealing with it. Some of it is really simple stuff about knowing your range, writing in appropriate keys and writing words and phrases that are possible to sing: it's about writing as well as singing, and possibly drinking less.
++ So then what happened to you guys? When and why did you call it a day?
We'd been slogging away and, despite getting the kind of support and attention that some bands dream of, I think we were frustrated at we saw as a lack of progress. Also, I wasn't getting on so well with Ben and Nick – I suspect I wasn't that easy to be around at that time. It was heartbreaking when we split up, mind, which we did in, I think, 1988. of course it was also at around that time that the Stone Roses turned everything on its head, and I think the writing was on the wall for lots of people from that point.
++ Are you all still in touch? What are you all up to these days? Any chance for a Black Cillas reunion you think?
We're very much in touch, which is source of great joy for me. It becomes increasingly clear to me that this was a truly precious experience, and I think Ben, Nick and Andrew would agree with that. A few years back we recorded a song that we performed in the 80s and like a lot, but never recorded. 'Inclement Weather' (
http://www.youtube.com/watch?v=UP_bD2NHRwY
), was recorded in Reading with Jim Warren, and I love it. Can't see us performing any more, although I'd be up for it.
++ And looking back in time, what would you say was the biggest moment, the highlight, of the band?
For me, the highlight was possibly being told by the Only Ones old road manager that we reminded him of Perrett and co. I've always loved the Only Ones. However, I think that 'new song' thrill is the enduring thing.
++ These days, you are still recording music. Tell me a bit about these new songs you are making.
At the moment I'm tied up with another project, and so music has been on hold for a while. I've been pretty active over the last 10 years, however, largely through my group Waspjuice. Songs don't come to me so fast these days – in fact its all a bit torturous. I like what I've produced however – there's some on Soundcloud (https://soundcloud.com/chris-blunkell), and I'll put some more up. I've got more material in the pipeline, and I've added a few bits of kit to my rather odd little home studio so that I can hit the ground running when I come out of hibernation.
++ Aside from music, what other hobbies do you enjoy doing?
I've just had an exhibition of my paintings, which has been immensely gratifying.
++ Let's wrap it here, thanks again Chris! Anything else you'd like to add?
Yes, there is. We are all stunned and delighted that people are still playing and listening to our songs – thank you, sincerely, for your part in that. All power to you, kind sir.
::::::::::::::::::::::::::::::::::::::::::::::::::::::::::::::::::::::::::::::::::::::::::::::
Listen
Black Cillas – Sebastian