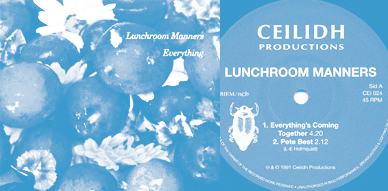 Well, well, I know you didn't expect one more post this week. It was Friday anyways, right? But there are a few interesting things to say! But first do remember that I'm going to Spain at the end of the month, the 23rd to be more precise. So do let me know if you want me to bring any records for you so you can save on postage!
Having said that, Madrid Popfest, did announce some weeks ago the rest of their lineup. And it is not that I forgot, but was looking for a good time to talk about it. There's been so many good indiepop news in the past few weeks that it seems I needed this extra post this week! So, Madrid Popfest. Yes. They added the legendary St. Christopher, Soda Fountain Rag, Fever Dream, Fakuta, Giorgio Bassmatti & Aeromozas and Ataque de Caspa. I'm very familiar with most of them but two, Fakuta and Giorgio Bassmatti & Aeromozas. So I'll check them out now!
Fakuta: I have never heard the name before. It seems Fakuta is the pseudonym Pamela Sepúlveda uses to create music. She hails from Chile. And Madrid Popfest says that for the first time they include a Chilean artist in their lineup. That must be true. It may be true too that it is the first Latin American artist in their lineup if memory serves me right. But there is a problem for me. I'm not liking her music! Oh no. Maybe it is better live? I cross my finger that is the case. Hipster electronic pop that doesn't hook me, doesn't tell me much about my life. Oh well, in any case it was going to be impossible for me to like every single band in the lineup. This is the first one I'm not enjoying in an otherwise perfectly curated festival. Depending on the time Fakuta plays, it could be a good moment to skip and get some dinner?
Giorgio Bassmatti & Aeromozas: I know Bassmatti by name. I was never inclined to listen to his music. But I'll give it a try now. I check what I think is his latest work, "Trencadís", a CDEP released by Discos de Kirlián late 2017. Hmm. Lo-fi bedroom pop. Not bad, not amazing either. I like some songs like "La Unión Hace la Fuerza" but with other ones I'm lazy to even finish them like "El Glaciar". I'm not sold, but I'll give it a try, it might be interesting thanks to the accompanying band, Aeromozas. I do find Aeromozas immediately on Bandcamp and I hear their song "El Traje Nuevo del Emprendedor" that is included in their EP "Aritsta Emergente #2". And I'm hooked. I do ask myself, why weren't they invited and play their own songs?!! This is much better. There must have been a reason or another of course. But for me this is a good discovery. There are four songs in total, aside from the aforementioned one, there is "Cuchillo Verde", "La Ministra de Justicia" and "Juan de Pablos". Nice melodies, and what's more boy/girl vocals. The band is formed by Irene Bonilla, Blanca G. Aguiló, Marví Hernandez, María Rodrigo and Alberto Romero.
Now 3 more items because I like consistency. 5 a post is a good number!
Alaska: I thought the Hamburg label Marsh Marigold was no more. To my surprise I see they have released a new album, "Whitewash the Tidemarks", a 12″ vinyl mini-LP by the Hamburg based band Alaska. 6 songs are included, "Motorway", "Every Other Monday", "We Don't Sing Anymore", "No More Sorrow", "Non Silent Night" and "Naked Killed Babies". The album was released on January 31st and I hear it is limited to 300 copies and coloured vinyl. Let's see if I can find a copy myself! For those not aware of Alaska, this is not their first release! They've been around since 1994 and have a bunch of releases, "Kings of the Class EP" 7″, "Noveau Liberty" CD and "These Sacred Floors" CD. The band is formed by Torben, Björn, Christoph, Patrick and Stephan, and these new songs do sound really good!
Jeanines: The week mystery. Who are Jeanines? Two demos uploaded on the 30th and the only information is that they are a duo, Alicia and Jed, and that they hail from New York! I am in New York. I want to see them play live. The songs sound fantastic. Who are they? Are they releasing anything? I want to know more. This is really great!! Check both songs and have them on repeat, "Is It Real" and "Too Late". Someone tell me more about them!
Bedroom Eyes: last year our friend Jonas released a new album, "Greetings From Northern Sweden". It was great. I played it time and time again. Actually I have an extra copy if anyone wants it (maybe just pay me for shipping?) thanks to a post office mistake. Anyways. It is a fab album. Now one of my favourite songs from the album, "Trondheim Harbor", has gotten the video treatment. Directed by Vegard Fjærvoll, the video leaves us a quote at the end that is dead on, "Culture is Resistance".
————————————————–
Am I the only one missing Swedish indiepop? I feel a terrible nostalgia for the good days of the mid 2000s, where there was an explosion of fantastic guitar pop bands. I remember having a conversation with Peter Hahndorf last time I saw him, in Thailand, about the "golden age" of Swedish pop. For him it wasn't the one I was feeling nostalgia for, not the 2000s one, for him it was the 90s. And of course I could understand that, I knew about so many fantastic bands from that period, but I didn't live that. So I couldn't agree with him, the 2000s were a time I experienced, enjoyed, was closer to me, but at the same time I knew how important was that time period where labels like Ceilidh or West Side Fabrication were releasing quality pop music for the popkids around the world. Most probably everyone that is a bit older than me feel, like Peter, that the 90s, with Club 8, Cloudberry Jam, Acid House Kings, The Seashells, Komeda and even The Cardigans, was a better time.
Definitely they made more of a wave, they made more noise. Some bands even signed to big labels, other bands have cult status. They released records and not in very limited quantities. In that sense there is no comparison with the 20 or so copies say Homeless Club Kids released of their CDR around 2004 or so. It was another time. It was pre-Napster, pre-Soulseek. Pre-CDRs too. But many of the bands from that period seem to be forgotten.
Lately I've seen reissues of fantastic bands from that period, like Eggstone, Popsicle or Easy. Is there a renewed interest? Or what's going on? Or are these releases just for the same fans from back in the day? The smaller bands are still pretty much unknown to the indiepop crowd. Here in the blog I haven't covered that many of them, I remember writing about Saturday Kids, Cod Lovers or Riviera, but not much more. There are few more entries on the blog where I've written about Swedish bands from the 80s and 00s. So here I'm trying to make up for it, be fair to the 90s, the first Swedish Golden Age of indiepop, with a band I know very little about, whose one and only release, a 12″, I don't own: Lunchroom Manners.
The first entry that appears on Discogs for the band is a demo tape that dates from 1988 and was titled "The Lunchroom Demo!". A single sided cassette that included four songs, "Agony Says", "The New Wave", "Don't Ask Me Why" and "Maybe I Love Her". It was self-released and seems to have been the first recordings by the band.
The next year the band released another tape, "Kärnsvensk Underhållning (Par I Pop!)". Not sure if this was another demo tape, but we do know that this 1989 cassette was also single-sided and included two songs, "Lurad" and "Gunwer Berkvist". It seems to me that this time around the songs were sung in Swedish.
That year seems to have been very productive, another tape just titled "Demo tape" was made with two songs, "You (That's All I look Forward To)" and "It's Not Alright, But It's Ok" as well as a four song cassette titled "Soda Pop Welcome You" with four songs: "I Wanna Be With You", "It Hurts", "Real Life" and "None of Your Business".
It is "I Wanna Be With You" the first song I heard by them. It was included that year in three compilations. The one I was aware of was the "Swedish Exotica Volume Two" compilation that was released by Thee Temple Ov Psychick Youth Scandinavia (catalog TOPYSCAN 008) where they appear alongside bands I know nothing about like Living Room, Soul Patrol or Zonk. This same song, but in it's demo version appears on the cassette compilation "Pet Sounds Vol.2" as well. This tape was released by the legendary Pet Sounds Fanzine and on this compilation you do see them in good pop company like Eggstone, This Perfect Day or The Wannadies. But this wasn't the first appearance on the Pet Sounds tapes. They did appear on the first one, on "Pet Sounds Vol.1" but with a different song, "None of Your Business (demo)". This is a wonderful tape which I hope to listen in its entirety one day, as there is Saturday Kids, Eggstone, Happydeadmen, Mary-Go-Round and more!  It is worth mentioning that in total there were 5 of these Pet Sounds compilations that were put out by the Gothenburg based fanzine. It is said that there were always very limited, that there were just about 80 to 100 copies of such tapes and that they didn't come with the fanzine, they were always sold separately. So yeah, it is hard to find them!
Then it seems 1990 was a quiet year. No releases. And finally in 1991 they were to release "Everything", the 12″ that was their only proper release. It came out on the fine Ceidlidh Productions label (CEI 024) and had four songs. On the A side we find "Everything's Coming Together" and "Pete Best" while on the B side "Sunny Sunday Afternoon" and "Real Life". The songs were recorded at Sveriges Radio Studio 12 and mixed at Music-A-Matic. It was produced by the band and Jörgen Cremonese. Jörgen had been part of a band that also appeared on the "Swedish Exotica Volume Two" compilation, Whipped Cream.
Discogs also lists another demo tape that is undated. On this one, which seems more like a compilation of demos, there are 6 songs, "I Wanna Be With You", "None of Your Business", "Lurad", "Gunwer Berkvist", "You (That's All I Look Forward To)" and "It's Not Alright, But It's Ok".
Their last appearance on record was on a CD compilation released in 1997 by Ceilidh Productions titled "Singles & Vinyls" (catalog CEI 039). On this CD they appear with "Pete Best" and it seems this compilation is a collection of previously released songs on the label, from Brainpool to The Cardigans.
But that is not all. There was an unreleased record titled "Bubblegum" which was to be released on Ceilidh (catalog CEI 033). I don't know why it was never released or if it was going to be an EP or an album. It just appears as part of the label's catalog.
On the Ceilidh Productions website we also learn the lineup of the band. There was a first lineup between 1988 and 1989 comprised by:
Lars-Erik Holmquist on vocals and guitar
Hans Martinsson on bass
Sven-Erik Nilsson on drums
And later from 1989 and onwards the band added another guitarist, Hans Johansson.
I look for other bands they might have been involved with. Hans Johansson for example had been previously in a band called Biscaya who were signed to RCA and released an album a many singles. Not much for the rest though.
Where did they take their name? It seems like a good guess that the band named themselves after the 1959 short film "Beginning Responsibility: Lunchroom Manners".
I keep digging. I find an interview on Drowned in Sound with Johan Angergård from the Labrador label and so many bands, like Acid House Kings, Club 8 and more. When he is asked by the interviewer why he started a label he says: "I remember when I first started thinking about starting a label. I was in my rather young teens. Me and the other guys in Acid House Kings were big fans of Happydeadmen – which were sort of the first indie pop band here in Sweden – and I really liked a Swedish band called Lunchroom Manners and there was also a couple of other good Swedish bands we liked. So we thought about putting together a compilation album with Swedish bands. That didn't happen around this time though, but a few years later we started a label called Summersound Recordings and the first release was a Happydeadmen compilation."
True, the band didn't appear on Summersound Recordings, but it is interesting the band was quite known at the period, the early 90s.
Where else to look? Maybe try to find out what are they doing now. It is not easy, but maybe, just maybe, Lars Erik Holmquist now works at Northumbria University in Newcastle as Professor of Innovation in the Department of Design. I think it must be him. There is a twitter account with the handler @lunchroommanner that belongs to him but sadly hasn't been used since 2009! Another interesting detail I was to find about him is that he DJed at Debaser on an April 4th 2010 when The Trashmen from the USA played alongside the Swedish band Sonic Surf City.
Then I see that the band appears listed in some concerts they played alongside the band Easy. The Easy website has a list of all their gigs and it seems that on May 17th 1990 Lunchroom Manners and Easy played at Valvet in Göteborg. They were to play one more time the same venue the next year, on February 17th. I also found out that the band supported Ride at the Göteborg venue Magazinette in the early 90s.
And that's where I hit the wall this time. Not much more to find about them. I wonder if one day I will be able to hear all of their songs, those that appear on tape. If I'll find myself a nice copy of their record. If they released more songs. If they had been involved in any other bands. And what are they up to today. Even whereabouts in Sweden were they based. I have a feeling in the south, maybe in the Göteborg region, but that's a guess, I couldn't find anything that would confirm me that. But maybe you can help me fill in the blanks. Do you remember them?
::::::::::::::::::::::::::::::::::::::::::::::::::::::::::::::::::::::::::::::::::::::::::::::