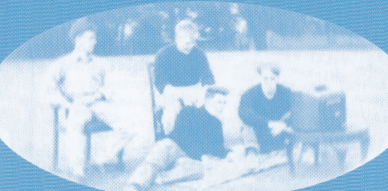 Thanks so much to Chris Morgan for the interview. I only knew about The Deddingtons thanks to the Leamington Spa series where their song "The Last Day" was included. Of course, this was one of my favourite songs throughout the 6 volumes that have been released so far, and I was always wondering who The Deddingtons were. They never got any proper releases mind you! But I hope this will change soon! Enjoy!
++ Hi Chris! Thanks so much for the interview! Are you still living in Nottingham?
I am, yes – but via a circuitous route that took me away and, happily brought me back. I live about 12 miles away from where we recorded as The Deddingtons.
++ First thing I wonder about your old band is if there are any more recordings other than "The Last Day", you know we all have been craving for more! Did you record demo tapes or something? Do you remember the song names?
Well, I'm surprised to find out that people have been craving more stuff; mainly because we didn't know that The Last Day was even released! I fear the hand of a mercurial ex-manager at work! There's a reasonable catalogue of tracks that we recorded. In terms of names: She, Solitary Sunday, Happy Agai, Sheelagh and Naively immediately spring to mind.
++ Let's go back to the late eighties, just before you were part of The Deddingtons. Were you involved with music then? Was the bass your first instrument? Self-taught?
I was playing guitar at the time, but just for myself which I first learned on my Dad's old Hohner acoustic. He showed me a couple of chords, and I was off… I migrated to the bass a little bit later
++ It's strange though that on the Leamington Spa liner notes it says you played guitars and Chris King the bass guitar? Mistake I guess?
Maybe, maybe not. Matt, Chris and me all played the guitars on the recordings – so it's possible that he played the bass on this. Our live line-up was Andy on Drums, Matt on Lead, Chris on vox and Rhythm, me on bass.
++ So alright, let's go a bit forward in time to the early nineties when The Deddingtons formed. How did that happen? How did you all knew each other?
I met Matt Wright when we were both working part time for a supermarket and, despite the funky brown nylon uniform, we recognised each other as groovy indie types. We got chatting about The Smiths, which was our favourite band Matt told me he was looking for a guitarist. I went round to Matt's parent's house with my really cheap guitar and bass and before I knew it I was in a band called The Social Divide. The SD seemed to have an almost revolving door policy on it's members and eventually fizzled out.
At around the same time Matt and I started to play in a covers band, The Losers, which really helped us to learn our instruments. Chris King of the SD played keyboards. It also gained us an ace drummer, in the form of Andy Luczko. For The Deddingtons, we trialled a couple of singers, who both could hold a tune but didn't quite "hit it". We realised quickly that Chris King had the most fabulous voice – we coerced him into becoming our front man.
++ What inspired you all to make music?
We were at an age where, after girls, music was probably the biggest thing we were interested in. The Smiths had just split, The Stone Roses, The La's and The Sundays had released their first albums and we just kind of thought, y'know, we could do this.
++ And why the name The Deddingtons? Where does it come from?
Rather prosaically it came from the name of the road that Matt's parents lived on. We had to have a "the", because all best bands at the time did. Except Teenage Fanclub. Matt's parents house was also were we converted the loft into a recording studio – we had an old 8-Track reel-to-reel, a proper mixing desk all housed in a sound proofed booth – it looked and worked like the real thing. Can you imagine getting that chance What wonderful parents, eh? Jim Wright sadly passed away recently and we couldn't have asked for a bigger supporter and fan. A truly lovely man. The Loft got really hot in the summer and, as the water tank was up there we had to stop everytime some one flushed the toilet….halcyon days.
++ So again, it seems to be some sort of mistake on the Leamington Spa liner notes, it says you never played live. But on the Youtube comments to the Last Day track, someone assures that he had been to at least a gig or two. Who is right? And if you did play them, do you remember any about them?
We did play live,but only on a handful of occasions.
++ What about the scene in Nottingham during those years? I can only think of Heaven Records and The Fat Tulips… what were your favourite bands in town and maybe your favourite places to hang out?
There wasn't a scene as such. Other than The Tindersticks and The Yons, I'm hard pressed to name any bands at the time.
++ On these same liner notes it praises Chris King as a perfectionist in recording layer after layer of guitars. I can see that on "Last Day"! How did the creative process worked for you guys?
Chris King is a genius. We had eight tracks and he produced and engineered all the demos – what he managed by bouncing tracks and such, was incredible. It's hard to say where the songs came from, we tended to work on feel. A couple of us would work something up and then we'd kick it around until it formed. We had the luxury of time: only Andy held down a full time job – we spent two long, blissful summers doing what we wanted to do. We pretty much kept office hours too, kicking off about 10 in the morning and finishing when Matt's Mum and Dad announced that they were off to bed!
++ And of course, as it's the only song we all know, I'm wondering what is this song about, how did you all came with it? Is this your favourite one from the Deddingtons repertoire by the way?
I guess The Last Day is all about the loss of youth, working within the moment and not missing the chances that life could give. The lyrics are Chris's – he'd be best placed to explain them.
++ So what happened? Why didn't you get a proper release? It feels a bit unfair!
Well we had a couple of moments where we thought we would get a proper release. We sent demos off around the word and the head of A&R at WEA called Matt up late one evening, saying how much he loved what we were doing and could we send some more tracks. We duly sent off more tracks and never heard from him again…
++ And so what happened after, why did you call it a day? I hear most of the band became The Days, but you didn't right?
We had enlisted the services of a manager, who I didn't get along with at all. I dislocated my shoulder, which stopped me playing the bass for a few weeks. The new manager introduced a new guitarist, who was a decent bloke, but without any consultation. I fell out of love with the band and quit – perhaps a bit rash but I was only 20 at the time. I haven't really spoken with Matt or Andy since, which I regret. After I left, manager-bloke brought his brother into the band and pushed Chris King onto bass.
++ Could you say The Deddingtons and The Days were kind of the same band? Or were there too many differences?
In my limited view, very different. The Deddingtons were original and ahead of their time, eschewing the zeitgeist.
++ Have you been involved with music after those years? Are you still listening to guitar pop?
I joined a Derby band called Saltbox in 1994 and we enjoyed moderate success on the local indie-scene and played in London a few times. We had record company interest and got played on the radio – BBC Radio Derby's Mark Sheldon (now working at 6 music) was a big champion of ours and even suggest in print that people should "ignore oasis and dry out with Saltbox". How's that for a press-clipping? I'm currently recording some solo stuff, mainly as a hobby, under the guise of Reporters. My wonderful kids and wife , as well as work commitments are the main focus now I'm old and boring!
++ Well, let's wrap it here! Anything else you'd like to add?
I'd just like to say thanks for getting in touch – it's great to know that some people liked what we tried to do and we'll release more tracks onto YouTube soon.
::::::::::::::::::::::::::::::::::::::::::::::::::::::::::::::::::::::::::::::::::::::::::::::