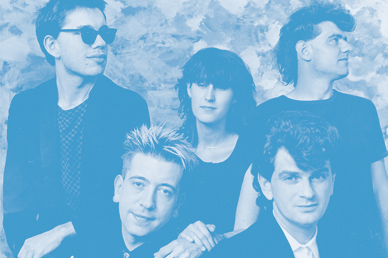 Back L-R are Frank Sweeney, Jenny Benwell, Chris Blawat, and front are Nick Sweeney on the left, and Dirk Higgins.
Thanks a lot to Nick Sweeney for the interview. The Ringing were an obscure band that released the one and only 7″ back in the day on the now legendary Pink Label, home of The June Brides, The Wolfhounds and my favourites McCarthy. This 7″ is truly great, especially the A-side, "Caprice". If you've never heard them before, now it's the time for you to discover.
++ Hi Nick! Thanks a lot for being up for this interview. First things first, why do you think The Ringing are this obscure? I mean, Pink released The June Brides and McCarthy, it's strange no one knows much about you. Were you very obscure too back in the day?
Unhelpfully, I don't know. Maybe the line up of guitar, bass, drums, viola and violin didn't appeal to the people we were playing to. At the time, though, Dexy's Midnight Runners had become big with their Come On Eileen phase, and the Pogues were on the rise, so it wasn't like the strings were unfamiliar. We weren't folky, exactly. Reviews said we were too eclectic, as we had a broad musical range, with songs that I jokingly called 'Country and Eastern', influenced by things like David Bowie's Velvet Goldmine and Boney M's Rasputin rather than anything more authentic – pop oompah.
More honestly, we probably didn't try hard enough. We sent tapes to the usual people, but weren't good at following them up. We also probably thought that being on a record label would sort out all 'that kind of thing', but of course it doesn't work that way.
++ So when did you start as a band? Who were the members and what instruments did each of you play? Where were you based?
We started in 1982, at the Works rehearsal studios near Old St, the edge of London's East End. (The area is now very trendy, but then it was old warehouses and railway arches, scruffy pubs and intermittent public transport.) Dirk Higgins, who ran the studio, liked what I was doing, and became the bass player. He recruited the drummer, Chris Blawat. My brother Frank played viola. We played with this lineup for a while, then got a violinist in, Jenny Benwell, who'd trained at the Guildhall School of Music.
++ Were you involved in previous bands before The Ringing?
I was in a band called Exile Views (a line from one of my songs – we wanted to be just plain Exiles, but the day I printed up cassette covers for our demos I heard a band on the radio called Exiles). We did 5 or 6 gigs the year we were in existence. We sent tapes out to everywhere and everybody, but were not very proactive in the face of indifference. That was from 1979-80. I brought some of the songs to the Ringing.
++ Where does the name The Ringing comes from?
I think it was just from a stray comment that a band ought to be loud enough to leave your ears ringing. It was slagged off (as a crap band name) by Tony Parsons when he gave our single a bad review in the NME. I agreed with him about the name.
++ You only released one 7″ on the Pink Label. How did you end up working with them? How was the relationship between band and label?
We met Simon Down through my brother Frank, and after his interest in the June Brides. I liked Simon and his partner and got on well with them until they lost interest in us – fair enough – and then we hardly saw them. I probably didn't think about how businesslike they were, just trusted them to 'do stuff'.
++ On this 7″ there were two songs, "Caprice" and "Doctor". Am I crazy to say that there is some sort of Monochrome Set influence? What would you say were the main influences of the band then?
I LOVED and still love The Monochrome Set. I saw most of their London gigs between 1978 and 1985, had all the albums, singles, rarities, posters, etc, worked out all their songs on the guitar, scribed their lyrics as much as I could make them out. I've now seen, and like, the revived TMS, a rare thing for me, as I prefer to remember bands as they were.
I liked Dexys' Too-Rye-Ay tunes, and also liked the Pogues, though both did their thing to death eventually. I'd liked punk (as early as seeing the Pistols in 1976) but thought it had run its course by the end of 1977. I loved early Adam and the Ants and Siouxsie and the Banshees, and, from 77-79 followed them as obsessively as TMS, going to all the gigs, etc, and even auditioning with the Ants. (See my blog here, for further details.) I was, and still am, a fan of all Bowie's stuff from Man Who Sold the World to Lodger. I began being disappointed in him with 1980's Scary Monsters. I liked Joy Division and New Order, Young Marble Giants, Kraftwerk, Telex, somewhat humourless European pop, for want of a better phrase, or anything (like the Monochrome Set) that sounded convincingly European. I also loved Devo, who were more comic than they were given credit for. I liked stuff like James White and the Blacks, and The Birthday Party, too (which I now find unlistenable). I'd been a regular at Billy's, the Beat Route and Le Kilt, all Soho clubs, from 1980-82, and the Blitz scene, so some of that (mostly crap) New Romantic stuff, like early Spandau Ballet, rang a bell with me. I also liked the Skids, who I thought successfully outgrew punk, The Fire Engines (who didn't fit in to any niche, I thought), people like Paul Haig (but not Josef K). I still loved things I'd been listening to since the mid-70s, like Roxy Music (up to Manifesto in, I think, 1978) and Iggy Pop. And far too many more to mention. Having said all that, I'm not sure I can claim these as influences on the band, though I was the only songwriter. There was no concerted attempt, as far as my vanity and faulty memory can pull up, to sound like anybody else. And I don't think we ever did, which may have been our downfall.
++ So do tell me, what is the story behind these two songs?
Caprice is fake jazz. I can't say I remember it being directly TMS-influenced, though I'm sure it was – by The Ruling Class (from Eligible Bachelors) and The Man With the Black Moustache (from Love Zombies). I've only learnt jazz guitar properly over the last 10 years, so the guitar is not 'strictly' jazzy at all. Nor is the drumming, but I think on the whole we pulled off the impossible to make it give off a jazzy feel that I was happy with. It wasn't as if I ever liked jazz that much – I still have a hard time listening to anything but Gypsy Jazz.
Doctor was probably influenced a bit by another band I loved, Bow Wow Wow, and as such is 'kind of' jungly, albeit with violas imitating bagpipes at the end.
The lyrics to both are throwaway. I'm not much into lyrics, though of course I have a few favourite tunes where the lyrics do stand out, notably some of Bowie's (Station to Station, Star and Drive in Saturday in particular), Gerry Rafferty's Baker Street, the Eurythmics' Love is a Stranger, Paul Simon's American Tune. What I really like is just sound, especially the human voice. That's what attracted me to Eastern European music; I couldn't understand the words (though I can now, often) so it was all part of the sound.
I can't remember the impetus for writing these particular songs; I rarely do, I just get a tune in my head, match it with a lyric and get a feel of how it should sound. I often think of basslines at the same time, and how drums might sound, etc – at least that's how it works now, with tunes I write for the band I'm in. I can write music now – in those days I had to grab a cassette recorder and just play them in case I forgot them.
++ And were these the only two songs you recorded as The Ringing? Are there any more? Maybe some in tapes hiding in someone's cupboard?
We made several recordings as The Ringing. I remember the first attempt at a session: we took a day off work and turned up at the recording studio only to find there'd been a flood or a fire or something, so we went to a pub and spent the day blowing the money we'd brought for the studio, and got wasted. We recorded 6 more tracks with that line up, and 2 more with a later version of the band, which I'll mention later. They're all on cassettes somewhere. They're not great, in general – done on a low budget in a great hurry by people not used to recording techniques. And, in one case, by an engineer who hated us after Chris banged his reverb sheet absent-mindedly with a drumstick, and hated us more after Dirk slagged off some keyboard there, which got the engineer declaiming sniffily that it was 'his baby, Mantovani in a box'.
++ About the 7″, how come there are no credits in it? And would you have wanted a different sleeve instead of the Pink standard ones?
I think there might have been an insert slip with credits. The people on it were as above. The songs were recorded at London's Alaska Studios and the engineer was called Ian O'Higgins (I think). He was from Dublin, and I was intrigued that he was reading James Joyce's Ulysses, a book I later became utterly obsessed with. I think Joe Foster was around, but don't remember him having any input – I may be wrong. The June Brides were in right after us, for the midnight session, so Frank had a double shift. I designed a sleeve (can't remember the design), but it was abandoned as it would be too expensive to produce. The decision made sense, and I didn't mind the standard sleeve.
++ Tell me about gigs! Did you play many? Any favourites? Anecdotes you could share?
I think we played about 40 gigs. We were often on the bill with people called the Greenwich Performance Collective. They were mostly local (SE London) affairs, and sometimes the only people in the audience were the other bands. There was a lot of talent in the GPC, some quirky, adventurous music, now lost forever. As we got to know other bands, we hitched onto their gigs. We often played with a band called The Big Combo, who had a sort of jazz feel – we even did one of their songs, called Drums in the Night, which had apparently been influenced by one of my songs, a tune called Baby is a Millionaire. Incestuous or what…
I think my favourite gig was one of the many we did in the infamously dank Cellar Bar at Thames Polytechnic in SE London's Woolwich. We played there often as I studied there from 1984-1987, and was able to blag spots on the bill regularly. I enjoyed this particular gig maybe because the whole crowd was off its face (and half the band… actually, at least two fifths of the band) and really into it and the place was heaving and everything was just right. I remember we played an encore of cowboy tune Ring of Fire, for the only time, probably.
We also played on a bill with the June Brides and The Jesus and Mary Chain, at a venue called The Ambulance Station in SE London, and again, everything just worked, the crowd and bands on a roll.
We were on at the Living Room (put on by Alan McGee) one night and well after we'd played Alan McGee told me some mad guy was trying to get in, that he was one of my friends, and could I go sort him out before there was trouble. I didn't know him at all: he'd been brought by a casual acquaintance of mine, an American guy, who'd just bumped into him in the street in a drunken camerarderie; he'd been released from jail that day and was still angsty. But not charmingly or wittily. In the end I got sick of being diplomatic and just told him to piss off, and urged my American pal to take him away, which he did, but not before the other guy told me I'd 'never play the fucking violin again' when he'd finished with me. It's funny now, but was scary at the time. At that same gig, I was told that a couple of people came up the stairs, took one look at us, said, "Violins? Fuck that!" and walked out.
++ How do you remember the scene back then? So many talented bands, right? What were your favourite places to hang out? Your favourite bands? The worst bands? Any fanzines you loved?
I used to go to mid-size venues a lot, colleges and pubs, small clubs. I saw any gigs featuring The Triffids, the Band of Holy Joy, an early version of the Auteurs… or maybe it was the Auteurs, and the band that has really influenced me a lot, the 3 Mustaphas 3. I really loved Big Audio Dynamite, too. I wasn't so into the bands on 'our' scene – ie signed by Pink, Alan McGee, etc, like Biff Bang Pow and the Jasmine Minks, the Loft, etc. I wasn't mad about the Jesus and Mary Chain, either, saw them as enjoyable hype if you were in the exact right mood. They were kind of Dada, I thought, taking the piss until somebody was unafraid to tell them to stop it. Maybe I just saw these bands too often when we played on the same bill. I really liked Jamie Wednesday, another act on Pink, whose members went on to form Carter USM and Abdoujaparov. They tended to be dismissed as being 'lightweight', but there was a music-hall feel to them that grabbed me a lot.
I was also into clubbing again, after a few years' break from it, so went to the Wag Club (where I rediscovered ska, the music I'd liked as a teenager) in Soho and the Mud Club on the edge of the West End, with DJs like Jay Strongman and Mark Moore. I got into the start of house music, and listened to that a lot rather than conventional rock stuff – I loved the electronics, and realised that black music plus electronics was a brilliant combination. I hadn't listened to black music since my early teens. (I hated all that disco stuff in the 70s.) I also went to straight night at (gay nightclub) Heaven – Thursdays – and to warehouse parties where a whole new mix of music was played: country, but with sound effects in the background, funk/metal like the Beastie Boys, dub and early hip-hop and rap, and the start (I think) of DJs (like Don Letts) mixing comedy and movie soundbites into the music. I was just really into staying up all night, and I guess regular gigs didn't do it for me in that respect.
I can't really name any 'worst' bands – I think if I didn't like them I had such a short attention span (and there was so much good stuff out there) they'd vanish from my radar. I saw a lot of bands I'd liked take it a step too far, in the interests of commercialism, mainly – and who can blame them? – and was just amused by and dismissive of the careers of Adam Ant, Spandau Ballet, Culture Club and anybody, I guess, I'd been aware of when they weren't mega-famous – a bit snotty of me, of course.
I really wasn't into fanzines – Frank used to buy Sniffin Glue in 76 and 77. I think I'd even stopped reading the music press by then.
++ So then what happened? When and why did you split?
We didn't exactly split, I suppose – mutated, more like. Now time to mention the sixth member of the Ringing, Eddy Walsh, who was in The Big Combo. An excellent bassist, he'd played with me in Exile Views. He depped a lot with the Ringing because our bassist Dirk was a further education teacher, and worked some evenings, so couldn't do midweek gigs. It probably wasn't exactly true, but our drummer Chris remarked that one of his friends had been to more of our gigs than Dirk. One of Dirk's teaching slots was in Pentonville Prison, which had to be interesting. At the same time, and this was around mid-1985, the June Brides were taking off, so Frank was able to spend less time in the Ringing. In fact, to his credit, he did once give up a gig with the JBs, probably playing to masses of people, to do one with the Ringing, probably playing to a bored barman and a dog. Frank was happy to leave, Dirk less so, but he wasn't murderous about it, and we stayed friends. We decided it'd be a cleaner sound anyway if we just had the violin. We'd been joined at that point by Jackie Robson (also the sixth member of the band, I guess), who shared vocals with me. We got a new bass player, a guy called Joe Nevin, who I'd met on some awful job on a building site. He had a very slick style. We renamed ourselves The Etcetera School. "Three words that don't go together," as several people commented. The name was partly influenced by a Monochrome Set song called The Etcetera Stroll. I liked it, and kind of still do. You can hear one of our recordings here, Pact, which gives you an idea of the kind of thing I wanted to develop.
Dirk Higgins played cello on it. He is very important to me in my musical development, as it was at his place once that he played me an LP of folk music from around the world called The Nonesuch Explorer, with a lot of stuff from Eastern Europe on it: I discovered that it wasn't all 'Ra-Ra-Rasputin'.
The Etcetera School carried on for another year or so, but when the recording failed to generate any interest we called it a day. There is a film of our second-last gig (at Dingwalls) somewhere, which I may try to edit and stick on YouTube sometime.
++ What did the members of The Ringing do right after?
Frank went on to be a full-time June Bride until they broke up, but plays now in the revived June Brides and in a country/American folk duo with his wife. I'm not sure what Jackie or Joe did. I may have got this wrong, but I think Chris played drums at some early Phil Wilson solo gigs, before concentrating on running his engineering business – a little corner of industrial Poland in Tooting, SW London. I've remained friends with him. I'm also friends still with Eddy, who has played in the odd punk band in recent years. I see them often. I lost touch with Dirk in the late 80s. I think he carried on teaching, and composing music for TV. Violinist Jenny played with Gothmeister Paul Roland, and with various duos, and now plays with a folk band called The Moors. I played, for about a year, in a soca/salsa band called Johnny Love Muscle, which was fun, my first experience of big, crowded gigs. I then did teacher training, and lived abroad for most of the 90s, teaching in Turkey and Poland and, in Poland, also working for a translation agency. I taught for a few years in London after that, but have been an editor and writer since 2006. I didn't get back into music until 2006 – a 20-year gap – when I joined the London Gypsy Orchestra, playing a range of music from the Balkans and Eastern Europe. From my long stint in Eastern Europe, I knew more about the music, and was better equipped to play it. From there I joined the Trans-Siberian March Band, described by Time Out as 'the Sex Pistols of Balkan Brass'. Playing with decent musicians has made me raise my own game a lot.
++ Looking back in time, what would you say was the highlight of The Ringing?
Getting the single out was a unique moment one that nobody should be so cool they're blasé about it, and reviews of the single, and gigs, in mags like Sounds, the NME and Melody Maker were great to have. A lot of the gigs were really great to play, too, and we met some very interesting and feiendly people. We worked hard at the music but also had a laugh. I also loved hearing the ideas from my head given a tangible form.
++ And today, I hear you have a different band. Care to tell us a bit about it?
The Trans-Siberian March Band plays Russian, Turkish, Balkan and Klezmer music. We have a line up of 2 clarinets, 3 trumpets, two trombones, 2 tubas, 2 drummers, 1 sax, and me on guitar, which is relatively unorthodox, though we're totally unorthodox anyway. We're not purist about the music at all – very burlesque – and mix it up with some Salt n Pepa, the Inspector Gadget theme, the Tetris theme (a Russian tune anyway). We have a kind of Soviet vibe, but it's irreverent and tongue-in-cheek, with men in dresses and girls with moustaches. Our best gigs are packed late-night venues with everybody dancing, but we've also played children's festivals, shopping centres, Liverpool St railway station, the bridge in Mostar in Bosnia and a museum in Mtskheta in Georgia. We play on London's Balkan scene, but are not tied to it. We've also done Glastonbury, WOMAD, Secret Garden, Lovebox and loads of other festivals, plus 2 tours of Eastern Europe and one of Georgia. We have an ongoing collaboration with DJ Yoda, a sort of hip-hop/brass band mash-up – it works! It's enormous fun, and the complete opposite of my 'day job' as a writer, sitting in a room on my own looking at a computer.
++ And aside from music, do you have any other hobbies?
Yes, too many. Walking, as aimlessly as possible, especially in London, but anywhere, cycling (as a pastime and as a spectator sport, despite all the drugs – it's sometimes more rock n roll than rock n roll…), travelling, especially in Eastern Europe, where I go a lot in my own time as well as the band's, films, plays, art in general, and books in general. I especially like (or am obsessed with) Byzantine art, architecture and history (comes from having lived in Istanbul), and the writing of and about Irish author James Joyce. I think it's good to have a mixture of solitary hobbies and those, like cycling and travelling, you can do with others. I also like linguistics in general, and, a hobby that is demonstrably useful, language study.
++ Thanks again Nick! Anything else you'd like to add?
I'm the author of numerous published short stories and one novel, Laikonik Express, which is about 2 American slackers haring round Poland in the snow in search of a woman one of them has met on the train of the title. It's a comic novel, quite rock n roll (I think) and can be sampled here, with extracts and reviews here.
::::::::::::::::::::::::::::::::::::::::::::::::::::::::::::::::::::::::::::::::::::::::::::::
Listen
The Ringing – Caprice