26
Feb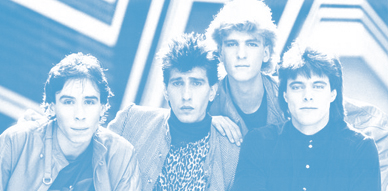 There was a time, back in 2002, when my world revolved around Spanish pop. We were young and foolish in a town that was neither Spanish or American. Half the day we spoke Spanish, the other English. We always tuned in the Spanish Pop  show on Sundays at 7pm at a Salsa radio station. We didn't really care what the dj Kike Posada would play. He was awful. We just tuned in and called the station to request songs. Our little convenience store, a block away from the beach and Ocean Drive and the tourist flock, was almost empty by 7pm. Most people would leave the beach on Sundays around 6pm, thus from 6:30 to midnight (when our shift ended), we just restocked the refrigerators and the shelves. We had five hours to do that. It didn't take us that much so we had time to be on hold on the phone trying to request some of our favourite Spanish Pop tunes. The show lasted a couple of hours. It was called Boom. And again, it was awful.
Jose, Chozzy for friends, and me, had been working at this convenience store for some time now. We were very young, like 17 or 18 when we started. We had hacked the audio system of the store and we had managed to connect a portable CD player to it. By far this store had the best music in Miami. Those days we played lots of Spanish Pop and more often than you could imagine people would recognize the songs and tell us stories about the days when they danced to them. Or when they went to see them back in their home countries. We shared the same memories. It was the music we listened on the radio back home when we were growing up. The 80s and the early 90s wasn't c86 for us. It was the so called "Rock en español" were both rock and pop were bagged in the same tag.
We requested Los Nikis many times. The dj didn't have a clue who they were. For me that was blasphemy. It was always like this: we requested a first song, he didn't have it. We requested a second, he didn't have it. We always felt bad with her secretary or the radio station operator, a girl with a Venezuelan accent, that by the third song request we would just stick to a song that had Alaska on it, most usually a Dinarama song. And then we would call again. And we'd request songs the stupid dj didn't know. One could only wonder how he had any following in the city. It was always a mystery for us. He sucked and we deserved to have our own radio show. But we weren't friends with Emilio or Gloria Estefan I suppose.
Our apartment was 10 blocks away from the convenience store and we were piling CD-Rs with bootlegs by Aviador Dro and rare tracks by Los Vegetales. We shared a big studio and payed 250 dollars each. We had for the first time in our life fast DSL internet and spent hours, days, researching and downloading Spanish Pop. And then we started buying what we could. It was hard and damn expensive. Since then I experienced the abominable postage prices the Spanish postal service charges. At some point I must have paid 100 dollars worth of postage on a single order. It was outrageous. Suddenly my drawers starting piling with t-shirts by Cola Jet Set, La Casa Azul, Fangoria and more. I was really into it.
I always thought it was going to be Spain the country I was to visit first in Europe. It didn't turn out that way. For me it was obvious, I spoke the language, in high school I had read Cervantes, Quevedo and even Cela. I had watched every single movie by Alex de la Iglesia and watched la Liga religiously every weekend. I was a big fan of Raul, and Mendieta. And of course, the music I loved, and my favourite band, my beloved TCR, came from Spain. However I went first to Germany, Sweden, Denmark, Scotland and England.
Next weekend I head to Madrid. It will be my first time in Spain and I'm thrilled. The first thing that comes to mind is that song by Flash Strato "Madrid in Tecnicolor" that was kind of a hit back in Lima in the 80s. It seems in Spain it wasn't that popular, just a handful knows about it. But that's how things work, as my grandma would often say, "Nadie es profeta en su tierra." Translated to English it is "No one is a prophet in their own land." The quotation is from Christ himself in Luke 4, 21-30. Perhaps there's a similar saying in English, but you see my point. That happened a lot with Spanish bands, many of them made a splash in Mexico or Peru, but not in their home country.
It was one of those dead afternoons at the convenience store that I would rediscover this gem. Carlos who worked at a garage a block away came with a couple of CDs for me to play at the store. They were Spanish pop, songs he would play back in Peru. He had been djing in Lima for a couple of years before leaving to the US. He was a bit older than me and remembered much better the 80s and the songs that were played during that time. He lend me his CDs, just for that afternoon. One of the songs was "Madrid in Tecnicolor". Suddenly I had flashes, the song was very familiar and I even recalled the lyrics. It took me back to evenings stuck in the lazy traffic of Lima's tight side streets. The cab driver reading his football daily paper with a half-naked woman on the cover waiting for the light to turn green. And the cassette radio, brand-less and black, playing some of these Spanish gems on the background.
I still don't know where the name Flash Strato came from. Perhaps it has no meaning. The band was formed in 1980s by four chaps, Emilio Huertas (guitars), Enrique Bastante (vocals and guitars), Victor Martín (bass) and Toti Árboles (drums). They lasted only 3 years, saying farewell in 1983 with just two releases on their hands.
The first release was the "Cristales Molidos" single on Carnaby Records. This record also included "Fue tu Culpa" and "Búscame". It was released in 1982 and it seems no one picked it up. It's a shame, I love "Cristales Molidos". It has some great jangly and upbeat guitars. But who knows, perhaps these days their records are sought after and pretty expensive. I don't know. Would love to have a copy, but as said before, I already decided not to buy online from Spanish record stores. The postage prices are not right. But I will surely keep an eye for their records now that I visit Madrid.
The second release was "Madrid in Tecnicolor" (1983), a maxi-single, on Columbia. This is their 'song' and could have been an anthem of that era. Great melodies, power-pop melodies, jangly guitars and a fun and bouncy keyboard at the chorus. A very catchy song that for some reason not many cared for it in Spain when it was released. That's why it is amazing to see the amount of Peruvians commenting on Youtube about this song. It's hard to believe.
The band split just after releasing this record. Toti would join Alaska y los Pegamoides and Enrique, Seres Vacíos. It didn't matter if they had good songs and two very strong releases. It didn't matter if they had played gigs along Alaska y Dinarama, Paralisis Permanent or Gabinete Caligari, three big names of the Spanish Pop Golden Era. They were destined to be forgotten. But far away from the Iberian peninsula, in foggy and grey Lima, we pictured Madrid as a fun place, a place painted in technicolor, were no one could stop partying.
Many years later I will experience Madrid in Technicolor, were the parties go on past midnight until the next morning. I can't wait. I'll see you there next week.
::::::::::::::::::::::::::::::::::::::::::::::::::::::::::::::::::::::::::::::::::::::::::::::