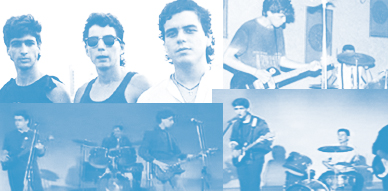 Our anniversary month is almost over but we have to continue with this labour of love especially when there's been many interesting news the past week.
Remember I recommended Lost Film a month or so ago? At that time only one of their songs was streamable. Now the Massachusetts band has many more. Why? Because the Spanish label Discos de Kirlian is releasing their Mini-LP on a beautiful 10″ vinyl. It is only limited to 100 copies and it is available to pre-order too. There are 10 songs on the record, eight of them you can listen now. Check it out, it's really good.
Continuing with Spanish labels now we turn our head to Kocliko. The label that released not too long ago the Tomiji 7″ is back this time with two new CD albums. The first one is by the band Alligator and it is titled "Octets". This is the first time I hear about the band so I had to find out who they were. Clearly they are French, where in France? Not sure. They are a duo formed by Alexis Da Costa and Camille Lucie. The album is limited to 123 copies and includes 8 blissful songs. The other CD is by The Very Most. "Syntherely Yours" was the album that  Jeremy released some time ago but it is finally coming out on a physical format. So that's very good news. This record is quite cool because aside having a bunch of very fine tracks, it has collaborations with many indie household names like Adriano from Postal Blue or Lisle from Tiny Fireflies. The album has 11 tracks and you can stream them all  and order the CD right now from the label Bandcamp.
Another top news from a Spanish label is that from Pretty Olivia Records. The lovely label that is ran by Javi has reissued the album "Exit Trashtown" by the superb Cypress, Mine! Wow! I wrote an article about this band a long time ago hoping to interview them. Sadly that interview never happened, but at least I got news that Javi was working on a reissue. A lot of time has passed since, and finally this dream has come true! The record will be released in a deluxe edition, 2 vinyl records. One with the album and another one with all the singles and demos of the never released album. It will be available on October 25th, so very soon! This is terribly exciting!
Our friends from Starry Eyed Cadet have put together a limited edition EP to help the NorCal Wildfire Relief Fund. All sales are going directly to the relief and recovery efforts. As usual they are classy and lovely, and we get three new songs, "Kind", "Reaction (Acoustic 2017)" and "Sugar (Acoustic 2017)". Now, I hope the band releases a second album sometime soon!
Lastly the book "C86 & All That" written by Neil Taylor is going to be published on November 30th. I must say I have already preordered. For some reason the pre-order button doesn't work anymore but you can check Ink Monkey Editions and get in touch with them and ask how to pay. I believe it was 25 pounds including shipping for anywhere in the world (of course cheaper if you are within the UK). This is a very long-awaited book which I can't wait to read. I already like the artwork for the cover, it is very much "c86", so now I want to read and love the stories written in it!
———————————————–
After my last post I decided to count how many countries have been featured on this world tour. To my surprise there were already 28 posts about 28 different bands from 28 different countries. Today it is time for number 29, Peru.
As it is the case with Latin America proper indiepop wasn't really a staple until the 2000s. But it is also true that there have been guitar pop bands since the 1980s. Bands that were influenced by different scenes, and in today's case, clearly influenced by the Spanish pop movement known as La Movida.
Peru has a long story of underground music. Underground punk and also post punk were important scenes during the 80s and early 90s. If you remember well, here on the blog, I've featured El Sueño de Alí and Voz Propia some years ago. But underground pop wasn't really strong at all. There were just a few bands around and they didn't release any proper records. There was barely any support for them. What's funny though that later, in the 90s, the people that were involved in these bands would actually enjoy success. That is the case for example of Los Vagabundos who would later become Cementerio Club and also today's band, Los Inocentes, who would become in perhaps Peru's most important alternative band, Mar de Copas.
During the last years I was still working with Jalito on the Peruvian indiepop label Plastilina Records we discussed about the release of two albums from the Peruvian vaults: El Sueño de Alí and Los Inocentes. I thought rediscovering these gems would be important.  I'm not sure anymore if these releases will see the light of day but I really hope they do. They would rewrite the story of independent pop in Peru, as most people forget or just don't take in consideration these bands today. It is like if they never existed.
The band actually started as a five-piece with Manolo Barrios (guitars), Toto Leverone (drums), Gustavo Jímenez (bass), Arturo Rivas (keyboards) and Raúl Mondragón (vocals). At that time they were called E Inocentes.  Years later, in 1989, the band would become a three piece after Raúl and Arturo left the band. It is at this time that were to change their name just a little bit, to Los Inocentes (The Innocents). Around this same time, Toto also joins the band La Secta and records three songs before splitting.
The next year, 1990, would see Jorge 'Pelo' Madueño' joining the band to play guitar. Yes, the same Jorge Madueño from the brilliant El Sueño de Alí. With this new lineup the band recorded 14 songs at the Miki González studios, "Calles Ruidosas", "El Condor Pasta", "Isabel", "Entre las Nubes y el Mar", "La Rumbambera", "Popurrí Leonardo Favio", "Flores Raras", "Una Mujer de Verdad", "Aun No Sé", "Cuéntame", "La Copa Rota", "Ya No Puedo Verte Más", "Lluvia de Color" and "Dime Cuándo Tú a Mi". These songs, worth an album, remain unreleased to this day. A shame really.
It is worth mentioning that two of those songs were covers, of course the musical medley of Leonardo Favio's songs on "Popurrí Leonardo Favio" and La Copa Rota, original of José Feliciano. The rest were all original songs.
I read on a small biography available on the Mar de Copas website that the band tried hard to have their songs played on Peruvian radio but they had no luck whatsoever. That they played sporadically at venues like Nirvana and No Helden in Lima. What they did manage was to play in some TV shows. One of those TV shows was the kid's show "El Show de July". I could find a Youtube clip from that appearance when they play the song "Isabel". From what I gather this was the 2nd song they played that time. I can't seem to find a clip for the first one sadly.
Their other TV appearances were in 1988 on the "La Ruleta Millonaria" programme and in 1990 on the "En América con Jaime Bayly". Sadly I couldn't find any video clips.
The next year, 1991, the band split after playing a gig at the Wifala venue in Miraflores, Lima. In 1992 Manolo and Toto were to start a new project called Mar de Copas and the rest is history.
Their only appearance in a physical record dates from many years after the band split, 1997. The band had two songs on a compilation CD titled "La Generación Perdida" released by APU Records (CD-00002). On this compilation the had "La Copa Rota" and "Lluvia de Color".
Surely, there is a lot on the web about Mar de Copas. But I still decide to find out more about Los Inocentes. There might be something else. And definitely there was. I find out that in 2008 there was a reunion gig at La Noche venue in Barranco, Lima. 18 years after they had split. It was an important occasion. Mar de Copas was celebrating the 9th year anniversary of their mailing list. Sharing the bill were other Mar de Copas related bands like Los Trece Baladas and Hnos. Brothers. On this special gig the band played almost all of the 14 songs the band recorded but two, "La Rumbambera" and "Aún No Sé". Here I found them playing their classic "Lluvia de Color".  Another rare find is a medley of Los Inocentes' songs played by Mar de Copas while practicing before the aforementioned gig.
Not much more about the band on the web. Would be nice to know more details about them, like which songs they played at their TV show appearances? Where did they play gigs and who supported them? If they had any more recordings? And if there are still plans for those songs to be released in some way or another?!
::::::::::::::::::::::::::::::::::::::::::::::::::::::::::::::::::::::::::::::::::::::::::::::