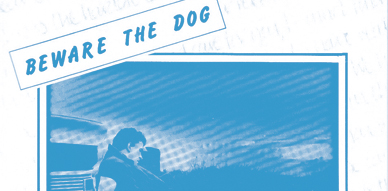 Thanks so much to Simon, Mark and Jan for this great interview! Beware the Dog were an English band from Slough and released one great 7″ back in 1987! You can listen the songs from the 7″ on Youtube, "Madam" & "Nasty Things"! Aren't they really fantastic? So I thought it would be a great idea to talk with them and hear their story!
++ Hi Simon, Mark and Jan! Thanks so much for being up for this interview! So whereabouts in the world are you? And are you still making music?
Simon: Very happy to oblige, Roque – it is good to know that people are still interested in the 1980s.
Mark (Leechie): I'm still making music. I now live in Wokingham, Berkshire where I'm currently in a couple of active bands and I still do a bit once a year with The Morbific Seeds [https://soundcloud.com/the-morbific-seeds]. I live with my partner Suzanne and have a 17-year-old son Jack.
Jan: Back home now after 15 years living in Ireland as a photographer. Have picked up drumming again after all this time, am involved in a few projects and loving every minute of it albeit a bit rusty. My home is now in Burnham Bucks which I share with my wife and two young kids aged six and two.
Simon: My lovely wife and I live in West Sussex in the UK, not far from Brighton; our three daughters are grown up and live all over the place. I have a small studio which I don't get enough time to use, shamefully. I am still writing music but, since converting from analogue to digital, I am hampered by my lack of ability to relate to the software.
++ So let's take a trip back, when did Beware the Dog start as a band? Where were you based? And have you been in other previous bands?
Simon: We all lived in Slough back then – quite close to each other, in fact. The three of us came together in early 1986, having known each other for several years. We had all been in various separate line-ups. I had been in lots of local pub/club bands, playing mainly cover versions and some original material. I joined Simon Townshend, Mark Brzezicki and Tony Butler in about 1980; various line ups with ST followed over about two years until he took a solo tack with his brother, Pete. After that, I tried a string of ventures whilst renovating a house.
Leechie: I was booted out of the matrimonial home and ended up around Simon's with a crate of beer! That was the start of a mad summer! Previous bands include The Onlookers [http://www.detour-records.co.uk/ONLOOKERS_INFO_PAGE.htm], The Morbific Seeds, The Mighty Marvels (a soul band with a chap named Eddie Pillar, founder of the acid jazz label) and various other musical projects that didn't get off the ground. I had also done some recording for Simon in one of his previous bands.
Jan: As Simon said we all lived locally and had a social scene going, being young and single with lots of free time to spend on music. The 3 of us had day jobs so we crammed in our music all involved in our own projects. I was involved with a few local bands, Arrogant, I Can Crawl, Johnny Panic and a cover band or two. This was the time we fine-tuned our art, all being involved with recording and gigging the London circuit. Simon was always writing material and when he teamed up with Mark there was a natural spark and some good stuff was being made. I got interested and gave the project a bit of my time to see how things would pan out.
++ And who were Beware the Dog? What did each of you play? and how did you all meet?
Simon: It started when I teamed up with Leechie and we very quickly forged a solid musical – and social [Leechie laughs] – partnership. I was on Lead Vocals and Guitar. I had generally played keyboards and percussion up until then but I played guitar while we looked for a real guitarist. Hah. We spent a while looking whilst penning our first songs, and then we somehow just got used to the idea of just me playing guitar and, because we'd come to like the simple, energetic sound of ourselves as a three-piece, we just went with it. We persuaded Jan to share his time with us, although he was heavily involved with another project at the time.
Leechie: I was The Bass – and backing vocals.
Jan: I played Drums.
++ Where does the name Beware the Dog came from?
Simon: Mark and I wrote Madam (our very first creation) and the idea of the dog reference was amusing. We eventually twisted it into a catchy name which also closely resembled a commonly used sign so maybe people would easily remember the name. After a while, we were actually known as 'The Dog'.
++ When you were around, which other bands did you guys liked? Who would you list as influences?
Leechie: I was young enough to have witnessed the Punk movement first-hand. I guess The Buzzcocks, Magazine, The Jam, The Sex Pistols, The Ramones and The Clash got me into playing music first and then got into all the 60s beat music: The Kinks, The Who, The Beatles and even rarer ones too numerous to mention here. I also love soul and Reggae.
Jan: Although my drumming was rock/pop based I was listening to Sly and Robbie, Grace Jones, Simply Red, Prefab Sprout and disco stuff like Chic, Sister Sledge and WHITNEY HOUSTON!
++ You only released the "Madam" 7″ single. And how great are the two songs on it. Care to tell me a bit about each of the songs? What's the story behind them?
Simon: Thanks!
Simon: The story behind Madam was about young love, general misunderstandings and incompatibility within relationships.
Leechie: That's a polite way of putting it!
Simon: Nasty Things was a nod to the horrors which sadly appear in the papers every so often. The playful music is an ironic reference to the way that, after the event, the perpetrators seem to give casual, bizarre or banal account of their heinous crimes.
++ How do you remember the recording sessions for the single? And why did you choose these two songs?
Simon: We recorded a few tracks at a small studio: 'The Padded Cell' in Colnbrook, near Heathrow Airport. Madam and Nasty Things were both short, sharp tracks with very different themes and we felt comfortable with how they sat. It was a great time and as I remember; the whole process was just straightforward.
Leechie: It was a lot of fun, I remember that. What I also remember is that there was this humming noise that kept appearing on the backing tracks and we couldn't figure out where the hell it was coming from until…
Simon: … we realised that Jan was humming during the takes.
Jan: Unfortunately I still do that… bummer! It was a habit I picked up from years learning to play whilst humming the bass line to myself. I have a daft concentration face as well, it's a good job I'm sat at the back!!!!!! Yep, I remember the session and it was a blast, happy days indeed.
++ I also happen to like very much the artwork for the single. What's the story behind that?
Simon: Jan (Spidey, the photographer) took a great picture of my 1963 Humber Super Snipe on a cold winter morning. We thought it somehow captured the spirit of the theme of lost love that is at the heart of Madam. The picture on the sleeve for Nasty Things was found in an auction lot and, having now searched the internet, I believe it was from a set of sketches by Polish artist and Dachau concentration camp survivor Jerzy Zielezinski. I had a load of art studio stuff set up at the time and I designed and created the artwork for the sleeve.
++ And how come you didn't get to release more records? I ask because, clearly you had many more songs!
Simon: We released the single as a sort of banner and I guess we could have got some more songs out there but we were concentrating on trying to land a major sponsor, so it was somehow low on the agenda.
++ Do tell about these other songs. How many songs did you actually record? And in general, which would you say is your favourite Beware the Dog song and why?
Simon: We recorded (live) a bunch of songs at rehearsals and did indeed record a few more tracks at The Padded Cell, which included Heartbreak and Waste of Space [http://www.youtube.com/watch?v=n2Y-CVnxxiw]. Waste of Space is my personal favourite because I got to say what lots of people had in their minds and I like to think I gave it a catchy, simple and light-hearted tune.
++ Let's talk about gigs, did you play live often? Which was the farthest you ever went to play a gig?
Leechie: We didn't play much beyond London. We spent a lot of energy doing as much ground work as possible to promote the gigs – we even recorded an ad for our first gig that we put out on Capital Radio, which was a hoot! In those days you had to go around the local area at night with a bucket of paste and an arm full of posters sticking them up everywhere local to the gig. No Facebook in those days.
++ And which would you say were your favourite gigs? Any anecdotes you could share?
Simon: It was brilliant playing live because, as a three-piece, we could basically do whatever we felt like. We jammed through extended versions of the songs a lot of the time and improvisation was easy because it was just up to me and Leechie staying in the same key and Jan nailing it all down. I think, for me, our run of slots at the Rock Garden in Covent Garden was the best.
One time, I broke a string early on in the set. I finished the verse, scurried off to the side and, within a few moments, I had the new string in place – albeit a few tones low. I sang another verse with the volume down, at the same time tensioning the new string. As we approached the chorus, I added an impromptu few bars and hit the volume in order to get the string in tune. Just on cue, we made the chorus as the string climbed up the scale and (although I say so myself) it sounded awesome! Things like that really hit home with an audience and the write-up in the paper was all about 'the string change mid-song'. Professionalism is indeed key!
++ The single was released in 1987. One year after the influential C86 tape. I was wondering, did you ever feel part of a scene at that time?
Leechie: Not really. I liked a lot of the bands: MCARTHY, Bodines, Wolfhounds, but sadly we just missed the crest of that particular wave and really we were a little different from the scene.
++ And so then what happened? When and why did you split? What did you guys do after?
Simon: We were gigging a lot around the time when the 'Acid' scene was just about to kick-off. I managed to land us a gem of a slot at a nightclub called La Val Bonne to coincide with one of the very first events given over to the new craze. It took a lot of effort to convince the Night Club Manager that this was going to be a big movement and he eventually agreed for us to headline on the second night. This was a really flash club at the time and for the first time in its history they were going to allow people in wearing 'T' shirts! It sounds daft now but back then this was a massive shift.
The plan was to play a totally dynamic set with no songs as such – but snippets of lyrics, monster grooves and blazing chords (the place had a fabulous sound system). However, as it turned out, Jan had booked a holiday; I asked him to cancel it because this was such an important opportunity but he said no. Leechie refused to do the gig with a session drummer, I got upset… end of story.
Jan: What we were about to do was a massive deal, there weren't bands doing the whole mash up acid/club thing, it was being done live by DJs but not by live bands! It was a serious undertaking to do it properly in a named high profile club (no pressure) and there was not the time scale to prepare for it. My mantra, if it's worth doing… Sadly, that was the beginning of the end.
Leechie: I liked the Acid scene, but sadly doing a gig without Jan at the time was unthinkable as we were all good mates in it together. My loyalty upset some people. It's a shame that we don't have recordings of some of the more Acid BTD 'cos that was an interesting progression.
++ And what about today? What do you do? Any other hobbies aside of music?
Simon: I am an engineer and spend far too much time behind a desk. I am in the early stages of writing a musical. I love snow-skiing and hitting tennis balls.
Leechie: I'm still making music – currently as a member of both The Transients and The Leopolds and I have a few other projects on the go. Last year I had an old demo released as an album by the Onlookers 'Blue and green and tangerine' [http://www.boredteenagers.co.uk/ONLOOKERS.htm]. Day job as a sparky. Not much work about at the moment though.
Jan: By day I'm a househusband. By night I'm playing drums with Hubba Bubba a disco\pop covers band and have recently completed an album with my old buddies from I Can Crawl which is proving to be awesome! I still do photography, albeit part time [http://janwilgaphotos.com/].
++ Let's wrap it here. If you look back in time, what would you say was the biggest highlight of Beware the Dog?
Jan: Playing exciting, fresh music with a great bunch of guys. A great ride. Happy days.
Leechie: I agree with you there, Jan. It was a fast ride and great fun! Cheers guys!
Simon: For me, breaking a string at The Rock Garden!
++ Thanks so much again, anything else you'd like to add?
Simon: You too, Roque; good times!
Leechie: Yes, cheers Roque for showing an interest and looking back. It was fun.
::::::::::::::::::::::::::::::::::::::::::::::::::::::::::::::::::::::::::::::::::::::::::::::