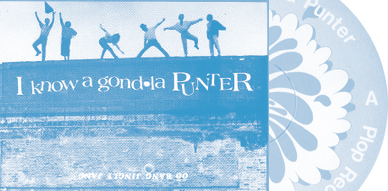 Hi! How are you all? This week I have a small post once again. Thing is I have little time in my hands as I'm preparing to go on vacations and I want to finish with all the deadlines I have, run all the errands I need to run and so on. I'm leaving this Friday to China for around two weeks. As some might have noticed on the Cloudberry site, all orders placed after tomorrow won't be posted until the 24th of April.
The other news on the Cloudberry site is that now you can pre-order the Fibi Frap CD. When I return from China I'll be sending the masters to the pressing plant. So we are looking for a late May release. I'm very happy about this release. It's a very obscure Swedish band but I grew very fond of them years ago when I had no clue or had no contact with them. Took me ages to get in touch with the girls.
Fanzine are out and selling fast. People were really excited these days after listening to the magnificent cover of "Red Sleeping Beauty" by The Royal Landscaping Society. Don't miss this one.
On other news, yesterday I finished recording the April podcast. I hope to post it before I leave, but if Toni can't have it ready by then, I trust he'll be able to publish it. Remember in China I won't have access to Facebook or Gmail. But do send your answers for the clip of the month. I'll reply when I get back. Promise!
So that's more or less what's cooking at Cloudberry HQ. Very excited about traveling. Very excited that NYC Popfest is just around the corner. Excited to get to see friends very soon. It's all happening. New releases too. Can't complain!
So no posts from now until I return! Be good in the meantime!
———————————————————-
"I Know a Gondola Panda" I read on the Firestation blog years ago. There was a list of recommendations of records to search for. Immediately I googled for them. Google asked, do you mean "I Know a Gondola Punter"? That was it. There was a typo, a funny one definitely, but I had found a new band to look for.
That was many years ago. Since then I tried bidding twice on eBay for their one and only 10″ and both times losing. You know me, I try to avoid paying large sums for records. Right now you could buy it on Discogs sure. But with the shipping costs it will end up costing me around $50. I think I will be cool paying around $30. That's the max I've set. I know, different people have different max prices they are willing to pay. Some people just buy their "definitive" and "important" records, so they allow themselves to pay crazy prices, but then, they don't buy anything else. I in the other hand love buying new and old records, and many of them. I really want to hear songs I've never heard before. It's an addiction I guess.
Anyhow, as you can expect because this is the obscure section, about this band there's very little online but let's try to go over about what we know.
They released their single 10″ in 1988 on Plop Records. Catalog number was 1. Possibly then a self-release. It's funny that on Discogs it's listed as shoegaze. Definitely it's not shoegaze. A comment says:
The original poster galled this a "shoegazing" band. I think that's a NME89 somesuch title for esoteric jangle pop British genre, which this bad really doesn't fit. The vocal are hard-core Punk in a northern Brit accent. There a girl doing backgrounds and harmony, but this is bullet-punk that sounds pop.
I wouldn't call this hardcore myself either. It's punky sure, and reminds me of a mix of The Haywains and Strawberry Storey. Indiepop would be a better genre if you ask me!
The tracks are:
A1     Yell factor string bleed (was: Mary)
A2     Plectum trash (was: Ich Bin)
B1     dum dum-dum dum dum-twang (was: Dance)
B2     talksingyell (was: Shekan)
B3     The backyard choir (was: Millk Tray Man)
Not sure about that "was". But seems more people know the songs by the name inside the parenthesis.
We also know that the record included an insert with the lyrics for all the songs. The lyrics are really good. They are so funny and ironic, they kind of remind me of the Spanish band Aerolíneas Federales.
Their EP by the way is titled "OO Bang Jingly Jang". And the band hailed from Stafford.
Stafford is the county town of Staffordshire, in the West Midlands of England. It lies approximately 16 miles (26 km) north of Wolverhampton, 18 miles (29 km) south of Stoke-on-Trent and 24 miles (39 km) north-west of Birmingham. The population in 2001 was 63,681[1] and that of the wider borough of Stafford 122,000, the fourth largest in the county after Stoke-on-Trent, Tamworth and Newcastle-under-Lyme.
There is a castle in Stafford. I like castles. Maybe I could visit sometime. The Ancient High House in the town centre also looks really cool.
I haven't had the chance to listen to all the songs included in the record yet, only "Mary", "Dance" and "Shekan". Both are top tracks! Maybe someone can help me listen to the rest?
There are some more songs that I have had the chance to listen though, and those are "Building Bridges" and "Up Against the Wall". You can find these two on a Myspace that the band used to run years ago. I wonder then if there are many more unreleased recordings!
And that's when I hit a wall. Does anyone remember them? Anyone have a spare copy for me? 🙂 Are there more songs? What happened to the members after the band split? Were they involved with music? Would love to know more about this band. Really like their songs!
::::::::::::::::::::::::::::::::::::::::::::::::::::::::::::::::::::::::::::::::::::::::::::::