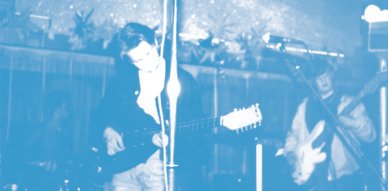 Thanks a lot to Spencer Roberts for getting in touch and telling the story of Steamtown, a band I wrote about some weeks ago and couldn't find much information online. I've always been curious about this obscure Birmingham band that had this one song on the Corrupt Postman cassette compilation that was so so good. Lucky enough here Spencer fills in the blanks and transports us to the late 80s, a time of ramshackle guitars and indiepop galore! He also was kind enough to share some exclusive images, a flyer, and here is a photo. Hope you enjoy! Very happy about this interview!
++ Thanks so much for getting in touch for being up for this interview! I see you all are still in touch, but wondering if you are still making music?
Andy, Simon and Paul and me are in touch, thanks to Facebook. I think Simon is till playing, not sure about Andy and Paul. Music wise, I have played in loads of bands over the years, some a long time, some briefly, bands I have played guitar in since the Steamtown days: Elizabeth Jane, The Cudgels, Rumblefish, Silt (ex Little Red Schoolhouse), I still play drums for The Leaking Machine (ex Mighty Mighty) and I played drums for Mighty Mighty recently supporting the Fall and playing the Scared to Get Happy festival supporting BMX Bandits, and The June Brides, Yeah Yeah Noh, Wolfhounds etc and many more one-offprojects.
I am still making music: I signed a publishing deal in 2005 with Schott (thanks to The Go Betweens) with a project called The Winnebago Orchestra. Originally set up with Andy from The Cudgels, where Andy wrote lyrics and I wrote, played and produced the music. I then invited Caroline Trettine to work with us. She is a singer/poet/guitarist, a solo artist, (aprotege of Billy Bragg), and formerly of The Blue Aeroplanes. She sang on the 2 albums we made, the first a bunch of demos called Fifteen. The Second album; Born in the Sun was constructed by Caroline and myself and some session musicians, Andy had decided to leave to do other things on his radar prior to recording the second album.
The past 5 years I have been playing guitar for Stella Martyr, based in Exeter in England. We're basically a bunch of friends: Dave, Spike, Joe and Jim, we've recently recruited a singer/keys player called Annie. Dave the singer is a really good mate I'd known for a long time, and invited me to come and play with them. Our first gig was supporting Peter Hook, we've also played with Everything Everything and Public Service Broadcasting and recently we managed to play both Glastonbury and Beautiful Days festivals this year which was great fun. We're due to play the new band stage at Shiiine Festival in Minehead this November, supporting the likes of Echo and The Bunnymen amongst many others.
++ Was Steamtown your first band? 
No, I'd played in a band at school when I was 14 called Civic Summer with mates, so I suppose that was my first real band experience.
++ What are your first music memories? What was and how did you get your first instrument?
My first musical memory, that I can recall was hearing My Sweet Lord by George Harrison on the radio. Around the same time I remember hearing the Midnight Cowboy Soundtrack. The opening theme, with the harmonica, Idistinctly rememberhearing that on the telly one night, when my mum and dad were watching the film. Both those songs really resonated and stuck with me, and, I guess, to a certain extent influenced me. My sister at the time (she was 9 years older) was into glam rock, so she would often be paying Bowie, Roxy Music, T-Rex, Alvin Stardust in the house. Other stuff I would hear when I was a kid was stuff like Stevie Wonder, Rod Stewart, Elvis Presley…
My first instrument was a toy drum kit I had when I was 7. I'd broken my arm just after I had it, so had to play one handed! My first real instrument was an electric guitar I had when I was 13. It was a black Hohner Les Paul copy.
++ How did Steamtown start as a band?
I had been playing in various bands around '86/'87 and gaining some experience playing gigs in and around Birmingham. I decided late '87 to start my own band, where I would write the songs etc rather than playing someone else's songs. I also wanted to play a bit closer to home rather than in Birmingham ( I lived near Bilston in the Black Country) with some friends who I knew from school, namely Simon and a guy called Pughy. Pughy left after a month, so Paul stepped in. They were both slightly younger than me. They liked The Jam, as I did and we had similar tastes in bands generally, so we gave it a go.
++ Who were the members and what instruments did each of you play?
I was vocal and guitar, Simon played Bass and Paul was the drummer. Then in early 1988. Andy joined on vocals and tambourine. Then a month or two later a friend of Andy's – Neil joined on guitar. So we went from a 3 piece to a 5 piece in a very short time.
++ How did you all know each other?
As mentioned above, Simon, Paul and myself went to the same school. Andy, I knew from going to pubs and clubs in Birmingham around '86 and '87. He was a big fan of a lot of guitar bands on the independent scene, as I was, so we had a lot in common. He was also immensely enthusiastic about the C86 period, and everything that was connected to it, such as fanzines, dj'ing etc.
++ And what about the name of the band, where does it come from?
I'm sure it came from a book called 'We Americans', a massive coffee table book that an American aunty gave me in the late 70s. There was a ref to Steamtown in that book. Not sure of the background or context though!
++ How was Birmingham back then? Where did you usually hang out? Were there any like-minded bands in town that you followed or liked?
During '85 – '90 very exciting city for a 16 year old like me! Loads of pubs acting as venues putting on bands etc. you could go out pretty much any night of the week and see someone new.
For me, I hung out at Synatras, a wee pub in centre of Birmingham. Saw tons of great bands there, the music that the dj's played was great too. Other places were, The Powerhouse which was a club,also in Brum. Burberries and The Cod Club, which were trendy night clubs, that on certain specific evenings, such as Tuesday and Sunday nights would be transformed and become host to indie nights put on by promoters with a passion for good music. JB's in Dudley, 10 miles form Birmingham was another regular haunt we'd hang out at!
Not sure about like minded, but I used to go and watch local Birmingham/black Country bands like Might Mighty, Onionhead, Rumblefish, Pig Bros, Pop Will Eat Itself, The Nightingales, Mighty Lemon Drops, Surf Drums amongst many others.
++ And what sort of music were you listening at the time? Who would you call as influences?
My influences changed a lot of the time, from day to day back then, Velvet Underground's live 1969 album (Not the live at Max's Kansas City) at the time was always on my record player, but I really loved Josef K too, the Postcard band from Scotland. I would say, Josef K were a primarily a chief influence on my guitar style at that time playing with Steamtown. In terms of my singing style, I could not sing in the real sense of the word, so I tried to go for a Lou Reed style of delivery!! As I mentioned above, we all liked The Jam, but also a lot of Creation bands such as Biff Bang Pow, and especially their album The Girl Who Runs the Beat Hotel. That album really did influence us, and possibly The JasmineMinks and and the like. i adored bands like McCarthy, Wolfhounds, and John Peel was a massive influence on me all throughout the 80s. Although it didnt show in the music of Steamtown, I was also massively into the labels Factory Records, Les Disques du Crepuscule and el records. I was a massive fan of Momus in '85/'86, who was originally on el!
++ The only song I know by Steamtown is "Living & Loving" that appeared on at least two compilation tapes, "Corrupt Postman" and "Hacia la Luz". Did it appear on any other compilations? And what's the story behind this song?
I really don't know if at appeared on any other compilations. I think this song was a jointly written tune with all of us writing in rehearsals – together. Andy's lyrics.
++ What do you remember from the recording session of "Living & Loving"? Did you record any other songs?
We recorded 2 songs very quickly on a Sunday in Birmingham, with a guy who was in local band Scarecrows. We mixed it in an evening a month or so later.We were really naive – that was it! There was another song, called Reality. We only ever recorded 2 songs in this line up. I do have some good rehearsal tapes of Steamtown, if I get around to digitising them, I wil let you have them.
++ Did you have more songs perhaps when you played live? 
We had about 10 songs in total that we would play live. I remember one song was called Because. That was one of my favourites, it was the first song I ever wrote for the band. I seem to remember it being inspired by The Velvets What goes on, smae riff etc.
++ And how come there were no releases by the band? Was there any interest from any label?
We were constantly trying to build up a following by gigging as much as possible, that was really what we were trying to do initially. That was the focus, gig more and to get experience and get better at playing as a unit. So I guess that's why there were no releases, we weren't that bothered about getting signed or releasing music, we loved playing live.
There were various connections we had with a variety of people from labels who expressed interest in Steamtown, they would often put us on supporting bands that would have been on their respective labels, such as The Raw Herbs, their label Medium Cool were keen I seem to remember.
++ How did the creative process work for you?
Siting at home in my bedroom with a guitar messing around!!. Lyrics would come later on. I used to like the indosyncatic approach to lyric writing, rather than writing a love song! Most of the time I used to come up with the rough structure of ideas/songs in the early days, then, pop around to Simon's house in Coseley in the Black Country, we'd then take it to rehearsals and it would be developed from there.
++ What about gigs? Did you play live often? What are the gigs you remember the most and why?
We played quite often, mostly in Birmingham/Wolverhampton. Our first ever gig was supporting Cherry Red records signing Little Red Schoolhouse (ex Nightingales) and a band I drummed for called Elizabeth Jane. I ended up spporting myself with the 2 bands! This was at the Cod Club, a legendary Sunday night slot put on by promoter Paul Flower in centre of Birmingham. We supported The Raw Herbs many times, thay were nice lads, great fun. We had a great night supporting them and The Siddelys in London in June 1988, they were lovely people too.
++ Did the press, or the radio, pay much attention to Steamtown?
No!
++ What about fanzines? Do you remember appearing on them?
Not really, sorry!! Might be best to ask Andy about this question!
++ At the time when you were around there was an explosion of guitar pop bands, why do you think that happened? and did you feel part of a scene?
For me, since I was a kid there always seemed to be an abundance of guitar based bands around. I think there were scenes, but they were created by fans, rather than the bands themselves. People got bored of the plastic electronic music of the mid 80s, I guess we did feel that we felt part of something, not quite sure what, we weren't overtly commercial, and we knew that, so I guess we felt indie/alternative/underground in a way, like so many others who were playing music during that time – for passion and pleasure rather than for fame and money.
++ When and why did you split up?
I left late '88. I just became interested in doing other things musically and I was drumming at the time for Elizabeth Jane another local Birmingham band, and really my focus shifted to playing with them more. The guys in Steamtown carried on without me and became Steam.
++ And then what happened to you all?
See answer to first question! I think it would be good to ask Simon, Paul and Andy to answer this or any of the other questions!
++ Aside from music, what do you do? what other hobbies do you have?
I'm a graphic designer and I'm a dad to twin daughters, so that is my main hobby!! that and playing guitar in Stella Martyr and drums for The Leaking Machine.
++ Looking back in time, what would you say are the happiest memories, the highlights, of the band?
For me, being a gang, having fun, we used to laugh hard, but mainly I would say the hot summer evenings supporting The Raw Herbs, Razorcuts etc, playing music, drinking and being young, stupid and happy!
++ Birmingham today, has it changed much? What are the places to go to? Are there any bands that you'd recommend?
Birmingham has changed its visual landscape pretty drastically. It's a good city though I really don't know that many venues anymore if I am honest. Not really any bands I would recommend either, sorry!
++ Thanks a lot again! It is really nice to know a bit more about the band, anything else you'd like to add?
Thanks very much Roque for the interest, get in touch with the other guys, I'm sure they wopuld be able to add some valuable content to the legacy of Steamtown!
::::::::::::::::::::::::::::::::::::::::::::::::::::::::::::::::::::::::::::::::::::::::::::::
Listen
Steamtown – Living & Loving