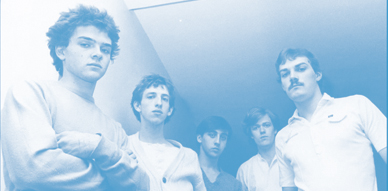 As promised on Monday's post here is the 2nd part of indiepop news for this week. There might be a 3rd part if I have the time on Friday. Monday I will probably be very busy on my first day at my new job so I don't know when exactly next week's post will appear on the blog, but please keep checking for updates. As soon as I'm more used to my new routine I'll see if I can continue posting on Mondays but if not I'll find a different day that is more convenient for me.
I wrote about Battery Point months ago. I raved about them. Their first songs on Bandcamp were wonderful. Well, just a few days ago they uploaded 3 more songs on their Bandcamp. The songs "Wish", "Clear" and "Wonder" make the "Star EP". So far it seems it is only available digitally. I wonder if they have any intention in releasing their songs in physical formats. According to my friend Cris, these songs sound like My Favorite. I still don't see it completely (I do I see it on "Clear"), but that they are good, they are good! The band is formed by Jessica Severns on vocals, Sergio Esparza on vocals and bass, Ray Hamilton on guitar and Alex Meza on drums. They are based in Chula Vista, California. I hope to hear more songs from them, and hopefully a proper release in the near future.
The legendary band Aberdeen announce a new release on their Bandcamp. For just $10 you can get a CD copy of "What Do I Wish For Now: Singles Collection 1994-2004". Over 60 minutes of music that was originally released on Sarah, Sunday, Tremolo Arm Users Club and LTM. It is not exactly a re-release of the record of the same name that LTM released years ago. I notice that this new CD doesn't have 2 songs, "Marine Parade" and "She Never Understood". I wonder if that is the only difference and why were these songs not included. Of course the LTM release is long sold out, so for those who missed it the first time around, this is a good opportunity to catch up.
La Última Isla is a noisy pop group from Santiago, Chile. They have just released their second digital EP titled "Mil Planetas". It reminds me a lot of the noisy and poppy bands from the Spanish scene of the early 00s. The cool thing about this band too is that it shares members with our beloved My Light Shines For You that have a release in the works with us, with Cloudberry. There isn't much information other than that. I hope these songs get released at least on a CDR. They sound great, and I'm having such a good time listening to them.
Now we cross the Pacific, all the way to Melbourne, Australia, to discover the 2-track CD-single by The Golden Rail. What do you need to know about them? Well that the band members had been involved in many classic bands like The Palisades, The Rainyard, The Summer Suns, DM3 and lately in The Jangle Band. You can't have more pedigree than that. And thus is it not surprise that the two songs, "Oh My!" and "The Silent Birds", are classic sounding jangle pop songs. This is the 1st single from the soon to be released album "Electric Trails From Nowhere". I look forward to that.
I continue in Australia, but I head north, to Brisbane. One of my favourite bands from the past few years, Major Leagues, have released their debut album. "Good Love" is available in both vinyl and CD formats and includes 12 songs. To promote it they made a video for the song "It Was Always You"  which looks and sounds great. Right now I've only heard two songs from the album, the one of the video and "Good Love". They are the only two you can stream from their Bandcamp. I have just ordered the CD album as we speak (thought about the vinyl, but a bit too pricey and CDs are still more convenient for me to store) so I hope I love the rest of the songs. To be honest, I have really loved all of their previous releases, so I have no doubts I will love this. The fact that I could only hear two songs took me back to the days when blogs were actually important, when labels would send full albums MP3s or websites to stream so they could get a review. I wonder if this is still a trend. Sometimes when I was running my previous blog, Mira el Péndulo, I would get free copies to review. That was nice. How times change, no? Or maybe this blog is just terribly unpopular!
The last indiepop news for this week has to do with another beloved band of mine, Club 8. On the Labrador Records Soundcloud page a new Club 8 song was uploaded, "Lost". Now, for the past few releases Club 8 has been experimenting with different music styles, different influences. And even I saw criticism, I loved those albums, I thought the experimentation was going in the right direction. This time though I feel actually like the song, a bit lost. I don't know if I like it or dislike it. It is leaving me a bit cold. Of course Kristina's voice make me swoon, and I love that. The music, well, I'm not sure if I'm loving it. What are your thoughts? I definitely want to listen to the whole album (or EP, or whatever they are preparing) to give a better opinion!
And again I'm left with another handful of indiepop news written on blue post-it notes that I didn't cover this time around. They will have to wait for the next post. Hopefully before the week ends!
——————————————
Gloucester is a city and district in southwest England, the county city of Gloucestershire. Gloucester lies close to the Welsh border, on the River Severn, between the Cotswolds to the east and the Forest of Dean to the southwest.Gloucester was founded in AD 97 by the Romans under Emperor Nerva as Colonia Glevum Nervensis, and was granted its first charter in 1155 by King Henry II. Economically, the city is dominated by the service industries, and has a strong financial and business sector, and historically was prominent in the aerospace industry.
Apple Mosaic's "Honey If" is one of my favourite singles all-time. For some reason I never had the curiosity to dig into their history perhaps because I never got around getting the rest of their discography (only the other day I ordered another 7″ by them). Not that they are rare records, I mean, you can definitely find them on some web stores. So I really don't know why I haven't done some detective work but I'll make amends today, let's see what we can find related to this Gloucester band from the 80s.
Let's start with the discography. The first Apple Mosaic release was actually the "Honey If" single I mentioned before. It came out in July 1987 on the MDM label (catalog MDM 10). I'm not familiar with this label, it is not an indiepop label, but I see that Pete Wylie from Wah! released some singles with this label. I have the 7″ version. There was also a 12″ version. On the 7″ the songs were "Honey If" on the A side and "Mary Hell" on the B side. The 12″ included an extended mix of "Honey If" on the A side and "Mary Hell" and "Me Myself I" on the B side.
On the credits we see that "Honey If" was written by Carrington-Wendo and Dench and produced by Ian Ritchie. "Mary Hell" was written by Dench and produced by the band and Steve Hall.
That same year, 1987, the band released another single. "Velvet Avenue", both on 7″ and 12″, was released on MDM Records (catalog MDM 23) and came with "Velvet Avenue" on the A side and "One More Step to Go" on the B side. The 12″ added one more song on the B side, "Never See His Face". The A side was produced by Ian Ritchie while the songs on the B side were produced by Steve Hall. Both songs are credited to the writing partnership of Carrington-Windo and Dench.
The next year, 1988, saw the light of their last single. "Under the Spell" came out only as a 7″ but this time on another label, Off the Track Records. Not familiar with this label either, but I see they released The Smiths' Peel Sessions for example. The songs on the record were "Under the Spell" and "Halfway There". The interesting thing about this record is that it was licensed to DRO in Spain.
This same label released in 1988 their only album. Titled "Hole" (catalog OTT 370103), the record included 12 songs: "Hole", "I'll Be Me", "Pictures, People & Zoos", "Don't Weep At Your Window", "One Of These Days", "Under the Spell", "Hour of Thought", "Count Me Out", "The Prisoner's Free", "Race", "Halfway There", "She Knows Where To Go". The record was released on CD and LP and also was licensed to Spain, to the label DRO. Did they get much recognition and fans in Spain? Hopefully my Spanish friends can answer that question.
On the credits for the album we learn the names of the band members:
Tim Harvey on bass
Shane Young on drums
Ian Dench on guitar
Laurence Carrington-Windo on vocals
The album was produced by Clive Martin. And actually Clive has a website were he reminisces about this release. He says: I loved making this record. One of my first with a totally live setup outside Trident, in a barn in Gloucestershire.I love the energy on this record. Should have been a big hit in the UK as well as France. Unfortunately the band didn't last long, but Ian Dench, the guitarist didn't have to wait long to have his first number one, with his next band EMF.
I see, the EMF. Epsom Mad Funkers. "Unbelievable", the big hit. I didn't make the connection. How interesting. From indiepop to the big leagues. I think the first mention about the involvement of Apple Mosaic members in other bands that I find is from the blog "Pop Bothering Me" by Richard Osborne. On it he says: On a personal level, most of the people I know who have succeeded in the music business have been signed and dropped by record labels, and they have been members of several different bands. In fact, it was only through failing at their first attempts that they gained the necessary experience and acumen to negotiate the commodification process. I performed in bands in Gloucestershire in the late 1980s. One of the most popular local groups was Apple Mosaic, who were signed and quickly dropped by Virgin Records. Their guitarist, Ian Dench, went on to form EMF, who recorded for Parlophone and had a number one hit in the US with 'Unbelievable'. The singer of Apple Mosaic, Laurence Carrington-Windo, was also re-signed. His band Bedazzled released a number of singles on Columbia Records. In his case, however, he came no closer to being a one-in-ten. If at second you don't succeed . . . 
Bedazzled. Never heard about them. I immediately notice they were on a big label, on Columbia. They released 4 singles and one album. They named the band after the Peter Cook/Dudley Moore film. Laurence Carrington-Windo was the lead vocals. On a big label but no success. I found actually a blog post about Bedazzled on the blog The Rise and Fall of Flingel Bunt. Not much on Apple Mosaic but a good entry point to the music of Bedazzled. On the other hand Ian Dench achieved success almost immediately with EMF.
When it comes to success stories, then there's a lot of information on the web. Yeah, you can find a lot about EMF. Sometimes there are mentions of Apple Mosaic in these pages. But of course, not many details. I do find some interesting facts about Ian Dench. Before Apple Mosaic he had been in a punk band called Curse. He had learned guitar thanks to his father, he taught him how to play classical guitar. I do read time and time again that Apple Mosaic were signed to Virgin. May it be that MDM Records belonged to Virgin? In any case you can read a bit more about Ian on the EMF website too.
I found yet another post that mentions Apple Mosaic. Of course the post is about EMF, but on it there are some words by Dench about his previous band: As a teenager, EMF guitarist Ian Dench, "much to my dad's horror," he once said, started a punk band called Die Young, Stay Pretty. "After a few more groups, I got more into playing the guitar and began to realise the technical possibilities of the instrument and started listening to The Doors, Cream and Led Zeppelin. Then I formed a psychedelic dance band, Apple Mosaic. We played dance bass lines and put guitar on top. That lasted for seven years, from the time I was 17 until I was 25. We recorded two albums, but never sold any." It was time to move on. The blog belongs to a Jon Kutner, entertainer, DJ and author.
Of course the discography of Ian Alec Harvey Dench is long, very long. After being in EMF he was involved with the band Whistler with whom he released two albums. On top of that he has being nominated to the Golden Globe or the Grammy Awards. Working with big names like Beyoncé and Shakira. It seems so strange, talking about a jingle jangly band and then with that sort of mainstream music. But quoting Primal Scream, "It Happens".
The last place I decide to go dig for Apple Mosaic information is Youtube. I knew I was going to find many things here. I've been aware of there being videos and songs by the band on this website. I played them now and then. I'll start by recommending the promo video for "Under the Spell".
The mystery starts with an account that has a lot of rare early recordings by the band. The owner of the account is Bill Blair who seems to have been part of the band in the early days. The first recordings he have are from a live gig at Oxtalls College Campus in Gloucester on May 28th of 1983!! Luckily he has added a good amount of information on the description area for the video. We know that at this time the band was formed by the previously mentioned Laurence Carrington-Windo, Ian Dench and Shane Young, but now there was Mickey Dixon on bass and Jim Price on keyboards. It also says that this gig was what it started it all. The songs played at this gig were "Met a Minute", "Halfway There", "One More Step To Go", "Mary Hell", "No Time", "Purple Haze" and "Don't Weep At Your Window".
The next recording Bill Blair has also dates from 1983. By then Bill had replaced Jim as the band's keyboardist. This demo is titled "The Clock House demo" and was recorded live at the Clock House Studios in Keele on August 28th of 1983. The songs recorded were "Halfway There", "One More Step to Go", "Mary Hell", "Hour of Thought", "Met a Minute", "She Knows Where to Go", "The Funeral" and "Never Sail Again".
What a trove of treasures this account is! The next recording is a live recording of the song "Don't Weep At Your Window" from a gig at Birmingham Polythecnic on November 29th of 1983.
It seems things go chronologically on his account, so that's a good thing for me. A live recording of a gig at the Cambridge Suite in Gloucester from December 19th of 1983 has the songs "The Funeral", "On Every Street", "Drum Solo", "The Prisoner is Free", "No Time", "Never Sail Again" and "Hour of Thought".
It is clear that at this time the band was experimenting. They were very much 60s influenced. No surprise that the next recordings Bill offers have even a psychedelic free-for-all! Two songs are available, "Hour of Thought" and "Lost in the Fog", from their gig at The Granary in Bristol (March 8th 1984).
The band recorded their next demo in 1984. The "Millstream demo" shows the band getting poppier. Three songs were recorded, "Mary Hell", "One More Step to Go" and "Hour of Thought". They were recorded at Millstream Studios in Cheltenham on March 4th 1984. Mick Dolan was the engineer.
In 1985 the band recorded the "Quayside demo". I'm really enjoying this trip through the band's evolution. The songs recorded for this tape were "Get Out of My Dream", "Lost in the Fog", "Mary Hell", "Don't Weep At Your Window", "Do or Die", "Hour of Thought", "Halfway There" and "The Funeral". There is also a Bill Blair remastered version of this demo available on Youtube.
There is another live gig on Youtube on another account, one from a live show at Gloucester Park. This time there is no track listing. What is interesting are some comments by a MrMarco. He knew the band, he was signed to the same publisher and says that there is a lost Virgin/MDM album that never got released !!!!!! What!?!?! What happened with it? Where are these songs?
And this is when this indiepop archaeology job hits a wall. Still I found a lot of information and was left with even a bigger mystery, the unreleased 2nd album by Apple Mosaic. There's also the change of lineup, when and why did it happen? If they recorded even more songs? How come they signed to Virgin? How come they didn't become successful? "Honey If" could have been big on the radio if you ask me. I wonder. I'm sure many of you remember them? Any other details or information about the band would be greatly appreciated!
::::::::::::::::::::::::::::::::::::::::::::::::::::::::::::::::::::::::::::::::::::::::::::::
Listen
Apple Mosaic – Honey If