This interview was done on February 2007.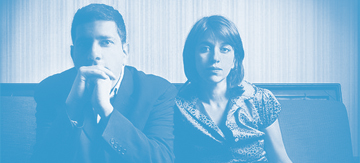 ++ What's been cooking in your studio in Bordeaux?
We worked on new songs between 2002 & spring 2006. Now I'll wait until the next album release to work on new songs.
++ When is the new album coming out? It's been a 6 year gap already since the last release Le Fumalin, what can we expect from this new album?
Next june, Hopefuly! It took so long because we had a lot of problems… First, Dogprint, that was to release Le Fumalin all over the world (except in Japan because Clover released it there), went bankruptcy. Then it took me so much time to finish new songs; I also started photo seriously ( http://www.watoowatoo.net/photo ). Then we had a problem with another label, blablablah…

Btw, i'm very happy with the new album. I think we did much better than before: songwriting, arrangements, mix & mastering, vocals… Also, the album is still very pop, probably indiepop, but we have broadened our horizons with electronic, jazz, bossa & even 70's funk influences!
++ How does Watoo Watoo compose their songs? What are their main influences?
The only instrument that I play quite well is the bass, but I compose with the guitar, or sometimes the keyboard. I usually start playing a few chords then the rest comes. I like writing lyrics under the pressure.
Then there's a lot of work involved in recording the music. Since I started recording on my computer (in 1999 or 2000), I've become more demanding with the sounds & the arrangements. I want something as "beautiful" & perfect as possible! So I work with friends, particularly guitarists. For the new record, Anthony Rochester who lives in Tasmania (this is exactly the other side of the planet for us) plays guitar on one song! A friend of mine who lives in the Reunion island (13000 km) also plays on another song. Internet is very useful to send music tracks to the other side of the planet.
When I started Watoo Watoo, I just wanted to make beautiful pop songs. I "stole" chords patterns & lyrics from Felt. Now I still love Felt but I have opened my ears to bossa, jazz, electronica & other kind of music… But whatever arrangements & instruments I use, I think the songs still remain pop because of the melodies & Pascale's sweet voice.
Btw, we never rehearse like any bands. I write & record a song, & when it's almost finished, I ask Pascale to add vocals.
++ You've released on a label I've always seen with curiosity which is Clover Records, I think their releases have always been really good. How did you ended up releasing so far away? How was that experience?
I was in another indiepop band called Mumbly, on the german label Marsh Marigold. They were friends with Clover, which even released a 7″ with 4 bands from the label (including Mumbly). Then some Clover bands came to tour Europe. I saw them in paris, where I lived then. They were good & very nice. When we finished Le Fumalin, I sent them a CD & I put some catfood packages in the envelope (Clover is mad about cats!). Then we agreed to release the CD with them in Japan, & with Dogprint in the rest of the world. Eventually I had to release it myself because of Dogprint bankruptcy. Working with Japanese people is strange. They will send you 6 emails one day then won't answer for 2 months! I had already read that they feel that working on something is more important than doing it. This is true! Call that cultural differences!
++ I've read that you are not releasing with Skipping Stones the new record, I bet there are many more labels interested. What happened with them?
After making us wait for 6 months, they decided that they didn't have money anymore to release the cd. We had contacts with some other labels, but some couldn't release the CD soon because their planning was full. Letterbox Records can release it soon. Gav is a very nice guy & his new label is very good.
++ Something I've noticed is that you've played in 2 Popfests, one in New York in 1997 and one in Paris in 1998. With who did you shared the bill? How did you like that experience?
The NY popfest was absolutly great! The Best Wishes were very good. The day after us, Holidays was playing their last show & many people were crying during the set. People were nice, funny, many came to us to say thanks, that was sweet. The strange thing is that when we played, we were still jetlagged (our plane landed a few hours before we go on stage). This is why we look exhausted on the pictures! In Paris, I played with Mumbly & Watoo Watoo, & also with other bands that never released anything. It was also quite funny.
++ It's funny that I uploaded to videos to Youtube of your live performance on TV. Not many indiepop bands get to play in TV, how did that happen? Would you do it again?
It's a local TV channel, from Bordeaux. Basically, any band that can play 3 chords without mistakes is booked on this show. The guy who played the drums with us on the show had already played with 2 other bands on this TV channel!
++ What bands from France would you recommend us? How much has the Chanson Francaise influenced Watoo Watoo?
Les lollipops, that eventually became evergreen (now Verone) made IMHO the best indiepop French 7″ ever, about 12 years ago. I wouldn't recommend many French indiepop band – but many "Chanson" bands/artists.
Julien Baer, Jean Bart, Mathieu Boogaerts, Albin de Simone, Keren Ann, Jean-François Coen, my friends from Gypsophile, Pascal Parisot… & some people from the older generations, who are generally very famous here: Serge Gainsbourg, Charles Trenet, William Sheller, Alain Souchon, Alain Chamfort, Jane Birkin, Alain Bashung, etc. Does Brisa Roché count? She's californian but she lives in Paris. last year she made the best record in the last 20 years!
It is clear that some of my songs sound "chanson". Well, it just depends on the mood I'm in when I compose!
++ I know you are a big Antoine Doinel fan! I'm a big fan of French Cinema too. What are your favorite movies from all time? And what about in literature?
Yeah, I named my first son Antoine! I adore the 4 Doinel movies, by François Truffaut. I also love good comedies (Yves Robert, huge here but I guess his name didn't cross the ocean), Italian 50/60s cinema, Woody Allen… In fact, I like lots of movies that 80% of people would find boring & plain flat (also add Rohmer here!)
Literature: I love Science-Fiction (PJ Farmer) & French 19th century litterature (Hugo, Zola, Maupassant), & JP Toussaint, a Belgian contemporary writer. But when I started working on my PhD/thesis, I had to stop reading as much as I did before, because of lack of time -isn't that sad?-.
++ Tell me about Mumbly, your other band! What's the story behind it and what does it future looks like?
Mumbly was my 1st baby… I wanted to make a band that could play as perfect pop songs as Felt! We released "Being Ernest" (a tribute to Ernie from Sesame Street!) on Marsh Marigold. Then we never broke the band, but we haven't rehearsed for 5 years because we don't live in the same cities. Hopefully one day I'll finish mixing the songs we started recording in 1999! In 1994/5, Watoo Watoo was just a side project – I had many songs so I recorded them quick on 4 tracks with Watoo Watoo for Mumbly members to choose the songs they wanted to play. Then I realized that Watoo Watoo might be better than Mumbly :).