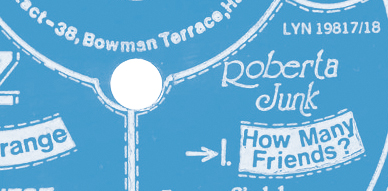 Let's get straight to business, let's check out some indiepop news that have been making the rounds this week.
Stephen's Shore: our Stockholm friends, who released with us the fabulous jangly 7″ "Ocean Blue" are going to be releasing an album this March on the Spanish label Meritorio Records. I don't know or have much details about this upcoming release but a promotional song, "The Sun", is available to stream on the label's SoundCloud. And it is gorgeous.
Colour Me Wednesday: the English band are releasing a new 7″ on April 13th on American Laundromat Records. Right now it is available for pre-order for $8 (see, we at Cloudberry keep prices lowest, $7 plus shipping, maybe we should raise prices?) and it is limited to 300 copies. Right now you can stream the A side, the fab "Don't Tell Anyone". Looking forward to getting the record!
Tremolina Tapes: the Spanish label Discos Walden is releasing a book compiling all the Tremolina fanzines, from 1999 to 2004, and accompanying it there's a 20 song tape that was released back in the day paying homage to Glasgow and Olympia. I'm listening now to the songs on Bandcamp and I must say it is a mixed bag of indiepop, low-fi, and some more rockish songs. There are some very fun songs like the ones by Las Uyuyuy or Cosmin Contra. If you are curious about the real underground from Spain during that period, this sound document is pretty interesting!
Bubblegum Lemonade: have unveiled a new song, in demo form, on Youtube. Titled "Warm Heart Cold Feet" it just appeared out of nowhere. Will this song be available on a new record? Or maybe it was part of the recordings for their last release, the "Laz Christmas" EP? The cold, wintery, images added to the video make me thing it would have fit perfectly on the EP. Lyrics are available on the link and you'll notice too that Sandra from Strawberry Whiplash is on backing vocals.
Kleine Untergrund Schallplatten: lastly I want to share this to my German friends/readers who can travel to Augsburg on April 13th. The very fine local label, Kleine Untergrund Schallplatten, is putting together their own sort of Popfest! At the City Club Augsburt venue you'll be able to check out Endlich Blüte (Augsburg), Jetstream Pony (Brighton) and Pale Lights (Brooklyn). A very good lineup I must say! There will be an indie and 60s party afterwards too. Check it out!
————————————————
Well, well, well. Here I am again trying to find a record for a good, fair price, but haven't been lucky. Maybe writing about it prices will go down, maybe up, or as it is more reasonable, no one will care and prices will stay the same. I doubt Discogs or eBay sellers like reading this blog.
The thing is, I can't pay more than 15 dollars for a flexi. Even less pay 10 dollars for postage for a flexi. That's ridiculous in my book. I will just wait patiently for the record I want to be at an acceptable price. Especially this time, this flexi I want doesn't even have a sleeve. It is just the flexi. Come on.
I have mentioned this flexi before on the blog, when I wrote about the Chinese Gangster Element. I wrote that time: There's also a compilation flexi that I still don't own which has a song by Chinese Gangster Element. I haven't heard this one. The song was called "Joey" I believe it's a double-sided flexi as Discogs lists that on the A side there's Fez with the song "Strange" and the Chinese Gangster Element song. While on the B side we have Roberta Junk with "How Many Friends?" and Langfiled Crane's "Kiss Me Stephenson". I haven't heard any of the other bands before! This flexi was released by Spike's Label (LYN 19817/18). The label was also based in Halifax.
In that case, I meant that the Spike's Label was from Halifax as well as Chinese Gangster Element. Was the band I want to research, Roberta Junk, also from Halifax? That's the question.
When I wrote that post I hadn't heard the two other songs on the flexi, the ones by Roberta Junk and Langfield Crane. That's ok, it took me some time but now I'm glad that I finally got to listen to Roberta Junk's song "How Many Friends?" as it is brilliant. You will probably think the same!
What else is there to know about the band? Well, there was not much to find out. Maybe add that Spike's Label only has the flexi listed. Probably there were no other releases. Roberta Junk has no releases listed nor compilation appearances. It seems "How Many Friends?" was there one and only song. That is hard to believe. There must be more songs, at least from the same recording session. I'd love to listen to them!
Where did they took their name? I could find that there was a Roberta Jean Junk in Wenatchee, Washington, a former longtime resident of the Yakima. I doubt the band were familiar with her. Not that she was famous.
I was going to make a breakthrough though. I found the website for The Belt of the Celts, a band from Halifax. Okay, the same city. Here it mentions that in 1999 Shawn Bing joined the band and that he had been drumming since the age of 14 when he got a snare drum while in hospital for an op to untwist his knackers. Then it says that he has played fro Neon Love Muscle, Skin Flower, The World Jones Made and Roberta Junk!! Okay! We got a name, we got the city. This is quite important!
That's as much I could find about Roberta Junk. I wish I could find other recordings by them. Or any information about them. Anything. Like gigs they played. The names of the band members. Anything at all. This one song is great, it will leave you asking for more!
::::::::::::::::::::::::::::::::::::::::::::::::::::::::::::::::::::::::::::::::::::::::::::::