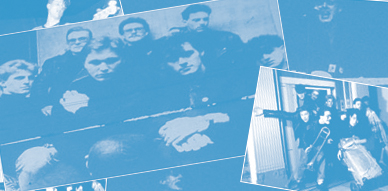 Thanks again to Mark Mortimer for being up for yet another interview. You can read the interviews about his previous bands Great Express and Space Seeds as well on the blog, and also the write up I did about Bash Out the Odd some time ago. Enjoy!
++ Hi again Mark! From what I have read, there was interest for your band from the same company that managed The Primitives and Birdland, that they even went to see you play live in Tamworth. What happened? Why didn't they sign you?
Lazy Records!
I had quite a bit of contact with them and they were really in to what we were doing, loved the recordings we were knocking out and were showing some genuine interest – I may be wrong but I think they came to see us in London and in Tamworth and they loved that we had this indie-psychedelic-Walker Brothers vibe going on with the dual lead vocals thing.
We were enamored with both the Primitives, who came from Coventry not far from Tamworth, and Birdland and so Lazy seemed a perfect home-to-be for BOTO but it never came about.
Despite this mutual two-way respect (we were into the Primitives and Birdland of course), I don't think they ever quite fully believed that we could make the leap from where we were to where we wanted to be & in retrospect the label was probably right….but there was some proper talk between us.
++ So yeah, when I was researching about your band I noticed there were three different versions or lineups of the band. Why was that? Why was it hard to keep the same people in the band?
I don't think the band was any different to many groups really: there are always lots of conflicting emotions & pressures which come together…..getting the right chemistry isn't easy and often there are are great groups around who may be miss out on being recognized or successful because of a missing 20%.
What I mean is if there is a five piece group and four of the members are right and one is wrong then that bad chemistry fifth is more than enough to stop you in your tracks and tip over your apple cart.
Getting the right line up at the right time and enjoying a little bit of luck together with a lot of hard work isn't easy as you will know.
As regards BOTO the line up changes were always the result of one person or another not quite fitting in….in one instance we had our own five minutes of "rock & roll" violence….on the way back from playing the Bull & Gate in Kentish Town (London) our guitarist at the time Pete Woodward attacked our keyboard player John Bates on the bus which wasn't really conducive to a harmonious vibe!!!
Most of the time it wasn't a left hook that led to line up changes, more usually it was because someone didn't quite have the right commitment to the cause or their girlfriend didn't like him being away etc.
++ Also I read that you recorded videos for three songs by Bash Out the Odd. Where are those?!
Not quite true.
We filmed a very amateur promo video to try and push the band to labels in Solihull near Birmingham . It was for the tune 'Love Walks Away' from our first demo recordings and it was filmed free of charge for us by local college students who used us as video guinea pigs I guess.
This would have been at the time where we had lost a guitar player through one of the line up changes (I am guessing it was when Julian vanished).
You can tell because singer Mark (DeHavilland) Brindley is miming the guitar parts in the video and although he did play rhythm guitar on some songs there is no other guitarist in evidence.
During the first minute of filming the video I snapped my bass string and hadn't got a replacement with me so you can see me laughing through most of the clip.
It was shot in a theatre in some college in Solihull on a stage and my mate Paul 'Clem' Clements from Manchester provided some gentle psychedelic lighting and smoke and bubbles….
The video isn't currently anywhere online but I may put it up one day on my record label's You Tube channel, DCTone so you never know….
++ Alright, now to the most important question, where does the name comes from?
I really despised the name with a passion and it almost led to the band halting before it started!
Not just saying this but it really wasn't my idea at all – if I remember rightly it was Julian (Amos) our first guitarist & backing singer, who had been in the Great Express with me, who came up with the name.
It was just a collection of words. I remember someone complaining to us that it had a kind of homophobic edge to it which genuinely had never crossed my mind but that only served to piss me off even more!!
I thought it was a shocking name and I was totally embarrassed about it if honest but I was out-voted. Democracy!! Bah!
++ So Bash Out the Odd was formed immediately after Space Seeds. How different were these two bands?
Not too different at first, BOTO (as I prefer to think of us!), was the Space Seeds really.
With Martin Kelly quitting the Space Seeds, we brought in Julian on lead guitar and he shared vocals with DeHavilland and otherwise the horn section was still there though sax player Pete Clark left and we replaced him with bass trombone player Bryan Hurdley.
The only other big change was that my close friend Rob Cross quit as he moved to Liverpool to go to university- he later went on to become part of the group Mr. Ray's Wig World (who I loved) and when my current group DC Fontana were recording in Liverpool I did hang out with him.
In fact Rob has recently done a remix of some DC Fontana stuff called 'Sighed DC' which will get a release somewhere soon!
But with Rob and Martin gone and Julian plus Bryan coming in that was the line up difference.
I have a gig recording from one of the very first BOTO gigs at a small pub called the Greyhound in Burntwood (not far from Tamworth) in September 1989 and it's very close to the Space Seeds, though perhaps slightly more powerful.
At first there was very little musical difference between both groups…we still had the joint lead vocals thing going on (a sort of indie Walker Brothers), horns, catchy poppy tunes etc.
The change with the brass was interesting though as it meant we had no reeds (no saxes) which is very unusual for a section.
Therefore they had a more classical sound – it was a really interesting line up as far as a brass section goes – two trumpets and a bass trombone and no saxophones- but I loved it: more "Penny Lane" than Stax soul if you know what I mean.
Alan Hodgetts, who owned a rehearsal room in Tamworth, was still the keyboards player but he didn't fit in chemically, eventually he left and DeHavilland's long-standing best friend John Bates joined and brought with him samplers and the like. John had played on the Space Seeds' recordings of 'Switchblade Love' & 'Saturn In Her Eyes.'
++ The second lineup of Bash Out the Odd starts when Julian Amos leaves the band to become a private detective! That's quite a story. Care to tell me what happened?
Sure….one Monday night I drove to his house to pick him up to drive over to Birmingham to rehearse but his dad came to the door and said he had moved to live in a different part of the country to become a private detective and seemed genuinely shocked that we weren't aware.
He said: "didn't he tell you?" and I said "errrrr no!" and that was that.
Julian hadn't even bothered to let us know that he was quitting or moving which was a bit bizarre…
We advertised to replace him and a guy from Solihull called Pete Woodward came on board.
++ It's also from this same period the song "Laughing House" which I think might be my favourite among the ones I've listened. What's the story behind this song?
"Laughing House" started out just as a potential song title, just two words but ushered in a new, dirtier, rawer era for us.
I came up with the simple music – most of the song is three chords – and the lyrics were written by Mark (DeHavilland) afterwards.
It was the start of us becoming harder edged and more psychotic playing wise and the pace was fairly frenetic and it mirrored the energy of Birdland, who I mentioned earlier, were with Lazy.
Birdland's Vincent brothers hailed from Kingsbury which is a small village on the outskirts of Tamworth, famous only for being the destination of a huge oil terminal (which I remember my teachers at school telling me meant that the Russians had a nuclear missile pointed in our direction during the Cold War) and, ironically, a nature park.
There was a period in BOTO when we were without a permanent drummer sadly and Mark's uncle played drums with us for a short period. He had been in bands during the late 60s and early 70s and was rusty as he hadn't played for a long time so it meant that live we were not very tight for that period.
I can remember the Vincent brothers coming to see BOTO play live in Lichfield, a tiny city close to our home town of Tamworth, and I was a bit embarrassed that they saw us duing this period when musically we were a bit rough round the edges.
Birdland had that spikey New York sound of course and I also loved a lot of the same stuff they were into, especially Television, and I had been seeking to make BOTO pacier, edgier and more cataclysmic sounding.
I wanted there to be more crash! bang! wallop! to counteract the classical edge of the no-sax brass and 'Laughing House' was the first foray into this bleached-out, fucked up territory which we explored with a fervour.
With a lot of my influences being 60s-orientated I was injecting a lot of 60s punk and garage vibes into the BOTO group and this really kicked in here.
Also, I simply loved the raw, ballsy vibe of Birdland and there's no doubt that their first EP 'Hollow Heart' had a profound influence on the 'Laughing House' era BOTO.
When it came to recording 'Laughing House' and another tune of mine, 'September Honey,' I preferred to use programmed drums than Mark's uncle so I could make it more in your face, tighter, harsher and more extreme.
The main section of both tunes were recorded with Paul Speare at the Expresso Bongo Studios in Tamworth but we had to finish both songs off at a different studio in Birmingham due to the Bongo being booked.
This meant that some of the vocals and horns were recorded at a different place and at a different time and then we added some extra baritone sax from Paul during the mix session back at the Bongo later.
It's quite high octane stuff and though it's a shame that the drums are programmed I still enjoy the energy and zest of the recordings – it had the oomph and edge which our previous demo had lacked.
Mark's "La-la-la-la Laughing House" melody was perfect for what I had in mind and his obscure lyrical direction also seemed perfectly off kilter for what was a pounding tune.
++ You seem to have recorded quite a bit of songs with this band Mark. Which would you say are your favourite songs and why?
Tough one to answer as I do like most of what we recorded.
"Laughing House" had the energy and edge we sought and "Love Walks Away" from our first demo session was catchy and very personal to me lyrically during my bleak times living in a damp rat-infested bedsit in Upper Gungate, Tamworth so maybe those two?
There was quite a bit of angst among the words of "Love Walks Away" and it was the natural successor to the Space Seeds' "Switchblade Love" which was a song that BOTO continued to play live of course.
The first demo we recorded produced four tunes, three of which I wrote and one from Julian:
"Love Walks Away" was an up-tempo brass driven stomper with guitar drones and very poppy vocals and was one of the most popular songs we played live.
"Heavenly Angel" was our indie Walker Brothers moment with sampled strings (we couldn't afford the real thing) and mariachi trumpets in the style of Love's "Alone Again Or" and a really poppy chorus: "Heavenly Angel, I'm flying into grace again!"
It was really hard to replicate live but gained us lots of interest actually and is a pretty song which was the first of mine which displayed a big Scott Walker and Arthur Lee influence, something I have since developed with DC Fontana.
We also recorded "Mother Sea" which had more Love influences and we did a live in the studio version of Julian's paean to the Volkswagen Beetle car, "Bug" which included us recording DeHavilland's own Beetle revving up outside the Expresso Bongo studio!
On the second demo we recorded "Laughing House" & another of my songs called "September Honey" which started off with moody keyboards and sampled Indian instruments and then turned into this crazy million miles an hour garage stomper.
It had a lot of Julian Cope's two-car garage band feel and a heavy-rockin' double kick drum pattern towards the end of the song which, for silliness we then turned into a quadruple kick drum pattern as it fades with Mark screaming "Night! Night! Night! Night! Goodnight!" like a demented maniac.
I loved it when Mark turned into this screaming leather jacket clad demon.
He also added the immortal screamed line "I'm gonna wear a black, green, pink, blue, red shirt!" to the start of the final verse which always tickles me and it's a song that I still love to bits.
As well as the above songs we had loads of material, enough for an album. Other tunes we had included "The Rain Garden", "The Hanging Man", "Don't Expect Anything From Me", "Silent Head (Part 2)", "Climbing Pain Palm" and "Miles High" plus we also played "Switchblade Love" & "Saturn In Her Eyes" from the Space Seeds days and also "(You Could) Change My World" from the Great Express.
++ What about gigs? I read the gigs in Kentish Town and Fulham were something. Which were your favourites and why?
We were a pretty busy gigging band and played all over England really.
The gigs in London were fun and we seemed to pick up quite a bit of interest and also it was always great being down there as it meant I could see some of my best mates like Donald Skinner as they lived down there.
I always enjoyed traveling to gigs and whereas most people hated the journeys, I loved all that side of it: for me it was part of a big adventure so when we played in London or perhaps up in north England in Scarborough I found those memorable.
++ And there was even a tape sold with recordings from that Fulham gig, do you remember how did that came about?
If I remember rightly someone recorded the gig at the back of the room inside the Greyhound at Fulham, which was a popular London venue back in the day, particularly in the mid & late 70s during the punk years.
As a kid growing up I can remember seeing adverts in the NME for people like the Stranglers, The Jam and so on playing this place so it was a real venue of note for me and it was great to gig there even though we pulled in a miniscule audience!
Usually those kind of live recordings, or even those from a mixing desk are crap but this wasn't TOO bad considering all and it's nice to have a fairly authentic guide to how we sounded at that time.
I've managed to get most of that gig digitally transferred now for posterity – we sound pretty good actually although everything is played at breakneck amphetamine tempos but what is amusing is the almost non-existent response from what was a very small audience on the night.
I can remember my girlfriend and Donald were there and maybe 10 more people – there was almost more people on stage than in the audience!
But I had no idea that this recording was ever sold anywhere.
Generally speaking gig reactions were usually very good for BOTO and we enjoyed a good reputation as a group on the up.
I do remember getting slagged off badly in our hometown newspaper by the local football reporter (!) Martin Warrilow who did a guest review of our gig saying BOTO were a poor and less talented imitation of my old mod like band the Dream Factory which made me laugh as BOTO were hugely superior song-writers and musicians than the Factory and he obviously hadn't got a clue what he was writing.
But then again local newspaper reviews were often political rather than accurate and I probably deserved a fair share of criticism as I was a fairly out-spoken critic of most local bands at the time so it was only fair I had some shit thrown back at me.
The point was that local newspaper gig reviews were not really that important other than creating a talking point or two in the local pubs, particularly Hamlet's in Tamworth and also the Tavern In The Town.
Hamlet's tended to be the more indie-rock hang out, though you would also see plenty of the heavy rock crowd in there too whereas the 'Tav' was the local home for the Hell's Angels and there was a very active music column in the Tamworth Herald written by an old school friend of mine Sam Holliday which provoked much debate among musicians and gig-goers alike.
It was all good fun really and I totally respected Sam as both a journalist and a mate. He was keen to always place a positive slant on every local group to encourage them which was not my way of thinking though.
Often his positivity generated a mixture of incredulity and amusement among many people on the scene, particularly when Sam would "big up" a group who weren't very good and I had a totally opposite viewpoint.
Being a journalist at the time, I felt that one was morally responsible for writing what you honestly believed rather than trying to be friendly and supportive to all these many groups who seemed to appear from nowhere in the Tamworth in the 80s and 90s.
I know that local reviews meant very little in the bigger scheme of things but I made a lot of enemies during this period as I tended to shoot from the hip and say what I felt and this usually meant saying a lot (but not all!) of our local contemporaries were shit.
Compounding the problem was the fact I wrote a music column in an evening newspaper in Nuneaton, some 15 miles east of Tamworth and I was equally out-spoken and unafraid of speaking my mind in print which really did piss people off, especially as I was also so active with BOTO.
Looking back I can quite understand why some people hated my guts.
And I do remember being confronted by members of one or two local bands outside the Arts Centre in Tamworth who were up for a fight because I'd criticised them.
++ The final lineup only recorded one song "Rainy Day Sunshine". Why was this lineup much less prolific than the other ones?
After we parted company with guitarist Pete after his unwarranted punch up with John in the spring of 1990 we did stagnate a little and it took us time to find another guitarist, Paul Whitehead who then took time to settle.
During this period we were writing a lot of new songs and Mark (DeHavilland) in particular was really coming to the fore as a writer. A lot of the songs he was writing during this time would then show up after the band changed its name to the Strangeloves.
So in terms of us being prolific we were actually writing loads more than gigging during 1990 and 1991 and the only recording during this time was my song 'Rainy Day Sunshine' – on paper it may seem we were being quiet but in fact we were really busy behind the scenes.
++ Also you recorded this track in another studio, not at the Expresso Bongo were you seemed very comfortable but at The Reptile House. How was that experience for you?
Really didn't like it one iota.
Didn't get on with the sound in the studio and the whole recording of 'Rainy Day Sunshine' was fraught…firstly our new guitarist Paul Whitehead failed to show for the opening day of the session and so I asked my mate Nick Read, who was then in a band called Dance Stance (who were then to metamorphose into Rare Future) and he came only and played guitar.
Paul eventually added some guitar overdubs before we did the final mix but I hated the recording…..I had a great working relationship with Paul Speare at the Bongo but the Reptiule House was a different proposition in many ways.
I like the song 'Rainy Day Sunshine' a lot – it was a really catchy piece of brassy indie pop in the BOTO style but the recording was really lame and I hated it from the second it was mixed. Bummer!
++ Speaking of which, wasn't there supposedly an album released with recordings done at that studio? What happened to that?
Yes it was due to appear on a compilation album of other bands from the Lichfield and Tamworth area. I've no idea if it ever got released but if it did we weren't even given a free copy between us!
++ What was the best moment of being at Bash Out the Odd?
Not sure about the best moment if honest as there were a great many and I do have very positive, great feelings about the group to this day with loads of great memories.
However, one of the oddest and most ironic moments was playing a gig in Nuneaton at a club called Graysons which was named after Larry Grayson, a famous camp comedian who lived in the town and who was one of the first British TV stars to suggest an openly gay persona: he had an old-school music hall type of anecdotal comedy which made him a big star in his day.
Given that we had received some stick from people saying we were homophobic because of our band name, which we vehemently never were of course, this was a strange one.
Larry had heard about my group and even came to see me, intrigued by the name of the group and that we had appeared at Graysons.
But then he realised we had previously met a few years earlier in my role as a journalist when he had tried to seduce me on the back seat of his Rolls Royce!
Actually, I got on very well with Larry, who was well known in Britain for his time as the host of the hit TV shows "The Generation Game" & "Shut That Door!" and met him many times as a journalist during the 80s and 90s.
In fact I ended up living five doors away from him in Nuneaton for a short period when I was with the Strangeloves just after the BOTO name change and Larry died in the town in 1995.
++ When and why did you split up? Was it an easy decision?
Again, like the Space Seeds, BOTO didn't split up at all.
We merely evolved, changed the line up and felt that a new name would be helpful, particularly as no record deal materialised with Lazy and we felt it was best to re-invent ourselves and have another crack.
I was VERY relieved to change the band name as I was such a vociferous critic of the BOTO monicker! For me it was a weight off my shoulder to move it on!
Actually, the Strangeloves was quite an odd choice for a new name because of the New York beat group from the mid 1960s of the same name but I was kinda past caring by that stage….to me anything was better than BOTO!
I remember when the Strangeloves supported Echo & The Bunnymen that Will Sergeant asked me why on earth we'd call ourselves the same name as the group of "I Want Candy" fame and I didn't have the heart to tell him the story of my horror at us having the BOTO monicker….
++ After that I heard you resurfaced as The Strangeloves, but I've never heard any songs by this band of yours. How similar was it to Bash Out the Odd?
The Strangeloves really did take the BOTO sound and play with it more; we developed a lot in a short space of time and it was much more an interesting "indie-pop" sort of group and I am quite proud of a lot of the tunes we wrote.
We recorded quite a lot of demos as The Strangeloves (five or six times more tunes than BOTO) and then as the Lovebirds which was the name was moved to a year later.
If I am honest, from BOTO onwards my groups have continually evovled rather than splitting up and you can trace my current group DC Fontana right back to BOTO and the Strangelvoes was the next stage towards DC Fontana.
++ Having been in many bands, if you were to make a list of the importance of each band in your life, were would you place Bash Out the Odd?
I have fond memories of most of the groups I've been in (not all) but there can be no doubt that with BOTO we came close to getting signed and it was the first group since the Dream Factory that I'd been in which attracted wider interest and a following.
It also provided the very embryonic platform for everything I've done musically since and right up to the present day so it was an important group for me.
Where would it be placed in a list of importance? In the top half.
++ One last question. How much has Tamworth changed since those days? And if I were to visit that town, what is there to see or do for a tourist guy like me?
Tamworth has evolved of course and whereas the music scene is now tiny compared to its heyday (which would be 1984 – 1994) a lot of the "faces" from the music scene are still about and some of the venues are still there to this day although all of them are now something else.
In fact yesterday DC Fontana played an open air gig in Tamworth and Jeff Hately, the bass player with Tamworth's best known heavy rock group, Wolfsbane (Def American) came to see us which was real nice of him.
There were a lot of old faces int he audience I hadn't seen for many a year and it was quite an emotional and nostalgic trip in that respect. It also reminded me that there WAS some kind of kinship among local musicians however disparate our backgrounds.
There was talk around 1984 that Tamworth's two most popular bands (which were the Dream Factory and Wolfsbane) were sworn enemies of each other….a sort of pathetic attempt at stirring up a mid-80s version of "mods & rockers".
Nothing could be further from the truth – I got on famously with Wolfsbane who I admired loads and I enjoyed some of their more punky Ramones-like cartoon punk element of their early rock sound.
Jeff was telling me they have reformed now that Blaze Bayley, their singer, has his put his stint as lead singer with Iron Maiden firmly in the past and I wished him the greatest of luck with it all.
I have no idea if there are any actual Tamworth music tourists visiting the town today but I am sure with the right guide there could be lots of interesting things to see and people to meet if anyone wanted to hang out here in the Kingdom of Mercia!
::::::::::::::::::::::::::::::::::::::::::::::::::::::::::::::::::::::::::::::::::::::::::::::