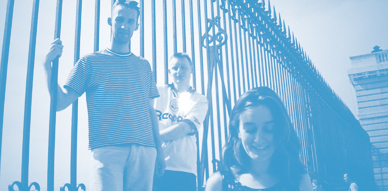 Thanks to Duncan Steer for the interview!
++ I'm one of those fifteen people in the world that would know more about Pastel Collision. Let's have a background check to start! How did the band start? Who were the members? And where was the band based?
The main band members all the way through were myself and Gaynor, who was the singer. Along the way we had about, erm, 30 other people playing with us including about eight drummers and various trumpet players. Gaynor and I met via an advert in a long-forgotten music paper called Spiral Scratch. She was looking for someone to help make trumpet-fired indie-guitar magic happen. Within about four months of meeting, we had got a track on a 1992 LP released in Preston called 'Reclaiming the guild'. It was a local community project to celebrate music in Preston. People still sell this album on eBay, on the basis of our song, which is an early, slow version of our first single, Young, with very good drumming. When we became a trio, Gaynor and I were joined by Jim Brunt, who lived in a metal dome, owned every Erasure and Pet Shop Boys record and could make the same amount of music as the other 27 people we'd had in the band put together.
++ You played between 1994 and 1997 as Pastel Collision. During those years indiepop was just an underground thing. The times were indiepop bands appeared on the music press were long gone. How was the scene during that time in Manchester? Any other great bands?
I don't think we were really part of any real scene. We supported Heavenly once and I suppose some might say that they were the kings/queens of our little corner of indie pop. I was always into the brilliant Man From Delmonte, who were a very very poppy Manchester band that split up in about 1992. I suppose the NME stopped writing about proper indiepop years before but there was always John Peel and Mark Radcliffe, who were doing shows on Radio 1: they both played our records.
++ Only 13 gigs in 3 years. Why was that?
We were always more into recording. Tell me this: how many times have you seen a band live that sounds really really good and really inspires you? And how many times have you heard a record like that? For me, the numbers are 1) less than 10 and 2) more than 100. It was hard for us to rehearse and become a good live band, in any case because of living in different towns all over the country: in the studio, it's all about your pop ideas – which we were really excited about. At gigs, it's all about rehearsing a lot and being brilliant musicians and showmen which, possibly, we weren't.
++ In the release department you didn't do bad at all, 4 singles in 3 years. That's a good ratio isn't it? Which was your favourite Pastel Collision track? Any good anecdote about any song you'd like to share?
Well, one of my ambitions was to produce a song that would make people say, 'What's that? It's brilliant' when they heard it on a compilation tape. So, on those terms, 'Wherever You Go Take Me With You' is our No 1. I even saw it listed on a web forum as 'the best song that no-one else knows about.' About the highest acclaim you can get when you're on a micro-indie label, I guess. Anecdotes? When Mark Radcliffe played our song, Young, on national BBC Radio 1 in the UK – which was a massive, massive deal – we didn't hear it. But someone we knew heard it. And Radcliffe said, 'If you know anything about Pastel Collision ask them to get in touch'. And our friend didn't tell us this until about 18 months later. Hmmmm.
++ How did you end up releasing the single on Billberry Records, a label in Germany? It's strange that you haven't been showcased on the Leamington Spa series yet, especially as Billberry is among the labels releasing those records.
Sven from Bilberry records heard our first single Young and asked us to do a single for him. Unfortunately, it didn't come out very well. Yes, the Leamington Spa people have been in touch with me but we haven't yet appeared on one of their compilations.
++ I read that you were pop fans. Do you still follow the indiepop scene at all? I read on the Twee.net biography that you all loved the Would Bes, The Siddeleys and The Popguns! Wow! You wore the best influences on your sleeves!
Well, I do think that people who like those bands would like Pastel Collision… But I always liked things beyond indie pop and still do. What is quite interesting is that our type of music is always seen as quite old-fashioned and yet every single year there's a new successful(ish) band trying to do roughly what we were trying to do (but usually with more money and success and, to be fair, ability). I guess the line starts with the Rezillos in 1978 and goes up to Ida Maria in 2008. And I also wish we'd thought of doing what the Pipettes did a couple of years ago. Maybe we still will. BTW I love Class of 2000 by Amida on Plastilina and recommend everyone to listen to it.
++ I know after Pastel Collision you formed Kaleida (and let's save that for another interview!) but what about before Pastel Collision? Were any of you involved with any other bands?
Gaynor played cello on a Peel session for a Dutch band called Donkey who – I may be wrong – were a bit like the Fall. She also played for a group called Witchknot. But we had many many people play gigs with us – once, at a gig in Camden, our trumpet player was Andy Diagram of James (yes, THE multi-million selling James. I can't believe this but it's true.); we started out with a drummer called Chick who used to be in Cornershop – and he went on to be in another John Peel band called Formula 1 with a girl called Kerrie, who played trumpet and keyboards for us. And two of our records were released by our biggest early supporter, Hue Williams of the Pooh Sticks on his own label. You could do a good indie family tree if you could be bothered
++ Growing up in Manchester, how big was The Smiths influence on you?
Well, I didn't grow up in Manchester but I went to college there… But I loved The Smiths and was definitely inspired by them – though I don't think our records sound very much like the Smiths. Really, I think they sound more in the spirit of the sort of records Morrissey always said he liked – 60s girl group stuff, Twinkle, Sandie Shaw etc and modern versions of them like The Would Bes and the Primitives. I always wanted our records to be very definite – so some people would hate them but some people would love them. There were so many average indie bands with nothing unique about them, as if they were embarrassed to stand out. Lazy, tuneless idiots with no ideas, just making a noise. Our records were quite full-on, poppy, trumpety, wilfully lightweight. You could tell what they were meant to be – even if you hated them.
++ On the last single, "Wherever You Go, Take Me With", you worked with Mike Jones from Voice of Beehive. How did that experience with a chart topper go?
Working with Mike was probably the best thing we did as a band – because he had actually made chart records and knew how it was done. Our first single, Young, was made with Steve Mack from That Petrol Emotion – another proper producer. But our second and third singles were just made with studio engineers – the guys who work at the studio – and you can certainly hear the difference. We wanted to make real pop records and Mike had the recipe and lots of little studio tricks, as well as a fund of showbiz stories. The Beehive had worked with some big name producers and Mike had obviously learned a lot from them, too. When you go to a studio and you're quite a new band, you really do need to have an engineer or producer who knows what you're trying to do. It's not just a case of 'plug in your guitar and sing into that microphone over there.' It's a real art.
++ There's a lovely video shot on Super 8 of that single. Was this your idea or Siesta's? It's great, it's one of your best songs, but it is also quite different from the other singles. This is much closer to Kaleida. This is also the time when the band becomes a trio. What was happening at the moment? So many changes!
We changed to working as a trio because it was easier to get the results we wanted. As Pastel Collision, we sometimes had eight people in the band, which was very hard to organise – even in terms of travelling to gigs or rehearsals. We were also keen to get out of the indie pop ghetto – we wanted to make records that sounded like they should be in the charts, even if they had no real hope of getting in the charts. We wanted to do something that sounded more like mainstream pop: maybe our early records sounded quite old-school mid-80s indie, like the June Brides or the Shop Assistants or the Brilliant Corners. By the time we did Kaleida it was 1996/97 and we thought we could still be indie while using computers and playing in tune, like St Etienne, say. It's really nice that real serious indiepop fans tracked us down via fanzines and stuff like that but our real ambition was to reach quite a 'normal' audience,without losing the real hardcore! A lot of indie scene people from that time had no ambition of trying to sell a lot of records: they loved selling 300 records to the same 300 people who always wore the same stripey T-shirts and flowery dresses even though they were actually aged 46. Maybe it was physically impossible to get a proper indie record in the charts – but you could still sound like you were trying. Hence 'Wherever You Go' and the Kaleida album. The video was made by our friend Mike Hodgkinson and it's all his idea. He lives in Los Angeles now and is going to be a famous director. Look him up on youtube. He did the world's first pop video to be made entirely on a mobile phone, for the fella who used to be in the Catherine Wheel. We had a day out at Herne Bay in Kent with locals standing by watching us while we were being filmed. I expect they thought we were a proper band. ++
Siesta is known for being a very picky and difficult label. Also it's known for it's exquisite catalog. How did you end up now in a Spanish label? How was the relationship with Siesta.
I think I asked them if they would like to release a record for us and they said 'Yes'. Siesta seemed quite nice people and reasonably ambitious but we weren't able to get the record promoted in the UK. This was all pre-Myspace and pretty much pre-web, so everything was really indie and it was quite hard to get your name known unless you had a label who knew how to get you heard. And we never did. Siesta did get us to go on a trip to Spain, though, where we appeared on Spanish National Radio 3 with Jesus Ordovas, who was Spain's answer to John Peel. We did a half-hour interview on his show, through a translator, and played three of our songs, which was amazing. We also played at a festival. Unfortunately, the festival was held in a student town during the summer holidays on World Cup final night, 1998. Hmmm. But we were playing with Eggstone, who had big connections with The Cardigans, and were really good and really friendly – so, again, it felt like we were connecting to something pretty cool.
++ Gaynor's voice is one of my favourites in indiepop world! Do you all still keep making music? Maybe one of these days you'll surprise us with a Pastel Collision reunion?!
We would love to do some more records. I am free on Thursday.
++ What was the best part of being Pastel Collision? And the worst? Do you miss anything?
The best part was the Jesus Ordovas show – getting driven out to the edge of Madrid to this giant, mysterious concrete building of the Spanish national radio at 9 o'clock at night- and then going on their No 1 pop show! It felt like the Bourne Ultimatum. Or getting letters from a fanzine editor in Japan who wanted to do a special issue about us. All amazing. The worst part was doing a band in the pre-internet days where it was so hard to get the message out even to the people who did like you. And, more specifically, the record we did with Bilberry – Trouble with a Capital T – which was quite a good song but came out as a completely hopeless record. Depressingly hopeless. Maybe I shouldn't say that because some people like it. But there you are.
++ Why did the band decided to call it a day?
I don't know. We did our album and video and little festival show as Kaleida for Siesta in 1998, did demos for a new album in our house and then just kind of stopped. I suppose we'd done our best and not had a massive response. It just felt that no-one beyond the fanzine hardcore was really hearing our music, even though at least some of it was quite good – so it's easy to kind of drift on to doing other things.
++ One last question, when will we see at last the Pastel Collision retrospective CD?
When we get into the loft and find all the old master tapes. It's a frightening job but we could do it for money.
::::::::::::::::::::::::::::::::::::::::::::::::::::::::::::::::::::::::::::::::::::::::::::::
Listen