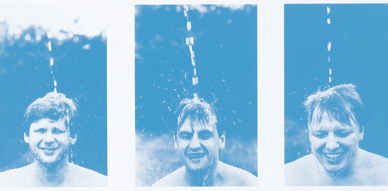 Sometimes there are news that just get you off guard, they are so unexpected. And that's what happened when I was to learn that a new Popfest is being organized these days, hoping to make its debut in April 2018. I am already very excited about it even though I don't know who will play. The fact that the festival is going to happen in Germany is already a big bonus. Yes, I'm talking about Cologne Popfest who the last week unveiled their Facebook page. So far what's been announced are the dates, the 20th and the 21st of April. It should be ok weather then in Cologne I suppose. I was once in Cologne, many many years ago. I visited the Cathedral of course and went to the Roman museum. I didn't do much more. I liked what I saw though. It would be great to return. I love pop events in Germany, there's always such a good energy, and a good vibe too, one of camaraderie. The festival at the moment is doing some promotion at Indietracks it seems, where they have some very nice designed flyers and posters. Hopefully I can get one somehow!
Continuing with unexpected news, there is a new The Siddeleys compilation coming up. Titled "Songs from the Sidings" this is a collection of demos by one of the best bands EVER that date from the period of 1985-1987. The record will be out on August 18th and will be released on vinyl and also on CD. Check out the very cool looking cover where Johnny Johnson just looks like the best indiepopstar EVER at the Firestation Facebook page.
Our friends from The Pains of Being Pure at Heart have a new record out on September 1st. It will be titled "The Echo of Pleasure" and because of that they have just debuted a video for the song "When I Dance With You". The video was shot in London after a breakfast in a Wetherspoons. What can be better than that? Well, the band is touring the US West Coast to keep promoting this new album. For me it has been a while since I saw them live. Next time they play NYC I will make my best to be there.
Also our friends from Murcia, The Yellow Melodies, have a new video out, this time for the song "Life". The cool thing about this video is that it was all shot at Indietracks. If there was a way to make me feel nostalgic and all melancholic about not going to the festival, even if there were just a handful of good bands, was watching the video. Also don't forget that the band released a USB digipack (not sure what this is!) titled "In Compilations 1997-2016" not so long ago. This is a compilation of 30 songs that appeared on various compilations, on various labels, between those years.
It seems there are mostly news of friends, Cloudberry-related bands this week, right? Well, here's one more, this time from Japan.  Our very good friends from Caucus are going to release a new album this autumn. As we have seen in my previous paragraphs, what's the best way to promote it? A video of course! So yes, Caucus have a new video for the song "Hello". It is all DIY, we see the band in the recording process and having fun. It feels so long now since we hanged out in NYC when they played Popfest! I hope they come back soon (or I go visit Japan!). At the moment there are no other details about the album, but as soon as I know, I'll share them with you all.
On the Bandcamp side of things I have noticed that classic band The Groove Farm has uploaded a whole lot of releases there and many of them are rare ones! First off there's a live tape from "The Western Star Domino Club. February 1987" which was their 6th ever gig. Then we find another live gig, "April 12th 1989, The Garden Of Eden. Windsor", and another, "Mobstar Pop Frenzy Weekend / Reunion 2001" when they reunited for one rehearsal and one gig. Then three live gigs recorded from the audience with a cassette walkman, "8th August 1987, The Tropic Club, Bristol", "16th April 1987. Tropic Club, Bristol" and "26th October 1988, The Moon Club, Bristol". But that's not all, there is an expanded "Baby Blue Marine" flexi release. Remember that this favourite song appeared on a flexi that came with the Kvatch fanzine? Well, here there are 10 versions of the song, from rare recordings to live versions. And to close with all these rare Groove Farm songs their classic EP, "Sore Heads And Happy Hearts EP" is also streaming with four extra songs from rehearsal tapes and also live from Montpellier Hotel in December 1986. This is really a treasure trove and one can only thank the band for uploading all of this! I feel Bandcamp is the perfect place for these sort of 'releases', live and rare, while the proper ones should always be on physical formats.
And that's it for this post. And you can't complain, that's 3 posts this week! I have at least 4 more indiepop news to share as I'm writing these lines, but definitely I'll cover them on my next post! It is good to have news!! There's been weeks when it was hard to find stuff to share with you all!
—————————————-
Here's a record I don't own, one that is sadly missing from my collection. I hope to buy it soon, when it is on Discogs or on Ebay at a reasonable price. I'm talking about the sole release by The County Fathers, the 12″ maxi single "Lightheaded".
From Discogs I learn some facts about this record. I must say I don't know it that well. I've only heard one song, "You Think It's So Funny", and I think it is brilliant, it is catchy and the guitars chime and chime. What is there not to like? Even the vocals are great. I wonder if "Lightheaded" and "Deep South" are similar. I hope they are.
"Lightheaded" and "You Think It's So Funny" appear on the A side, while "Deep South (long version)" is on the B side. The record came out in 1988 on the veritable Ugly Man Records (catalog UGLY 8T). The front sleeve is printed in black and white, the front cover has a photo of a baby who is being poured water on top. The back cover has three photos, small ones, for each member who are also being poured water. We get the band members names from there, Phil Walmsley on bass guitar, Mark Radcliffe on electric guitar, keyboards and drums and John Clayton on electric guitar.
The songs are credited to Mark Radcliffe and they were recorded by Nick Garside (who as of late played on the band The Distractions and who produced a bunch of classic records by The Waltones, The Man From Delmonte, The Singing Ringing Tree and more!) and produced by the band. The photography on the sleeve is credited to J.D. and Kevin Cummins. The design for the sleeve to The Great Big Co.
Of course it is easy to figure out things about Mark Radcliffe. Discogs has a small bio: "BBC Radio presenter. Radio 2 with Stuart Maconie as of 2009. As a musician, he is commonly credited as a drummer or percussionist. He was a member of Skrewdriver briefly before their transformation into a neo-Nazi band. As of 2007 plays in The Family Mahone, the Four Counts and The Big Figures a Doctor Feelgood tribute band." If you want to read a longer bio, there's of course Wikipedia. Plenty to know about him, but The County Fathers is not really mentioned. It is always about Skrewdriver (probably because of their later white-power affiliation), and the band Shirehorses, which was a parody band. Other band Mark has been involved is the Dr. Feelgood tribute band Mark Radcliffe & The Big Figures. To be honest, I haven't heard any of the bands mentioned, but I doubt they are indiepop-sounding as The County Fathers.
From other articles, I found an interview with Phil Walmsley about his time at Skrewdriver. Was it in this band that Mark and Phil met? Not really. I actually find an article from The Lancashire Post where it says that "the pair met at Manchester University in the 1970s. Radcliffe says: "I was from Bolton and he was from Blackpool and we were both very into punk rock."
Mark also wrote the autobiographical book, "Showbusiness: The Diary of a Rock N' Roll Nobody", where he retells his attempts at a career as a musician. I haven't read the book, but I do wonder if The County Fathers are mentioned in it? He also published two other memoirs, "Thank You For the Days" in 2009 and "Reelin' in the Years" in 2011. Were The County Fathers mentioned in them?
When it comes to indiepop it is important to mention that he contributed keyboards and produced some tracks for beloved The Desert Wolves.
Luckily to tell some of The County Fathers story there's the blog "The Chronicle of An Ugly Man". This blog, whose last update was in 2012, was run by Ugly Man's founder Guy Lovelady. On it there are many stories involving the bands that were once part of his label. Happily there's a post about The County Fathers and we get to learn a thing or two:
John Clayton worked at the time in Manchester's legendary Piccadilly Radio. He was originally from Lancaster.
Phil "Whammo" Walmsley was a top architect.
According to this blog post, Mark Radcliffe's story and the context of The County Fathers is written in the "Showbusiness: The Diary of a Rock N' Roll Nobody" book. I will have to get this book then.
Mark Radcliffe at the time was working also at Piccadilly Radio and even gave The Man from Delmonte a Piccadilly session and booked Black for a pan European Broadcast from The Liverpool Playhouse.
Then Guy mentions that he has a copy of a CD that contains the anthology of The County Fathers recordings plus other quality outtakes from a subsequent pop combo St Cloud that Mark captained. I wonder about these songs. I would really, really, love to hear them. Also, why is this not anthology being released?? Someone know the answer? Anyone heard it?
Guy also shares his personal highlight with The County Fathers he says it "was the Ugly Man Christmas Party in 1988. The joint celebration was held with some local Manchester based fine artists, which sounds quite refined and exclusive but it wasn't. The evening was opened by Inspiral Carpets, a then up and coming Oldham band, The County Fathers did a set and finally The Man from Delmonte wowed a packed green room. I remember the delight on Mark's face that night getting to play a full set to a packed and excited audience. It was the stuff of legends."
A lot of questions about this band definitely. To start why didn't they release any other record? Why did they call it a day? How many unreleased songs did they record? What songs were on that anthology CD that Guy Lovelady mentions? Were the three of them on St Cloud? I could find some bands Mark and Phil were involved, but what about John Clayton?
Anyone out there remembers them? Maybe you saw them at a gig? Would love to know more. In the meantime, I will try to get myself a copy of the record and the book. I'll do my homework.
::::::::::::::::::::::::::::::::::::::::::::::::::::::::::::::::::::::::::::::::::::::::::::::