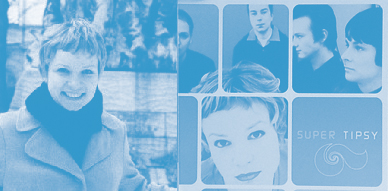 I'm still unpacking boxes and records and reordering everything of course. I'm almost done though. As I say these things I'm also discussing with two bands for new 7″s and little by little reaching the 50th Cloudberry 7″ is becoming no more of a dream but a reality. And that is quite exciting!
I haven't written down many news during the last 4 days. Since my last post. Actually only one, that Gingerlys have a 2nd song from their album now available to stream. It is called "See You Cry" and it is superb of course. I reviewed already the first single, "Turtledoves", off their self titled album just a week ago I think, and now there is this lovely, sweet, new song. It looks like their album is going to be a winner. I hope though that I get to listen their whole album soon instead of recommending a song every week!
OK! There was one more but no music to listen. That is that Firestation Records will be releasing a new record by the Love Parade!! It is titled "Out to Sea" and it is a 6 song EP recorded in 1991. It will be available in CD and vinyl.
Well, now it is time to dig the internet, let's see what we find on Bandcamp and SoundCloud. Thanks to my friend David from Madrid I found out a band from Gainesville, Florida, called UV-TV. He posted the song "Glass" on his Facebook and thought that it was some great shambolic pop. Then I noticed that it wasn't their latest effort. Their last release is an EP titled "Go Away" that was released by the very fine Emotional Response label that is ran by Stewart from Boyracer. Shame I hear them this late as last week I placed not one, but two orders from them. It will have to wait a few weeks then, but there are some terrific songs here, check them out!
Grrrl Gang hail from Yogyakarta, Indonesia. Earlier this year they released two songs on the Indonesian label Kolibri Records. The songs being "Bathroom" and "Thrills" Just a digital single I believe. The songs are sweet and on the lo-fi side of indiepop. There is an official music video for Bathroom and Thrills which seems to have been recorded in France and is very cool! The band is formed by Angeeta Santana on vocals and guitar, Edo Alventa on guitar and Akbar Rumandung on bass.
The Japanese label Galaxy Train keeps releasing new music and their latest offering is a tape, limited to 48 copies, of the Japanese band Dronjo Kept By 4. There are 6 songs, mostly lo-fi, that ate quite nice. The tape includes a booklet and some stickers. It is titled "Lost in Perspective EP" and the songs included are "Three Chord City", "Kitty Roly", "Rain Kids", "Tobin Sprout on the Moon River", "Dry Gin" and "Toddle".
Howlin Banana Records is a DIY record label based in Paris and they have just released a digital single by the band The Soap Opera. The band is formed by Bloody Bulga on guitars and vocals, Professeur Zorrino on guitars nad vocals and Holden Brahms on drums. They seem to be French too. The two songs are straight up indiepop and they are titled "Eggs to Hatch and Cats to Kill" and "No Name No Pack Drill".  They are quite good and I especially like the opening song which there is a promo video on Youtube!! That was exciting. And then I find out that there will be an album to be released in November by the same label that put the digital release and also Ample Play from the UK. Looking forward to it!
And lastly, our friend Brian Castriota, who released a 7″ with us under the name Earth First, has a new album out with his new band, Fimbria. The album is titled "Eternal Return" and is available on a limited edition CD and a limited edition cassette. He told me to check out the last song of the album, "Passage", he told me there's some jangle in it. I check it out and it is such a beauty of a song, such fragility. Then I play the whole album, now in order. Yes, it is not exactly indiepop, but it is a really pretty electronic album, with pop sensibility, and a lot of elegance.
——————————————
Super: very good or pleasant; excellent.
It is time to return to Europe. Still many important countries missing in this world tour. Today we need to stop in Finland, a country I visited this year and every time I think about it, I feel nostalgia for its cleanliness, for its lakes, the bright green of the trees and the good times I had in the many cities I visited. I hope to visit again in the future!
My only complain would be that there was absolutely no indiepop around. Ok, I didn't travel for it, but would have been nice to see some bands live. As I've mentioned before, it took me a couple of record stores until I found the Burning Hearts LP that had just been released. It wasn't easy. I looked through the bins and the racks at these record stores in Helsinki and I couldn't find anything worthy! That was a shame. But it didn't matter in the end, look, I saw Olavinlinna castle and drove through that beautiful landscape that is Punkaharju and that paid my trip. And crossed the Arctic Circle too!
Generally speaking Finland hasn't produced huge amounts of indiepop, but when there has been indiepop it has been great, fantastic even. Think of Le Futur Pompiste, Cats on Fire, Burning Hearts or even back in the day with the likes of Cessna. It is time then to focus on Finland and one of their finest bands, Super.
On Discogs the band is considered a lounge-pop group. A lot of late 90s bands were described like that. But I'll start reviewing their discography with the record I discovered them, a compilation titled "Seven Summers International Pop Volume 2" that was released by my good friend Peter Hahndorf on his own TweeNet Communications (TweeNetTwo) and Kindercore Records (KC023) in 1998. It was actually in Bremen, when I visited him, that he gave me a copy of the CD, a compilation that may well be some sort of indiepop world tour of the time with bands spanning all over the world. On it I was going to listen Super for the first time, and their song "All-American Cheesecake" was soon going to become a true favourite of mine!
It is true that I don't own their whole discography, I will probably go slowly until at some point I get all their albums, singles and EPs. It is hard to complete discographies. But I do own a few of their releases and I know they are pretty good and I will be happy to recommend them to you. The band's first record was an EP titled "Spark" that was released in 1995 by Tangerine Records (TANG 007). It included three songs "Spark", "People's Democratic Movement" and "Trouble With Sex".
The year after the band was to release another CD EP, "Tempted". The band had changed labels now and were on Odor (ODOR 0,2). Three songs were included, "I Didn't Expect to Be This Tempted", "Historical Sights, Out of the Blue", "Spare Us From This Infinite Moment". Here on Discogs I do find credits, Teemu Soininen on bass, Arto Ellonen on Congas, Ville Hietala on drums, tambourine, melodica, keyboards, backing vocals, Jukka Tiirikainen on flugelhorn, Jussi Pietilä on guitar, Okke Komulainen on organ, electric piano, keyboards, samplers and loops, Teho Majamäki on vibraphone, and Minna Joenniemi and her sweet vocals. The record was mixed by Janne Haavisto and recorded by Tuomo Puranen. The interesting thing about this EP is that it was going to be reissued by Odor the year after as Odor 0,3 with four songs. The first song was going to get the name shortened to "Tempted", and then there was "Misty Hours", "Bingo Hostess Goes Berserk (Skillsters Remix)" and "A Day With the Crimplene Kids". Why the reissue and why so soon? And why change the tracklist?
They were going to catch the attention of the Japenese label Escalator Records, and in 1997 they were to release the "Tickets" EP in both CD (ESC012) and 7″ vinyl format (ESINGLE3). On the CD version there were 5 songs, "All-American Cheesecake", "Last Flight to Sardinia", "Roadblock", "Bilbo Baggins" and "Frostbite". A song about Bilbo Baggins from Lord of The Rings? Yes, that's true, and it goes like this, "Bilbo, Bilbo Baggins, only three feet tall, Bilbo, Bilbo Baggins, the bravest little Hobbit of them all". Amazing. The 7″ version only included three songs and in a different order. On the A side there was "Last Flight to Sardinia" while on the B side we find "Frostbite" and "All-American Cheesecake". By now we know that the bands lyricists were Minna and Ville.
That same year, 1997, would see the light their first album, "Rendezvous with Super" released in Finland by Odor (Odor 1,0) and in Japan by Quattro (QTCY 2097). The album had twelve songs, "Caruamba Wax", "Girls Go Bravo!", "Bingo Hostess Goes Berserk!", "People's Democratic Movement", "Proposal", "Misty Hours", "Tempted", "True Gentleman", "Travelogue", "Historical Sights", "Wicky-Wacko Rodeo" and "Coup de Soleil". It was recorded at Hitsville IV Studio and Finnvox. Hitsville IV being a studio based in Helsinki run by Janne Haavisto and Tom Nyman while Finnvox is run by Risto Hemmi these days in Helsinki. Here we can already define the band members, we know that the core of the band were Minna Joenniemi, Ville Hietala, Okke Komulainen and Teemu Soininen.
As expected the Japanese version of the album on Quattro came with three bonus tracks, "A Day Out with the Crimplene Kids", "Infinite Moment" and "Spark". It also had different cover art, front and back. Also it is important to mention that there was a CD Promo for the album with just the song "Girls Go Bravo!".
The same Japanese label, Quattro was to release a 7″ in 1999 (Quattro Disc 003) with the song "The Broken Girls" on the A side and a remix of it on the B side, "The Broken Girls (Super Splendid Strings Escape Mix, Remixed by Escalator Team)".
That year, 1999, was to see the release of the band's second album, "Tipsy" on Odor (Odor 3,0). The album had 10 songs this time, "Welcome to Our Soundscape", "The Broken Girls", "Don't Tell Me You Jog", "Love Was a Bomb", "Departures", "Disco Solitaire", "Golden Boy", "Country Star", "We Hate Muscle Men!" and "Ice Cubes". Aside from the core of the band here we see the band got help from Juha Kulmala on drums, percussion and handclaps, Tintti Simola on flugelhorn and trumpet, Serafiina Kämi on flute, Arimo Komulainen on trombone, Teho Majamäki on vibraphone, and Andrei Sytchak, Elina Huusko, Emma Toppinen, Tanja Jukarainen and Tuula Nurmo added strings. The record was mastered by Mika Jussila and was mixed by Ian Cat (yes, that Ian Catt) except the second track, "The Broken Girls", which was mixed by Risto Hemmi.
And of course the Japanese were going to release the album. In 2001 the label Quattro put out "Tipsy" (QTCY-73006) and instead of adding bonus tracks they included an extra 3″ CD with four songs: "The Broken Girls (Super Splendid Strings Escape Mix)", "Persian Risk", "Calypso at the Office" and "Scary Waltz".
Now onto the compilations! If we go chronologically we know that "Tempted" was included in the CD compilation "Tähti CD 6/96" released by Enormi-Opus Oy (TÄHTI CD 6) and also in 1997s "Bonus CD 6: Finnish Dance & Pop" that was released by Äänitealan Yhteismarkkinointi (BONUS CD 6). "Tempted" was going to be included in more compilations. On the "Reindeer Rock '97" CD by CD-Linja OY (Poropromo 97), on "Europodium – Exitos Europeos – Top of the European Pops – Top Europeu 01/98" (98MEU01) that was released by RFI Musique in France in 1998 and where they appear alongside The Corrs (!) and also on the "Odor Sampler '98" released by Odor (ODOR1998) where not only "Tempted" was included but "Girls Go Bravo!" too.
The song "The Broken Girls" was to appear on two compilations, on the "Popkomm Licensing Guide" released by Fono Magazine (Popkommcd 01) in 1999 and on the "Levottomat Soundtrack" released by BMG Finland in 2002. Levottomat being a movie which I have not seen, but I guess I'm curious now.
The song "Line Dance" appeared on the "Epe's Star 2000" CD promo compilation released by Poko Records in 1998. And then the song "Disco Solitaire" on the "Reindeer Rock '99" comp that came out on CD-Linja OY (Poropromo 99). "Love Was a Bomb" came out on another Odor sampler, "The Finland Odor Sampler" (ODOR P 99) in 1999 obviously.
Lastly the song "Car & Chauffeur" appeared on two CD compilations, on "Reindeer Rock 2000" released by Suomalaisen Musiikin Tiedotuskeskus (Poropromo 2000) and on the 4CD Boxset "Sivulliset – Valikoima Suomalaista Viahtoehtorockia Vuosilta 1985-2000" released by Poko Records (Valosa 1) in 2005. This last one looks like a cool compilation with Finish bands from those years, I may want to get this! Maybe discover a tune or two!
Now time to look if the band members were involved in any other projects. When I look at Minna, it doesn't look like it. Okke Komulainen does seem to have been in a few bands: Bomfunk MC's, Liekki, Skillsters, Skillsters Plus One, Sleepy Sleepers and as himself, as Okke, on a compilation titled "Pyssy 5".
Then I noticed that Ville Hietala's real name was Ville Särmä and that the has also been in bands like Kevin, Tanssiva Karhu and Them Bird Things.
I do find a Wikipedia page for Minna. It seems she is now a cultural publisher and has been involved in many different cultural programs in Finland. I also see that her father was the Peace and Political Scientist Pertti Joenniemi.
I then find an article on the website Elävä Arkisto where they are called the Finnish Cardigans and how they became a hit in Japan. I also find out  that they weren't from Helsinki but from Tampere it seems. On that same article do check the short clip were we see Minna having lots of fun dancing!
Now I wonder, are there no promo videos for the band? There must be! But I can't find any. I did find Minna having a speech at the Interesting Helsinki conference.
An interesting blog post not exactly about Super is the one on PhinnWeb where the author discusses Tampere Pop. It is good to read it to have some background and also because there's a cool photo of Iisa Pajula from the band Regina and Minna that was taken from the morning paper Aamulehti.
But definitely the coolest thing I found was that on the TweeNet website there is a page with info about the bands on Seven Summers. There is an address for Minna Joenniemi and what was really amazing is that when I stayed in Helsinki in May I stayed in the same street, Uudenmaankatu. I stayed at number 13 and it seems she lived on 33. Wow!
I couldn't find much more. I guess if I knew Finnish I would have better luck at choosing my search terms on Google. I wonder if they had been in bands before Super. If they recorded any videos. If they still have unreleased songs? Why did they split? What did they do after? What made them make pop in a country were metal is more popular? I don't know, I have many questions, that I hope get answered some day, in the meantime I'll keep enjoying their music.
::::::::::::::::::::::::::::::::::::::::::::::::::::::::::::::::::::::::::::::::::::::::::::::