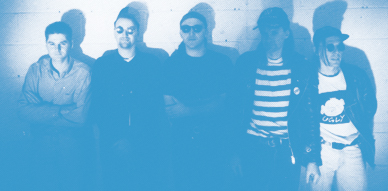 Thanks so much to Stuart Williams for the interview! Some time ago I wrote a small piece about this Kent band and Stuart was kind enough to get in touch and shed some light about his band. The Lemon Sleepers released the one 7″ back in the early nineties and included in it was the fab A side, "The World's Too Loud". If you have never heard about them before, well, it's time for you to discover them!
++ Hi Stuart! Thanks so much for being up for an interview! You were telling me that you have been playing together for 23 years now?!  And that you just call it a day last April? How come?
We are not quite ready to call it a day just yet, out guitarist decided he didn't want to carry on playing anymore. We are currently rehearsing with a new guitarist so we will see how that develops.
++ But in these time you've changed the name of the band, right? I mean, there's no information of a contemporary Lemon Sleepers band online!
Although up until recently the band line up had not changed in all this time, the name has had several changes. Following the The Lemon Sleepers we went under the names 'Swell' and for a short time 'Hannah Park' and for a while now 'The Very Wonderful Long Teddies'. Don't ask where that one came from!
++ So will you continue or not playing? What do you think will happen?
As I said earlier, we are not ready to give it up yet so we will continue one way or another.
++ You also told me that "The World's Too Loud" was the only vinyl you ever released but that you had put out a couple of CDs. Care telling me a bit about these CDs?
These were just self made CD's that we would sale or mostly give away at gigs. From memory one was titled 'Ulibang Molash' which contained three tracks and others were just compilations of various tracks.
++ And last but not least on your comment you linked me to a promo video for the A side of the 7″, for "The World's Too Loud". How did this video come about? And what do you remember from the filming session?
We used to gig at a college in Canterbury, Kent where they did media studies courses and we managed to convince the students to use us as part of their course work. They filmed us at a studio on site just playing a set of songs and then the video sort of came out of that. The concept was our idea where the van which we used to carry the gear around in was a nightclub. It was fun to make and they did a pretty good job with the resources and experience they had. It's certainly something to look back on with fond memories.
++ Let's go back in time Stuart, were The Lemon Sleepers your first band?
Yes, mine and the guitarists. The drummer, bassist and keyboard player had been playing together for about 7 years already and the bassist and keyboard player (brothers) a further 6 years before that, so a long history. I knew the guys previous to joining and had been jamming with the guitarist. When the two existing members left, we just kind of slotted into the vacancies.
++ And how did it start? How did you all knew each other? how was the recruiting process?
Think I kind of answered that in the last question. However to elaborate, I new the band before I joined, at that time they were called 'Rupert and the Jumpers' and I used to be their sound engineer. At that time the guitarist and I were looking to form a band, then the news came that the 'Jumpers' singing and guitarist had quit the band. I initially offered myself up for the singing vacancy and went to a few rehearsals. Then the guitarist came along and it all went from there.
++ What kind of music were you listening at the time? Who would you call as influences?
We all listen to a varied type of music, our main influences are the likes of House of Love, Teardrop Explodes, Talk Talk, Simple Minds, U2…etc
++ Where does the name of the band come from?
I'm not really sure, our bassist tends to come up with most of the band names and then books us on a gig under that name, then they just tended to stick. We have always let the music speak for it's self rather than the name.
++ The credits for the songs on the label are for A. and G. Holliday. How did the creative process in the band work?
It tended to be someone would come up with a riff or hook line and the song would be built round that. The lyrics would then be written around the track. In recent years we have been doing more covers and not writing as much as we used to.
++ As we were saying earlier, there was only one 7″ released. It was self-released, right? How was that experience of promoting and selling a record?
Difficult really, we had the single in local record shops, but most of it was promoting at gigs.
++ The record included two fantastic songs, "The World's Too Loud" and "International Smile". Care telling me a bit about each of the songs?
'The World's Too Loud' is basically a love song, its about being able to shut the world and all its noise out when there is just you and your loved one. 'International Smile' is about everyone just getting on and being one big happy world….yeah!
++ And what about the design of the sleeve? Who was in charge of that?
That was actually my father who was in the print trade and is quite artistic.
++ Tell me a bit about where you were based in Kent. Were there any other like-minded bands? What were the places or venues that you'd hang out more often?
We are mainly based in Maidstone and Faversham. In the 90's there were a lot of bands around who all kind of knew each other and often played in the same venues. These would be clubs and pubs in the local towns which have unfortunately disappeared over the years.
++ Has it changed much to this day?
The only places to really play these days is pubs and these more often than not want covers bands.
++ Tell me about gigs. Did you play many? What were your favourites and why?
We used to do a lot more than we do these days, on average we did 30 -40 gigs a year. We always try mainly to have a good time which I think spills over to the crowd and makes the evening more entertaining. Definite favourites would be supporting Kula Shaker on their university tour and headlining at the Maidstone River Festival in 2011 where we have played every year for the past 15 years.
++ And looking back in time, in the long career of The Lemon Sleepers under a name or another, what would you say was the biggest highlight as a band?
Lasting as long as we have really and as mentioned previously the Headline slot at the River Festival, where we play on a floating stage moored to the river bank.
++ Aside from music, do you happen to have any other hobbies?
I have always been interested in music production, recording and mixing the demos for us and for other bands.
++ The only place I've ever visited in Kent is Canterbury. What are other places in Kent that you'd recommend one visiting?
There are plenty of places to visit, Faversham is an old market town which has the oldest brewery actually in the town and numerous pubs to sample the local ales. Then there is Leeds Castle outside of Maidstone which is a real piece of English history. We are only about an hour on the train away from central London, so you can visit there and then return to the calm of the Kent countryside.
++ And one last question, how do you see England performing in this World Cup?
Sorry, by the time I answered these questions we were already out. Thought we would have got through the group stages but not much further.
++ Thanks again Stuart! Anything else you'd like to add?
Just thanks for including us on you website and your interest in our music. I will email you some more tracks and hopefully people will like these too. Many thanks form all the guys.
::::::::::::::::::::::::::::::::::::::::::::::::::::::::::::::::::::::::::::::::::::::::::::::