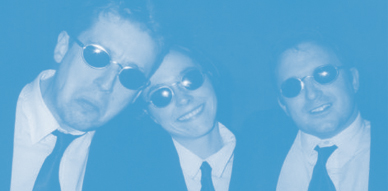 Thanks a thousand to Huw Bucknell for this fun interview! It is true, last weekend I listened to his album "A Brave New Girl" (from Firestation Records, I think it's still available) a lot, and a friend pointed me out where to find Huw. And rapidly we got the interview going and done. You can check on Last.fm for many, MANY, of his songs here. There tons of free downloads, lots of great jangle pop songs to spend a whole day dreaming.
++ Thanks Huw for being up for this interview! How are you doing? When was the last time you picked up your guitar?
Thanks for interviewing me… and I'm not doing too badly, thanks for asking. Now then… the last time I picked up my guitar..? That was this morning, actually. I tend to reach for it during those 20-minute 'null' periods while my girlfriend, Jo, gets ready to go out… usually starting off with an extended free-form improvisation based on 'Another Brick In The Wall' and gently morphing into 'Lost Highway' by Hank Williams. It's almost impossible to over-state quite how much this irritates her… particularly if it gets to the point where I start adding 'wolf' effects to my Hank impression. She's quite a sensitive lass.
++ Who are the Spanish Amanda? From what I gather it's mostly you Huw, but on the CD booklet it seems to be a full band. Care to tell me how did the band start and how was the recruiting process?
The Spanish Amanda was mostly me and my then-flatmates. We'd all done Theatre Studies at Lancaster University in the early 1990's and ended up living in a flat in Golders Green, north London. Jacky Wood and Elliot Falk were both musical types (as well as being fine actors… if you type 'Bel Amour' into YouTube, you can see Jacky as the girl with the blow-up boyfriend… which is extraordinarily cheering…), and Maria Trewin was another university friend who lived nearby. Lots of kind-hearted souls dropped in and helped out on various tracks.
++ Where does the name The Spanish Amanda come from?
My recollection – and it's a very vague one – is that it was chosen in about 1997 by my then-girlfriend. I'd been calling myself London Fields for a while (after the Martin Amis novel… I thought it sounded thrillingly cool and aloof…), but she decided I needed a change. We came up with a list of names, and she liked the Spanish Amanda (which I hated). She liked puns… but was less keen on me, as it turned out… which I guess is why she left shortly afterwards. Hey-ho.
++ Did you gig a lot? Which particular gigs do you remember the most?
As the Spanish Amanda… no. In other bands… occasionally. To be honest, I've always been pretty dreadful at playing the guitar and singing at the same time, and I'm not fantastically pretty to look at, either. The most fun I've recently had playing the guitar was at my friends' Bob and Scott's wedding… a Shirley Bassey number… but you've got a captive audience at weddings, haven't you..? No crowd-surfing, perhaps… but definitely captive.
++ Your only release was the "Brave New Girl" album on Firestation Records. How did you get signed to the fantastic Berlin label?
More or less by accident. In the late 1990's, we'd been sending off cassettes and home-made EP's to dozens of labels around the world, and were set to have an album released on Sandcastle in the US. We'd sorted out which songs were going to be 'Sandcastle' tracks, and they'd done a tiny cassette-only release of early demos… at which point Firestation (who we'd approached around the same time) got in touch and also offered to put out an album. The tracks that ended up on 'Brave New Girl', though, were mostly the oddments that Sandcastle didn't want… some songs I really loved, certainly, but frankly a bit of a hotch-potch. And then the chap who ran Sandcastle – a very affable bloke called Brian – decided to fold the label. So our 'main' repertoire of songs was never formally released… which is why I've put a lot of them on Last.Fm, free to download for anyone who wants them. Firestation were always extremely friendly, though.
++ I was also wondering, why didn't you get to release anything else? Do you have many unreleased tunes lying around your place?
Dozens! However, at the time when things were really starting to happen (people phoning up and asking us to play festivals in Europe, and so on…), I started training to be a teacher. And when I finally found some time on my hands, I'd somehow lost the urge to write or sing the kind of angst-y, soul-baring stuff I'd done in my 20's. Partly, I think it was because I was much, much happier… and also because I'd started living with Jo, my girlfriend… and nothing scuppers the angst-y, soul-baring songwriting than happiness and cohabiting.
++ Your songs were recorded in between 1998 and 2000 and across different places, Wales, England, even France. Do you feel these different periods and geographical locations had a strong influence on the album? Why so much traveling?
Wales and France were because I spent a lot of time looking after my dad when my mum died, and those were the places he was to be found ('Getting Naked With Anais Nin' was about my dad… he was in a fairly bad way at the time). Generally not very cheerful travels… but (as is often the way…) quite productive on the writing front.
++ You do dedicate a song to Aberystwyth. How important is this town for you?
It's where my mum's family were from… but with regard to the song, it's also where two fairly seismic personal events happened… one early in 1996, one early in 1998, at the start and end of an almost implausibly troubled relationship. I always liked Aber, though… there was a fantastic amusement arcade there, back in the early 1980's, called the King's Hall… a vast cavern of adolescent debauchery… I used to save up for months so I could fritter away my pennies on Pacman, the dodgem cars and hot dogs… Mmm…
++ I was reading the thank you lines on the CD, and you thanked Richard from Waaaaaah for his wise and kind words. I was wondering then, were you involved in the scene in the early nineties? Did you have a band prior to the Spanish Amanda?
The Richard from Waaaaaah thank-you was because he very kindly pointed me in the direction of people like Didier Becu (thoroughly decent chap behind the Original Sin zine, who really championed the early Spanish Amanda) when, frankly, we simply didn't know that any other like-minded people were out there. Anywhere. Most of the early nineties, however, found me alone in my bedsit pouring my heart into a 4-track, pale-skinned and bug-eyed, like a malnourished indie Gollum. There *were* drifting coalitions of chums that you *could* call bands, I suppose… Babyblind, London Fields… but nothing very formal or lasting.
++ Another thing that comes to mind, is your admiration to The Go-Betweens, having a song named after them, and also your contact address on the sleeve. What do the Go-Betweens mean to you? And what will be your top five songs by them?
I was very, very fond of the G-B's… although I came to them rather late, in the mid-90's, well after their split. Seeing them at the Shepherd's Bush Empire in 2000 when they reformed was one of the handful of gigs that'll really, really stick with me. As for top tunes… well, I'd probably go for…
i) Apology Accepted
ii) Part Company
iii) Dive For Your Memory
iv) When People Are Dead
v) Darlinghurst Nights
They're all lovely really, though, aren't they?
++ One last question about songs, who is Mister Banks? Did you work for him?
Not only did I work for him, I surreptitiously wrote a number of songs in his basement and stole a harmonica from him before I quit. Banks was (and is…) a music shop in York, and I worked there for a year after university. It was an absurdly Dickensian place back then, and they treated the younger staff members like a series of disposable Bob Cratchits. The whole 'working for Mr Banks' situation seemed to represent the brick wall my life had hit (birth, school, university… working for Mr Banks). My friend Antonia and I would head round the corner to the Lendal Cellars bar every night and drink ourselves into stupors… so I'd be perpetually hungover at work. No-one seemed to notice. The other young 'uns were cool, though… Paul, Catherine, John who worked upstairs in the Brass Band department. Saints, all of them.
++ Which other bands did you follow?
Back then… anything with a jangly guitar and a grudge. Bands like the Wedding Present would've been favourites… likewise Microdisney… and anything even faintly Smiths-y. My all-time favourites would have to be the Mekons, though. For the last 20 years, my sole ambition has been To Become A Mekon. Or a member of The Three Johns. But then they'd have to be called The Three Johns And A Huw, wouldn't they..? Hm. Lots of people said that the Spanish Amanda sounded similar to C86-y/Sarah-y bands like the Field Mice, but I'd never heard of Sarah Records at the time… a whole load of fantastic stuff had just drifted under my radar somehow. My iTunes 'Most Played' list informs me that I've been listening to an unhealthy quantity of Robyn Hitchcock, Momus and Something Beginning With L recently…
++ It's been ten years now since the release of the album, what have you been doing since then? Can we expect any release of yours in the future?
Teaching, mostly! I've also written a couple of novels (faintly Nick Hornby-ish ones about disaffected, lovelorn 20-somethings…), and done odd bits of artwork for music-y friends. As for musical releases… well, perhaps. I wrote a few new songs for a gig that was supposed to have happened a couple of years ago (and then fell through), a bit more lyrically abstract than my old stuff. Apart from that, I find myself strangely drawn towards recording a dub reggae concept album loosely based on the Lord Of The Rings trilogy…
++ How do you feel about the album after this time? How do you think it has aged?
I think it's very, very patchy. Am listening to it now, actually… despite my serious misgivings about my own voice… Hm. I think 'Go-Betweens' and 'Aberystwyth' still work, don't they..? I reckon the stuff on the unreleased Sandcastle album ('Rallye Sport') has held up far better, though… '1600 Mexico' and 'Jackson Road' are favourites. That's where I'd direct anyone who was Amanda-curious, really… the 'Rallye Sport' stuff on Last FM.
++ And when you are not making music, what other stuff do you like doing?
Lots of photography… the stuff with film and darkrooms and so on. I have an unhealthy fondness for the chemicals. I used to do a bit of film-making, too – 16mm and Super 8 – but it's mostly writing that takes up my creative energies these days.
++ Thanks again for the interview Huw, any exciting plans for this summer?
Well, the Mekons are playing a couple of London dates in July…
++ Anything else you'd like to add?
Just my thanks for seeking me out – it's been fun – and best wishes with everything Cloudberry-related. I shall be keeping my beady eye on you from sunny Brentford…
::::::::::::::::::::::::::::::::::::::::::::::::::::::::::::::::::::::::::::::::::::::::::::::