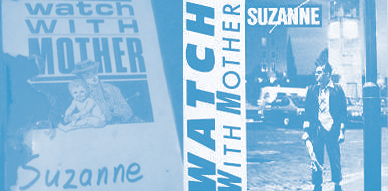 Thanks so much to Alistair Wilson for the interview! Some time ago I interviewed Ali about his band The Legendary Hearts and now it is time to talk about the band that came before, Watch With Mother!! With this band he released only one 7″ and made a promo video. That 7″ by the Edinburgh based band is still on my wishlist, hasn't been easy to track down. On this interview Ali talks about his new projects, Edinburgh in the mid 80s and more. Hope you enjoy it!
++ Hi Ali! Thanks so much for being up for another interview after the one we did about The Legendary Hearts! Let's start with the present before we talk about the past. I noticed The Legendary Hearts are back and there are new songs on your SoundCloud and Youtube. When did this comeback happen and what can you tell me about these songs?
I had lost interest in songwriting some years ago, but my interest was rekindled in 2014-15 when I spent 18 months working with a great Scottish songwriter, now based it Brooklyn, NYC, named Freddie Stevenson. He has several albums available and also co-writes with Mike Scott of The Waterboys. Shortly after Freddie headed back Stateside, I wrote 4 new tracks and decided to record them and release them on 2 CD singles, as well as downloads and streams. The first one "Make A Home / Rescue" was released in October of 2016, receiving worldwide radio play and some decent reviews. The second, "Faded By The Sun / Oceans And Small Streams" , released in February 2017, performed similarly well. The songs were influenced by my three children, the area of Scotland where I live and also by the curtains in my kitchen, which had been "Faded By The Sun"…although, at the end of the day, the song isn't actually about curtains! We also released a "soundscape" entitled "Coney Island Rain" a couple of months ago. Basically its a piece of music rather than an actual song. Videos for three of the tracks are available on YouTube. Search "The Legendary Hearts – Scotland". Be aware that there are 3 or 4 bands all named The Legendary Hearts! We're the Scottish ones. The original and best! 🙂
++ And are there any releases coming in the future? Perhaps a Legendary Hearts album?
I hope so. I've been talking about doing an album since 1987, but I want to release something I'm 100% happy with, so it may take another 10 years!
++ Aside from The Legendary Hearts, are you being involved in any other music adventures at the moment?
I make my somewhat meagre living from teaching drums and playing drums with various bar bands and function bands. I hope to work with Freddie Stevenson again in the future. I recently played two gigs on drums for New York based, maverick, raconteur and troubadour, rock'n'roller, Willie Nile, in Edinburgh and London. That was a lot of fun!
++ So let's go back now, because we talked about The Legendary Hearts in detail last time, but before there was The Legendary Hearts there was Watch With Mother in the mid 80s. At that time you were living in Edinburgh, before that you had been in Stirling with the band The Curious Reign, is that correct? But where in Scotland were you originally from?
I'm from Edinburgh but spent 6 years living in Stirling, where I played with my High School band "Graven Image" and then, aged 19, I joined "The Curious Reign".
++ And another curious question that springs from the previous one is about The Curious Reign. Never heard about them, but did you release anything? Were there any recordings? And music-wise how did you sound?
There are videos and songs on YouTube posted by Brian Robinson, the old Curious Reign guitarist, now based in Canada. Search under his "silverscot 11" channel. I don't think anything was ever released, but we were invited to support "The Thompson Twins", before they became a successful chart trio, on a UK tour…at which point our singer left and the band and the tour never happened. We also supported "Orange Juice" once in Stirling and also "Those French Girls" who were also from Stirling and had a deal with Safari Records.
"The Curious Reign" were influenced by The Stranglers, Magazine, Bauhaus and Van Morrison. We had prominent keyboards on all tracks…but we were not synth-pop!
++ So Watch With Mother, how did the band happen? Who were the members and how did you meet each other?
The band formed in 1985 in the small coal mining village of Rosewell, 10 miles south-east of Edinburgh. Most of the 7 members lived there or in the surrounding countryside. A couple were Edinburgh based. They gigged mainly in the Edinburgh area, through the latter half of 1985, and I answered an advert for the drumming job in March '86, after their original drummer left. The line up in 1986 was Ged Hanley (vocals and guitar), Annette Haig (vocals), Patricia Patterson (vocals), Lawrie Ball (keyboards), Maurice Dudley (bass), Alex Weir (saxophone) and myself on drums.
++ Where does the name of the band come from?
The name came from BBC Television. In the 1960s, they broadcast a kind of "Children's Hour" strand entitled "Watch With Mother" and featuring shows with characters such as "Andy Pandy" and "Looby Loo". Kids' TV for the under 5s basically!
++ How did the creative process work for the band? Was it similar as in The Legendary Hearts?
Ged Hanley wrote most of the material, although we all submitted songs at various times. We took them to our rehearsal room and knocked them into shape rapidly, as we were always gigging and were keen to get new material out there fast.
++ And which bands would you say influenced the sound of Watch With Mother?
Quite honestly, everything we'd ever heard. From Killing Joke to Neil Diamond. From Half Man Half Biscuit to Simon & Garfunkel.
++ The 7″ was released by the label "Surfin' Pict" which was your own and we talked a bit about it last time, but this time I was wondering who came up with the awesome logo for the label?
I designed that label whilst working as a city planning assistant in Edinburgh and drew it whilst sitting at my desk instead of working!
++ The 7″ had 2 songs, "Suzanne" and "Something So Wonderful". Was wondering if you could tell me the story behind these songs? Was Suzanne a real person perhaps?
You'd need to ask Ged wherever he is. He wrote them and I guess there's a little bit of fact and fiction contained within each. "Suzanne" was meant to be the B-side but was flipped around at the last minute.
++ The two songs on the single were recorded at Frontline Studio by Paddy O'Connel. What do you remember from the recording session? Any anecdotes that you could share?
Paddy had had a hit with "17" by The Regents. I cant remember if he produced the song or was in the band. Later, he wound up a few miles east of Edinburgh and set up a studio there. I remember little about the recording session aside from the very early Roland electronic drums I was forced to use which, due to vibrations, made sounds randomly when other parts of the kit were being played. I think they call it "cross-talk". Really annoying. I wish I'd been able to use an acoustic kit. I think Paddy, Ged and Maurice did most of the production, although we were all credited. It was all so long ago!
++ The record sleeve has a very cool photograph that was taken by Louise McKay. Do you happen to know where is the location of that place?
Yes. The photo was taken outside The Usher Hall, a beautiful concert venue, on Edinburgh's Lothian Road.
++ What is very cool is that a promo video for "Suzanne" was made. How did that go? Was it aired a lot on TV? And how was the experience of making it?
It was a fun video to make, although I don't recall it ever being aired on TV. I remember we tied a double bed to the roof of our van to use on the video shoot. When we got to the studio, the bed was gone. We turned the van around and found the bed a quarter of a mile away, in the middle of a road in central Edinburgh, obstructing the traffic!
++ I see on Discogs that a song called "Sleeping" by Watch With Mother appeared on a 1981 compilation titled "In Colour/Music By Numbers". I'm guessing this is a different band with the same name, do you know what is this about?
No, that was not us.
++ And was there any compilation appearances by the band or not?
Not that I can recall. We gigged hard, but didn't do loads of recording. I recall a few sessions, at one of which we recorded about 10 songs in a day. The results were not great.
++ You were telling me that in 2008 you went to the local recycling facility and gave away 100 copies of the single to be destroyed. What made you take that decision!? And how many copies from the pressing are left now?
Yes!…I was moving house and getting rid of stuff and I had a box of 100, possibly even more, original, unplayed, copies of "Suzanne". I decided that after 22 years they were going to be of no use to anyone, so dumped them in a bin at my local recycling facility. Two weeks later I discovered a used copy selling for $80 on eBay. So technically, I threw away over $8,000 worth of records. Now I only have one left. Thanks for reminding me!!!
++ And how come there were no more releases by the band?
The band started to fragment in late 1986. Ged left, followed by Maurice. We continued for a couple of months with a new bass player and Annette and Patricia took over lead vocals, but my heart wasn't in it, so I then left and immediately recorded a demo of my own songs under the name "The Legendary Hearts" with Maurice and Lawrie from WWM.
++ Were there any other recordings by the band?
A second single, the name of which escapes me, was recorded for release on Paddy O'Connel's "Big Noise" record label, but never was released. In fact I don't think it was even completed. Altogether there are about 20 tracks recorded by Watch With Mother in demo form.
++ What about gigs, did you play many? What were your favourites and why?
I played well over 100 gigs with WWM in the year I was with them. We did one short British tour in mid-1986. "The Jailhouse" in Edinburgh was a favourite, as was "The Cunzie Neuk" in Fife and "The Front Page" in Carlisle, England.
++ Were there any bad gigs?
The gigs were always rowdy and a bit mad. we played a biker bar in West Bromwich, England…Thankfully they quite enjoyed the show…and the fact that there were two ladies in the band helped!
++ Did you get much attention from radio or press?
We got a great, short and sweet review from a gig we did at Liberty's in Derby, England. It was written by a fella named Patrick Weir and it appeared in the hallowed *NME* in October of 1986. Otherwise we had some local stuff printed and won a Battle Of The Bands competition in Fife.
++ Then what happened? When and why did you call it a day?
The band started to fragment in late 1986. I think it had simply run its course. It was a bit like being in the middle of a firework display. Lots of bangs and crashes for a short while…and then it's all over.
++ Are you still in touch with the band members? Did any of them continue making music like you did?
I still see a couple of them now and again. As far as I know, all members are still performing and making music and are still based in or around Edinburgh.
++ Lastly, what would you say was the biggest highlight for Watch With Mother?
The NME review…plus a brief reformation to support The Waterboys and We Free Kings at "Pict Aid" at Letham Village Hall in 1987.
++ Thanks Ali! Anything else you'd like to add?
Not really. It's all in the distant past now…and I need to lie down now, having been reminded about all the records I threw away!
Thanks Roque…until the next time. Slainte!
::::::::::::::::::::::::::::::::::::::::::::::::::::::::::::::::::::::::::::::::::::::::::::::
Listen
Watch With Mother – Suzanne