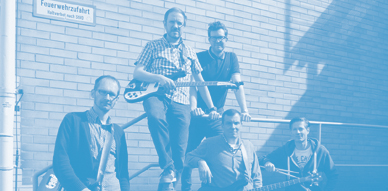 Thanks so much to Martin Nelte for this great interview! Always a Brideshead fan, I was so lucky to see them live at NYC Popfest last year. It was amazing really! Now they will be playing Madrid Popfest very soon, in March, and on top of that they released a new album that is among the best of last years. A triumphal return indeed! And because of that, it was a good idea to have a nice chat 😉
++ Hi Martin! How are you? Must be thrilled about the announcement of you playing at Madrid Popfest, right? Have you played in Spain before?
Yes, we are very excited to play in Spain at the Popfest and meet other bands and likeminded indie poper. Madrid in March must be marvelous too. We've never played in Spain before.

++ What should people expect from Brideshead at the Madrid Popfest? Are there any surprises you will bring to the festival?
First of all we hope to give a good performance. We are much better rehearsed than a year ago. Some of the songs from the new album we have never played live before and we will play them in Madrid. Surprises? I can't tell you otherwise it is not a surprise… maybe we can convince our background singers from the album to perform with us because this time they are coming to Spain with us. Our entourage you know…

++ And aside from playing in Spain, are you doing anything else? Perhaps some touristy stuff?
We will be there for a a long weekend and I'm pretty sure we will find some time to walk along the Gran Via, maybe visit the Rastro flea market and have some chocolate con churros.

++ It's been a good two last years for Brideshead it seems. Not long ago I was lucky to see you play NYC Popfest. I loved the gig. How was that experience for you?
New York is a unique place and the audience at the NYC Popfest was very kind. We met so many nice people there (including you!). We hadn' t played live for ages and then you are on stage in New York (I always have a bit stagefright!) and everything sounds completely different than in our pratice room – wow, that was thrilling. To be away with the band is always a bit like being out with your buddies on a stag party.

++ It was the second time you played New York City. What do you remember from the first time, has Popfest changed a lot? How did it compare to your last gig?
The first time was also in Brooklyn. We had a little US-tour at that time and played in Boston, Washington (and slept at Jimmy Tasso's house) and Philadephia too. The old Popfest was smaller – only one evening in one venue. Ed from Shelflife lived in Brooklyn at this time. He organized everything. The whole band slept on the floor in his living room. It was the first of September and very hot and humid. Now we are elderstatesman… we slept in a hotel last year.

++ There's so many questions to ask about the band as you've been going for long. But perhaps we should start from the beginning. What are your first music memories? And when did you decided that you wanted to sing?
Boah, I can't really remember the very first music memory. But one of the very first memory is a holiday trip with my parents from Germany to Italy. My father bought one Italo-Disco tape at a gas station in Italy and during the whole holiday I must have heard it like 500 times. I was never good with an instrument. When we wanted to form our first band it would have been useful to play an instrument, so my only choice was to sing.

++ And before Brideshead, did any of the members were part of other bands? I read you were part of a band that tried to sound like Biff Bang Pow, are there any recordings from that?
Paul, Brideshead's bassplayer, was the drummer in the first band.
Yeah, I was very much into all this indie pop stuff. I just discovered Sarah Records and I had this idea how the band should sound like. But the others were more into American college music like Dinosaur Jr, Weezer and Buffalo Tom. They hired a new singer and the band split up. Yes, they are recordings on tape from the practise room. But believe me: You don't want to hear it.

++ How did Brideshead start as a band on the first formation? How did you all meet?
After my second band The Finnegans split up I was looking for something new. Heiko, a school friend of mine, wanted to form a new band and asked me if I would sing (but I should sing more like David Bowie…). He was playing guitar. Heiko knew someone who fancied the same girl like he did. Heiko said this guy was playing guitar, liked The Smiths and drove a Vespa. Our man. It was Hanns-Christian Mahler. Dirk, another friend of Heiko joined us as a drummer. Oliver from my first band (he was a friend from school) joined as the bass player. We had the first incarnation of Brideshead.

++ And then why did the formation changed for the next releases?
Heiko left the band because of musical differences after our first EP "This Is Mall Music". Dirk left because he was starting his studies in a different city and Oliver left us for another band. Paul Engling joined us as a Bassplayer (he gave up drumming) and we had a new leadguitarist and drummer. We've recorded a few tracks with this formation. Some of these tracks were released on the album "In And Out Love". Hanns-Christian and I had this little project named "Elegant", where our lyrics were written in German. Oliver of Marsh Marigold Records was so pleased about our first 7″ on our label Apricot that he wanted to do an Elegant and a Brideshead album. We were happy but our drummer and the lead guitarist had just left the band. So we asked Zwen Keller if he wanted to play guitar and Paul introduced us to Daniel, who became our new drummer. In this formation we've recorded "Some People Have All The Fun" in my parents basement. Daniel left the band after the US tour because he had found a job in Hamburg. For a few years we had no real drummer. This is one of the reasons why  Brideshead was sleeping so long, and was only re-activated after Burkhard Meldt came as our permanent drummer.

++ And who came up with the name? And why the name?
The name was my idea. I loved the TV series and its influence on the British Popculture in general, think about the knitted jumpers (…the cover of the first Haircut 100 album) and the haircuts in the series. I also liked the idea and aspects of a neverending summer, an endless youth ("Never Grow Up"), the style and the campness of the series and the book.

++ I remember I discovered you through the song "Shortsightedness". What is that song about? I remember that when I found about it, more than a decade ago, I saw this video that looks like you are on TV set. Perhaps you are? I always wondered about that clip…
Yes, our one and only TV appearence on German television. It was playback and we had real fun (lots of make up etc.). The song is about an overwhelming fantasy and the advantage of being short-sighted.

++ Not long ago you also made a video for the song "At 45rpm". Curious about the locations of the video, that even though you have a New York map on it, you are definitely not in NYC. What record store is the one you visit too? Do you recommend it?
You've recognized the NYC map? Cool. No, it is certainly not New York. We've filmed in Frankfurt and in Wiesbaden at my place. Oribinally we wanted to shoot in one of Zwen's favourite record stores in Frankfurt but unfortunately this was not possible. Therefor we chose a different one, the "Bigblack Record Store" – just around the corner from Zwen's place. It is more like a second hand shop for records, books, etc, but I found a few good records.

++ This song comes from your latest album, "Never Grow Up". I guess the title speaks for itself. But of course I wonder now that the band has "grown up", how was the experience creating this new album? Was it easier or more difficult than previous times? And how long did it take?
It was much more difficult as we are no longer students with free time. We have our daytime jobs and Hanns-Christian lives near the Swiss border which makes it difficult to pratice and record songs. It took nearly two years to practice and record the 10 new songs.

++ I love that the first song in this album is called "Class of 86". I have to ask then, what are your favourite records that would fall into that category?
McCarthy's "I'm a Wallet" is one of my all time faves. Mighty Mighty, Close Lobsters, Wolfhounds and Railway Children have great records. Bodines were a big influnce and One Thousand Violins were great also (with the 1st singer). I don't know if the Go-Betweens and Felt are considered as C 86 but they are icons.

++ Do you consider yourself "sons" of the C86 bands? Or what would be a good way to describe the band's spirit?
We grew up in the 80s, so we've inhaled this kind of pop music but we never stopped listening to contemporary (indie) pop music. Eggstone for example were a great influence for us. If a son emancipates himself from his parents… maybe we are "sons".

++ You've worked with several labels through the years. Which has been your favourite one to work with and why?
Oh I really don't know. A label is a lot of work and we appreciate all the effort these great labels have invested in us. However Shelflife has always been faithful to us and we will never forget our US-tour with them.

++ I'm sure it will be very hard to pick one song, but let's do five. Which are the five favourite songs of yours that you like playing live?
In no specific order: Arrogance, At 45 rpm, When I'm In Love, Descartes, On Your Trail

++ What other countries aside from the US and Germany have you played? And in general, what would you say has been your favourite gigs, and the most strange gigs you've played?
We've played in London at the Duffle Coat Records All Dayer. Besides the Popfest Gigs the 10 year Marsh Marigold Records festival (at Markthalle Hamburg) was great too. The strangest gig was maybe at the university in Erfurt. No one cared about our gig and after us came the caretaker (of the university) with his really bad band and the audience freaked out.

++ You shared two split singles with Den Baron. Is there any other connection between the two bands?
Oh, I really can't tell you……..

++ The cover art of one of those split singles is of course that of two football players. Safe to assume you love football. So which team do you support? And do you go to the stadium often?
I'm not really into football and I don't go to matches (Johannes, the 3rd apricot guy is into football). But I like the connection between Pop and football ("When Saturday Comes").

++ How did you celebrate the German team World Cup a year ago?
Certainly I saw it on telly. The final was nerve-racking. After the goal I had a beer and went to bed.

++ Tell me a bit about Wiesbaden. Are you still based there? Are there, or were there, any good indiepop bands? What are the sights to see? What is the local beer and what are the traditional dishes?
Paul and myself still live in Wiesbaden. We've had a lively indie scene with two labels, but nowadays we are no longer connected to the younger bands.
Wiesbaden was nearly undestroyed in WWII. We have lot of buildings from the 19th century (the house I live in is from 1899) when the German Kaiser used to visited Wiesbaden. It is one of the oldest spa towns with 14 still flowing hot springs (the romans already bathed here). It is internationally famous of its architecture, climate (also called the Nice of the north). When here, you have to visit the "Kurhaus" (with the Casino), "Neroberg" our local vinyard hill and have a glass of the famous Riesling wine in the near Rheingau, famous vineyard area and our parks. Wiesbaden has no local beer, we have Riesling wine and "Apfelwein" which is a kind of apple cider. Traditional dishes are "Handkäse mit Musik" (kind of pickeled cheese with raw onions) and "Eier mit grüner Soße" (eggs with a green 7 herb sauce).

++ So far, in these 20 years or so of Brideshead, what has been the biggest surprise, or the biggest highlight for the band?
That we were able to complete "Never Grow Up" with all members on board was a real challenge and the biggest highlight in our latest history. Without the album we hadn't the possibility to play in NYC the second time for example.

++ And what can a fan expect in the future? Are there more recordings planned perhaps? Other festival appearances?
To get 5 people's diaries under one hat is not easy but we will write new songs this year. We have applied for Indie Tracks but I don't know if they want us.

++ "In and Out Love", was a mix of old songs and new songs. Do you consider it an album or a compilation yourselves? And, will there be something similar in the future compiling more songs from singles, compilations and other material? If that material exists of course…
We wanted to record a completely new album but our drummer left. This is why we took some old songs on the album. Maybe there will be something in the future but we try to offer the listener as many new songs as possible.

++ One last question, what came first, Apricot Records or Brideshead?
The Band. But we needed a label and a label address for our first EP. With the money from the repressing of the EP Johnnes, Hanns-Christian and myself started apricot properly.

++ Next time we should do an Apricot Records interview, for the time being, thanks again Martin and I hope you have a great time in Spain! Anything else you'd like to add?
Thank you Roque! Hope to see you again sometime. And yes, lets do an Apricot interview!
::::::::::::::::::::::::::::::::::::::::::::::::::::::::::::::::::::::::::::::::::::::::::::::