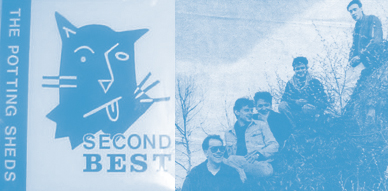 Continuing with the East Anglian bands, now a fantastic interview with David Miles from the underrated but fantastic The Potting Sheds! Thanks so much to David! To hear more songs by them you can always drop by on their myspace.
++ David! Thanks so much for being up for this interview. How are you enjoying this holiday season? Any big expectations for 2010?
My New Year's Resolution is to visit the pub for a nostalgia fest with Grant Madden as he has recently moved to Lowestoft. Last time I saw him was over a year ago at a Woodentops gig.
++ Let's talk about the band, you started as a two piece right? It was you and Will Taylor. How did you two know each other and what was it that drove you to start a band together?
I was at school with Will. I bought my first guitar from him for £10 (it wasn't a particularly good guitar!).
++ But the line-up changed a bit during the whole run of The Potting Sheds, why was it difficult to keep a stable line-up? Which one you'd consider to be the 'classic' line-up?
The changes were intended to improve the standard of musicianship in the band. I always wanted everyone else to be at least as good (and preferably better) than me. The 'classic' line-up was early 1992 with Phil McClarnon (vocals/guitar), Will Taylor (guitar), David Miles (bass), David James (keyboards) and Steve Chapman (drums).
++ Was The Potting Sheds your first band? Oh! and why the name, The Potting Sheds?
Will and I played one gig as Nigel and the Budgieburgers. Will suggested The Potting Sheds in honour of our first song 'Don't Mess (With My Potting Shed)'.
++ How was the Lowestoft scene? Were there any other bands worth around?
It was exciting. Grand Designs supported us under the pseudonym D.S.S. Gardening (spot the anagram) at Oulton Broad Community Centre before they became A and sold a lot of records. We returned the favour at Lowestoft Sports Centre and that was a fantastic gig. Dan Hawkins of The Darkness made one of his earliest recordings with Will and I at the controls on a hired-in 8 track. I think he was 15 at the time and was already a remarkable guitarist.
++ Once a band called Catherine Wheel supported you. You even had a gig along the likes of The Cranberries. What are the memories of yours about these gigs with these bands that were to become big?
I nearly became the bassist for Catherine Wheel. I went for a chat about it with Brian and Rob but I don't think they were particularly impressed when I said they would be my third choice band after The Potting Sheds and Kites! They played me some of their demos but I thought they were trying too hard to sound like Ride. Even though they were very good, they were a little cynical. Only a few months earlier, they were playing rock music as Ten Angry Men! I introduced them to Barry Newman at The Wilde Club in Norwich who gave them their earliest gigs and released their first two E.P.s. They supported us during a snowstorm at Carlton Colville Community Centre shortly after they released 'She's My Friend' and it was a remarkable night.
I played with The Cranberries twice. The first occasion was as bassist in Kites at Norwich Arts Centre and they were really lovely and said they really enjoyed our set. However, on the second occasion with The Potting Sheds, I overheard Dolores backstage saying we were "shit" after Phil snapped the strings on two guitars due to his over-exuberant strumming. I decided I didn't fancy her after all at that point.
++ Any other particular gigs you have fond memories of?
We headlined two gigs to celebrate the release of the 'Burn It To A Crisp' compilation album in Norwich and Lowestoft. I particularly enjoyed these gigs as Will and I were wearing three hats as performers, promoters and record label bosses.
++ Your first releases were actually two tapes that there is not much information about, the "Good Effort EP" and the "Meryl Streep EP". What songs were included in these? How many copies were made? And why dedicate one of the tapes to Mrs. Streep?!
There were four tracks on each E.P. and they were all recorded by Richard Hammerton, the singer from Red Star Belgrade, War Party and Stare. I can't remember how many were produced – probably a few hundred at most. Will and I shared the vocals. The eight songs were 'Like Leonard Cohen', 'Wet Weekend', 'Sarah's Car', '(Don't Mess) With My Potting Shed', 'Bait', 'Tumbledry Me', 'Down The Line' and a Robyn Hitchcock cover 'Tell Me About Your Drugs'. We changed one of the lyrics to mention Meryl Streep and the E.P. was named after this. I pressed a copy into Mike Mills of R.E.M.'s hand when he was playing a secret gig at the Borderline in London as Bingo Hand Job and asked him to pass it to Robyn. I imagine it is still on continuous rotation on the R.E.M. tour bus.
++ Care to tell me a bit about Mad Cat Records?
Mad Cat Records was our own label. Under the Mad Cat name, we recorded other local bands, promoted a few gigs and released a compilation album of Norfolk and North Suffolk indie bands.
++ Your first release on the label was the Unsaid flexi that came along the Eyesore You fanzine. How did you ended up releasing it along this zine?
Barry Newman of The Wilde Club suggested we should release a flexi. Fraser and Matt were putting together a new Norwich fanzine so we decided to get together.
++ You made so many wonderful songs, Same Old Story being my personal favourite, so I would love to know what inspired you to write this one? What is it about?
Phil wrote the words so I have no idea what it is about. I have a strong memory of sitting on the floor of my parents' house with Will, Phil and Val (the singer from Beestings) to work out the backing vocals a couple of days before we recorded the song and suddenly thinking "This sounds really good". It was our first track to receive daytime national airplay on BBC Radio One.
++ But what about you? What's your favourite Potting Sheds song and why?
'Dream On' or 'Showerhead'. We only got as far as recording the backing tracks for these songs before Phil quit but they sounded amazing.
++ Oh! and what does Goldfish Memory means?
It is a reference to the fact that goldfish are said to only have a 7 second memory. This is fortunate as it means they don't get bored when swimming in circular bowls.
++ There were plans to release a second 12″, I think you even recorded demos for it, so what happened with it? Why was it never released? Will there be a chance to listen to these songs someday? Maybe there will be some sorts of retrospective?
The 8 track demo backing tracks exist but Phil never added his vocals to them. It was a shame as we had plans to release both 12"s together as a mini-album in Japan. Sadly, it wasn't to be.
++ What was your biggest highlight as being part of The Potting Sheds? Maybe getting John Peel to play you?
We didn't actually hear John Peel play 'Second Best' at the time. The first we knew about it was when I received a fan letter from Poland! I remember taping him playing 'Matches' and feeling quite proud. I saw him a few days later at a gig in Norwich and thanked him and asked if he was going to play it again. He replied "Errr…." Peel didn't seem to enjoy being cornered like that but he really was a great man.
++ When and why did you call it a day?
Phil just didn't turn up for a recording session in Summer 1992 and we took that to mean he had quit.
++ What did you all do after? Were you involved with bands?
Phil joined Fish Logic and then became a street busker with Roxy's Toolbox. I formed Halftime Oranges with Grant Madden and Will Taylor and David James both recorded and performed with us.
++ Thanks again, anything else you'd like to add?
If you are out there Phil, get in touch. We should give these songs a 20th anniversary outgoing to celebrate the 2012 Olympics!
::::::::::::::::::::::::::::::::::::::::::::::::::::::::::::::::::::::::::::::::::::::::::::::