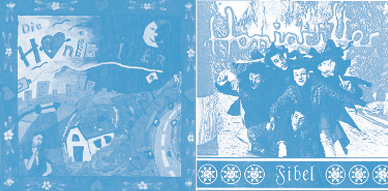 Wow! It is so great to talk with Krischan! After one great interview about his Frischluft label now we talked about the brilliant Die Honigritter! Prepare your coffee, tea, or grab a beer, and enjoy this interview!
++ Hi Krischan! Good to hear again from you. So how have you been doing the last months? Any great musical findings?
I was enjoying my Christmas holidays and I'm glad about the snow covered world and having had the possibility of skating on the ice in Friedberg's castle (humming the Vic Godard tune "Nice on the Ice" in my head).
It's always risky to ask me about musical findings. You know I'm an ever hungry digger… Some of last months highlights for me were The Crystalairs' "Fortune Cookie", Yu's "Fine" (alluringly deconstructing The Strawberry Alarm Clock), The Cave Weddings' "Bring your Love", Soulboy Collective's "Casino Action", Princess Superstar vs. Shawn Lee "Life is but a Dream" to name but a few.
++ So last time, we were talking about Frischluft and you told me you were in Honigritter! As I told you before it was maybe my favourite band on your label. But I want to hear the whole story about it! You said it started from the ashes of Die Fahrraddiebe. Care telling me a bit about them?
Thank you for the flowers!
In June 1986 guitar-boy Tobi, moony Greek boy Thanos, tall little drummer boy Bruder Burch and no-ability me joined a one week-course in school called into life by wanna-be-evil Ted Bodo. Bodo's aim was to record a version of "Jailhouse Rock" on the last day. But he never got further than screaming "The warden…" at his most raunchiest due to a collapsing rhythm section, who couldn't keep the beat. The musical teacher Kammel day after day was counting his endless 1-2-3-4s bordering desperation, the others were laughing or visiting the schoolyard to flirt with some girls from the younger classes. On Wednesday it was dawning to the most of us, that this project will not come to the desired end. Sirken Sikora, who was taking another course, proposed that we could steal the golden 50s-drum-kit on Thursday to record a full-band-version of Die Maikinders "Sommerlied" in his cellar. A word and a blow – we invited some more scallywags as there were Hilde (don't be mislead by the girl's name – he was a boy) and Schaumburg for the backing choir and some hours later Die Fahrraddiebe were born. Some weeks later we recorded "Johnny, der Held". "Matrosen" never got over the bedroom-status and is deemed to be lost in tape-heaven.
++ Who were the Honigritter? Was it easy to get the band together? Were you all friends? Did you all have the same dreams, taste or expectations?
Die Fahrraddiebe expired during the pop summer of C86, but building on the junction with Thanos and Bruder Burch from Bodo's failed course in autumn a new combo was put together by the former Fahrraddiebe Tobi and me. We also added Burch's brother Matn with his golden trumpet, who joined classes with me since that schoolyear, and the brother's home (to their parent's sorrow) became our headquarter. I remember being heavily impressed, that Bruder Burch owned a single each by Stahlnetz and The Three Courgettes, when I had a first look over his 7"-collection. Our musical preferences were ranging between The Smiths, The Pale Fountains, Andreas Dorau, Fähnlein Fieselschweif, The Polecats, Detlef Engel, Aztec Camera, Bourgie Bourgie, Fantastic Something, Gus Backus, The Jazzateers (and so on) at the time and we met somewhere in between as a starting point.
On a Saturday in winter we wanted to record our first songs and hired a 4-track-machine. Musical wizard Sirken Sikora, was chosen as our knob-twiddler. He owned a copy of "Take the Subway to your Suburb" qualifying him for that job. As suggested before Thanos always was a little bit dreamy, so we didn't get worried, that he wasn't there at the appointed time. But after an hour we tried to call him. His mother was on the phone telling us, he's sitting on his bed, crying and not wanting to talk to anyone anymore forever. He was lovesick. So Sirken Sikora for his first time ever took a bass-guitar, fiddled about with it a little bit and soon afterwards played all the parts straight onto the 4-track. On from then he stayed with the Honigritter. I never heard of or saw Thanos again.
++ You were still in high school when you started the band, right? How proficient were you all with the instruments at such a young age?
I never played an instrument (assuming that a record player doesn't count). Tobi learned some Beatles songs to play on the guitar from an old bearded, long haired hippie. The brothers Matn and Bruder Burch came from a well educated background. So they had to take musical lessons as children for status quo. Matn played the trumpet, Burch had only three fingers on one hand, so he hit the drums. They were hunting for new purposes to pervert their knowledge into pretty soon, that was C86. Sirken Sikora was our musical wunderkind. Besides the instruments in a classic Beat band he taught himself to play piano, flute, cello… The list is endless. Just give him a new instrument and half an hour of time and you will see him playing like he's never having done anything else before in his entire life.
++ How come at that age you were already exposed to The Chesterfields for example? Was the jangly pop music from UK easy to find where you lived?
The only jangly music our little town Friedberg's record shop had in stock were from The Smiths and The Housemartins. But we begged for more! As we stumbled across the first fanzines (The Legend! being our first journalistic hero) we were regulars at our local bank to exchange some D-Marks into 5-Pound-notes to send it to labels like Creation, 53rd & 3rd or Subway (l even got the "The Sun is in the Sky"-EP from Martin, which was claimed to be as unreleased in the UK). This was the time, when our liaisons with the mailbox started (for me personally this lasts until today). An anorak wearing friend of mine even blamed his mother for not opposing him a new 7" for lunch, when he returned from school.
++ So, honestly, did you start Frischluft! mostly to release your own band? Or it was just one of the many reasons?
To put it simple: this was the main reason! I will always prefer a well produced record (this includes intentionally shambling productions as well) over the so-called pure and honest sound a band offers on stage. Besides this I am obsessed with the various obscure systems of catalogue numbers from small labels and how to decode them (Factory, 4AD, Cosmic English Music or Fierce later on or labels like Service or Sincerely Yours today). FRL was an abbreviation of both Frischluft! and Fräulein (= unmarried, young woman – a term that was mainly used until the sixties). Thus the picture of a young woman combined with the catalogue number…
++ Why the name Honigritter?
I always loved both bandnames, which evoke an imagination, and bandnames made of compound words. The Honig(= honey)-part represented me being a sweets-addict and a gentle-minded person (at least at first sight), the Ritter (=knight)-part stood for the obviously more sinister Tobi (who stressed more on the robber baron aspect), but led into the land of fairy tales as well.
++ I heard Matn usually wore a white sailor suit. What about the other members of Honigritter? What was your style?
Anoraks, anoraks, anoraks! Combined with black 501s, striped T-Shirts, rubber soled suede shoes or broques and turtlenecks in the winter. One of my anoraks had a milk van on it's sleeve. Tobi tended to dress up as a 50s motorcycle boy. The regular hairstyle was shaved backs and quiffs. I was wearing hornrims as well as sometimes a bunch of flowers in my hip pocket in true Morrissey fashion.
++ What about the songs released by the label Two-By-Art? How did that happen? In which releases do they appear? I would love to track those down!
I got to know Two-By-Art through a fanzine. The first release I bought was "Der Elefantenmensch" by the Merricks. After listening to it, I thought, maybe they would be interested in the Honigritter as well and send them a tape with the recordings, where Sirken Sikora was replacing the lovesick Thanos. They chose four songs for their "Die Welt ist blau wie eine Orangsche" (=The world is blue like an orange). These songs can be heard on the "Durch's Schlüsselloch in des Mondgärtners Sternenhain" (="Through the keyhole into the moongardeners stargrove")-Frischluft!-retrospective.
++ What was the idea behind the Honigritter Fibel? Why did you make only 5 copies?!
A Fibel basically is a small children's book for learning to read, which was used in former decades. The idea was to "educate" the listener with some background info on the band in the style of the booklets, that came with the first London Pavilion on él or Adam Ant's "Kings of the Wild Frontier" or the pretty, pretty inserts with the Subway singles (my favourite being the one with the children reading in their bunk beds from "Ask Johnny Dee"). The reason for it's limitation to 5 simply was the production costs, which rose proportionately with our excess of ideas.
++ What is your favourite Honigritter song and why?
It may be "Die Liebe des Cowboys". It was designed to be our Monochrome Set's "cast a long shadow". A short uptempo song with male voice choir in the refrain and a twangy guitar solo.
++ What about gigging? Did you gig a lot? Which gigs do you remember the most?
No, we weren't regulars on stage. Our first concert was at a summer-party at school, where we were backed up by three girls called Die Bienchen aus dem Sauberland (= The little bees from tidy land).
In 1988 we were playing a well known venue in Frankfurt. "Partymädchen" was a weekly regular at the ballroom, so they invited us. We hired a small van to transport a complete 50s style living room to build up on stage. So Sirken or Matn could sit on the sofa during songs they had no part in and read Tin Tin-comic books or watch the Wirtschaftswunder-era films with Heinz Erhardt we put on the telly on stage (you can see them doing so in the slideshow presenting the bands on www.myspace.com/frischlufttontraeger). In the background there stood a two meter xeroxed and hand painted Lurchi Salamander-character in a knights armour glued on cardboard. The whole scene was illuminated by a Super 8-film Matn and me had put together (Hanna Barbera-strips from the fleamarket painted with felt tips combined with the screening of a self-built psychedelic liquid wheel with water, oil and food colouring, a filmed slide show with antique fairytale-illustrations and the likes as well as slow motion flowers in the wind). The stage was sticky. The knob-twiddler told us, it would be the blood from the dog Skinny Puppy had slaughtered on stage the night before. Matn's and Burch's sophisticated parents secretly came to the venue, but didn't dare to get in…
Some months earlier we played in Gelnhausen, where Barbarossa had a palatinate (so this seemed the right place to play for us). The concert was organised by one of our first patrons of the arts Peik (the "Mit Sonnenschirmen…"-LP is dedicated to him for that very reason). When I talked to him on the phone prior to that evening he told us that he had found a new and unknown jangly band on the rise to share the gig with us. When we arrived we were opposed to some evil looking long haired Grebos. One of them mumbled "f***ing wimps" upon seeing us, Peik standing behind them hiking his shoulders, embarrassingly smiling at us. So we decided to blow them away with "Greenhorn" in a Psychocandy/Bachelor Pad-style, which worked out well.
Our last concert was in the cellar of a nearby castle, where we played only one song (following the riot tradition of the Reid Brothers). The audience was filled with some german pop celebrities from the Worms scene or Bernd from Blam-A-Bit wearing a baby soother tied at his anorak's hood and smoking a pipe.
++ Why did the Honigritter call it a day? Are you still in touch with the other members? If so, what are they doing nowadays?
We all had to leave school after having passed our A levels. And everyone went into another direction. Sirken, Matn and me kept on running the Frischluft! label for some years. Nowadays I meet some of these old friends very sporadically or by accident. As everyone expected Matn studied design, Tobi became a photographer, Sirken started several things ending up as the chairman of his father's firm. Bruder Burch and me studied to become a teacher. I am a teacher now, Burch went abroad. And Thanos? Who knows?
++ What was the biggest highlight for the Honigritter?
The days before Christmas 1987, when we sold our "Im Sommer"-single at the Christmas party at school! The whole place was paved with oversized xeroxes inviting the spectator to "Klingende Weihnachtsfreude schenken" (= present tingling Christmas joy) with all Honigritter climbing out of Santa's sack.
++ If I remember correctly, you are a fan of potatoes whatsoever? Why is that?! I'm a big fan as well, I was having the other day a conversation with my friends in Hamburg telling them potatoes are from Peru, my country, but you know, I really enjoy those stuffed potatoes you make in Germany. What's your favourite potato dish?
May we hail Seignoret von Luserna San Giovanni for being the first having brought the potato on a large scale to Germany (don't worry, I may be a nerd on pop music, but I had to consult the internet for that info). I talked to Andreas in the meantime trying to find out, what his girlfriend was cooking for you. Neither he nor I do have the slightest idea, what stuffed potatoes may be. Maybe you remember jacket potatoes with curd, that were offered to you? I like these as well very much as long as there's some butter on the potatoes instead of herbs in the curd. I guess I'll disappoint you with my favourite potato dish – it's simply banal french fries…
++ And now what plans for this weekend?
Unfortunately the weekend's over in a few hours. In the late afternoon I was in my snow covered apple orchard at a place called Hexenloch (= witches hole) judging if the ranking blackberry bushes have to be cut in the spring.
++ We'll talk again soon Krischan! But for the meantime, anything else you'd like to add? You know while in Germany I got great feedback about our Frischluft interview?

It's nice to hear, that you got positive feedback for digging out my half-forgotten tales. I hope I could give some more attention-fetching anecdotes from the cobweb of my memory harboring the Honigritter besides all other great things pop!
Und nicht vergessen: Freude bereiten, Musik schenken!
(= And don't forget: bringing joy, donating music!)
::::::::::::::::::::::::::::::::::::::::::::::::::::::::::::::::::::::::::::::::::::::::::::::