21
Feb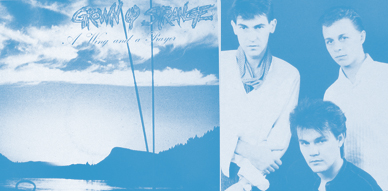 Finally I'm happy to announce our next 7″ that will be available this spring: Salt Lake Alley's "Deals at the Crossroads".  Salt Lake Alley consists of Gustav Tranback (Paper Hearts, Dismal Plight) and Mikael Carlsson (The Honeydrips, Dorotea) and they are based in Stockholm, Sweden. They describe their music as Teenage Fanclub and Popsicle swapping Sarah singles. They call their music orthodox indie pop.  The single will have four songs, "Deals at the Crossroads" and "So Differently" on the A side and "When We'll Meet Again" and "Matter of Fact" on the B side. The art was created exclusively for the single by Mexican illustrator Alejandro Herrerías. You can preview the opening track, "Deals at the Crossroads", on our SoundCloud and we'll be adding it on the website pretty soon so you can pre-order this beauty. The single will be limited to 300 copies. Keep your eyes peeled for more news about the single, in the meantime you can like them on their brand new Salt Lake Alley Facebook page!
After that wonderful news, I can share with you some indiepop findings I've stumbled upon this week!
Red Go-Cart: oh! I need this record. A new 7″ by one of my favourite Japanese bands since forever. I hope this 200 limited record is still available after I come back from Spain? Or maybe that the band wants to do a trade? I would love it. This is a band I love for many years. And their newest record has two brand new songs, "Something Lasts" and "Sunflower" and it is being released  by the always recommendable Galaxy Train. The 7″ comes with a poster, two seals and a lyric sheet in Japanese and English!
Renge: and that is not all that is new from Galaxy Train Records. There is a 7″ with two songs by a band called Renge that sound very very fragile. Again limited to 200 copies their "Crystal Clear Winter" 7″ comes packaged in a similar fashion, only this time instead of a poster you get a postcard. The songs on this sea blue vinyl are "Sand Castle" and "Underneath the Ice" Sweet and introspective, the band released also another 7″ with the label almost at the same time called "Summer Filled With Blue", so check that one out too.
Say Sue Me: I recommended this band a couple of months back and I thought I was making a great discovery. Well it seems they are quite popular by now. The Busan, South Korea, band is now promoting their next release which will be an album titled "Where We Were Together" and so far I have been able to listen to two songs that will be included in it on their Bandcamp, "Old Town" and "Old Town (Radio Edit)", and even though they really are the same, they are fantastic! The CD seems to be reasonably priced at 10 pounds and the vinyl for 12. The question will be, how much for postage to the US? The album is released on April 18th.
Megrim: a new release by Jigsaw Records always catches my attention, and I had never heard about this band before. So decided to have a look. Actually, I find out, that I'm not that in the dark about them, the band is the project of Olivier Doreille who used to be in the classic 90s French band Les Autres. With this new band he just released a new 10 song album titled "Families".
Anthony Rochester: "Sings for You" is the name of the new album by my favourite Tasmanian indiepopper. Rochester is back after many years, years since the "Anthony Rochesters EP", years since "Hot Hits '96" and he does in full form. 9 brand new songs of classy indiepop. Introspective sometimes, a bit like the fab Friends, and sometimes very 90s and disco like on "Parasep Discotheque", it is quite a lovely album. Check out the video for the song "My Dancing Days are Done" too!
————————————————-
Continuing with my crusade of documenting indiepop history I check out the catalog of one of the most important Manchester labels, Ugly Man Records. I am missing many of their releases, that's true. It is hard to own all the records I want because of money and also because of space! But little by little my collection grows and grows. Just last week I finally added the one and only release by Grown Up Strange, a 12″ single that was released by Ugly Man Records (UGLY 1T) in 1986.
When I start my investigation on Discogs, in the hope of finding details about them, I immediately notice that Discogs has a little bio written for the band:  New Romantic band originally form Ulverston. After playing with punk acts the Spurts (1978) and the Hormones (1979), Chris 'Mokka' Hutchinson (guitars, vocals) and Mike Gaunt (drums) formed Grown up Strange in 1981 with Toby Wren (guitars), and Norman Scott (keyboards). As to the origin of the band Hutchinson told 'Blast Off' Magazine: 'I started off in a punk band. But that developed into Grown Up Strange. Mike was drumming in it, this was 78/79. Then Mike moved to Manchester, and I was just a bedroom guitarist for a couple of years. I spent a couple of years just growing up, starting to write my own stuff. In this punk band, The Spurts – and then we became The Hormones! – we used to do cover versions of about four Buzzcocks songs, and The Only Ones – and XTC. And then we, as I say, split up and when we came back it was with our own material." (Blast Off, 1/1986) In 1982, Wren and Scott were replaced respectively by Steve Wildgoose and Greg Shields. In 1985 the new recruits were substituted by Simon 'Bendy' Bennet (bass, former Hoi Polloi, Sonny & a Million) and David Williams (keyboards). Finally, in 1986 Bennet quit to be replaced by Roy Corckill (a.k.a. Roy Corckhill) former Here's Johnny and Black) (ands the group was joined by Colin Vearncombe, from Black, for live work). This line-up recorded the band's only single, released in August 1986.
That was a good introduction. Now I know the name of the band members. Also that they hailed from Ulverston:
Ulverston is a market town in the South Lakeland district of Cumbria in North West England. Historically in Lancashire, the town is in the Furness area 8 miles (13 kilometres) north-east of Barrow-in-Furness. It is close to the Lake District, and just north of Morecambe Bay, neighboured by Swarthmoor, Pennington and Rosside. Ulverston's most visible landmark is Hoad Monument, a concrete structure built in 1850 to commemorate statesman and local resident Sir John Barrow. The monument provides views of the surrounding area, including Morecambe Bay and parts of the Lake District.
This might be the first band I know from Ulverston, right? Do you remember any other? I check the back sleeve of their record. There were three songs included. On the A side they have "A Wing & A Prayer" and on the B side "When You Became That Summer" and "Now Winter Lasts Forever". All songs are credited to Chris Mokka Hutchinson. They were recorded at Amazon Studios and engineered b y Geoff Higgins (A side) and Mark Phythian (B side). For this record the band was Chris Mokka Hutchinson on guitar and vocals, David Williams on keyboards and Mike Gaunt on drums. They also thank the "live" boys, I'm assuming the musicians that played with them when they had gigs, Roy Corkill on the fretless bass and Colin Vearcombe on guitar and vocals. And also Simon Bennett who had been in the band in the past.
Now there's an address for the band and it is at the Royal Court Theatre in Liverpool. That's interesting. Did one of them work there or what? Other credits are for the logo (Marc Woodhouse) and for photography (Gary Lorne).
I leave Discogs and start looking for them on the WWW. My first stop is the Northwest Evening Mail. There is an article that is not dated about the band. There is no author either, but I'm sure it must have been a fan. From it I will learn a few interesting details about the band:
– Legend says that the band took their name from a headline about the Psychedelic Furs in one of the weekly music papers (which? it doesn't say!)
– They played showcase events at the Civic Hall and a well-remembered outdoor gig in Barrow Park after the general election of 1983
– Because they took inspiration from Liverpool bands, Mokka planned to relocate the band to the area. Only Mokka and Mike Gaunt ended up relocating. That explains now why the lineup change.
–  They looked for other musicians to join them, but instead of a bassist and keyboard player, Mokka recorded bass and keyboards onto a Teac reel-to-reel machine to be played at PA system at gigs.
– They supported A Certain Ratio, Pete Wylie, The Blue Orchids and The Icicle Works
– When they returned to Barrow for a show at the 99 Club with The Active in 1985, they had returned as a full band, now including Colin Verncombe on guitars. Colin would later emerge as front-man with the band Black who I suppose everyone reading the blog knows?
Later I would find that the author for the blog was David Duffin, a freelance writer, as he had posted the same article in his own blog.
I find a PDF for "Camaraderie", the Official Ian McNabb Magazine (volume 2). In it, on page 10, there is an interview with Mokka. That is because he was a long-time friend of Ian (The Icicle Works) and the introduction says that he had assisted Ian in different ways, from selling t-shirts to his role as a keyboard player in Ian's band. It also says that Mokka released a single in October 1996 titled "Where the Cold Wind Blows" where Ian participates playing guitar and harmonica, the old friend Roy Corkhill from the live Grown Up Strange band played bass and Daniel Strittmatter played drums. It mentions too that he was part of Black for a number of years. Then the interview starts and Mokka tells that he got this nickname from his dad but he doesn't really know the reason for it. Then on page 26 there is an interview with Roy Corkhill but he doesn't really mention Grown Up Strange.
I keep searching but I can't find any other mentions. I suppose they continued making music, like Mokka did, afterwards. They only released one record, which is strange, as many of their friends released many more and were quite successful. I wonder what happened to them. It is true that they waited many years since the band started to release their only record. What happened? Was there no support from other labels? I would love to know the story behind them, it seems that they have a very interesting one to tell!
::::::::::::::::::::::::::::::::::::::::::::::::::::::::::::::::::::::::::::::::::::::::::::::