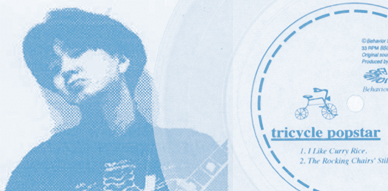 Just a week ago I wrote about the Tokyo one-man project Tricycle Popstar who released a bunch of records and even more songs in the 90s. Thanks to the help of Mike Innes from They Go Boom!! I could find Masahiro Kodama, the man behind this brilliant band, on Facebook. Luckily Masahiro was very kind and when I asked to do an interview he said yes. I'm very happy how this interview turned out thanks to Masahiro's thoughtful answers where he paints clearly how was the Japanese scene in the 90s. Sounds like it was a fun and interesting time!
++ Hi Masahiro, thanks a lot for trying to answer my questions, hope your memory is good! I would like to do this interview chronologically, start from the beginning. So yeah, where are you from in Japan? Tokyo? And what sort of music did you listen when growing up?
I grew up in Akita, a rural area in the northern part of mainland Japan. Its a famous place for rice production, there are rice fields everywhere; and It's very cold in winter.
When I was young, I really like "Kayou kyoku" (which is Japanese mainstream pop music. I always check TV music programs out; it's like Japanese "Top of the Pops" kind of TV show. Those TV music programs in Showa (昭和)- era were so good. The stage sets changing every different songs / every different artists.
When I was in Jr. high, the Japanese economy was booming, and the Japanese music scene really changed.
New Romantic kind of music, techno pop, Heavy metal (which I never liked) etc. I like Dead or Alive(!), The Housemartins, Nik Kershaw, Hubert Kah, A-HA, Pet Shop Boys etc. And my music tastes also changed around the same time. I found different types of music like – The Flipper's Guitar!! For the country boy like me they are so bright, vivid & colourful, with a great sense of humour…they were my idols at the time.  And infact I still love them they made a huge influence on me.
++ Something that impressed me from the sleeve of the flexi is that it says you played all instruments. So I'm wondering what instruments do you know how to play? And what was your first instrument and how did you get it?
All instruments skills are self-taught, so I'm not really that good. I can play a little bit of Guitar & Keys, and some programming of Drum machine, that's all. My first instrument was the Electone, which is modern type of electronic organs.  I never had a music tutor or anything, But we always had an electronic organ at home which I would dabble with. It had so many buttons, you could change the sound, rhythm, and it has auto arpeggiator as well. I was started making songs with it when I was about 13 years old.
I started the Folk Guitar (Takamine) when I was in High school.  I was never interested in Guitar Solos. But I like chord cuttings.
Late years of my high school days, I got a Drum machine (I think YAMAHA RX 5). And after graduate from high school in Akita, I moved to Tokyo where I bought a KORG 01W/FD. It's a workstation synthesizer, it has synthesizer, sequencer, drum sounds and you can save those song tracks on floppy disks! It was so high-tech at the time!
AND This isn't music instrument, but very important thing, Multi Track Recorders (We called MTR). When I was in high school I used a 4-tack recorder (I think TASCAM PORTA 05). And later in Tokyo (18 years old ~) I got myself an 8-tack recorder (TASCUM PORTASTUDIO 488).
++ Was Tricycle Popstar your first band or had you been involved in any other bands?
Tricycle Popstar is not my first project. In my high school days, I have a band to play my original songs with my hometown friends. Also doing my solo project as well. And one time did Synth pop duo with my friend to cover 10cc's "I'm not in love" for music contest. In my Akita days, I really liked to play at music contest. Because I could often do quite well.
++ Was Tricycle Popstar really a solo project? Or did you get help from friends?
Tricycle Popstar is my solo project. Hiroshi Kudo (my band mate from my hometown) helped with bass guitar when we recorded The Love mushrooms' songs.
++ Why the name Tricycle Popstar?
I forgot how I decided this project name…Maybe I discuss about naming the project with Mark, but I really can't remember. It's silly meaningless name isn't it?!
++ How was Tokyo then? What were your usual hangouts? The venues you used to frequent to check out bands? And were there any like-minded bands that you liked then?
I was in Tokyo 1991~1993. (When was 19~21 years old) For a shy country kid from the north, Tokyo is a big, big city. I didn't have many connections, just few friends in Tokyo.  What I do? Just go & check somewhere new area in Tokyo is always kind a fun for me at that time. Every local area has unique taste. I often went to, SHIMOKITAZAWA, SHINJYUKU, SHIBUYA back then.
Candy Eyes (another band from A Trumpet Trumpet Records), All Twin's Birthday were friends of mine, so we would often go & see them playing. [https://www.discogs.com/label/178272-A-Trumpet-Trumpet-Records]
++ And in general, what would you say were the bands that inspired you and influenced Tricycle Popstar?
The Housemartins, The Flipper's Guitar, Sex Clark Five, Egg Stone, Candy eyes, Nelories, Mama Cass, Many late 60's psyche pops band like The Beatles, The Cyrkle, The Millennium, The Left Banke, The Hollies, French pops like France Gall, Francoise Hardy.
++ Most of your releases were on the label Behavior Saviour. Was it your own label? Or who were they?
Behavior Saviour is our own label managed by Mark & I. Mainly released my recordings and released some compilation CDs. And also released 7" single for friend band call "All Twin's Birthday".
I would like to mention Shintaro Taketani, he is musician, I met him through Mark, where they both worked at a posh arty cafe EAST GALLERY in Ebisu. One day, He give me a demo of his creation, I was amazed by he's music. His music unit called "Paris Collection" was on one of our compilation CD. He is living in London now. I think he is great artist.
++ At first your releases came out in the cassette format. Do you remember more or less how many copies were made? And if you were to pick, as you released almost in every sort of format, from vinyl to tape to CD, which will be your favourite and why?
My favourite format is CD. CD doesn't have any interference. Sometimes, I can't concentrate to listen to music if too much noise in the background.  However I also like Vinyls too. I like the big art space & warmer sound.
Regarding our cassette release from earlier of our catalogue, those cassette selling at Rough Trade Tokyo, I don't remember how many we sold. But not much, I don't think. Probably about 30 each release.
++ Also was wondering why you choose to write your songs in English instead of Japanese? What was the reason?
I thought singing in English is cool. If I write serious song in Japanese, that sounds really serious and straight. If I write silly song in Japanese, that sounds really silly and foolish.
++ Did you ever make songs in Japanese?
Yes. Before coming to Tokyo, I write songs in Japanese.
++ I noticed that 1993 was a very prolific year for Tricycle Popstar, releasing a bunch of records and recording so many songs. Why was that? And how come no other year was like it?
Around that year I send lots of demo tape to other labels too and also we made a lots of connections.
Some labels' project takes very long time and Some are quick (but usually takes long time), I think the releasing those other labels works just over lapped all at the same time around 1993.
++ I also noticed that there were a few shared releases with the band The Love Mushrooms. Who were them?
The Love Mushrooms was my project before Tricycle Popstar. Me & two Tasmanian girls, Wendy & Darelle, whom I also met through Mark. (also from Tasmanian too). And my hometown friend, Hiroshi Kudo was helping to play bass guitar.
++ You wrote the song "I Like Curry Rice" and I suppose you do. What other dishes are favourite of Masahiro Kodama that you would have loved to write them a song?
Kara-age is one of my favourite Japanese dishes. However I'm into making fermented foods at the moment. I make my Koji, Miso and Nukazuke on my own. So I'd make song like "Microorganism's orgasm".
++ On the flexi it says that you got help with the lyrics by Mark Davis. He also helped with the art. Who was he?
He is my partner. We are together over 25 years now.
We didn't come out to our Japanese friends when we living in Tokyo, I said to them "We are friend". However we were living together in small apartment in Tokyo.
++ "Saviour Once More" was your mini-album and I was wondering about the two guests on it, Roberto Massaglia and Wendy Brown. How did they help you on the record?
Wendy Brown (The Love Mushrooms) & Roberto (her partner back then), They sing,  "Moaner is My Cat". The song is about their cat.
++ Also because of the song "Moaner is My Cat" and how I see cats are popular in Japanese indiepop, I wondered if you actually really had a cat then?
Moaner was Wendy & Roberto's cat in Tokyo.  At my hometown, we had cats, and many other animals too.  A big 'Tosa-ken' dog, peacocks, chickens, turkeys and even minks, all of those animals were my grand father's hobby.
++ Then I noticed that Behavior Saviour and you it seems moved to Melbourne, Australia. Is that right? Why did you move? And how was the change? Did you like it at first?
Mark's working visa was going to expire so I applied a working holiday visa to go to Australia. We moved to Sydney first. We live there 3 years (1994~1997) and then move to Melbourne.  I love Melbourne more.
I fell in love with that laid back Aussie way of living as soon as I moved here.
++ I assume you found a different music scene there. Did you continue making music? Did you find any bands that you really like?
I thought Japanese indie music scene was quite big, however Australian indie music scene was quite small and dotted.
From an indie music label point of view, I thought it's quite difficult to do within Australia.
++ The last release on Behavior Saviour was your album "Apostasy" in 1995. Were the songs on it reworkings of previous ones or was it more of a compilation album?
"No skin off my ass" & "Rocking chair is still rocking" was reworked. I think other tracks were on "Apostasy" was same materials on other compilation CDs".
++ I'm also curious about your creative process. How did that work for you? And what about recording? Where did you usually record?
I had an 8-tack multi track recorder (TASCAM PORTASTUDIO 488). I always recorded in my bedroom. Usually I make song with my Guitar first, and then I make a song titles or lyrics next. I made a song title first when I make "Peach boy's Bed sounds".
++ Your last release was a split 7″ with Orange Cake Mix on the American label Blackbean and Placenta Tape Club. How come you ended up on an American label? Did you ever get to visit the US?
Regarding Blackbean and Placenta Tape Club release, I can't remember I sent a demo to them or they contact us… I haven't been to the US before.  In US, there are/were many great indie record labels. I personally like The Bus Stop Label. I would still love to go to the US one day.
++ There were a bunch of compilation appearances by the band, but I'm curious about one of the first ones, the one on the French fanzine "Gloomy Biscuit". How did your music got to France in pre-internet times? Do you remember?
Sorry I can't remember…
++ I mentioned a bunch of compilation appearances, like the "Lily's S'ghetti Factory", "Going Against Maz's Advice", "Come All Ye Faithful" and "Let's Muc Out On Sound" on my blog. Was I missing any other compilation that you appeared?
In 1993, Auto Guide Records (Japan) release Auto Guide's First Triangle (Compilation CD   AGR-1001) The Love Mushrooms was on it.
++ And what about unreleased Tricycle Popstar songs? Are there any more?
I remember there was one song, but with changing technology I think I have lost the data now.
++ So what happened in 1996 after the split 7″ with Orange Cake Mix? Why were the no more releases by Tricycle Popstar?
I think I needed new start or I was just busy living everyday life.
++ What did you do afterwards? Did you continue making music?
I start new project called "HACCHUUM" (haku-chuu-mu 白昼夢) it means "day dream" in Japanese. More psyche pop taste music. https://soundcloud.com/hacchuum
++ What about gigs? Did you play live much as Tricycle Popstar? Any happy anecdotes you could share?
In Tokyo days, I remember I've done two live as Tricycle Popstar. Play electric guitar and sing with karaoke backing tracks. As The Love Mushrooms, we did one live event at Meiji University campus festival (I think play with Nerolies & Venus Peter). However, that gig was terrible.
++ And radio? And music press? did they give you much attention? What about fanzines?
The Love Mushrooms were played on College Radio Chart show.Few fanzines were interested in The Love Mushrooms/Tricycle Popstar.
++ What about today? Are you still making music? What other hobbies do you have?
I continue making music pieces. Just playing guitar & sing. Not for recording (I'm not good with Computer based music making). Playing music is more meditative process for me. I love listening music & watch movies. Mark & I are into making fermented food right now. Made Miso, Koji, Natto, Suerkraut, and Kefir etc.
++ You are now based in Melbourne, but do you go back often to Japan? Are there any indiepop bands either in Australia or Japan that you'd recommend?
Yeah we still get back there every year, here are some good ones:
Ben Mason – https://soundcloud.com/benmason
Adrian Whitehead- https://www.youtube.com/watch?v=zlwzSmnuUhA&list=PLn3qOPaLrhTyT495cE37HZwkDU0ihIGo4
Lamp – https://soundcloud.com/lamp-japan
frenesi – https://soundcloud.com/nesi-ko
Shintaro Taketani – https://soundcloud.com/shintaro-taketani
Dai Ogasawara (ex Candy eyes – He's doing indie music label called Ano(t)raks) – https://soundcloud.com/twangytwangy/tracks
Coffee garden (ex All Twin's Birthday) – https://soundcloud.com/coffee-garden
Hajimepop – https://soundcloud.com/hajimepop
++ I assume as we were talking about Japanese food earlier that you might have had some interest in Australian food? Have you find anything that you like there?
Meat pies, Chicken parmigiana, Vanilla slice are my favourite Aussie meals.
++ And as a foreigner in Australia, what would you recommend a tourist checking out in Melbourne where is were you live now?
We live in Abbotsford. We really like this area. https://en.wikipedia.org/wiki/Abbotsford,_Victoria
And I recommended going to "Hanging Rock". http://www.visitmacedonranges.com/see-do/the-great-outdoors/hanging-rock/
++ Let's start wrapping the interview, what would you say was the biggest highlight of Tricycle Popstar?
This interview 🙂 Knowing somebody listening to my songs.
++ And what would you say indiepop means to you?
For me indiepop means, 青春 (sei-shun) in Chinese character 青 means Blue 春 means Spring. Meaning bloom of youth / the passion of youth. When I was doing music & label, it was pre-internet, so everything took a lot of time.
Write mail to people, making artwork by our hand, making music etc. But I like the way it was. It was warmer, more physical connection to it.
Indiepop is DIY spirit.
You can do it, if you want to.
++ Anything else you'd like to add?
Thanks Roque for asking to do the interview.
::::::::::::::::::::::::::::::::::::::::::::::::::::::::::::::::::::::::::::::::::::::::::::::