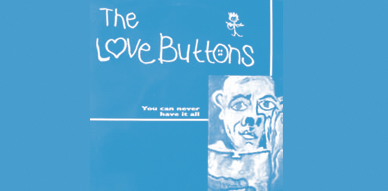 Thanks so much to Richard Hall for answering a bunch of my questions! I got in touch with Jo Bisseker, the vocalist of The Love Buttons, a month ago. She kindly got me in touch with Richard who was able to answer me many of my questions about this Ambition Records band that released one classic (and in my book legendary) 12″ record. A fabulous record indeed that leaves you wondering why they didn't release any more records.
++ Hi! Thanks so much for being up for this interview. I'm really thrilled to interview you as I really like the songs you released back in the day. Your 12″ is one of my favourites from the period. I guess we could start by who were The Love Buttons? What instruments each of you played? And how did you got together? What year was it?
Basically….the band was invented in my HEAD. I was living with Pete Briggs. I'd played bass a bit in covers bands and Pete was/is a tip top drummer. We pretended to be a band called The Buttons (in reality just an IDEA) and put up an ad at the University in Southampton. After a while Jo replied. She came round with her guitar and her fantastic songs. After about 10 seconds I realised that she wrote great songs. Really great!!! We laugh about it now but I was shy in those days and I was jumping around saying 'you're IN!!". We were a 3 piece to begin with. We used to do a cover of 'So Sad About Us' by The Who.  Breeders copied our idea!!
++ Who came up with the name of the band? I think originally you were called The Buttons. What's the story behind it?
We changed our name from The Buttons to The Love Buttons because we thought it was a bit edgy!!!
++ You were based in Southampton. How was it growing up and having a band there? Were there many venues to play?  Were there any other like-minded bands?
We played lots of gigs…a lot of times at the Joiners…we supported some cool bands…The Family Cat. Jane Pow.  After a time Paul (known as Rita) joined on guitar. He was obsessed with Manchester scene….bands like Happy Mondays and Inspiral  Carpets….and attempted to make us 'jangly".
++ And what would you say were influences for the sound of The Love Buttons?
Probably the sound we were going for was The Popguns/The Primitives. We loved 10,000 Maniacs and Throwing Muses, as well as R.E.M. Lots of 60's stuff.
++ Mark Pearson from Ambition Records told he feels he disappointed you, that he let you down, on an interview. At the same time he said you were really keen to be on the label. How was your relationship with him? 
We never ever felt let down by Mark from Ambition….quite the opposite. We practically stalked him to get on his cool little label!!!
++ And what do you remember of the recording sessions for the EP? Why did you record at S.A.M. Bristol? Any anecdotes you could share?
The great 12 string you hear on our 12 inch is Mark, the singer of The  Steamkings. Around this time Jo treated herself to her own 12 string Rickenbacker.
++ Speaking of gigs, did you play live a lot? what were your favourite gigs and why? Were there any bad gigs that you remember?
The best gig we ever did was put on by my cousin at a college in Chichester. They hired an ENORMOUS PA and we sounded like we were playing Wembley Arena….the 300 students went MENTAL!!!
++ Why didn't you get to release more records? Was there any interest from other labels?
Apart from letters of rejection we never came very close to signing a record deal. We'd have loved to have been on Sarah.
++ When and why did you call it a day? 
I think we split up because I moved away to Swindon after uni for a 3 month job. I ended up staying there for 6 years! But I did form a band there called Eva Luna. We went on tour and did a demo tape and some great punky indie songs. Then I returned to Southampton and set up the band Snaffler with other local pals. We produced a CD called Bingo Knickers which was great!
Sadly, after my second child, I could'nt face the hassle of dragging my equipment, amps etc off to smeggy recording garages with no toilet facilities, rehearsing, then packing it all away again – it was just too much!
++ I saw on Youtube a clip of you rehearsing again last summer. The video titled, "The Love Buttons are Back". How did this happen? Did you make any new music? Did you play any reunion gigs?
The video you've seen on Youtube is when I held a garden party….I was turning 50!!!!….all 4 members of The Buttons were there. There was a friends covers band playing and after a tense standoff we all got into position. Call me immodest but I think the magic was still there!! It sounds TERRIFIC!!!
Jo was totally responsible for The Buttons being any good but she's too busy/she can't be arsed for us to ever do it again. Unless someone is willing to pay big bucks!! I think we're just biding our time so that the public are in a FRENZY!!
++ What about today, what do you do? what other hobbies aside from music do you have?
Lately I've taken up playing drums (not very well) and play in a covers band with Paul (Rita), Nick (who was in Jo's  NEXT band, Snaffler)…and Justin….lead guitarist in The Steamkings…and Dave who also played guitar for rage Buttons when Paul went to Uni in Manchester were called Daddy Witch and we do countryish songs by Caitlin Rose, Gillian Welch etc.
++ And has Southampton changed much since The Love Buttons day?
Southampton is a better city now than it was then. There is a thriving Craft beer scene with lots of cool little bars springing up.
::::::::::::::::::::::::::::::::::::::::::::::::::::::::::::::::::::::::::::::::::::::::::::::