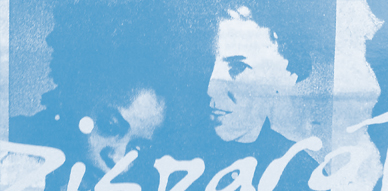 It's becoming a busy week this one. I didn't actually have a weekend either, so I'm bit swamped with things to do for work, for home, for the label, and so on. So this may be a small post, a bit shorter than usual. Let's see how it goes.
The best part of last week was definitely seeing the BMX Bandits after 10 years. They played at Sidewalk Cafe, a very odd and random place where they don't charge you cover, but they pass a basket, just like in church, to give your donations. Duglas and Chloe were joined by three New Yorkers and, even though the drumkit didnt have a hi-hat, the show was fun and lovely. Duglas is such a showman. Lots of laughs and a good time. They played many of the classics and I even took a photo with Duglas at the end. Such a fan. He even remembered that I went to the show ten years ago with another Peruvian friend. That was really awesome. He then played the next day at Cake Shop and I believe he plays today at Shea Stadium. Sadly I didn't attend the Cake Shop gig and won't be able to make it today. But if you can, do it. Worth it!!
The most important announcement is that I'm already working on a new 7″ by Swedish band Stephen's Shore. They are jangly and brilliant. I fell in love immediately with the sound of their guitars, chiming and chiming. I thought no one was making this music anymore, but was very lucky to find them thanks to my friend Henrik who pointed them to me. Right now the idea is to include four songs on the 7″, on the A side we will have "Ocean Blue" and "If You" and on the B side, "Turn Your Head" and "Let's Go Home". The artwork is being created at the moment by Fabio Consoli, all the way from Sicily, Italy. Very very excited about this!! Hopefully there will be more news about the release date and on the website as soon as the artwork is done. Songs are ready!
Now as promised a small review of all the "new" bands for me that are playing Indietracks, always in the hope of finding some hidden treasures. As I listen to the bands I write the post, so it's all first impressions here.
Nervous Twitch: a four piece from Yorkshire that have released two albums on Odd Box Records as well as some 7″ singles. On the biography I read they are likened to The Ramones, Au Pairs, Talulah Gosh, Blondie and Thee Headchoats. Right now I listen to the first thing that shows up on Bandcamp and that's a limited edition cassette called "Don't Take My TV". Not really indiepop, as it seems to become a trend with all the bands I already reviewed last week, and more of a garage band. Rock and roll, some punk thrown in there, and some hooks here and there. It's not bad, I enjoy some songs, but definitely not the kind of band that would make me want to go to a pop festival.
Lorna: a dream pop from Nottingham. And it seems they have released 5 albums already. Maybe they are well known but it's really the first time I hear them. On bandcamp they have the Snowlights EP. The first two songs are quite nice but the third one is really not my style, a bit too slow. I'm not crazy for slow tempo bands at festivals, it gets a bit tedious because you are watching a band after another for so many hours, so you want some energy coming from the songs you know. Perhaps they have energetic songs on their other releases, that I don't know. In that case it would be a good idea to check this band at the festival, it could be a nice surprise. For sure much better than many of the "new" bands I've been discovering.
Charla Fantasma: I think they have a very good name so I had big expectations. The songs are just straight garage. No frills. It's what it is. But where's the indiepop among all the screams and shouts? One wonders.
Chrissy Barnacle:  A singer songwriter from Glasgow. I usually shiver when I read the title "singer-songwriter" but as she comes from Glasgow, land of so many indiepop heroes, well, who wouldn't give a chance? I listen to the one song on Bandcamp called "Witches" and I find out this is too folky for me. I try other releases on her site but it's all the same, sometimes more upbeat and it gets a bit better, but still. I assume she'll play at the church, but then again, where's the indiepop?
Boys Forever: This is a project by Patrick Doyle from Veronica Falls. I check their one single they have streaming on Bandcamp. It's called "Poisonous". The B side is a cover of Kirsty MacColl's "They Don't Know". So far these are the best songs I hear on this recap. Their big merit for me is to be indiepop among the no pop bands that seem to abound. That is already saying a lot.
—————————————————————-
I decided to check again the compilation "Disparate Cogscienti". I talked about this compilation a long time ago when I introduced you to the band The Lowthers. But let's remember some facts about this compilation first. It came out in 1987 and was released by the Cog Sinister label. Mark E. Smith from The Fall ran this label.
From that old post of mine I wrote this:
The first appearance of the Cog Sinister label was in 1987 when The Fall used it as the imprint for their self-released anthology album "Palace Of Swords Reversed". The imprint returned in 1990 when the band signed to Fontana and used Cog Sinister as a vanity label for their releases. When they moved from Fontana to Permanent Records, they continued to use the Cog Sinister brand on their releases. Since leaving Permanent in 1995, The Fall no longer used Cog Sinister on their new material. However, since 1997, the imprint has become part of the Voiceprint label group, and is being used for reissues of the group's back-catalogue.
"The Disparate Cogscienti" was the second release on the label and it includes another gem, Beatrice's "A Girl Like Me". So I do recommend getting it, as I listened Jessel's recommendation once, that time he took me to a – secret, secret – to find so many great records in what may be the best record shopping experience I've ever had. That day I picked up this fabulous black, white and yellow sleeve from one of the racks, after my good friend asked me if I knew about it. Of course I didn't. He said it was worth it for the Beatrice song. Though he did mention that The Lowther's song was quite good. And good it is. And the compilation is worth getting for The Lowthers song too I say. On Discogs at the moment there's a copy for 4.99 euros if you are interested. I say get it.
Well, today I see a copy for around $7 dollars. Still a good price. Today though I want to talk about that song I mentioned back then. That song by Beatrice titled "A Girl Like Me".
About this song and about this band there's really nothing online. I have googled in so many ways and combinations, name of the band, name of the song, band members and all. But I couldn't find anything.
I do know the band members as they are listed on the back cover:
Lisa Feder – guitar
Gina Harrel – vocals
Genji & Alec – drums
It's stated that the song was recorded in 1986 and there's a cool motto next to the band lineup that says: "Flying the flag for free and fanciful females".
An all-girl band then? I would guess so. On the front cover of the compilation, where there are photos by each band in black and white, for Beatrice we see two girls. To my surprise the band name on the photo is just not Beatrice but it says Beatrice NYC. Does this mean that they hailed from here, from right here? I would guess that's the case. This definitely adds more to the mystery.
Was there an indiepop band in NYC at that time, even better, an all girl feminist indiepop band in NYC in 1986, recording such gems as "A Girl Like Me". It's just amazing. I wonder what happened to them, if they recorded more songs, how their song ended up in a compilation in England, were they involved in other bands? So many questions, and so little answers on the web. Hopefully someone could help!
::::::::::::::::::::::::::::::::::::::::::::::::::::::::::::::::::::::::::::::::::::::::::::::
Listen
Beatrice – A Girl Like Me