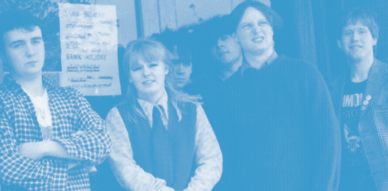 Thanks so much to Pete, Rocker, Yoland and Glenn for the interview! Big hugs!
++ You have quite an up to date page, and a great interview by Kieron were almost everything is covered! So this is quite a tough job for me. So I'm going to go for some obscure facts if that's okay? First thing I wonder is if you were involved in any pop bands after or before The Rosehips? I only know Rocker was on Flatmates and Ant and Mark 2 had the Venus Beads.
Glenn: Keyboards in Trouserdog – a Fall tribute band who don't play Fall songs.
Yoland: In 26 years, when I've retired and if I live that long, I will be forming the perfect prog-folk-surf-punk band in tribute to my favourite purveyors of those genres. Any takers?
Rocker: I was a part-time member of Bristol-based band Flying Saucer Attack (sequencing drums, playing keyboards, production & co-wrote a couple of songs). I also played keyboards for a few other Bristol bands e.g. McDowell, The Family, Spectrasonic.
Pete: Around the same time as the Rosehips, I was in the Speedpuppies. Mark 1 played drums with us after we'd done a couple of gigs with a drum machine. We tried to sound like the Shop Assistants – surprise, surprise! Liz, our original singer, wore shades and stripey tops during our rehearsals but left when we got a gig because the thought of playing in public terrified her. The Speedpuppies recorded one demo (we sent a copy to Sarah Records) and did about six gigs before things fizzled out. After the Rosehips had split up, I was in Jack in the Green with Corinne and Caroline, with Mark 1 again playing drums. We played around ten gigs and recorded two demos. After that, I was in Trilemma – a two piece recording band, who didn't play live. Trilemma ran the Blue Minnow cdr label, recorded the Crowded Wilderness 7" ep for Kitchen Records, gave away our lp, "Push What Is Collapsing" with Robots And Electronic Brains fanzine as a subscribers freebee, recorded a mini album called Caveat Emptor, released by Fence Records as part of their Picket Fence series and recorded various songs which were issued with paper fanzines. And now I'm in Horowitz.
++ You recorded a cover version of The Chesterfields' "Ask Johnny Dee" for the Sweet William flexi. Why did you choose this particular song? And how did you end up on this rare flexi that came with the Two Pint Take Home fanzine?
Glenn: We liked the original and were friendly with the Chesterfields even though we thought their music was a bit drippy! So we thought it would be funny to 'punk it up' a bit. I doubt they were very impressed.
Yoland: As a general rule, everything should go faster, but once speeded-up this transmogrified into Echo Beach (Martha & the Muffins 1970-something), which amused us greatly, because it was a mild irritant to the beautiful Chesterfields, or so I recall.
Rocker: Before my time!
Pete: Mine too, though I think I popped down to the studio during the recording.
++ You shared that flexi with The Fat Tulips. Years later, when the band had already split up, the Bloodstained Fur 7″ appears on the Tulip's label, Heaven Records. I guess you had a close relationship with them?
Yoland: So close I remember nothing, they must have used Rohypnol.
Glenn: I'm not sure I even met the Fat Tulips except for Mark of course.
Pete: I've got to know Mark more since the Rosehips split up. I used to be over in Nottingham watching gigs in the early 90s, bumped into him a few times and went to his wedding. It's only since meeting the Cut Outs that I've spoken with Paul, who was one of the Fat Tulips Nottingham contingent, who used to arrive at our gigs armed with cut up newspaper confetti!
++ But why did it take that long for these tracks to be released? How did Heaven decide to release it?
Glenn: I have no idea about how it came about I'm afraid. As usual I wasn't paying attention.
Rocker: I was going to release it on my own (planned) record label, Bhaji Records (It's catalogue number was Onion1) – but when the band split up shortly after the recording sessions, I decided not to proceed with it, as we used to sell most of our records at our gigs (before t'internet) so it would probably have never broken even. When Heaven Records heard about the tracks we'd recorded they offered to release it – it was one of our finest moments, in my opinion! And I still have a box of them in my spare bedroom.
++ How involved were The Rosehips with fanzines?
Yoland: Other than answering questions and fooling about, we weren't, were we?
Glenn: We got sent loads of interview questions and always tried to reply but they were all very samey.
++ Did any of you ever make one?
Rocker: I never did – but I'm sure Pete and Glenn each did.
Pete: I didn't make one at the time, no. Glenn wrote one though – Vandalized Idol.
Glenn: Yes, Vandalized Idol which was shit.
Pete: It's a great little zine – it's about time you did a second issue!
Yoland: Iconoclastic Cardies?
Pete: Oh yes, Iconoclastic Cardies – I was a bit slow off the mark! Twenty years too slow! I put the first issue together to mark the 20 year anniversary. Lots of people contributed to it. The colour version was referred to as "like a holiday brochure" – thanks Jamie!
++ Chaotic Brilliance was your own label, right? Your only release was The Sympathy for the Rosehips? Or was there something else? In any case, did you ever think releasing some other bands when you set it up? If so, which bands would you have dreamed to release?
Rocker: Chaotic Brilliance was Ant's label – in those days the right-wing Tory UK government ran a scheme called the Enterprise Allowance Scheme – basically it was a way of fixing the unemployment figures. If you were on the dole you could set up your own business, and still get an allowance from the state, instead of the dole. So your name was removed from the unemployment figures – making the government look better. The advantage for the individual was that you no longer had to pretend to be "looking for work" ie go to job interviews and on courses, in order to receive your dole. I expect a similar scheme to be announced any day now. So Ant was able to devote his time and effort to setting up the record label. As far as I know, no other releases were planned – unless Ant can tell you different!
Glenn: Our favourite group was The Membranes, and the label name was taken from one of their record sleeves, so I guess they would have been the 'dream band.'
Yoland: Ant should've got in there before the big Tom Jones revival, put out the back catalogue and retired.
++ Why on the Secret compilation you didn't include all of your recorded output? Maybe it was too much? After all it included 22 songs already. Will we ever see those tracks that missed the cut on CD someday?
Glenn: I thought it was everything but as I say I don't often pay enough attention. Rocker dealt with all that really.
Yoland: Output as in "put out" yes, output as in every learning curve and exercise along the way, no and neither should it.  If J K Rowling released the napkin version of Harry Potter, it would have failed to fulfil its potential (which we did anyway) and never made it to book two, for example.
Rocker: I think we included almost everything! Omissions I can think of:
"Ask Johnny Dee" – the master tape was never returned after the original flexi was cut – we could have taken it from the flexi – but the quality was considered too poor;
"A Slow Painful Death To Vivisectionists Everywhere" – there are two versions – one with Yoland's spoken vocal, one without – can't remember which was on the compilation but it was such a long track that we wouldn't have put both on the same CD
"Bloodstained Fur" there was a short version on the 7″, and I think we put the longer version on the CD.
Oh, and there are a few dodgy cover versions we played live, such as "Too Much Too Young" by The Specials, which I could never play drums fast enough for.
Pete: The cover version of the Stones' The Last Time just about makes it to the first line at the end of the compilation – there's a full version of that somewhere. It was only recorded live though. We had a bash at Sonic Youth's Star Power in rehearsals but never recorded it. There's a live tape from the Punk Rock EEC Mountain from 1986 and a live tape from Stoke in 87 or 88.
Rocker: No plans to release anything else but that live version of "The Last Time" is on the "1989Live" CD which I put out on my own LocalUnderground label at the time of "The Fucking Rosehips" (aka The Parallelograms) gigs in late 2007. It was recorded at our penultimate gig – supporting The Wedding Present at a Greenpeace benefit in Plymouth – there's also a fantastic sleeve pic of us all looking very young, stood in front of a sign saying "Bristol Centre For The Deaf", which happened to be just opposite our Bristol rehearsal room. I still have a few copies if anyone wants one!
Rocker: On the subject of the compilation – we have no copies left. The last thing I heard from Leonard Roberge of Secret Records was that he had some copies left under his bed, which we would like to buy! However we have lost contact so if anyone knows how to contact Leonard, please pass on my email: rockerq@aol.com
++ Did you ever think about releasing an album?
Glenn: Nobody ever asked us. I can't imagine it would have been any good.
Yoland: I think we were developing and changing too much to have had an album's worth of comparable tracks at the time.  There was one in us, about 12 months after we ended!  It's a bit like the output issue: some stuff is what you do when you're learning and most bands learn before they release.  And don't get all Sex Pistols about it – gigs are different, but committing to vinyl is another thing.  The Pistols didn't make a record as shambolic as their first gigs. We on the other hand, never did a gig as shambolic as our first recordings….
Rocker: Neither line-up of the band ever had enough material to fill an LP – pretty much our entire recorded works fitted onto one CD!
Pete: Making a whole album never crossed my mind. I always thought we were more suited to 7" singles or 12"s eps.
++ How many demo tapes did The Rosehips record? Are there any songs on those that never made it to proper releases?
Glenn: No idea, sorry.
Yoland: Our very first "lets see what we sound like on tape" experience took place in a studio, which would have been just fine, if (a) the studio had no bloody cat and an owner who had heard of housework or (b) I was not horribly, anaphylactic-ly allergic to cats. You can play a guitar with a cat allergy, briefly, but singing requires the ability to breathe!  Dave was very accommodating about the toilet facilities and the phobia though, so it could have been worse.
Pete: There are a couple of demos from 1986. Of the nine songs "Cracked It", "Trucker's" and "A Much Bigger World" were never released in any form. The other tracks were all re-recorded and ended up on the Subway releases. On the two Bristol 1988 demos, Caffeine Fuel Injection" was never released, neither was the vocal version of A Slow Painful Death. When I Want Your Opinion was remixed by Rocker for the b side of the Heaven Records 7", but the unreleased demo version has an audible vocal! The other tracks on the Bristol demos were re-recorded and ended up on the Sympathy 12" and/or the Secret compilation.
++ What about the Airspace! compilation where you contributed "Crazy Kind of Normal"? How did you end up here?
Glenn: I think it was a charity in Bristol, therefore a Rocker connection.
Yoland: Is the answer: Rocker had a hot air balloon?
Rocker: I think they approached us, so we gave them a track from one of our Bristol demos – I think Rupert from the Groove Farm, and Sara Tacchi their driver, had something to do with the charity – there's quite a hotch-potch of bands on there! (We used to play a lot of gigs with the Groove Farm)
++ Tell me… what's the deal with Judy's Boyfriend? Is it a real story?
Yoland: Somebody Glenn knew? Was Glenn the boyfriend in the tale?  I wasn't Judy.
Glenn: No it's just a combination of Judy is a Punk and I Wanna Be Your Boyfriend by the Ramones.
Rocker: It was the fastest song we ever played!
++ What happened at the Manchester Boardwalk gig that you got banned!?
Yoland: Our lovely friends got slightly carried away with the shredded paper (before shredding machines, so that was dedication!) The paper covered the venue, probably gave the cleaners a fit and it soaked all the brandy out of my glass.  In addition, the new manager was a twat and tried to give us a drugs lecture, which I didn't take kindly too, being a loyal and regular paying-customer of said venue, not to mention a stroppy young thing from a village where drugs were just the reminiscences of hippy parents.  Years later I did find myself in Moss Side with a mate needing gear, it was easier and quicker than buying bread, but hey – the man was still wrong about us. We were from Barlaston – still a drug free-zone and best kept village – ish.
Glenn: Nothing happened really except the janitor had to spend an extra 5 minutes sweeping up confetti.
Rocker: I really don't remember being banned – although we did have a bunch of people who travelled to our gigs in a van, spent the journeys tearing up old telephone directories, and threw it as confetti when we played – that would probably have been enough to do it (although I went to see Grace Jones last week, and would you believe it, she's copped our idea!)
++ What other gigs spring up to mind?
Yoland: Other gigs, TJ's, Plymouth, Norwich Arts Centre, Glastonbury, any gig in Bristol…
Pete: TJ's Newport with Darling Buds – the wooden stage, a distortion pedal with a dodgy connection and using Harley's great Fender amp; Ashton Court festival – second amp channel set way too loud and waking a few sleeping hippies when I stepped on the pedal – lovely! Travelling alone midweek after work (possibly to Salisbury?) and arriving with a minute or two to spare before we were due on stage – the soundcheck had been done earlier. I walked straight into the venue, met up with the others, went straight to the stage, plugged in and we played our set. How professional! Playing with the Valentines in Bristol and hardly being able to hear the kids speak to me at work the next day is another memory.
++ Glenn says that you were essentially a Shop Assistants tribute band. Would you agree with that?
Rocker: I think that's Glenn being self-deprecating! When I first saw The Rosehips you could certainly see similarities, but the Rosehips sound was already distinctive.
++ How many times did you see the Shoppies live?
Glenn: I only saw the Shop Assistants once as I recall – in Stoke. Could be wrong.
Yoland: Once, but they were great!
Rocker: I saw the Shoppies around 20 times – their early gigs as a five piece were just sublime – perfect mix of noise and melody.
Pete: 7 or 8 times. Wherever I could get to, really – Manchester International, Birmingham Burberries (some photos on the inner sleeve of the Shoppies album are from that gig), Wolverhampton with The Legend, Stoke Shelleys….I sent them a small gift at one time, chatted with them backstage  and exchanged a couple of letters with Alex. Oh – the fan-worship!;)
++ Funny enough years later there was a Rosehips tribute band! Now they are the great Parallelograms! How did you feel about having a band playing your tunes?
Glenn: The Fucking Rosehips struck me as a very funny joke, especially the name. It was good to see them when they played in Stoke and I was quite proud. They were a fucking sight better than the Rosehips.
Yoland: Thought it was a wind-up, then humbled, embarrassed, shocked and to be entirely honest, I never understood why they didn't do any of the best (i.e. later) stuff. Lovely bunch of folk.
Rocker: I love The Parallelograms – shame Markie has run away to the other side of the world – Pete and I actually guested live a couple of times with "The Fucking Rosehips" as their tribute band was known – and Yo joined us once for a couple of verses of "Designer Greed" – and I do think that's the closest thing to a reunion you'll ever see!
Pete: The Parallelograms are great! As the covers band, they played our songs with a similar spirit to us and many bands of that era, that's what struck me. Markie told me the story of their how they named themselves: Chris Mabbs and Markie were talking about lost indie bands from the late 80s and apparently Chris said something along the lines of "the fucking Rosehips were amazing", so that was the name they adopted for the covers band. Like Yo, I feel humble, proud and a little embarrassed.

++ "A slow painful death to vivisectionists everywhere" was recorded for the Animal Liberation Front, as far as I know. But was this for a special release? Or just something you thought it was right to do?
Yoland: Yes, it was a benefit.  Or just something you thought it was right to do? –Yes it needed to happen & personally I find it abhorrent that the cause has fallen off the agenda, that the public have been tricked into believing its necessary to torture Beagles, monkeys and mice to advance medical science and that animals face more cruelty and less respect now than then, as the likes of Cook it, Kill it, Eat it & the bush tucker trials demonstrate.  Last week a dog was thrown from a car on the main one-way system in Stoke and don't even get me started on the Kennel Club & breeding e.g. Rhodesian Ridgebacks born with spina-bifida (hence the ridge) and the healthy ones (no spina-bifida: no ridge) destroyed…
++ Did you ever hear from them?
Yoland: Hear from the ALF? No, they're probably all in prison for suggesting A Slow Painful Death for Huntington Life Sciences (these views are my own & the ex-Rosehips cannot be held accountable etc etc.)
Rocker: We were asked to contribute a track to a compilation LP – but being the Rosehips it took us a year to record it – and by then either it had already come out, or had been abandoned, or we'd lost contact with whoever it was putting it out, so no, as far as I know we never heard any more from them.
Pete: The vocal version was the one earmarked for release.
Glenn: I never heard from them.
++ The most difficult question of it all, will Stoke City stay in the Premiership?
Glenn: We will know more at 5pm on Saturday. Personally I think they've made it too difficult for themselves by fucking up away from home.
Yoland: But potentially the easiest answer! Not looking good (sorry Glenn, any detectable smugness from Charlotte?)
Pete: Charlotte is Glenn's girlfriend and she supports Port Vale, Stoke City's local rivals!
Rocker: totally uninterested in sport – I occasionally partake of a little chairobics, though.
Pete: It's not looking good!
++ Still no Rosehips babies?
Glenn: Both Marks have one or two I think
Rocker: Only The Parallelograms – we think of them as our babies
Yoland: – Some people have let the side down on that front… I have two babies, both with dubious parentage, absent fathers (but a devoted mummy), waggy tails and a total of seven paws between them (again, because some human bastard saw fit to keep 30+ dogs all inter-breeding and fighting and didn't even get vetenary attention when my little one got her paw bitten off – he just dumped her, pregnant – nice) A theme seems to have emerged.  Doggies are asking for dinner, the fire needs more coal, but the snow has stopped.  Take care, Yo x
::::::::::::::::::::::::::::::::::::::::::::::::::::::::::::::::::::::::::::::::::::::::::::::