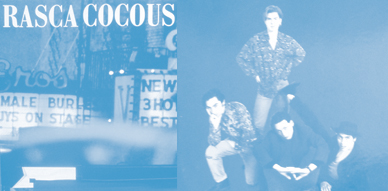 Decided to write a blog post today. I'm a bit annoyed as yesterday the Peruvian National Team tied 2-2 with Venezuela playing away. We were down 2-0 at halftime and we could tie it by the 70th minute or so. We had many chances to win (and some to lose), but we needed those 3 points to keep having some hope to qualify to the next World Cup. Now with 5 more games left it seems almost impossible even though we are 5 points away from a qualifying spot. Still annoyed!!
In the last few days there have been some news in indiepop world that are worth mentioning. The most important is that of Paris Popfest. At last one of the most important cities in the world will celebrate a weekend of indiepop. The dates are September 22nd and the 23rd. Mark your calendars. I've heard from the organizers about some bands that will be playing and definitely there are some surprises there. For now their Facebook page has not much information but a lovely logo of a penguin with headphones. Penguins and giraffes being my favourite animals. Hopefully I can attend!
Then Saint Etienne is back with a new album. That is always good news. You can so far hear one of the songs included, "Heather", on many places on the web. The album is titled "Home Counties" and will be released on June 2nd by Heavenly Records. But news don't stop there, they will be touring, and luckily they will come back to New York on September 26! Damn, if I go to Paris Popfest, I will have to be back by then! They are playing the Music Hall of Williamsburg and tickets go on sale next Wednesday.
Now a shout to the Facebook group Twee Lovers Club that is run by Pierre. That group is a trove of indiepop news and discoveries. This week thanks to him I discovered a fantastic sounding Japanese band called For Tracy Hyde. They hail from Tokyo and are formed by Lovely Summer on vocals, Natsubot on guitars, U-1 on guitars, Mav on bass and percussion and Marcie on Drums. Odd names they are using aren't they? On Bandcamp I find their latest EP, "In Fear Of Love". There are four songs that sound so great! Breezy and dreamy. Their other release available is titled "Born to Be Breathtaken" and it even opens with a song titled "Her Sarah Records Collection"! They know how to wear their influences. Sadly both these releases seem to date from 2014 and they are only available digitally. Are they still going? Yes, it seems they just played live, on March 18th at the Shinjuku Memorial. There is live footage of that show on Youtube. Now when will they release more songs?
Another Japanese band I discovered through this Facebook group is the band Saint Romance. They are releasing a 7″ sometime around mid April and early May. It is released via Sailyard which I believe is a sister label to Fastcut Records. The song that we can stream is titled "About a Girl" and it is sweet sounding. Thanks for the Japanese for keeping indiepop alive!
Then a Thai band! I discovered not so long ago thanks to CD16 the very nice Walking with Monika. Now I get to know Wave and So who seem to be a duo and have this new video out for their song "Sunshine". It is jangly and chiming all along. Dreamy. Whereabouts in Thailand are they from? The only actual fact I can confirm is that they are on the label Parinam Music and that they have a Facebook page which I've duly liked. If only I had known about them when I was in Thailand, maybe I could have seen them live!
Also very much worth mentioning is that The Jasmine Minks are back with a new 7″ single. Limited to 250 copies and released by their own Oatcake Records it includes the songs "Ten Thousand Tears" and "I Can't Hide". You can stream both songs by this classic Scottish band on their Bandcamp.
And why not give a plug to the pretty cover Marc Elston has done of "Crazier" originally by The Pale Fountains? It totally deserves so. Marc had already given us a beautiful album a year (was it a year?) ago. I hope he keeps recording songs. And aside from the romantic music, I really like the photo of young Marc and his girl (?). Would make a great sleeve!
———————————————-
"They were a great band and for some months back in 1990 they were very hip in berlin. I love their demo-recordings and also the 12″ single, although the recordings on it were slightly overproduced if you ask me. they supported Jazz Butcher and hang around with Roddy Frame back then. Cool guys! For me Rasca Cocous were one of the most finest guitarpop bands from Germany ever. I will never understand why the broke up so fast."
That's what Uwe from Firestation told me about them back in 2015. I must have looked for it a lot then and some that reason probably now I have two copies of their sole release, a 12″ EP released in 1991. Maybe I could trade one with someone? They are in great condition!
And on top of that, the EP is really good! Of course I can't compare to their demos as Uwe does because I've never heard them. I only know the 4 songs released on the Vanity EP by Saturn Records (catalog 005). These songs were, on the A side, "Vanity" and "Dragon Country" and on the B side, "My Little Zoo" and "Dignity".
Yes, all of the songs are jangly guitar pop. What else is there to know about them? Well, I turn around the sleeve, check the back sleeve, see what we can find there, nothing, just a cool looking photo of the band. But wait, the record comes with a black and white inner sleeve and here we finally find some important info.
Rasca Cocous (what a strange name, no? what does it mean?) was formed by:
Olav Bruhn – vocals, guitars
Christian Nuñez-Lorca – guitars, vocals
Philipp Block – drums, percussion
Aldo Nuñez-Lorca – bass
On the 12″ recordings some additional musicians were present:
Garry Marlowe – organ on "Vanity"
Denis Bassell – charango on "Dragon Country"
Sven Schumacher – backing vocals
Mario Congo – congas on "My Little Zoo"
I'm impressed by a couple of things, first that there were two brothers of Spanish or Latin American origin. And secondly that they included a charango in their songs, a very popular string instrument in South America's Andes, especially among the Quechua and Aymara populations. Very close to home.
The record was recorded during December 1990 and January 1991 at the Musiclab Studios in Berlin by Angelo Plate. Angelo also mixed  the record alongside the band.
The cover art concept is credited to the band and Florian Wörner. The images used for the cover are from "Untitled 1097-1989" by Bill Henson. They were reproduced courtesy of the artist and the Galerie Urbi et Orbi in Paris. Other photos were taken by Ilja Emrich, Gondor K 23, Anna Block, Cuno 11. Then there is a long list of thanks (with a Muchas Gracias heading) to a bunch of people, and to Spain (where they Spanish then?). Among those being thanked, Roddy Frame is indeed one of them, for the many drinks.
I couldn't find much more about the band members. I did find something about Gary Marlowe who played the organ in "Vanity". Well, he has his own Wikipedia page. Born in Berlin he has worked with so many bands as a music producer.
Then I found a sort of wiki page called Bernd's Berliner Rockwiki. In it we learn that the band started in 1987 and that they were one of the winners of the Senats-Rockwettbewerbs contest in 1988. There are also three other gigs listed. One in March 14 1988 alongside The Jazz Butcher at the Loft. Another one at Metropol on December 1989's Berlin Rock News. And lastly in April 30 of 1992 at Bands United alongside Nina Hagen, Malaria! and Inchtaboktables at Tempodrom.
I found also a news article on the Neues Deutschland newspaper dating from December 20 of 1991. Sadly to read the full article you need to subscribe. 4 weeks for only 9 euros it says. A quick translation of the few paragraphs one can read:
They are just interrupting an extensive tour. Copenhagen was on the agenda, half the North German lowlands and the Rhineland. Now "Rasca Cocous" stop in Berlin to refuel in a home game before they move further south.
They have their own music already in the bag for the sound of being on the street. However, only in the event that the light creeps through the fog in the morning and the vehicle does not have any clutter. Because "Rasca Cocous" make songs that are best heard when either the day is already running before the first cup of coffee or is absolutely safe, in the next twenty-four hours …
The last place I find information about Rasca Cocous is an old looking website that seems to be called Germ-Attack.de. On it I find another concert of Rasca Cocous listed. One from the 10th of February 1989 supporting Kraftwerk. And that's that.
I wonder why did they split? Why did they only release four songs? If they recorded any more stuff? Did they appear on compilations? And what about those demos Uwe says they sounded so great? I would love to hear them!
::::::::::::::::::::::::::::::::::::::::::::::::::::::::::::::::::::::::::::::::::::::::::::::