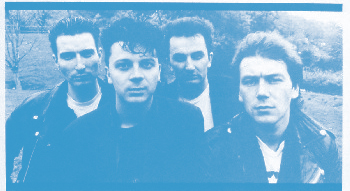 The history of C86 is still full of forgotten bands and singles. Stacks of great 7″s waiting to be discovered. Maybe a Japanese or two are aware of them; you know how they are. Okay, back to the title of the post. Yes, I am from Peru. You knew that? but this time I'm not writing about the hipsters back home. They are called 'arties' in Lima, they abound. They flock the district of Barranco and dress at Neo Mutatis. Im sure the word hipster wouldn't mean much there. I'm writing today about a Welsh band that was called Peruvian Hipsters. Coincidence or not, I love their only single. Being Peruvian I find it ironic. I can't imagine any hipsters back in 80s Lima. During those years there was a big post punk scene in the bleak city and terrorism was everywhere… being flashy, being hipster.. that wasn't happening. Today as I said, the story is different.
The band formed by Nigel Buckland, Ashley Evans, Phillip Holt and Jeff Hughes only recorded this 7″ on Freak Medicine Recordings (first time I hear about this label!). The A side is "Tony Hadley"… you say who? the real Tony Hadley was the main guy from Spandau Ballet. The B side was It Doesn't Happen Everyday. What happened to them after? Why didn't they record more songs? Why are they not more known if Tony Hadley is such a phenomenal slice of guitar pop? So many questions to ask the band from the Rhondda valley. I wonder if one day I could ask them this questions and more. Especially asking them… why Peruvian Hipsters?! and hey! have you ever been to Peru? Right now the country is GREAT! We even get indiepop bands go and play… I've heard Acid House Kings are next!
…and I wonder when I'll be back.
::::::::::::::::::::::::::::::::::::::::::::::::::::::::::::::::::::::::::::::::::::::::::::::