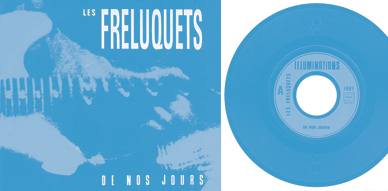 Back again to Miami. No more London Popfest. It's time to reactivate the blog! And what better way to do it with France's first indiepop band: Les Freluquets! Thanks again to Philippe for such a fantastic interview. Listen more songs and be friends with him at their myspace.
++ Thanks so much Philippe for being up for this interview! How are you doing? Where in the world are you now? In the US or in France?
You're welcome, I'm fine thank you. I live in the small town of Lexington, Virginia in the USA (the Confederate generals Robert E. Lee and Stonewall Jackson are buried there). I moved there almost three years ago with my little family.
++ So let's talk about the great Les Freluquets! I was wondering how did you all meet? And how did you all decided that it was time to start a band?
We met in the south of France, in a nice town called Perpignan where we all lived then and where I was born. I started playing in a (punk) band as a drummer when I was sixteen and I never really stopped since then. Around 1986, after two or three years in a band called Furythme I was looking for people who would be willing to play some indie pop with me. I had spent some time in Bristol (UK), buying records, meeting the people who were about to start Sarah Records, attending gigs (Mighty Mighty, The Chesterfields, The Razorcuts, Talulah Gosh), and I decided that's what I wanted to do. So I gathered some people, Jean-Michel, Luc, Rodolphe, and Cécile that I knew through mutual friends or work and it worked. I fed them with tapes of the bands I like and we practiced a lot. We brought something new and fresh, we had a lot of enthusiasm and energy.
++ But then there were at least three different formations of the band, what had happened? Why so many changes?
What happened is that frustration, temper, moods, egos, ambition or lack of ambition, lack of commitment all together is not a good cocktail. The first line-up split when Rodolphe Vassails (the drummer) moved to Paris and we couldn't find a decent replacement. So I grew frustrated and moved to Paris too because he asked me to and I also thought we did everything we could in the South. Rodolphe found a new bass player Patrice Rul , and a new singer Stoyan C. (who sadly died a few years ago), and the new Freluquets were born. Denis (on lead guitar) joined us after some rehearsals and six months later we had a record deal (with Rosebud) and our first album got a lot of attention.
Then we sacked Stoyan who was a "piece of work" as they say here. He saw himself as an artist and I see myself as an artisan, and that created some problems. He was an anarchist too and that didn't help either… But those problems could, should have been dealt with if we'd had a manager.
So we hired Lionel Beuque, a really nice guy, great frontman, but he didn't stay long because he wanted to start his own band (Welcome To Julian) and that's what he did. I became the singer then. We recorded our second album and everything fell apart. Rodolphe lost interest in the band, Denis had to join the army for a year so Patrice and I had to start all over again. The guys who played in The Chaplinn's joined us but that didn't really work either. That's why we formed Qu4tre in 1992.
++ Were you involved in any bands before Les Freluquets?
My first band was Vision Flash when I was sixteen. We were a high school band and that was a lot of fun for two years. Then I wanted to become a frontman and write some songs so I borrowed my brother's guitar and Furythme was born.
++ What about the name Les Freluquets? Why did you choose it for the band?
It means "The Whippersnappers" and we were desperately looking for a name at the time ("Hello John Steed" and "Therese X" were some other choices) but couldn't find or agree on anything. Then a colleague who I had fun with at work called me a "young whippersnapper" and that was it! That was the name I was looking for. It fitted perfectly. When we moved to Paris the name didn't fit anymore and we should have changed it but because of the good press we got after our first single I took the wrong decision to keep it. I made some bad decisions in that band but nobody really helped or said anything…
++ What do you remember from the Lenoir session? Any anecdotes you could share? Which songs you played?
We did two sessions actually. One when he was working at Europe 1 (one of those songs, "La Détente", ended on the Heol tape later) and the other one for France Inter. Both are nice memories now even though we had some problems then. Rodolphe broke his wrist playing rugby just a few days before so I was really pissed of and we had to hire a session drummer for the Europe 1 gig. Then when Bernard Lenoir (who really liked us) returned to France Inter we recorded five or six songs that I can't really remember (except one: "Si", which was much better than the LP version). One of these songs featured on the "Contresens" compilation. Stoyan was so nervous he had to be in another room. It took forever to get the songs right! It was really important for the band to be there and we kind of blew it I guess because it never got aired. But we've been invited to his show to talk about our records several times.
++ How important was Bernard Lenoir for the indiepop scene in France?
He was and still is the French John Peel, but in a more conventional way. I mean you don't hear a lot of French indie bands on his show. He used to be a press attaché for a record label when he was younger and it shows… But thanks to the British or American records he plays on his show he influenced a lot of people. I used to be a Wings fan and when I heard The Jam "All Mod Cons" on his show it changed my life. I'm sure I'm not the only one who had the same kind of experience.
++ So when and why did Les Freluquets moved to Toulouse? How different were things there for the band compared to Perpignan?
We didn't move to Toulouse but played there so often it felt like home. In 1987 we were there once a month or something. Our most important gigs were played there, we recorded our first single there and we played our last concert (supporting Julian Cope) there. And we had family there too (Cécile lives there a successful illustrator). We had a different following in Toulouse, they were not our friends like in Perpignan. Their response was different. Perpignan wanted us to "rock" more whereas Toulouse accepted us as a pop band. There are a lot of students in Toulouse and that's one of the reasons why I think we were taken more seriously there. Some musicians in our hometown hated or despised us because we were "poor" musicians. There was a lot of jealousy too. When they were our age they didn't go anywhere as band members and we did, even if it wasn't that far. We were new (and naive): Inspired by the punk movement (we don't care about musicianship) but hoping to be popular, fun to watch and to hear too and those guys just didn't and couldn't get it.
++ There is a famous tape where you appeared, the Heol tape. How did you end up on this compilation? Do you know anything else about this tape? What about all these new French indiepop bands that were appearing at that time, which were your favourites?
Yes it's the "Heol" tape #1. Anne Moyon was a fan and we used to write to each other very often. She started several fanzines ("Bobby's Hips" for instance) and can be called "the godmother of the French indie pop". We were more famous than most of the French bands on that tape at the time but we were glad to be part of it. Always my obsession to be a part of some movement. She chose the song "La Détente" and I don't remember why I'm afraid.
I didn't have any favourite because I didn't know a lot of bands like us then. I've never been a fan of low-fi pop and most of the bands on that tape were low-fi. To be really honest I thought we were better than all of them! (Katerine excepted because he was different and really talented). We had different backgrounds too. I saw ourselves as a working-class or lower middle-class band among bourgeois bands so there was a distance between us. We played with Des Garçons Ordinaires (on the "Heol" tape #2) in Brittany and they were really nice guys.
We were friends with Les Objets and Gamine only and we looked up on the later, as "little brothers" do I guess, because they were on a major label and were really good.
++ Do you feel there was some sort of Golden Era of French Pop back then?
I'm not sure about that but there were a lot of fanzines though, people who wanted to hear more French indie pop bands back then. Now there are blogs but not as many. I wish I could have known more like-minded musicians that's for sure. Bands were kind of competitive (Chelsea, The Little Rabbits for instance) so our relations were not great. We were willing to help anybody because I wanted us to be a part of some movement but it didn't work that way. The ones we helped forgot about it or just didn't care, I don't know. I guess I expected too much and/or people didn't have the same expectations.
++ I'm looking for a full discography of Les Freluquets, maybe you can help me with that? Do you know any place that may still carry the records?
Everything is there:
http://www.priceminister.com/s/freluquets
http://www.priceminister.com/offer/buy/76888211/Contresens.html
http://www.discogs.com/Various-Rosebud-Born-To-Be-A-Star-The-Great-Collection-V1/release/1508242
The only record missing is the flexi "La Débauche" you could get with the excellent fanzine "In The Rain" from Rennes some weeks before our first album was released. We never really demoed any songs but we did release every track we had from our recording sessions so there's nothing hidden anywhere.
++ Which songs that you penned while being on Les Freluquets are you most proud of and why?
I guess that today the one I'm the most proud of must be "Envers Et Contre Tout" off our second album "Discorama", because I didn't use such chords before (don't ask me what they are, I still don't know, I'm only a self-taught guitar player) and it was so easy to write that I was really amazed. I didn't have to think about them, they just came along as I wrote the music. Then "La Débauche" because it's the first one I wrote for the Parisian Freluquets and it was played on Lenoir's radio show and I remember how happy I was that night, dancing in my bedroom to the sound of our band. I like "Love Story" too but the Perpignan version that we played live only once was closer to what I had in mind (McCarthy's "Frans Hals"). And I have to add our very first single "De Nos Jours" because it started all. We had a good time recording it, and we didn't have that with the other line-ups. Actually the ones that I'm fond of are the songs that were recorded as demos or only played live in 1987-88. Too bad I never found a way to release them… I didn't write "Les Portes" but it was one of our best songs, and as I played the feedback part on Denis' Gibson 335 the people sitting in the studio clapped, so I was proud (surprised at first).
++ Something that surprises me is that influence list on your myspace page. Oh! how I wish at least half of those bands influenced some of today's bands! Some of them are quite obscure, like The Passmore Sisters or the Gol Gappas. Was this music easily accessible in France back then? Does it have anything to do with why why there are not many pop bands popping up now in France?
Music is always accessible if you really want to. In those days the NME was like a bible for us (it was a weekly struggle to get it from the only newsagent who sold it) and Les Inrockuptibles was doing a good job introducing some of the best bands of the 80's. I was lucky to have two older brothers too: One who could order records, the other one recording Bernard Lenoir's radio show every night. Thanks to them we had all the post-punk records one had to have, then I went to London when I was seventeen, I bought a lot of records there, I saw The Jam at the Rainbow Theatre, and kept on going there every year or so the following twenty years, bringing back home hundreds of cool singles and albums. But it's in 1986 that things got serious for me because I found my way then. Bristol was a cool town to be to discover all those indie bands (Revolver was a great record shop). And for the first time I was able to listen to John Peel on the radio.
So it wasn't easy but it was possible to have access to that music. Internet brought a different thing and that's ok but I think that going to a record shop is a better way to hear music. I still have some chills when I go to a record shop, when I see the covers, when I hear the music coming from the speakers. I still want to hold the record, read the credits, look at the photos. I miss that with Internet.
It's when I looked at the pictures on the back cover of The Chords "So far Away" that I decided that I wanted to play in a band too. It's when I looked at the inside cover of The Skids "Scared To Dance" that I decided to get an earring. It's when I looked at the inside cover of The Jam "Sound Affects" (the best record of all times) that I decided that my guitar would be the same jetglo Rickenbacker 330. To us the covers were almost as important as the music. One of my brothers is a graphic designer because of that. The ten inch used to be my favourite format.
The major problem in France with music is that most interesting bands are formed by students and when they graduate they just give up to do something else, work above all. In the 80's the now-deceased mandatory one-year military service was doing a lot of damages to bands too. One other reason is that French don't have the same commitment to music as their British or American counterparts. And for a long time we were late compare to countries like England or Scotland for instance. When I was influenced by The Passmore Sisters, the early Hurrah!, The Close Lobsters, etc. the other French bands were into The Cure ("Pornography" era) most of the time or U2. Nowadays it's Radiohead, in the 70's it was Pink Floyd. To me the same old hippy crap. It seems that French musicians are afraid of melodies, of sounding pop. They have to sound moody or depressed to be taken seriously… As a guy taking Citalopram on a daily basis I don't really need that. Give Hopkirk and Lee any day of the week instead!
++ So why and when did Les Freluquets call it a day?
As I said earlier we grew tired of people leaving the band, and Rosebud sacked us because our second album didn't sell. Patrice and I wanted to play something different, a little "harder"; we were listening a lot to "Seamonsters" by then…
So we called it a day in 1992, one of our busiest years paradoxically.
++ You kept on making music after, care to tell me a bit about that?
Qu4tre started when Les Freluquets passed away. But once again we had some line-up problems. Our lead guitarist Thierry Bossot left after our first gig because we didn't like the clothes he wanted to wear on stage. He was angry then… gone. Funnily enough he is one of my best friends nowadays. So we asked a journalist who was a fan, Pierre Golfier, to join us. We didn't have a record label anymore but we had a publishing deal with BMG and we used their money to start our label Hype! and to record an album with Damian O'Neill of The Undertones and That Petrol Emotion producing. That was a great experience! He's such a nice guy and a wonderful guitar player. We learned a lot from him.
We got a lot of good reviews but because of a poor distribution deal we didn't sell enough to make another one. But we got on very well this time and we had four years of fun and good memories. Sadly Pierre passed away in 1999, he was only 33. I played lead guitar for a year or so with Malcolm Eden (McCarthy) in Herzfeld but he stopped playing music for good to try and become a writer (in the meantime we supported Stereolab at The Powerhaus in London and that was great!).
When he and our drummer Pierre-Jean Grappin left the band in 1996, Qu4tre stopped and the ever faithful Patrice and I called back Stoyan to start Mars. We only lasted a year because Stoyan had a really bad accident that changed his life, then I lost my mother and I was so depressed I didn't feel like playing in a band anymore. The drummer of that band was Pascal Delbano who will join me in Aujourd'hui Madame five years later.
In 1998 I heard some loops that Rodolphe was recording at home and when I told him how good they were we finally decided to form Bassmati (a tribute to Bassomatic and to the fact that Rodolphe lives on rice). We had a good run, great reviews, good singles, great remixes for French and foreign acts but once again he lost interest after a while and I realized I wanted to play in a "real" band again and write some songs. The feeling was back.
Pierre-Jean agreed to join me in this new band I was trying to create and Internet gave us François Jascarzek on bass. A friend of PJ, Ludovic Leleu, joined on keyboard and guitar. We had fun for a while then I guess I'm cursed because once again, in March 2003, after our first gig half of the band left. We had different views on what kind of music we wanted to play and PJ's alcoholism was a big problem. Truth to be told the other guy was a jerk too and I was relieved when they left.
But I didn't want to give up so I called the only other drummer I knew, Pascal. It took us a year (!) to find a lead guitarist, Fabrice Vidal, but finally I had a good group of nice guys, and no more ego issues! I think this is the tightest band I ever played with (Furythme mark II, back in 1984 excepted). We realized a dream when we played in London in 2005 and had a great time at the HDIF night. Our last gig was supporting Spearmint in Paris in May 2006. Then I moved to the US in August and they didn't followed me… So now I'm on my own and I have to play everything by myself (in the studio) and it's strange but fun. I played live by myself for the first time in my life last week and people seemed to like it.
++ French cuisine is well, so famous around the world! Same as literature and cinema! So I'm wondering what's your favourite French dish, book and movie?
French cuisine on a regular basis is the thing I miss the most in the US! My favourite dish is the quenelles au gratin (dumplings au gratin), or the beignets d'artichaut (artichoke fritters), two dishes that my late grandmother used to do very well. I'm very fond of French pâtisserie too (ah! the barquettes au marron / chesnut trays?). My favourite book is "Les Contes de la bécasse" by Guy de Maupassant because as Wikipedia says his stories are characterized by their economy of style and efficient, effortless dénouement, a bit like my lyrics actually. And he was from the same part of Normandy as my mother (my wife says I tend to be chauvinistic). But my favourite authors are all British: Colin McInnes, Alan Sillitoe, Roddy Doyle, Nick Hornby and Tony Parsons. They move me more than any French writer. Another example is how John Fante "The Road to Los Angeles" made me write "La Débauche". I can only think of Albert Camus "L'Etranger" as a French book whose style inspired me.
My favourite movie is "Un Singe En Hiver" a 1962 movie with J.P. Belmondo and Jean Gabin. The dialogues are just great. It's so French! But once again my favourite movie ever is "The Loneliness of the long distance runner", an English movie from 1962 too (maybe I'm not so chauvinistic after all)…
http://www.dailymotion.com/video/x1ssl6_un-singe-en-hiver-le-cabaret_shortfilms
http://filmsdefrance.com/FDF_Un_singe_en_hiver_rev.html
++ And one last question, how do you see France chances for the South African world cup?
I won't be original in saying that we should have sacked Domenech years ago. He never won anything as a coach (one French championship as a player) and was appointed! That was a big mistake in the first place. The way France play is so boring, there's no style anymore and that's sad because we have some of the best players on this planet. Except we don't have a defense anymore. I didn't expect them to reach the final in 2006 (Zidane was on fire! So on fire that he burned himself) so we'll see what happens. But I'm not optimistic that's for sure. Everybody says France's group is an easy one but I don't agree at all. Look at what happened in 2002! And I have to say our jersey is so ugly (once more) that we don't deserve to win.
++ Thanks again Philippe! Anything else you'd like to add?
Just one thing: Buy my new record! Here: http://susyrecords.sugarpop.org/
::::::::::::::::::::::::::::::::::::::::::::::::::::::::::::::::::::::::::::::::::::::::::::::
Listen
Les Freluquets – La Débauche