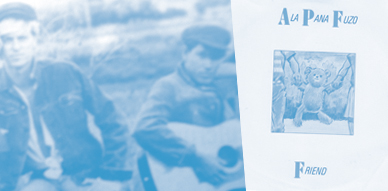 I'm writing this post some time ahead. When this gets published I should have already arrived to O'Hare airport in Chicago. Just read that it was named after Edward O'Hare, the U.S. Navy's first flying ace and Medal of Honor recipient in World War II. Interesting. Sadly it seems I will be missing the first game of Peru in the Copa America, against Uruguay, on the 4th. That troubles me a bit. I'm not used to miss football games I want to watch, especially the ones of my national team. I hope they get a good result, but seems hard as our top stars are all injured and will miss the tournament. But you never know, football is a game of surprises, that's the beauty of it. I'm crossing my fingers.
I'd like to add a new sort of section to the weekly obscure band post. I'd like to recommend and share the albums I've been listening during the week. This week what's been on ration at Cloudberry hq has been:
1 The Darling Buds – Crawdaddy
2. Various Artists – Unnecessary Niceness
3. The Gymslips – Rockin' with the Renees
4. Acid House Kings – Music Sounds Better With You
5. Aquadays – Electric Songs
So now onto our obscure band. Let's go back to the UK after trips to Scotland and Japan. Let's move to Slough, West London. The first thing that comes to my mind is the Nine Steps to Ugly's song "Eddie Lopez lives in Slough". I do know there are very negative connotations with this town. Reading a bit I learn that this borough I learn that Slough has a relatively high crime rate, with figures for all crime statistic categories above the English average and figures for several categories more than double the English average. According to British Crime Survey statistics, Slough has the worst rate of crime amongst the 15 most comparable other areas, and Slough is the least safe Crime and Disorder Reduction Partnership area in the whole of the Thames Valley and South East England. Slough has the highest level of reported anti-social behaviour in the Thames Valley Police area. Slough the rough, huh?
It was in Slough that Ala Pana Fuzo was formed in 1985. The original band members and song writers, Ian Miller (guitar/vocals) and Graham Pedder (guitar/vocals) had played together with various line-ups and under the name "Spish" before forming Ala Pana Fuzo. I wonder if there were any recordings of Spish. I had many questions about this band, like what does their strange name mean, and was in touch with Ian Miller actually back in 2009. He was so kind to send me a copy of the 7″. We agreed on doing an interview for the blog. Sadly I never heard back from him after sending the questions. Guess life got in the way.
There's an interesting bio on last.fm written by Ian Miller himself. Among the many interesting facts written, he mentions that they often played on the same bill with Peter Brickley, from the Telephone Boxes and the more known Wallflowers as he was also from Slough. They were also very close to signing to a major label but it didn't happen.
The band members of Ala Pana Fuzo were Ian Miller (guitar, vocals), Graham Pedder (guitar, vocals), Steve Sculpher (bass), Ricci Hodgson (keyboards), Terry Bailey (trumpet) and Brian Green (drums). Terry Bailey would later record with Sade and Culture Club and can be heard on the albums Diamond Life and Promise by Sade and Kissing to be Clever and Colour by Numbers by Culture Club.
There was only one release and it was a 7″ in 1986. It included on the A side the great "Friend" and on the B side the slower "Remember Me Now". The song "Friend" will appear in The Sound of Leamington Spa Vol. 7. Hopefully that will be out soon! I can't wait any longer. The 7″ was released on their own Dear Old Blighty Records.
In 1986 they released the 7" single "Friend". The B side was entitled "Remember Me Now". The record was released on the independent label Dear Old Blighty Records. For the curious, during World War I, "Dear Old Blighty" was a common sentimental reference, suggesting a longing for home by soldiers in the trenches. The term was particularly used by World War I poets such as Wilfred Owen and Siegfried Sassoon. During that war, a Blighty wound — a wound serious enough to require recuperation away from the trenches but not serious enough to kill or maim the victim—was hoped for by many, and sometimes self-inflicted. Wonder if that was the reason to name the band?
I know that Ian Miller was later in a band Wildcard, but never had the chance to hear it. Wonder if it sounded anything like Ala Pana Fuzo. But more importantly, I wonder if Ala Pana Fuzo recorded any more songs. Would be great to learn more. So as always if anyone has more information, please share!
::::::::::::::::::::::::::::::::::::::::::::::::::::::::::::::::::::::::::::::::::::::::::::::
Listen
Ala Pana Fuzo – Friend