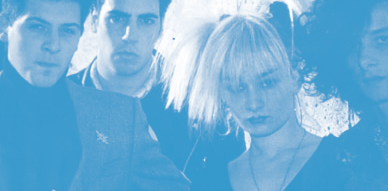 Thanks so much to Oskar for the interview! A couple of weeks ago I wrote about this great Valladolid, Spain, band and Oskar was kind enough to get in touch with me. El Viaje de las Flores only released a split flexi back in the early nineties (shared with St. Christopher) on the Stamp label. On it, they included one of the best Spanish indiepop songs of all time, "No Te Estoy Mintiendo". After many years in silence, the band became a mystery. Now it's time to learn a bit more about their history! Sit down, read, listen, enjoy!
++ Hi Oskar! Thanks so much for being up for the interview. I hear you are in London and not in Spain anymore? How come? What do you do there?
Hi Roque thank you very much for the opportunity, it is amazing that you guys still remember the band.
Espe and I decided to move in 1993 after the end of El Viaje de las Flores. I was playing at the time with Rosas en Blanco y Negro. We formed a band called "Whore" in London and played the Marquee, Garage etc.. But then we got back to Spain for a year an a half before making a permanent move in 95′.
After a few years I ended up working with Talvin Singh, who has worked with Bjork, Madonna, Massive Attack, Siouxsie etc.. We worked together for 6 years on soundtracks for feature films, commissions such as Voxygen for the English National Opera, an album "Songs for the Inner World" as well as putting an audiovisual project together called Tabtek with whom we toured all over the world, Australia, New Zealand, Singapore, Turkey, France, Switzerland etc..
Now I'm involved in a few projects, Plateaux (plateaux.fotone.co.uk – vimeo.com/plateaux), Spectre Spector (spectrespector.fotone.co.uk) and I had just released a new album with the French saxophonist and composer Etmo, called Silver Liquid – Etmo meets Osk (shop.fotone.co.uk/album/silverliquid) with our independent label, fotone.(fotone.co.uk)
++ So let's go back in time, to El Viaje de las Flores, this wasn't your first band, correct? You were in a band called La Red. Care to tell me about them?
El Viaje was actually my 4th band. My first band was called 'El punk nuestro de cada dia' . Then I formed 39 escalones and then it was La Red. We were influenced by what it used to be called the new british psychedelia, the term shoegaze didn't exist back then, or maybe we didn't know it.. We used to hear bands such as the Chameleons, Echo and the Bunnymen, The Cure, El pecho de Andy [one of my favourites Spanish bands of all time] and stuff like that. It was a natural progression from 39 escalones who was on the same kind of vibe.
++ How did the band start? How did you knew each other? Was it hard to get the right people involved?
Back in the days it was quite hard to find musicians in our hometown. I remember having to teach a couple of friends how to play bass. La Red was the same line up as El Viaje minus the drummer. I decided to stop singing and convinced Espe to drop the keyboards and pick the mic.
++ Where does the name "El Viaje de las Flores" comes from?
We used to run a bar, and on the first opening party night we gather some of the coolest musicians of Valladolid to join us in a jam session. It was Juan and JuanRa from Exit, Anselmo from Cronica Negra, me and Espe. I still remember sitting down with Anselmo trying to figuring out a name for the impromptu band to make the flyers.. We ended up calling it "the Flowers Trip".. We liked it so much we thought we should use it for the new project Espe and I were starting, but translating it to Spanish.
++ And back then did you have any sort of expectations with the band?
Oh yes! we wanted to release our music, to record albums, that was the main goal.
++ And what would you say sparked the musician in you? Did you have any music heroes? What would you say were the influences of the band?
I think I was about 7 or 8, it was Christmas time the tv was on and then the Beatles started playing Hey Jude live and they had all those people singing with them enjoining it so much.. and the ending the Na na na nananana.. it still gives me goosebumps.. I said to myself when I grow up I wanna do that . Then it was when I was 13 and discovered the Sex Pistols and realised that you didn't need to be a great musician to be in a band what really push me to start playing. Bowie and Brian Eno are the musicians I respect the most and off course The Beatles. When we were with El Viaje the bands we used to adore were Jesus and Mary Chain, Primal Scream, Smiths, Pixies, Spacemen 3, Cocteau Twins etc.
++ Tell me a bit about Valladolid. Where there any other like-minded bands? Which were the places were you usually hang out?
Back in days we were just a few bands. "Exit" was the band I liked it the most. They were a pretty elegant dark leftfield british sounding band, I've got a lot of influences from them. Luis de Castro, their guitar player ended up being our photographer, he is one of my best friends, he is like my guru. Other great bands were UA, Replicantes, Cronica Negra, El Final, The Bumpers and Rosas en Blanco y Negro.
When I was 15 and playing with "El punk nuestro de cada dia", a collective of bands was created by the most senior members of other bands, it was called Estandard Oil. The concept was quite unique. There were meetings, teachings, concerts, recordings etc it help us to develop our music and skills. It eventually died out but I remember it fondly.
Lando club was the place where everybody used to end up, it was a club that opened from 2am to 8am.. Legendary place. Nowadays the only place that have survived the pass of time is 'El Largo Adios' commonly known as 'El Cafetin', it is the best place to go and find old friends and musicians.
++ And what about the city itself for a tourist like me,  what are the sights to see in town? and what about the food? any favourite specialties?
My favourite place is called Pasaje Guitierrez, it is a beautiful passage right in the middle of town where discos Foxy used to be, it was the only record shop where you could find imported stuff. I listened to so much music there thanks to Gelo, they even let us use the shop for rehearsals with La Red.
La Catedral, la Iglesia de la Antigua, El museo de arte policromado, San Pablo.. There are some really awesome places down there.. Food-wise tapas are great all over town, and Lechazo al horno [lamb] it's probably the best known delicacy. And let's not forget the wine, Ribera de Duero.
++ You only released that one track on the Stamp flexi. Do you remember how did that happen? How important was this flexi for the band?
I can't really remember how it happened, I think we recorded a demo and sent it to different places in Madrid, and then out of the blue Miguel Seridan called to offer us the chance of releasing No te estoy mintiendo as a flexi. It was HUGE for us. We immediately hired the best studio in town to record the track.
++ And then it's really surprising you didn't get to release anything else, your songs are fantastic! It doesn't make sense. Why do you think it happened this way?
Thank you very much!.. Shortly after releasing the flexi we were approached by a management company based in Madrid that had all the right connections to make the band big. They promised us everything.. and us being very young and not having a mentor to guide us, believed everything. When we were in negotiations with them we got an offer from Rosa records, a contract for 5 albums.. But the manager forced us to discard it because he was going to sign us to Polydor.. The rest is history.
++ How many demo tapes did you make? Care to list me all the songs you've recorded?
We had a 4 track recorder so we did record many demos . We had so many songs its impossible to remember all of the titles, the band had different formations with different sets and different sounds.
++ Surprisingly, you did tour a lot all over Spain, right? You signed with Los 40 Principales, the main musical radio in Spain, to play all over the country. How was that?
All came about thanks to Nacho Reglero who was the head of Los 40 principales in Valladolid. He loved the band so much he went to the central office in Madrid to make it happen.
++ Among all the gigs you played, which would you say were your favourite gigs and why? Any anecdotes you could share?
My personal favourite one was in Barcelona, it was the best, perfect playing great chemistry with the audience, a great buzz.. One funny situation came about on a gig we were playing where the floor was quite slippery and Luis (bass) fell down so hard that I thought he had broken his arm, but he did stand up and carried on playing as it nothing had happened, I though wow what a pro, but a few minutes later I had to eat my words cause he went and left the stage in the middle of the set, not cause of the pain but cause he needed to go to the toilet..!
++ During the latter days of the band, there's a bit of a change on the sound. You weren't that poppy anymore, but a bit rockier. Was that a natural change or what was going on at that moment?
Yes, I started listening to rock more and more and got completely blown away by The Cult's album 'Electric'.. It was a natural progression.
++ With those songs you came 3rd place on a 40 Principales contest. Did you win anything? Do you remember who came in first place?
Yes we won 250,000 pesetas, second place was a recording of a single and the first prize was an album, so again no release. It was really frustrating knowing that the band who won had a previous band who were signed to the label that some of the judges of the competition were running. We were the best band with a difference, the reaction of the public when they announce the winner was incredible, people couldn't believe it. We truly thought we were going to win it. But hey that was another good life lesson. It was the last time I ever put myself in that kind of situation.
++ The pop music scene in Spain during the 80s was huge, the sheer amount of bands that came out from there is amazing. Did you feel part of a bigger scene? Did you think it was healthy? I do find very odd that there weren't many small indie labels though, that it was mainly big labels supporting small bands unlike the UK…
I know, they were so many really great bands, we humbly considered ourselves a small part of that "movement". But as you said it was very very hard getting a record deal, it was mainly all majors.
++ Then what happened? When and why did you split? What did you do right after?
The beginning of the end came about when our drummer Diego (Celtas Cortos) left the band. We didn't have the energy to continue and at that time I was playing, and about to release the second album with Rosas en Blanco y Negro so we decided to called it a day. I carried on playing with Rosas until we moved to London.
++ Are you all still in touch? If so, what are you all up to these days?
With Espe, who is now a Chinese doctor and acupuncturist, every day. We've got a son together, Leon, although we are not a couple anymore. A few years back Miguel the first drummer, who is now a pharmacologist, got in touch and every time I go back for a visit we hook up. Luis lives in Madrid he owns two bars/restaurants. A couple of years ago we managed to meet for a few beers and plenty of laughter remembering the good old days. And me.. well as I said earlier still pretty much full on with the music.
++ Looking back, reminiscing of those days, what would you say were the best moments in El Viaje?
The flexi, being number 1 in a radio program in Madrid for the whole summer (can't remember the name.. they interviewed us). The gig we did in Toledo when we met Miguel Angel Garcia Ayuso from El pecho de Andy, what a great guy he is. Having "Devuelme tu amor" on rotation at Los 40 principales plus the touring.. Thinking we were going to make it big was quite naive but at the same time a nice feeling..
++ Have you ever thought of putting together some sort of retrospective album of all your songs?
Now that you are saying it maybe we should. It was such struggle and frustration having it so close and never actually achieving it, that I think we owe it to ourselves. Would you be interested in releasing it in your label?
++ By the way Oskar, do you have any favourite flower?
I love Lotus flowers, found them fascinating, and also because of the Indian and Buddhist symbolism.
++ Let's wrap it here, thanks a lot! Anything else you'd like to add?
I still can't believe we are talking about El Viaje, I would never ever imagined that after nearly 20 years people will be talking about us.
Also to whoever it reads this, check my present stuff, it doesn't sound like El Viaje but you my like it! fotone.co.uk
Thank you very very much!
::::::::::::::::::::::::::::::::::::::::::::::::::::::::::::::::::::::::::::::::::::::::::::::