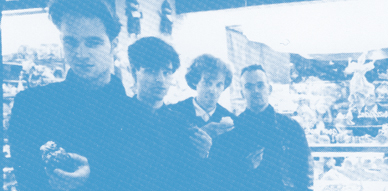 Long time ago I wrote about She Splinters Mortar, trying to get in touch with the members. I was lucky enough that Harald found the blog somehow and got in touch. Then I got in touch with their label Die Schwarze 7 and even with fellow labelmates Shampoo Tears. It was a matter of time to get an interview with She Splinters Mortar, one of the first German bands that embraced C86. Thanks so much Harald!
++ Hi Harald! Thanks so much for doing this interview. How has been 2010 so far?
Hi Roque, it's a pleasure for me to do this interview and it makes me very happy that you show so much interest in She Splinters Mortar, the bands history and music! 2010 has been quite busy for me so far. As you know I'm working as a photographer and hope the year will go on like it started.
++ So let's get on the roll. Who were She Splinters Mortar and what sparked you all to start a band?
She Splinters Mortar  was a band founded by Alfred Vorbrodt and me in the mid 80ies in Wiesbaden, which is a town close to Frankfurt.
Alfred and me meet first during a football match where we both played for the same team. This was during a turnament organized by friends, where some bars and clubs in Wiesbaden set up football teams to play on a saturday afternoon against each other. During this tournament we found out, we had the same taste of music, independant music, which was a very special thing in these times. Not like today you had to go to special record shops to get the records of these bands, or even order them in the U.K. or New Zealand. There was one radio emmission a week to listen to new records and article you about new bands and records you could find in self copied fanzines or magazines like Spex.
Alfred was a real enthusiast about indy music and a record collector. So, he bought the records and after he made Cassette Samplers for me. That was the way you did it these days!
My knowledge before I met Alfred about this special kind of music and the bands playing this music, came from a friendship to Stefan Lutterbüse who was also an enthusiast about Indy Music and made Cassette Samplers for me before I first met Alfred. Stefan later founded the label Die Schwarze Sieben with another friend of us Volker Buch. This label first off all was founded to publish the first 7″ from She Splinters Mortar, Straight from her heart.
++ What was the creative process for She Splinters Mortar? How did songs shape up from start to finish for you guys?
After Alfred and I met, we decided to start a band! We didn't have instruments or excersising room and decided that the most important thing is to have a good name first! The name of the band was found by me in a Oscar Wild poet during an English Class in my school. After that we started looking for an excercising room, which we found over a friend and could share with another band from Wiesbaden. The good thing about it was, that we could use the instruments and amps in the room. So Alfred decided to play drums, and I had to by an Electric Guitar, because I'm lefthanded. After that, we started playing together. The first songs we played sounded very much like Eyeless In Gaza and Young Marble Giants.
After some months playing together, we decided we needed a bass player to make a better sound and a real set up like a band. That was the time Christian Lorenz joined us. Alfred knew him, because he was a record collector also and they met in the certain record stores. Meanwhile Alfred and me had moved to or own excercising room, which was a huge concrete cask where whine was stored years ago. We just had to put an entrance into it and could start playing there.
All songs we played at this time and can be listened to on the Compilation Tasty Tapes and Cassingles where composed by me. At the time I had a half english girlfriend, which helped me with the lyrics. The songs I developedat home on an accustic guitar and introduced them to Alfred and Christian in our excercising room, where Alfred and Christian found there ways to play drums and bass to it and we arranged them together.
One could say it like this: songs written by me and coloured in by the band! It stayed like this with all songs also after Walther Muscholl, the second guitar player joined the band and till we split up in the early 90ies. With Walther we won a lot of music skillness, because he was the only real musican who really had learned to play his instrument. The rest of us where more like enthusiasts giving their best and always excercising, even during gigs on stage!
++ Where does the name come from?
As I said already from an Oscar Wild poet, which I had to reed during my college time in an english class.
++ All of your releases happened in the Die Schwarze Sieben label, how did you know them? What was the relationship between band and label? How did the first deal between you both happen?
The label Die Schwarze Sieben was run by two friends of us Stefan Lutterbüse and Volker Buch. In these times the people who listened to indy music where very few and recognized each other by dressing and knew each other from shopping tours in the same record stores. I knew Stefan long time before Alfred and he introduced me to independant music, by making samplers on cassettes of all the nice bands in the late 70ies and early 80ies like Joy Division, The Fall, The Comsat Angels, Young Marble Giants etc. He actually set the virus for this music in me, positivly ment of course!
Volker was, as far as I know, a school mate of Stefan and so we all got together in the mid 80ies. Funnily over football as I explained. Football always played a big role in the whole thing, because later we played in a team from the label Die Schwarze Sieben on fun tournaments with big success all together, Stefan, Volker, Alfred, me and some others.
++ Though you released a couple of tapes right? A cassingle for "A Pretty Head" and an EP called "Tasty Tape". Were these self released? And why did you choose the tape format?
The first samplers on tape format were more or less live recordings in the studio on a four track recorder in the excercising room. We recorded them and mixed them by ourself and made copies we sold in a record store in Wiesbaden. The store owner Laiky later organized concerts of bands like 1000 Violins and Phillip Boa and the Voodooclub in Wiesbaden, which we played the support for. One of these gigs with 1000 Violins actually was the first gig for us.
The tape format we chose, because there was no other format to choose. In these times, there was no possibility to record on computers and burn cds like nowadays. It was really independent!

++ Your album Jaguar is FANTASTIC. Where did you record it? Was it an easy thing to do? What do you remember from those recording sessions?
Thanks for this compliment!
We recorded it in studio in Wiesbaden and it took us about two weeks to finish. As the studio was used by us for the first time and more or less never had made records with independant bands we had to almost all sound mixing and arrangments by ourselves. Not easy, if four musicians and the label guys sit behind the sound engineer giving instructions! Poor guy, but in the end we did quite good, I think. For this record we had a change in band line up also. Christian left the band to play in another one and Jörg Heiser, the singer and guitar player from Shampoo Tears, another band from Mainz a town just beside Wiesbaden, joined us as bass player. Shampoo Tears later used the same studio to record their first single for Die Schwarze Sieben.
The recording session was quite easy going, because we excercised a lot in advance and where really prepared, which had to be like that because it was quite expansive also. The costs for the recording where payed by Alfred, who was the only one working in a real job. All the rest of us where students at the time. The two female voices on the record are performed by my sister Nicole and my girlfriend at the time Judith Ochs. They just came to the studio in the very end and had to sing before ever tried before. Poor things…
++ I always wonder and guess, but how does it work writing lyrics in English when it's not your language? Is it an easy task? Are there any tricks?
As the lyrics are not that complicated and dealing with almost only one issue

it was not that difficult to write them. Also I mentioned above that the first lyrics where very much influenced by my girlfriend at the time who was half English. To write English lyrics also is an easy thing to do, if you only listen to English music. But still you're right and today I would write and sing german texts.
And, if we would have had German lyrics on our records I'm quite sure, that I wouldn't have to give this interview. It made the records more international!
++ How was Cologne back in those late 80s? What was the scene like? What other bands from town did you like?
I don't really know how Cologne was these days, because I still lived in Wiesbaden. We only recorded our first 7″ in Cologne and I moved to Cologne in 95, that's maybe why you think I lived there. Cologne at the time was quite a center of the scene, because the most important german magazine about indie music called Spex was produced in Cologne.
++ I'm wondering what were your influences? You are among the first German bands that seem to have that c86, guitar pop, sound!
I also think so. As you can hear on the compilation I made we were very much influated by bands from the c86. Also from Flying Nun label in New Zealand. C86 was a very good thing for us, because you didn't have to be a very skilled musician (which we were not!) to play this guitar pop in the way we played it. Maybe you can compare it with house music, idm, electronic today. You also don't need to be a great musician to produce music like this. You only need ideas!
++ How were the gigs for She Splinters Mortar? Which are the ones you remember the most and why?
As I said our gigs were more or less excercises on stage. You can hear that on the live recordings on the compilation. Some people liked it, some not!

The people who knew what will expect them on our gigs because they also listened to C86 records etc. really enjoyed our gigs. The others couldn't understand what we were doing and didn't understand why we got the opportunity to do it in public!
++ So when and why did you decide to call it a day?
The development of the different band members went into different directions, music wise and also job wise. I started a photography design studium and concentraded more on this.
++ Were any of you involved with other music projects after? Are you all still in touch?
As far as I know Jörg Heiser is still making music and has a very new project out right now. Unfortunatly the contact between me and all the other people involved in the She Splinters Mortar history had been cut after I moved to Cologne.
As I found your blog about the band in the internet some months ago, I contacted Volker and Stefan again to get some records of the band and tapes to make a compilation.
I also contacted Christian, who lives in Dublin. The sad thing about it is, that nobody has the address of Alfred. He's some kind of invisible man nowadays. But maybe he reads this interview some day in the web and feels like getting in touch again also…
Would be a good thing you have brought to roll by your blog! Thanks for that, Roque!
++ You put together, for your friends, a CD with 28 songs on it. Is there any chance this will be released one day? Are there any other tracks that didn't make it to this CD?
No. I wouldn't know who wants to make a release out of it… If there are people reading this interview and getting curious about the band and it's music they can contact me and I will provide them a copy of the compilation for a production price. Guess, it won't be to many…

On the compilation you have all official releases from She Splinters Mortar and some bootlegs and tape releases. There are some more live recordings and tapes of the band, but the collection on the compilation is fine and enough.
++ So, the question falls by it's own weight… which was is your favourite She Splinters Mortar track?
My favorite track from She Splinters Mortar is Poor Me, Slave from Jaguar. I like it most, because it's a nice combination of the bands start with only two guys and the bands development to the end. The bands start is to be heard in the record by Alfred playing of the chimes in the beginnig and the trashy guitar played by me, and the development is to be heard by the very nice lead guitar played by Walther. I like!
++ You are a photographer nowadays, right? What kind of photography do you usually do? And do you see any relation between music and photography?
I'm a car photographer stayed in Cologne. 50% creativity, 50% routine.
To me there's no relation between photography and music, because one can be a lower form of art with a lot of luck, and the other is the highest form of art, because it opens peoples heart the most easily and is the only kind of art that surrounds us all of our live.
++ Anything else you'd like to add?
Thank you for having so much interrest in the band and it music and for giving me the opportunity to discover it by myself again!
::::::::::::::::::::::::::::::::::::::::::::::::::::::::::::::::::::::::::::::::::::::::::::::