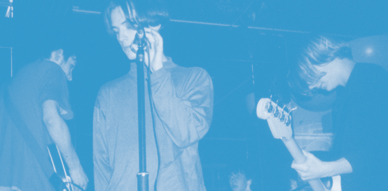 Thanks a lot to Simon Court for the interview! A couple of months ago I interviewed Peter Stone from The Sweetest Ache but there were many gaps that needed to be filled in. Thankfully Simon got in touch not so long ago offering to fill in some of these gaps. So here it is! Also I'm very happy to learn that their will be Sweetest Ache reissues!
++ Hi Simon! Thanks for getting in touch and willing to fill in the gaps of the previous Sweetest Ache interview I did with Peter Stone. My first question is of course, whereabouts in the UK are you and if you are still making music?
I am still based in Swansea , South Wales. I am still making music
++ I remember asking Peter about The Spirals and him telling me straight away that I had to ask that question only to you. So care telling me about The Spirals? Who were they? Did you record any tracks? Do you remember the names? Any chance we get to listen to them? What about gigs?
The Spirals were Myself , Staurt Vincent, Mike Alman, Mark Box & Paul (who later joined the pooh sticks). We never got into the studio but recorded several 8 track home demos. As most kids starting out we mainly played covers at first. Spacemen 3 (od catastrophe) , Stooges (I wanna be your dog), Vaselines (teenage jesus superstar) & Loop (head on) were amongst the ones I remember. We did a few of our own , Something's got to break & Come together were a couple I recall. We mainly played locally but did branch out to Cardiff & Bristol. In fact our first gig was In Cardiff at a place called the square club.
++ So what happened, why did you change the name to become The Sweetest Ache?
It wasn't really a name change , more a band change. Stu & Paul joined Pooh Sticks & things just drifted after that. Stu got together with some mutual friends in summer '89 to form The Sweetest Ache. Staurt – vocals & guitar , Leigh – guitar , Dai – bass & Luke – drums. They played a couple of gigs , but I think Stu felt uneasy up front & initially just called it a day. After a month or so He got Dai back in to play bass , recruited a guy he worked with , called Rik & then approached me to sing. We recorded a few demos using drum machines , these were the same demos we sent to Sara with tracks like tell me how it feels & If I could Shine . of course , we could play live with a drum machine , so we needed a drummer. Not sure where we Found Geraint, it was Stu that knew him , anyway that was that & he rest is history.
++ And why did you chose the name The Sweetest Ache? Where does it come from?
It was chosen By Stu, it's origins are unknown but I think it refers to the bitter- sweet nature of love.
++ Some of you went to the same school, right? Were you all in the same class? Do you have good memories of those years?
As far as I know Only Stuart & David when to the same school & as there is a 3 year age difference , they wouldn't have been in the same class.
++ What about that rumour about you being part of Inspiral Carpets? Is it true?
That was something we told a local newspaper who were running an article. we were mocking them a bit but it stayed on the rumour mill.
++ How was the Swansea scene back then? Did you like any other bands from town? What were your favourite spots there?
The Swansea scene was rather rock & punk orientated . We were somewhat unique in some respects as Swansea's only resident indie band.
++ I have to ask this question again too, what's the story behind: "If I Could Shine"? That song is a classic!
It was one of only two songs I didn't have any part in writing so I can't answer that , really . I agree , that it is a top tune & most peoples favourite track by us
++ Also I was very curious about why you called one of your songs and first album as Jaguar, why was that?
Again , it was us being a little bit cheeky. Our songs weren't exactly Screaming rawk tunes , so we decided on an ironic rock sounding title for a bit of a laugh really . We almost called it "Straight Outta Uplands" in mock reference to "Straight Outta Compton" by NWA
++ When and why did you leave The Sweetest Ache? And why didn't the band split then?
I left the band in late 1992 after Stu's song writing had taken a very different direction. I didn't like the music so I walked. The band continued as we were under contract to Vinyl Japan to produce an album
++ What happened with you after that? Were you involved with music?
In musical terms I did nothing for quite a number of years . In 2000 I got together with Stuart to release an EP for American label Sunday Records under the name Mumbles. I have been in a band called Shooter for about nine years& Stu is part of the current line up . We have released a couple EPs for Northern Star Records. We are currently recording an album which is being produced by Tim Holmes from Death In Vegas. We have some tunes up on myspace , it's very different to Sweetest Ache , but have a listen.
++ In retrospective, what was the best of being part of The Sweetest Ache?
Getting signed to the legendary Sarah Records was quite special.
++ Was there something you wanted to do or achieve with The Sweetest Ache that never got to be done?
Would have loved to have recorded another album , c'est la Vie.
++ And what are the songs you are most proud of? and why?
For the ones I co wrote , "Tell me how it feels" & "Capo" are my favourites
++ Best Sweetest Ache gig?
The Adelphi in Hull was the one I enjoyed most. The Swansea gig we did at the end of our tour was the one I feel we performed best.
++ The past years most of the Sarah bands have re-issued their songs. Will The Sweetest Ache do that?
We have been approached by two record labels & are currently in negotiation with Cherry Red Records , so yes.
++ So one final question, the not-so-serious one, can you make laverbread? Who was the best cook in The Sweetest Ache?
I believe it is simply flat seaweed , washed chopped then boiled. lightly seasoned with salt & pepper. Heat in a frying pan & serve with cubes of fried bread & bacon . Yum
++ Thanks Simon, anything else you'd like to add?
Only thanks for liking our music, please listen to our new stuff as Shooter & do buy the compilation when it comes out.
::::::::::::::::::::::::::::::::::::::::::::::::::::::::::::::::::::::::::::::::::::::::::::::