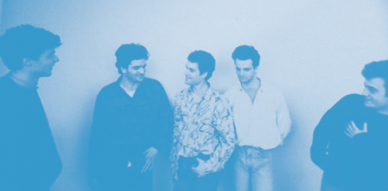 Thanks so much to Paschalis Plissis for the interview!! I wrote a few weeks back about The Jaywalkers on the blog and thanks to Ian Skiadas I was able to get in touch with Paschalis, founding members of one of the most legendary bands from Greece!! There has always been little information about the band, and their one and only record is very rare (I'm still looking for a copy!), so there was no better chance to learn the story behind this classic band! Hope you enjoy it!
++ Thanks so much Paschalis for getting in touch! Very happy to know the story of The Jaywalkers. But how are you today? Are you still involved in music?
The Jaywalkers today are George Mouchtaridis who is the manager of radio "Pepper"96.6 a.k.a."sergeant Pepper" having a morning show Greek time 10-12 you can listen on line, has already curated 4 "The bright side of the road" compilations and is preparing another one. So he is very much immersed in music.
Yiannis Divolis works and works some more but still has occasional gigs as a folk-"laikos dimotikos" musician playing and also singing and used to manage night clubs with Greek folk music.
His younger brother Vassilis has a permanent job as a percussionist in the Athens municipal band the "Filarmoniki" and has collaborated over the years with various artists i.e.Kristi Stasinopoulou, Avaton et al.
As for myself I've been a professional oboe player for nearly 30 years playing in various orchestras and I now hold the first chair in the Greek national radiotelevision's Contemporary orchestra.
Unfortunately the youngest member of The Jaywalkers Giorgos Manos is sadly gone many years ago and is always fondly remembered through his bass playing. A great talent.
++ Whereabouts in Greece did you grow up? Did you have any bands prior to The Jaywalkers? I know you were in Migraine, right?
We all grew up in the greater Athens area. Gio Mou and I were friends from school and the same neighborhood and I went to Athens conservatory with Yiannis Divolis who introduced us to his brother and Giorgos Manos so The Jaywalkers were formed from the ashes of our first group Migraine.
++ What sort of music were you into while growing up?  What was your first guitar do you remember? How did you get it?
As we grew up we listened to various types of music. Gio's older brother Paschalis (same name!) was our musical mentor making us tapes of artists like Van Morrison, Bowie, Springsteen, Peter Hammil, and of course we listened to all the sixties big names.In 1977 I went to England and returned with a bi-polar musical taste for classical and punk-new wave which I sort of inflicted to the gang through parties and communal vinyl auditions.Great days indeed!
First guitar I still have was a Yamaha G55 classical which my late father bought me cause my grades were good I guess. I used to throw a mic in her belly and feedback for hours till I got my first electric a secondhand hardtail 74 Fender Strat for which I worked for 2 months to be able to afford. It was and still is The Jaywalkers guitar.
++ And how did your music evolve from a punk band like Migraine to a jingle jangly guitar pop band like The Jaywalkers?
The evolution of our style from Migraine to Jaywalkers wasn't all that big, considering we always aimed to be eclectic in both our use of influences and choice of musical directions.Those years in the first half of the eighties were one of the most exciting in music and we felt a part of it all with overflowing creativity and joy of life in all aspects.Of course one can argue that this is often the case with what one does in the younger years but in retrospect it was objectively a great era. Migraine was named after a Gang of Four lyric(this heaven gives me migraine off Natural'sNot In It from Entertainment LP.So Migraine was not a punk band per se more of New Wave and when we introduced a sax in the rock format we got to sounding like James Chance and the Contortions, while we even covered songs by the Zounds or The Sound.We sort of carried all the spectrum to The Jaywalkers with the addition of our new found kinship with the paisley underground and of course with the gigantic R.E.M.We got to play live with a host of bands that we liked and they liked us right back! What glorious moments!Dream Syndicate,Green on Red, Fleshtones, The Chills from NZ,The Triffids from Australia and Watermelon Men from Sweden.So a whole tapestry of great groups popped(sic) up in our sound which of course was firmly based on the Beatles legacy.Hence the name Jaywalkers as we felt we were Jaywalking in music's avenues jumping from lane to lane of sonic variety.
++ How were those early days of the band? Where did you practice? Where in Athens did you usually hang out? Were there any good bands at the time that you followed?
Early to last days of both Migraine and The Jaywalkers were happening rehearsal like in a derelict two-room pre world war  2 house in Byron municipal district of Athens. We shared this dumb with two great bands of the times Yell-o-Yell and the Headleaders. Our greatest fear was not to have our equipment stolen an unfortunate event that thankfully didn't happen.Creativity and rock n'roll spirit was dripping all over the walls as the place's sole window never opened not once in the near six years we spent there.To be young and sweaty…and breathless!
Well the Greek scene of the early eighties was full of interesting groups with most of them we have played together and were friends. Cpt. Nefos and their follow up Low noise ,Villa21,Yell-o-Yell South of no North, the punk veterans MagicDeSpell, the garage kings Last Drive the passionate Anti Troppau Council the northern psychedelics The Mushrooms, the greek singing top group  from Thessaloniki Treepes (holes),Blue Light, and more.We used to move around the live night spots of Athens either performing or jamming or supporting one another.Quite wonderful times!
++ And how did the creative process work for the band? Who wrote the songs?
The songs were written by George Mou and myself in the very loud solitude of our rooms as far as the music was concerned and just about anywhere as far as lyrics would go.We would introduce the new babies to the rest of the band and either be ridiculed on the spot or proceed to birth and grooming to be introduced to the live set or potential material for recording in the future as not every song was deemed "live"material.Everyone had a lot of input and ideas flew all over the room as it was obvious that we were all very opinionated music-wise due to conservatorial backgrounds and strong personalities.The end result was to everybody's satisfaction though.
++ Did you ever consider writing songs in Greek?
Writing songs in Greek always seemed awkward as it seemed anytime a greek lyric would turn up something very un rock 'n roll melodically would surface basically diametrically opposite from our core repertoire! So we carried on with international intentions! Ha ha ha!
++ How did you end up signing to a big label, to Virgin?
We knew the guys from Virgin Hellas which by that time was run by the guru Yiannis Petridis and we had them listen to our demo tape.They found it quite good and the rest is history.
++ The songs were recorded at Recording Studios by Manolis Vlachos. How was that experience? Was it your first time at a proper studio?
Working with Manolis Vlachos was for us a once in a lifetime experience.He was extremely kind with us greenies was enthusiastic with our songs, softspoken good-humored and he used to work in the U.S. which guaranteed another level of production.We seldom had a chance to record in a proper professional studio so it was not a surprise when some of us declared they wanted to move there!
++ Who is the boy on the cover photo of the record?
Our sadly deceased friend Sotiris Terzidis was working as a teacher in the esteemed Panagiotopoulos school.He used to take photos of the kids during the intervals while they were playing and mocking about .We happened to look at some of these photos at his place and were immediately smitten with the particular one that became the cover of our mini-l.p.Turns out it was the son of the Mikis Theodorakis' famous singer Petros Pandis called, as I found years later, Dimitris.
++ I've played and danced many times to "(You Can't Be) Happy all the Time". I have to ask, how did this song come to be? What's the story behind such a hit?
"You can't be…" What a song. Always makes me feel goosebumps yet i'm quite conscious of having written it and proud of the result of the band's collaboration and all out enthusiastic disposition which carried this song so well through all these years.The story goes like this;Our friends started a promotion company and we all participated one way or other and the first group to be invited for a concert was the Watermelon Men from Sweden.We hang out with them, became good friends appreciated their songs and bittersweet approach to life showed them around even played beach soccer with them.There was definite feedback and the result I suppose was this also bittersweet song that talks about lost friends lost innocence and has a quirkiness about it that belies the world weariness of the lyrics. And to conclude I confess I was trying to sing in the style of Eric Illes their singer a Swedish brother to me. To the day I remember singing the song with my acoustic guitar on my then country house-now permanent residence-balcony to a group of friends and I'd like to believe that their enthusiastic first listen to "You can't be (Happy all the time) led to their helping us in financing the recording of our demo tape that led to the making of our mini L.P.
++ On the 12″ there's a cover of The Beatles. Who made that choice? Were they a big influence on you? Is "Tomorrow Never Knows" your favourite song by theirs?
All of us absolutely adore the Beatles.We've played some of their songs in various concert situations but for  an official recording it had to be something special.In my opinion A Day In The Life and Tomorrow Never Knows are the most ambitious songs they ever recorded and present a real challenge for anyone to try and cover them.So we figured lets take our chance since we aimed for a result representing our possibilities as a group away from the typical rock format employing as it were the Divolis' bros  experience with Greek folk music.Hopefully we managed to re-invent a masterpiece while staying true to its spirit.Really proud of the result actually!
++ Which other bands would you say were big influences to The Jaywalkers? Any Greek bands?
Influences?Too many actually.As stated before that era was boiling with great music freshly made to top an already huge heritage of the past three decades. Gio Mou and I were at the time working as journalists and record critics in prestigious magazines therefore being exposed to the best new music that was released at the time, discovering kindred artists from the U.S. and U.K. that were off the radar for the general public.Boy we were lucky!But I won't shy away from naming some; Beatles, Stones, Kinks, Who, always obvious suspects,also Beach Boys Byrds and of course Dylan.Forward to The Jam,The Clash, The CureThe Ramones Talking Heads also The Smiths ,R.E.M.,Dream Syndicate Long Ryders Green on Red and less obvious choices like Gun Club,Robyn Hitchcock, Elvis Costello  Elvis Presley and Frank Sinatra.The Greek bands of the time were friends and colleagues more than influences but of course there was feedback and healthy antagonism with the likes of The Last Drive, Anti Troppau Council The Mushrooms,Blue Light or Low Noise.
++ And if you were to record another cover, what would be your top choices?
To record another cover it would have to be something special again as we aim to add some of our own views on the matter.I maintain that a cover should be a tip of the hat to the original and also to shed a new light on a song we obviously love and got inspiration from.Having said that there just so many choices to pick from and pointless to name some but in the course of our live shows we covered songs by Elvis,R.E.M.,The Sound,The Beatles The Box Tops or Bobby Darin so the diversity shows  what we might choose.
++ I read that The Jaywalkers 12″ was a commercial failure. Is that story true? What happened?
Commercial failure could take  its toll on the very existence of groups ,but it is a reality one must face at some point as an unfortunate but unavoidable possibility.Well the"market" for groups and english singing at that-in Greece is very limited and that's understating it.Virgin Greece went out on a limp releasing the record so the  commercial failure didn't sit comfortably with any future plans to make a follow up so no follow up was produced.
++ The only compilation appearance I know that The Jaywalkers had was on the tape "Straight to Hellas" where you contributed the song "Pale Blue Eyes". It sounds much different to the 12″. Was this an earlier song perhaps? How did you end up in this compilation?
The inclusion of Pale blue eyes in that compilation was our last-and not that good I must admit-hurrah.We sort of faded after that amidst obligations with the army, families formatting, and job obligations.We remained close but not so much in the music playing way.Life happens and in George's Manos case an untimely death happened most unfortunately.
++ Are there any other compilation appearances from back in the day?
To my knowledge we had no other compilation appearances apart from possible live bootlegs but I think it's most unlikely.
++ Are there any other recordings, unreleased songs, by the band?
Songs over the live years and after have accumulated waiting for their hopeful outing and some of them are recorded not in a fully professional manner mind but as a future plan they could turn up.
++ And from the whole Jaywalkers repertoire, what would you say was your favourite song and why?
Favourite songs vary depending on mood  snd season but the ones included in the mini-l.p. are always topping.Having said that there are also other favourites like the obvious live stalwarts River and The sun's not gonna wake me tomorrow.
++ What about gigs? Did you play many? What were the good venues back then? And are there any particular gigs you remember fondly?
There were some clubs that every group gigged in as the were part of the scene.In the Migraine days there was the legendary "Pegasus" home of the new wave, Kyttaro club, Hima (were even Nick Cave &the Bad Seeds performed, the former Mad club renamed Cat's Meow and the largest of all the Club 22 where acts like Green on Red,Nick Cave, The Wipers or Nico appeared alongside supports from local groups like The Jaywalkers.The most legendary and successful club of course was "Rodon live "where every artist of note performed and I'm proud to say that The Jaywalkers were the first group to perform there as a support to the Triffids, a fact unfortunately not stated in the book about "Rodon" that was published after the club's termination and eventual change into a-alas-super market.
We remember fondly the gigs we played support to great artists like Green on Red in club 22 ,the aforementioned Rodon gig with the Triffids and a summer festival in Veakeion theater in Peiraius where the headliners were The Dream Syndicate. Having said that gigs were scarce therefore every time we got the chance to play live we relished the moment as you can understand!
++ Aside from Athens, did you play any other cities?
We played in a club in Patras and that final gig in a summer festival in Preveza where "Pale Blue Eyes" was recorded for that compilation, and that was about it.It was just unfortunate that we didn't play in Thessaloniki-a rock city with a big music scene.
++ Did you get much attention from the music press or radio?
The radio at the time was not that friendly for english speaking Greek groups although we got played by certain indie shows  that aired in those early days of non-state radio.
As for the press there existed an awkward situation as I mention earlier G. Mouctarides and I were journalist for the esteemed "Sound and hi-fi" magazine therefore we were considered to be "parts of the system".That led to negative reviews or lack of reviews altogether ignoring good moments of the band, maybe it was jealousy or some kind of complex ,but it sure held the progress of the group media-wise.Years after it was confessed that the true value of The Jaywalkers was unjustly overlooked but of course as the saying goes the damage was done. Oh well water under the bridge…
++ And was there an important fanzine culture in Greece at the time? Did you get featured in them?
The fanzine culture of the times consisted mainly of one-off editions which sometimes were the vehicle for releasing some tapes of live shows.The notable exception was the "Rollin Under" fanzine.To be honest I am not aware of any feature of The Jaywalkers but that could have eluded us as the circulation of these fanzines was very limited.
++ Then what happened to the band? When and why did you split? Did you continue making music afterwards?
he festival in Preveza in the summer 1988 was as I mentioned earlier the last live moment of the group. After that there were a few rehearsals but no more gigs due to army obligations and new families changing the whole picture. After that we certainly never gave up on music both as a job or a hobby. You might want to check out a group myself and some local friends set up called The Mercy Run.Had some gigs but no proper releases  exist only some studio recordings of songs I wrote with our singer Bob Crossley.
++ I think a lot of people, me included, were introduced to your music thanks to the compilation "Try a Little Sunshine". This compilation became very important as it gave a new light to Greek guitar pop. What would you say are your favourite Greek indiepop bands?
There was a lot of potential in the early 80's greek indie rock scene and talents sprung out all over.Some of our favourite bands were Cpt Nefos, Blue Light, The Mushrooms, Yell-oYell, Femmes Fatales, Anti-Troppau Council and Last Drive.
++ Also in the last decade or so you have played some reunion gigs. Is there any more gigs planned for the near future? And is there a chance for new Jaywalkers songs some day?
These last years in Greece haven't being particularly good for indie groups due to the financial crisis.Although clubs like s.i.x. d.o.g.g.s. and fuzz are making a name for the "underground" scene in Athens it is quite difficult for groups to be consistent in their live performances.As for reunion gigs we really enjoyed the ones we had and we certainly keep our hopes up for new material to be recorded and released but the difficulties seem at times unbeatable.Songs do exist though and they will eventually surface!
++ This year I see you will also participate in a new compilation named "A Sparkle From the Past" that will be released by Make Me Happy. Care telling me a bit about this new record?
This latest compilation will apparently include various Greek groups of the 80's and early 90's which didn't quite fall in the general public's radar and The Jaywalkers will participate with the -in my opinion-superb demo version of "Good Day Sunshine". From what I know this compilation is being released by a group of that era's fans very keen on making a party of it all as it involves a live event for this release.
++ And today, what are you up to? Do you still make songs? Any other hobbies that you have?
As for songwriting it happens sparingly but with the aid of the current technology it is easier to record and keep in the archives for future use. As you've already seen I try to find some creative comfort in sketching and drawing and even-ambitiously enough-plan to participate in the Inktober challenge! Wish me luck.My true hobbies though is driving my two adolescent daughters around to various lessons and activities.Interestingly enough Gio Mou invited me to play guitar for his younger daughter's recording of her song "Thieving Star" which will appear in the next "Bright Side Of The Road" compilation, so you could say there is a continuation of the group through our children!
++ One last question, if one was to visit Athens, where should one go check out bands? And aside from the Acropolis what should one visit?
Well it's been a marathon nine days Interview but a lot of fun nonetheless as it was a big trip down memory lane and a huge privilege to be able to share all these moments and thoughts with people across the globe! I'll be very happy to show you around Athens sights and spots and invite you to taste some of the wonderful dishes my wife Dinah cooks. So till we meet in person it's been an honour answering your questions  and thank you Roque for everything!
::::::::::::::::::::::::::::::::::::::::::::::::::::::::::::::::::::::::::::::::::::::::::::::