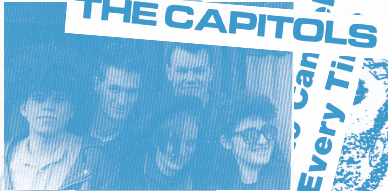 Yesterday I got some new records on my snail mail. Those who are friends with me on facebook know that I try to listen and rip one 7″ a day. I scan the cover artwork as well and post it on a photo album there. It's quite a fun exercise. I think if I wouldn't do that I would just pile records and records and not ever listen to them. I chose to rip one of those records that just yesterday: The Capitols' "Who Can Tel". Don't confuse them with the Michigan band from the 60s that penned "Cool Jerk", this band is from 1987! Upon opening the cardboard mailer, I was really disappointed by the awful album cover, with some sort black and white photo of curly-haired lady with a half-way smile and wearing hipster glasses.  To be honest I was expecting some terrible songs too. I was giving myself reasons not to feel that bad. "You only paid 2 pounds for it, don't dwell on it". But turns out, this is a GREAT record.
I can't recall how did I know the existence of this record. Could be from Twee.net as it is listed there. I don't think the ebay lister knew much about it. He had written on the description:
THIS IS A  UK RELEASED  7″ SINGLE  FEATURING THE CAPITOLS
THE  TRACKS ARE   ENTITLED  " WHO CAN TELL B/W EVERY TIME
"VERY OBSCURE POST-PUNK  BAND HAILING FROM BIRMINGHAM, UK
THE SINGLE WAS RELEASED ON THE UK CAKE  LABEL IN 1987
Why do sellers on ebay love writing with caps lock on? First lesson at typography class was never write too much with upper case type. It's hard to read. And I'm guessing sellers want people to read their descriptions right? I don't get it.
Anyways, it is indeed very obscure post punk, though it would fall much better in the C86 category. It's very much on the vein of The Shop Assistants, Chin Chin, The Wilderness Children and that sort. It's GREAT. Sadly the record only includes two songs, none of them longer than 2 minutes. Come on! They could have included two more, especially if this was there only release. Think of the fans! And talking about fans, they had a fan club! It seems it was run by a girl called Becky who was based in Moseley, Birmingham. So, it is fair to assume the band was based there as well.
he record was released by Cake Records, a label that mostly supported not so poppy acts like Pigbros or The Davidsons. This was the only 7" released on the label. All other releases were 12″s. Ah! And it's catalog number Slice 2.  Published by Cubic Music, Distributed by Nine Mile/Cartel. Also from the back cover we learn that the odd lady on the front cover is called Joan. Also lists the band members: Jimbo on bass, Maria on violin, Phil on drums, Sue on vocals and guitar, and Tank on guitar. All lyrics by S. Emilon. I'm guessing that was Sue. No other member's name start with an S. What a great detective I am.
They had more songs. Checking the John Peel Sessions book I could find that they recorded a session on 6/4/87. The songs recorded were "I Want to Be Alone", "Who Can Tell?", "Born Yesterday" and "Failing Again". The session being produced and recorded by Dale Griffin, Mark Robinson and Mike Shilling at an unknown studio. So, someone out there must have a recording of this! I don't! Hope some nice person wants to share.
But let's go back to our detective, researcher, homework. What else have we found about them? It seems The Capitols formed after the split of Cherry Red Records darlings The Nightingales. The story goes more or less like this according to Wikipedia:
The Nightingales original members were Robert Lloyd (vocals), Joe Crow on guitar, Eamonn Duffy on bass and Paul Apperley on drums, all formerly of The Prefects.  The debut single, "Idiot Strength" was released in 1981 on Rough Trade Records, following which Crow and Duffy were replaced by Andy Lloyd and Nick Beales on guitars and Steve Hawkins on bass. The band signed to Cherry Red Records and released three more singles before debut album "Pigs On Purpose" (Produced by Richard Strange) was issued in late 1982.[2] John Nester replaced Hawkins on bass before next release, the "Urban Ospreys" single. Pete Byrchmore replaced Beales (who went on to form Pig Bros) in time for second album, "Hysterics" (1983), Nester then departed to be replaced by Howard Jenner. The new line-up issued two singles in 1985. Further changes then ensued with Andy Lloyd and Paul Apperley leaving, to be replaced by Maria Smith and Ron Collins. After the split, Maria and Pete formed The Capitols, later known as The Rotten Swines (Maria was also a member of Rumblefish).
So, alright, we find here already the connection to Pigbros, and how Pete and Maria met. But who is Pete in the band? Is it Jimbo? Is it Tank? By the way, really cool that Maria also played in Rumblefish! One of my fave bands of the era! I do wonder, with that name, The Rotten Swines, did they sound like The Capitols?
This is all I've got so far. I want to hear more songs from them! Even from The Rotten Swines if possible. The Peel Session shouldn't be that terrible to track, right? Anyways, have a listen yourself. This is pretty good stuff! Much better than the hit or miss indie with girl vocals that swarm these days.
::::::::::::::::::::::::::::::::::::::::::::::::::::::::::::::::::::::::::::::::::::::::::::::
Listen
The Capitols – Who Can Tell?